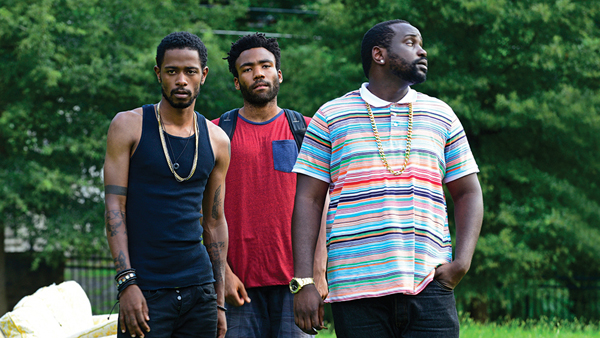 Late to the Party: Josh Reviews Atlanta Season One!
I've read a lot about how great Donald Glover's show Atlanta was, but I never found the time to check it out.  But it's stayed on my to-watch list, and I am delighted to have finally gotten a chance to watch the first season.  It's as fantastic as I'd heard!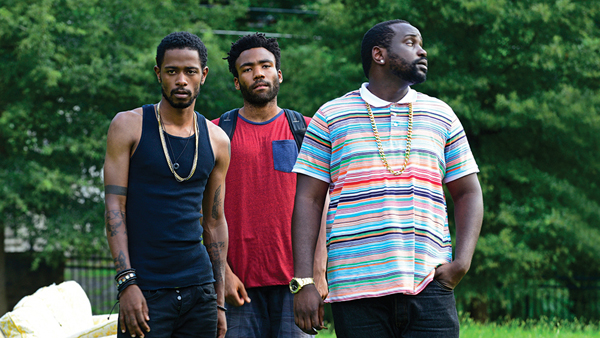 The show was created by Donald Glover, who also stars in the lead role as Earn, and who also wrote or directed many of the first season's ten episodes.  This is a fantastic tour de force, and although the shows are very different, it reminds me a lot of what Aziz Ansari achieved with Master of None.  Both shows represent a powerful creative vision, bringing a very new type of TV show to the screen.
Atlanta follows the struggles of Earn, a young, poor man who talks his way into becoming the manager for his cousin Alfred (Brian Tyree Henry), who has started to make a name for himself as the rapper Paper Boi.  Earn has fathered a child with Van (Zazie Beetz), who the two are raising together, but he and Van aren't married and, at various points in the season, aren't even together as a couple.  Finally, Lakeith Stanfield plays Darius, Paper Boi's bizarre friend and right-hand-man.
The show is loosely about Earn's struggles with poverty and his attempts to succeed, for the first time in his life, in his new role as Paper Boi's manager.  We also follow Earn's on-again, off-again relationship with Van, and also Alfred's struggles with his first brush at fame, which proves to be not entirely what he'd expected it to be.
But the show is at once much larger and much smaller than those plot points.  I was impressed how carefully Atlanta was able to focus on these wonderful characters, giving them each a lot of love and attention and fleshing them all out to great depth over the course of just these ten short episodes.  I was particularly pleased by the attention the show gave to Van.  She could easily have fallen to the side in favor of a focus on the three guys, but I loved that the show often paused to give her spotlight and agency.  I think my favorite episode of the season was the Van-focused "Value," in which we follow her along on an awkward evening with a sort-of-friend (their very different social strata presenting one of many obstacles between the two), and then Van's creative but ultimately failed attempts to beat a drug-test at work the next day.
Atlanta is technically a comedy, and there are some very funny sequences in this first season.  (The sight of Van accidentally popping the urine-filled condom in her own face in "Value" is not one I will soon forget!)  But Atlanta is truly rich as a drama, one focused on exploring many aspects of the African-American experience.  After watching this season, I read this quote from Donald Glover from the 2016 TCA press tour, promoting the launch of the show: "The thesis with the show was kind of to show people how it felt to be black, and you can"t really write that down. You kind of have to feel it."  That statement brought the whole show into clear focus for me.  Mr. Glover and his collaborators more than succeeded, in my opinion.
There aren't many white faces in Atlanta, and that's great.  The show's main cast is phenomenal.  Mr. Glover himself is, no surprise, a terrific center around which to structure the show.  He's lovable and empathetic as Earn, even while the show doesn't shy away from allowing him to do dumb or stupid or selfish things.
Brian Tyree Henry is magnetic as Alfred (Paper Boi).  He's believable as someone who could be a successful rapper, and also as a schlub who'd rather hang out on his couch than do anything else.  He's looking out for number one, but he also does his best to help his somewhat hapless cousin Earn on a number of different occasions throughout the seasons.  His character has poignancy (I was moved by his declaration at one point that: "I scare people at ATMs!  I have to rap!") while also being very, very funny.  (Mr. Henry can do more with an eye roll than any other actor I've seen in a long while.)
Lakeith Stanfield plays Darius almost like he's an alien inside human skin — he is delightfully daffy and offbeat, but he's also earnest and loyal.  (I love that all of these characters are so well-rounded, with so many different facets.)  His line-readings are always somewhat off-kilter.  I wasn't sure what to make of Darius after watching the first episode, but he quickly grew into someone I loved deeply.
Zazie Beetz was the best part of Deadpool 2, and she is amazing here as Van.  She brings such a rich emotional honesty to Van.  This is a character who you can instantly understand and identify with.  This character could have been written as the annoying anchor around fun-loving Earn's shoulders.  Thankfully, Ms. Beetz and Mr. Glover and the show's other writers have gone in a far more interesting direction.
Of the show's supporting players, I was most excited to see Isiah Whitlock Jr. (Clay Davis from The Wire!) as Earn's dad.  I hope to see more of him in season two!
Earlier in this review, I compared Atlanta to Master of None.  Another point of connection between these two shows is that both share an exciting willingness to play with the form, and to create individual episodes that are very different from one another, with different styles and subjects.  As I noted above, the show really came to life for me with episode six, "Value," which suddenly shifted the focus squarely to Van.  (Earn, Alfred, and Darius are barely in it.)  The show's adventurism only grew in the back half of the season.  I was particularly taken by episode seven, "B.A.N."  The entire episode is structured as an episode of the fake talk show "Montague" on the Black American Network (hence the episode's title, "B.A.N.").  Footage from the talk show (including an entire fake "remote" section on an African-American man transitioning to being white) is intercut with fake commercials.  The whole thing is a riot.  Alfred was so funny being grilled by a skeptical host and a white panelist critical of rap music, but it was the show's commitment to not breaking the premise that this entire episode of Atlanta was in fact an episode of "Montague" that made me so happy.  The commercials were amazing, particularly the animated commercial for a sugar cereal called "Coconut Crunchos" that turned tragic as the animated African-American kids watched the cartoon mascot get harassed and beaten by an animated policeman.  Wow!  (You can read more about this great parody cartoon commercial here.)
I also have to highlight the fascinating choice in episode five, "Nobody Beats the Biebs," to have Justin Bieber played by an African-American actor.  At least I think that's what was happening.  The episode plays this coyly.  Is this supposed to be another teen heartthrob singer who is just LIKE Justin Bieber?  Or, in the universe of Atlanta, is Justin Bieber black?  I'm not sure, but either way, I loved the color-blind nature of the casting.  (I am sure no one wants to be compared to anything involving Louis C.K. these days, but I'm reminded of the interestingly color-blind way in which he cast an African-American woman to play the mother of his blonde, white kids on Louie.)  (Getting back to the Biebs, you can read more about this interesting casting choice here.)
I've been praising Donald Glover; I also need to heap praise on Hiro Murai (who directed seven out of these first ten episodes) and Stephen Glover (who wrote four of the episodes).  Clearly they were two of the most important people responsible for the making of this show along with Donald Glover.
The season's final moment, in which we discover that the thing Earn has been searching for over the course of his very long, no-good-very-bad day, has been the key to the storage locker in which he is sleeping, is a sad ending to the season, but also a perfect moment to go out on.  There's an honesty to Atlanta's story-telling that I enjoy.  Some crazy and wild things can happen (Earn, Aldred, and Darius witnessed a brutal shooting only a few minutes earlier in the episode, a shocking moment that shifted with lightning speed from tragedy to comedy when Earn nudged the police officer to check the dead guy's pockets, because he was wearing Earn's jacket and Earn needed to see if his lost key was in one of the pockets), and while we've seen Earn grow a bit over the season (and actually, finally, earn a bit of money from his work on behalf of Paper Boi), things aren't going to magically change for him overnight, and this is still a show about a young man hovering on the knife's edge of poverty.
I am so happy to have finally seen the first season of Atlanta, and believe you me, I'll be diving into season two without delay.
Please support MotionPicturesComics.com by clicking through one of our Amazon links the next time you need to shop!  We'll receive a small percentage from any product you purchase from Amazon within 24 hours after clicking through.  Thank you!