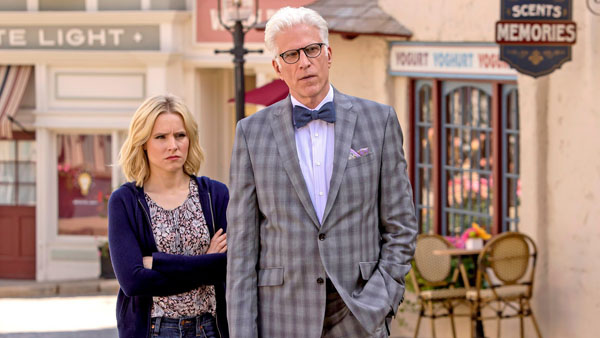 Late to the Party: Josh Reviews The Good Place Season One!
I'm a big fan of Michael Schur.  He was involved with the American version of The Office and he created (with Greg Daniels) and ran Parks and Recreation, which is an amazing TV show that I loved dearly, and created (with Daniel Goor) and ran Brooklyn 99, a very funny show that, while it's not genius-level TV, is consistently funny and joyous.  So why didn't I watch The Good Place, the new show created by Mr. Schur, when it premiered on NBC last year?  I'm not entirely sure!  I think there was something about its bright, primary-color color palette that rubbed me the wrong way when I saw glimpses of the show in previews; and I think I am somewhat mistrustful of new shows anchored by big-time stars (in this case, Ted Danson and Kristen Bell).  But when the second season premiered a few weeks ago, I said to my wife, what are we doing??  Why have we not even tried this new show by the guy who made these other shows we loved?  So we decided to watch the first episode on Netflix, and a few days later found we'd sped through the entire thirteen-episode first season.  What a great show this is!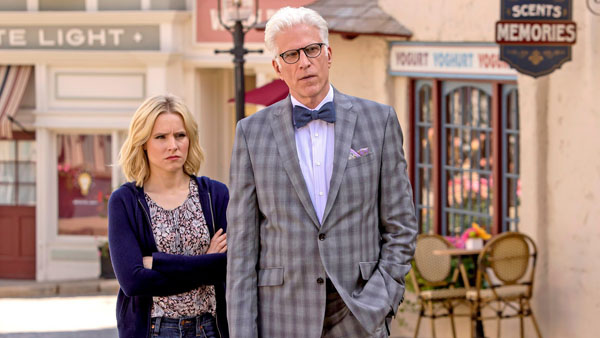 When the show begins, Eleanor Shellstrop (Kristen Bell), awakens in the afterlife.  She is relieved to be informed by Michael (Ted Danson), that she is in "the Good Place."  But while Eleanor's name is indeed Eleanor Shellstrop, she is not the saint that Michael seems to think she is — she has somehow been brought to the Good Place by mistake!
I really enjoyed this show.  Like most of Mr. Schur's prior work it is very funny, very clever, and with a sense of optimism and sunniness that I find to be extremely endearing.
The show is very clever, with an impressive attention to detail.  I loved all of the worldbuilding that we were given in season one, as Mr. Schur and his team fleshed out this afterlife and how everything worked.  Most impressively, none of this felt like chunky exposition.  The show always found fun, character-based ways to explore this world and to answer questions that we the audience might not have even realized we had.
The Good Place strikes a great balance between episodic and serialized.  Each episode successfully stands on its own and tells a complete story.  But most episodes end with a wonderful cliffhanger that made me eager to move on to the next episode.  This was a fun show to binge-watch!  Mr. Schur and his team have impressively solved the problems that beset so many serialized shows these days.  I was delighted to discover the shape of the full story that this show told over the course of this first season.  I love that each episode is labeled as "chapter one," "chapter two," etc.  I could see a network being afraid of that (wanting people to think they could start watching at any point, and not be put off by clicking on a new episode and seeing it labeled as "episode nine") but I love the choice.  This wasn't just a collection of 13 separate stories — this was a complete story told over the course of this season.  And at 13 episodes, the show zipped along at the perfect pace and never overstayed its welcome.
I wouldn't dream of spoiling any of the show's many twists and turns, but I will say that one of the things I loved most about this show was the playful twistiness of its story.  This is not a show that would be content to maintain its status quo for season after season.  Just in these first 13 episodes, the show took a number of turns that I was not at all expecting.  (If you haven't yet watched this show, do not let anyone spoil anything for you!!)  I love being surprised by a TV show, and The Good Place did that to me repeatedly.
The great Ted Danson is, as always, comedic perfection.  (He has a laugh moment in the season finale that is truly one of the finest moments of TV acting that I have ever seen.)  Kristen Bell took a few episodes to grow on me, but she proves to be a strong anchor to the show (and a lot of fun in the flashbacks that show her terrible behavior on Earth before she died).  I quickly grew to like the show's main group of friends surrounding Eleanor: William Jackson Harper as ethics professor Chidi, who attempts to teach Eleanor how to be a good person; Jameela Jamil as the wealthy and statuesque Tahani; and Manny Jacinto as the Buddhist Monk Jianyu.  (I don't want to spoil any of the fun twists regarding each of these characters, but I will comment that Mr. Jacinto in particular proved to be a comedic joy playing the different facets of Jianyu.)
But the show's true comedic super-weapon quickly proved to be D'Arcy Carden as Janet, the artificial intelligence who serves as the primary source of information to all the inhabitants of the Good Place.  Ms. Carden is hysterical, and the show mines so much comedic brilliance in exploring Janet and the way she interacts with the inhabitants of the Good Place, and vice versa.  The relationship that develops between Janet and you-know-who (I won't spoil it for those who don't) was particularly surprising and wonderful; and I also particularly loved Janet's automatic "begging for her life" defense any time someone approaches her "reboot" button.
Other thoughts:
* I had heard that there was a Big Twist in the first season finale, but luckily I remained unspoiled.  You should too!  Suffice to say that I was not disappointed.  The twist was perfect; not only did it make me look back and see much of the events of season one in a new light, but it made me super-excited for season two (which I am watching now and very much enjoying!!).
* Seriously, I don't think I am overhyping this, that Ted Danson laugh moment in the finale was amazing.  Here is a whole article in praise of that laugh!!  (But DON'T click on that link until you have seen all of this season!!)
* I loved Adam Scott's guest appearance as one of the jerks in charge of the Bad Place.  So funny!!  (I'd love for Mr. Schur to bring back some of his other amazing cast from Parks and Rec!)
* It was also fun to see Brooklyn 99′s Marc Evan Jackson as Shawn, Michael's boss.  He does deadpan like nobody's business.
* I loved meeting Mindy St. Claire (Maribeth Monroe) in the "Medium" Place.  What is her status following the events of the season finale??  (UPDATE: Thankfully season two clarifies this!!)
* I enjoyed the show's periodic use of flashbacks to show us the pre-death lives of the main four human characters.  But by the end of the season this was just on the border of starting to get a little tiresome, so I hope that if this device continues to be used in season 2, that it is used sparingly.  Also, maybe let's get a flashback "whoosh" sound effect that sounds a little less like the Lost flashback sound effect, OK?
* Every second of the Janet and you-know-who love affair was brilliant, just brilliant.
* There was no time when the repetition of the phrase "Fake Eleanor" did not make me laugh.
I am sorry I waited so long to watch this show.  Thank goodness for Netflix so that I could quickly catch up on season one!  This is another terrific TV creation by Michael Schur.  I'm glad I am caught up, and so far season two is just as much fun.