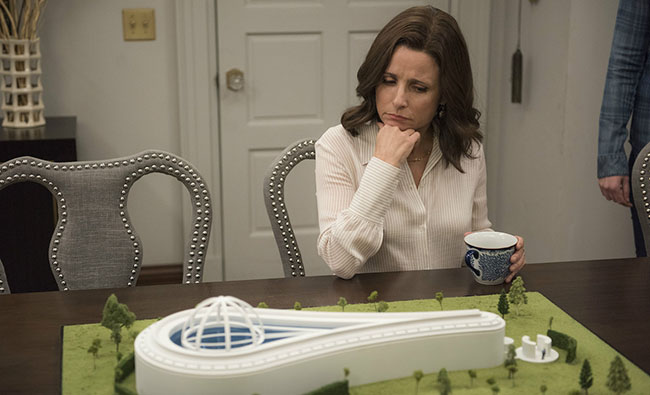 Late to the Party: Josh Reviews Veep Seasons 5 and 6!
Earlier this year, I had a great deal of fun catching up with Julia Louis-Dreyfus' fantastic show, Veep!  (Click here for my review of seasons 1 & 2, and click here for my review of seasons 3 & 4.)  After the conclusion of season four, the show's creator and show-runner Armando Iannucci took a step back from running the show.  Taking over as show-runner was David Mandel.  I was a big fan of Mr. Mandel's work from the later seasons of Seinfeld and Curb Your Enthusiasm.  (He also ran the brilliant but little-seen six-episode animated series based on Kevin Smith's Clerks from 2000.  Only two episodes of the show ever aired, but all six were released to DVD and they're great.  Also, Mr. Mandel's commentary track for all six episodes, along with Kevin Smith, was just as much fun as the episodes themselves!)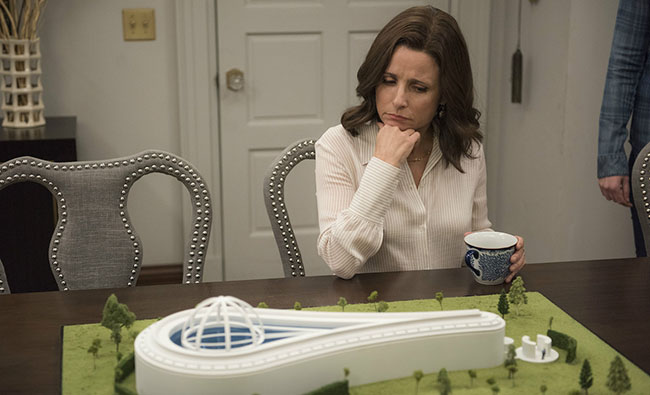 David Mandel would go on to run the three final seasons of Veep.  He did a terrific job, maintaining consistency with what Mr. Iannucci had established as the tone of the show while also allowing his own specific comedic sensibilities to come into play.  The David Mandel seasons of Veep were, I think, even faster-paced that the previous seasons, and the characters all seemed to get even more hilariously awful (as hard as that might be to believe, based on their behavior in seasons one through four).
Under both the Iannucci and Mandel administrations, Veep was a fantastic show.  It's a biting, devastating satire of the American political system.  It's a workplace comedy.  It was a fast-paced joke machine, brought to life by an extraordinary comedic ensemble.  Julia Louis-Dreyfus has forever cemented her position as one of the finest comedic actresses of all time; her perfect, unbeatable comedic timing was on display in every second she was on-screen here.  But then look at this deep bench: Tony Hale as Gary; Anna Chlumsky as Amy; Reid Scott as Dan; Matt Walsh as Mike; Sufe Bradshaw as Sue; Timothy Simons as Jonah; Sam Richardson as Richard Splett; Gary Cole as Kent; Kevin Dunn as Ben; Sarah Sutherland as Catherine; Clea DuVall as Marjorie; and Hugh Laurie as Tom James.  Wowsers!!  I love each and every one of those characters, and I could not imagine any other actor bringing any of these roles to life.
OK, let's dive into seasons five and six…!
At the end of season four, we left Selina Meyer in an electoral college tie for the Presidency.  At the time, that seemed like a stretch to me; a writerly device to keep Selina stuck in the weird middle ground of great-power/no-power that she'd inhabited since the show began.  I still think that way, but I really enjoyed the stories that Mr. Mandel & co. were able to mine from Selina's season-long effort to get a leg up on Tom James (Hugh Laurie).  I was happy that Mr. Laurie continued to be a major part of the show in season five.  Mr. Laurie was so funny, and his comedic chemistry with Julia Louis-Dreyfus' Selina was fantastic.
Whoever came up with the idea of profane idiot Jonah running for Congress is a genius.  What a great use of that character, and what a terrific send-up of the American political system.  Pretty much every moment of seeing bull-in-a-china-shop Jonah out on the campaign trail was comic gold.  Jonah had so many side-splitting moments this season!!
Martin Mull (Clue, Roseanne, Arrested Development) was hilarious as "the Eagle," the campaign expert Selina brought on board, who, in a slow-burn reveal, we discover has lost all of his marbles.  I also loved seeing John Slattery (Mad Men) as Charlie Baird, the wealthy donor with whom Selina falls into a relationship.
The "C*tgate" episode was certainly eyebrow-raising; but it was a near-perfect Veep comedic concoction.  (Someone leaks to the press that a member of Selina's staff called her the c-word; it eventually turns out that they all did.)
I loved the running storyline of Catherine's documentary project.  It was fun that the penultimate episode of the season, "Kissing Your Sister," was presented as Catherine's actual documentary.  It was super-fun to see how that episode revised many events from the entire season, albeit from a brand new perspective, shedding new light on what we'd seen and what we'd thought we'd seen.
I enjoyed the twist in the season five finale that neither Selina nor Tom James wound up as the President!  I'd assumed Selina would somehow wind up back as V.P., but the show surprised me by going in a different direction and having her leave politics altogether.  And then the show surprised me even more by keeping Selina out of any actual elected position for all of season six!  That was a great way to breathe new life into the show's status quo.  It was fun to see Selina struggle with being an outsider, desperate to be back "in".
All of the business with Selina's Presidential Library was terrific, from seeing her scrambling to kiss-up to wealthy donors in order to raise the money to the gag of the, um, unfortunate design chosen.  (See photo above!)  Seeing poor harried Mike as the ghost-writer for Selina's memoirs was never not funny.  Seeing Dan as the unhappy co-host of a network morning show was a hoot (and it was a lot more fun than seeing him as a miserable lobbyist, as we had in earlier seasons).  Bravo to the writers for continuing to find ways to keep Dan involved in the show without actually being back in Selina's employ.  Whereas I'm happy for the disgusting Dan to be miserable, I've always had a soft spot for Amy, even though she's arguably almost as despicable as Dan is.  So it was sad to see her engaged to the loser Buddy Calhoun (Matt Oberg) and running his loser of a campaign.  But Anna Chlumsky continues to be so funny when playing Amy running into failure again and again and again!
The rise and fall of Jonah Ryan's political career was amazing; this was a highlight of season six for me (as he was in season five as well).  I love how well Jonah was used in seasons five and six!  It was also great fun seeing Kent and Ben stuck in Jonah's orbit.
I dearly missed Sure Bradshaw as the unflappable Sue in season six.  (Apparently the actress was ill and thus unable to appear.)
I enjoyed the season six finale, "Groundbreaking," and the flashback sequences showing us a) how many of Selina's gang of idiots first came into her employ and b) Selina's long history of putting her personal political gain ahead of everything (and everyone) else in her life.  Selina's (and Jonah's) decision to run for President (again) was a great set-up for the final season.
I'll be back soon with my thoughts on season seven, the final season of Veep!
Please support MotionPicturesComics.com by clicking through one of our Amazon links the next time you need to shop!  We'll receive a small percentage from any product you purchase from Amazon within 24 hours after clicking through.  Thank you!