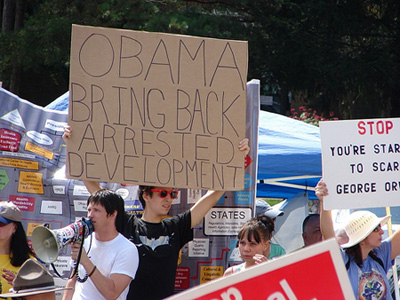 News Around the Net!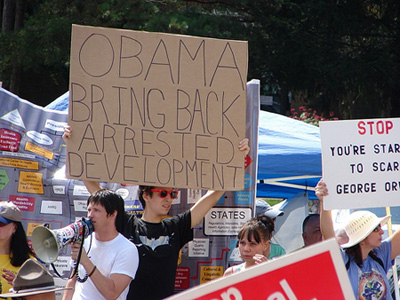 Love that photograph.  (I first saw it here.)
My friend Andy recently pointed me in the direction of a terrific web-comic called XKCD.  It's a self-described web-comic of "romance, sarcasm, math, and language."  My buddies who work in the computer world picked this comic as their favorite.
Here's an interesting article that compares various shows' original pilot episodes with what actually made it to air.  I was particularly intrigued since I recently saw Joss Whedon's original, unaired pilot for Dollhouse that was rejected by FOX (it was a special feature on the season one DVD set), which Steph and I agreed was FAR superior to the pilot that aired (and, frankly, superior to ANY episode that actually aired during the first season!!  The two episodes that FOX never aired, that pilot and the epilogue episode Epitah One, were far far better than any of the 12 episodes that were actually broadcast.  But that's a blog for another time…)
Here's an interesting list of one fella's thoughts on the 10 best series of the 21st century so far (2000-present).  Some interesting choices there.  Love his description of season 1 of Battlestar Galactica (though beware a spoiler for that season's shocking finish if you've never seen it!).
Click here for an absolutely fascinating, lengthy look into Spike Jonze's almost decade-long effort to bring Where The Wild Things Are to the big screen, from the New York Times.  I cannot wait to see what he has created.
There's a really intriguing new trailer out there for Up in the Air, the new film from director Jason Reitman (Juno, Thank You For Smoking) and starring George Clooney, Vera Farmiga, Jason Bateman, Danny McBride, and Zach Galifianakis that looks spectacular.
Last year I wrote a piece that I called My Farewell to Heroes, in which I vowed to stop watching that incredibly disappointing show.  Luckily (judging by the consistently terrible reviews that the third season of the show got) I was able to stick to my vow.  Life is just to short to watch shitty TV.   Anyways, there's an amusing review of the third season DVD set up at DVDactive.com (a terrific DVD/Blu-Ray site) by someone who shares my disdain for the show.  Worth a read.
I've breen pretty down on the movies of summer 2009.  My feeling has been that this was one of the more disappointing summers in recent memory.  But a recent article by Devin Farici over at Chud, listing his 10 best movies of summer 2009 just might cause me to change my tune.  I haven't yet seen Moon, Away We Go, or World's Greatest Dad (missed 'em in theatres, but I hope to check out all three on DVD), and I just didn't have much interest (sorry, Devin!) in Drag Me to Hell.  But I must admit that any summer that saw the release of Star Trek, Harry Potter and the Half-Blood Prince, Funny People, District 9, Up, and Inglourious Basterds can't be that bad.  Still, it's hard to forget the disappointments of Transformers: Revenge of the Fallen, G.I. Joe: The Rise of Cobra, Terminator: Salvation, Year One, and X-Men Origins: Wolverine.
See you all back here tomorrow!