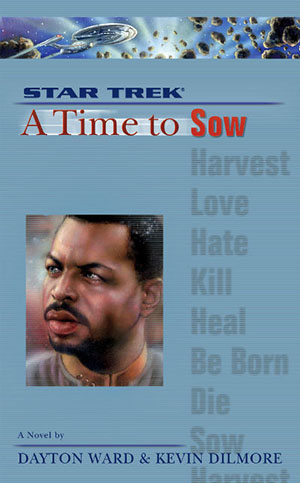 Star Trek: A Time to Sow and A Time to Harvest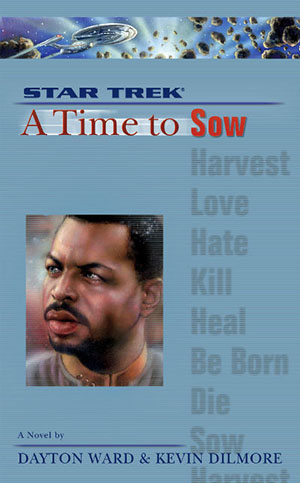 I've gone back to read, for the first time, the nine-book "A Time To…" saga of Star Trek novels published in 2004, designed to bridge the gap between Star Trek: Insurrection and Star Trek: Nemesis, the last of the TNG movies.  (Click here for my review of books 1 and 2: A Time to be Born and A Time to Die, by John Vornholt.)  Today I'll take a look at books 3 and 4: A Time to Sow and A Time to Harvest, by Dayton Ward & Kevin Dilmore.
When A Time to Sow opens, Captain Picard and the crew of the Enterprise-E are facing the repercussions from Starfleet of what is perceives as their failures at Rashanar (as depicted in the previous two novels).  Starfleet sends the Enterprise on a mission that is generally perceived as a waste of time: investigating the origins of a distress call transmitted by a probe that was first found two centuries earlier, during Captain Archer's time.  However, Picard and the Enterprise succeed in locating the last survivors of Dokaal…
I enjoyed this duology!  It was an interesting move to bring back the Satarrans from the TNG episode "Conundrum".  That's quite a deep cut!  I enjoyed seeing those aliens again, and giving them some more development.  However, it stretched my credulity at how they all seemed to be computer geniuses (able to determine a method of incapacitate Data within just a few hours, and also able to wreak all sorts of havoc with the ship's supposedly secure computer that even Data and Geordi had extreme difficulty detecting and undoing.)  I also found it unlikely that all three Dokaalan probes were found in the Federation's part of the galaxy (one by the Vulcans and another 200 years later by the Federation, and the third by the Satarrans) … wouldn't the Dokaalans have launched the three proves in entirely different directions, towards different parts of the galaxy?
I quite liked the way these books explored Data's loss of his emotion chip, as seen in the previous duology, and Geordi's fear that loss has undone much of Data's personal growth that we followed on the show and movies.  Nemesis was vague as to whether Data did or didn't still have his emotion chip.  Looks like this series is confirming that he didn't, and trying to explain why the Data in Nemesis felt like an early version of the character (one of many flaws in Nemesis' script).  Nicely done!  (The authors should get a Marvel-style no-prize!)  I liked seeing attention paid to the Geordi-Data friendship, and to Geordi himself, who got a nice spotlight at various points in this story (most notably managing to escape capture, along with Taurik, by the Satarans).
Speaking of Taurik, I enjoyed seeing this character from the TNG episode "Lower Decks" involved in the story.  I love that the novels have continued to use Taurik.
Book two of this duology, A Time to Harvest, had some great suspense, as we the readers knew that many characters were not what they seemed and were operating against our heroes.  (In general, my personal taste runs against stories of mind control and characters pretending to be other characters, but it worked decently well here.  By revealing to the readers that there were spies in our heroes' midst so long before Picard and co. figured it, Mr. Ward & Mr., Dilmore built up suspense.  However, the con was that I got impatient with being so far ahead of the Enterprise crew and having to wait hundreds of pages for them to figure out what was going on.)
I enjoyed the ways that the Star Trek concept of terraforming was incorporated into this story.  It was nice to see lots of continuity references: to the Genesis project (and the Genesis Wave from John Vornholt's novels) as well as Velara III (from the first season TNG episode "Home Soil" — the one where the alien entities refer to humanoids as "ugly bags of mostly water").
There were plenty of other wonderful continuity notes throughout these two books.  I enjoyed seeing a reference to Suus Mahna, the Vulcan martial arts as seen on Enterprise.  It was smart to see the method of incapacitating Data used in Insurrection used again here.  I loved seeing Dr. Crusher using an EMH (the holographic doctor, as seen on Star Trek: Voyager), just as she did in First Contact.  I also appreciated the explanation as to why she was still using that Mark I (like the Doctor from Voyager) and not the more advanced Mark II (either the version modeled on Dr. Bashir, as seen in the DS9 episode "Doctor Bashir, I Presume?", or the version played by Andy Dick in the fourth season Voyager episode "Message in a Bottle").
Was Picard reading Strangers From the Sky in his quarters??  That really made me smile.  (We read that Picard was reading a fictional depiction of Earth's first contact with Vulcans.)  What a fun nod to long-time fans of Star Trek fiction!!  (Margaret Wander Bonanno's novel, written back in 1987, was of course later overwritten by the canonical onscreen depiction of Earth's first contact with Vulcans in 1998's Star Trek: First Contact.  I haven't read Strangers From the Sky since I was a kid, but I remember loving it.  I need to find time to go back and reread that someday!)
I particularly liked the early chapters of A Time to Sow, which were set during the time of the show Enterprise.  I loved the scene between Admiral Forrest and Vulcan Ambassador Soval.
I was pleased to see Worf involved with the story, even though he wasn't stationed on the Enterprise at the time of these events, as per the ending of Deep Space Nine.  (In a similar manner, the first two books brought Wesley Crusher back into the story.)  However, I expected more of Worf after that tantalizing single chapter early in A Time to Sow.  I assume we'll spend more time with Worf later in this series.
I was intrigued by the device of using new character Hjatyn's journals to tell parts of the story.  As a reader, I didn't trust Hjatyn as a reliable narrator, and so I kept waiting for a switcheroo as the story progressed.  Using this device as a recap at the start of the second book in this duology, A Time to Harvest, felt to me like a weird way to confirm that we should take Hjatyn at his word.  I wonder: did the authors not realize that we'd be wondering whether we should trust this character's writings??
As the story unfolded, I was surprised by the high death count of both Dokaalans and Enterprise crew-members.  That was an unusual development!
Was I supposed to be surprised that Data's scheme to speed up the Dokaalan terraforming efforts went wrong?  I was shocked that Picard so quickly approved this action.  Why not conduct a small test first, before undertaking this on a planetary scale?  It seemed foolishly risky even in the very best of circumstances, and doubly so after Data had been so seriously injured.  That seemed nuts to me.
Over-all, I thought this was a great stand alone TNG adventure.  My only regret is that I guess I'll have to wait until deeper in this series until we get to the good stuff that I know is coming, with Tezwa and Min Jefe, which has major ramifications for future books.  I am eager to get to those stories, which were referenced in so many future books.  But for now, I've enjoyed these first four novels in the "A Time To…" series very much!  Onwards…!
Please support MotionPicturesComics.com by clicking through one of our Amazon links the next time you need to shop!  As an Amazon Associate, I earn from qualifying purchases.  That means I'll receive a small percentage from any product you purchase from Amazon within 24 hours after clicking through.  Thank you!

Previous Star Trek novel reviews:
Star Trek – Unspoken Truth , Troublesome Minds, Cast No Shadow, Excelsior: Forged in Fire, Allegiance in Exile, Legacies Book 1: Captain to Captain, Legacies Book 2: Best Defense, Legacies Book 3: Purgatory's Key, The Face of the Unknown, From History's Shadow, Elusive Salvation, Assignment: Eternity, The Rings of Time, The Weight of Worlds, No Time Like the Past, Foul Deeds Will Rise, The Antares Maelstrom, The Shocks of Adversity, Crisis of Consciousness, The Latter Fire
Star Trek: The Next Generation – A Time to be Born & A Time to Die, The Sky's The Limit, Resistance and Q & A, Before Dishonor and Greater than the Sum, Destiny trilogy, A Singular Destiny, Losing the Peace, Immortal Coil, Cold Equations Book 1: The Persistence of Memory, Cold Equations Book 2: Silent Weapons, Cold Equations Book 3: The Body Electric, The Light Fantastic, Takedown, Armageddon's Arrow, Prey Book 1: Hell's Heart, Prey Book 2: The Jackal's Trick, Prey Book 3: The Hall of Heroes, Headlong Flight, Hearts and Minds, Available Light, Collateral Damage
Star Trek: Deep Space Nine – DS9 relaunch overview, The Soul Key, The Never-Ending Sacrifice, Plagues of Night and Raise the Dawn, Section 31: Disavowed, The Missing, Sacraments of Fire, Ascendance, Force and Motion, The Long Mirage, Section 31: Control, Enigma Tales, Gamma: Original Sin
Star Trek: Voyager – Full Circle, Unworthy, Children of the Storm, The Eternal Tide, Protectors
Star Trek: Enterprise — Kobayashi Maru, The Romulan War: Beneath the Raptor's Wing, The Romulan War: To Brave the Storm, Rise of the Federation: A Choice of Futures, Rise of the Federation: Tower of Babel, Rise of the Federation: Uncertain Logic, Rise of the Federation: Live By the Code, Rise of the Federation: Patterns of Interference
Star Trek: Titan – Book 1: Taking Wing, Book 2: The Red King, Book 3: Orion's Hounds, Book 4: Sword of Damocles, Under a Torrent Sea, Synthesis, Fallen Gods, Absent Enemies (e-book), Sight Unseen, Fortune of War
Star Trek: Typhon Pact – Book 1: Zero-Sum Game, Book 2: Seize the Fire, Book 3: Rough Beasts of Empire, Book 4: Paths of Disharmony, The Struggle Within (e-book), Plagues of Night and Raise the Dawn, Brinkmanship
Star Trek: The Fall — Book 1: Revelation and Dust, Book 2: The Crimson Shadow, Book 3: A Ceremony of Losses, Book 4: The Poisoned Chalice, Book 5: Peaceable Kingdoms
Star Trek: New Frontier – Series overview, Stone & Anvil, After the Fall, and Missing in Action, Treason and Blind Man's Bluff
Star Trek: Department of Temporal Investigations – Watching the Clock, Forgotten History, The Collectors (e-book), Time-Lock (e-book), Shield of the Gods (e-book)
Star Trek: The Lost Era – Book 1: The Sundered (2298), Book 2: Serpents Among the Ruins (2311), Book 3: The Art of the Impossible (2328-2346), The Buried Age (2355-2364), One Constant Star (2319)
Star Trek: Mirror Universe (Books 1 & 2) – Star Trek: Mirror Universe: Shards & Shadows – Star Trek: Mirror Universe: The Sorrows of Empire — Star Trek: Mirror Universe: Rise Like Lions –  Star Trek: Myriad Universes (Books 1 & 2) – Star Trek: Myriad Universes: Shattered Light
Beyond the Final Frontier — Josh's favorite Star Trek novels