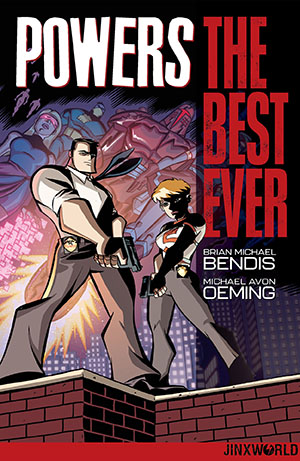 Josh Reviews Powers: The Best Ever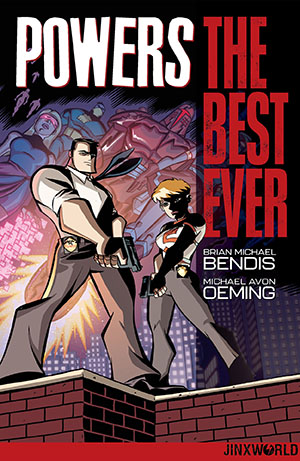 For twenty years, Powers by Brian Michael Bendis and Michael Avon Oeming has consistently been one of my favorite creator-owned comic book series.  The series has a brilliant concept: it depicts homicide detectives operating in a world of super-heroes.  How can one maintain the rule of law in a world when super-powered villains and heroes do battle across the city?
I've written a lot about Powers on this site.  Click here for my initial review and overview of Powers, from back in 2009.  Click here for my review of Powers volumes 1 and 2, the first two lengthy runs of the Powers comic.  Click here for my review of Powers volume 3.  Click here for my review of Powers: Bureau (volume 4).  Click here for my review of Powers volume 5.  Click here for my review of the first several episodes of the Powers TV adaptation.  Click here for my review of the Powers spin-off novel, The Secret History of Deena Pilgrim.
Although Powers has been in existence for two decades, the series has not always been published regularly.  The theoretically monthly comic-book often had trouble sticking close to anything approaching a regular schedule.  The most recent Powers series vanished after the publication of issue #8, back in early 2017.  They were right smack in the middle of a new storyline, which was cut off right in the middle.  It was very frustrating to me, as a reader!
I was delighted to hear that the series would finally be returning, in the form of a full-length graphic novel.  I am pleased to report that Powers: The Best Ever, is fantastic.  It's one of the best Powers stories in years.  If this is the grand finale of the series, which it seems to be, then I am very satisfied.  (Although I'm very sad to see the series come to an end.)
I was worried, when I first read that this graphic novel would be coming out, that the story begun in Powers vol. 5 issues 7-8 would be left unfinished.  However, happily, those two issues have been slightly reworked and included as one piece of this much larger story.  I'm delighted that story has now, finally, been completed.
Powers has unfolded in something approaching real-time, with the characters changing and aging as the series has progressed.  This graphic novel continues that trend, opening many years after the events of Powers vol. 5.  Christian Walker and Deena Pilgrim are eventually reunited on a case with ties not only to the very first case they worked together (the "Who Killed Retro Girl?" story from the very first issues of Powers) but also to Walker's lengthy personal history, which (as we learned in the famous story-arc "Forever") spans much of human history.  (The events from the unfinished Powers vol. 5 issues 7-8 are incorporated into the graphic novel as the beginning of an extended flashback sequence, and they work very well that way.)
Powers: The Best Ever tells a very satisfying complete story.  It's possible to read this as a complete newbie to Powers and, I think, understand it and be satisfied.  (Not that I advise you to do that, though.  This series is too good to start at the end.  If you're curious to try Powers, start at the beginning — the entire series is available in lovely collected editions — and enjoy.)  As a long-time fan of Powers, the story of The Best Ever is incredibly satisfying.
I was delighted by the many ways the story served as a love-letter to the entire series of Powers.  It was filled with nods back to the entire run of the series.  Pretty much every major character in the series is involved in some way in this story.  In addition to Walker and Deena, you see or find references to Retro Girl, Zora, Triphammer, Captain Cross, Kutter, Wolfe, Calista, FG-3, Supershock, Ted Henry, Doctor Marrs, Extreme, and so many more.  We get lots of juicy new flashbacks to Walker's long history.  We get to spend more time in the "Age of Powers" in the eighties, when Walker was the super-hero Diamond.  We get to spent time with Agent Lange (who was a major player in the Powers: Bureau arc) and her never-named bald partner from back when they were super-heroes, and see the early days of their straddling the worlds of the FBI and the super-heroes.
I was pleased that Mr. Bendis & Mr. Oeming brought back Walker's "Forever" nemesis Wolfe in vol. 5 issues #7-8, and I'm delighted that he became the focus of this graphic novel.  Wolfe was a major part of the first series of the Powers TV show, where he was portrayed by Eddie Izzard.  In many ways, the TV show elevated Wolfe into a more significant character than he ever was in the comics.  So it made sense to me that they'd bring him back into the comic to tell more of his story.  I've been waiting years to learn where those flashbacks in issues #7-8 were going.  It's very cool that The Best Ever cements Wolfe as the most dangerous antagonist Walker & Pilgrim ever faced.  I love getting to learn more about Wolfe and Walker's long and complicated relationship.
(Very geeky Powers fan comment: I am, however just as confused as I was when I first read Powers vol. 5 issue #7, about how, when Walker meets Wolfe again in the eighties in that issue, he doesn't remember Wolfe brutally murdering his wife in 1936, as was depicted in the "Forever" arc.  In the eighties section of "Forever," Walker DID remember what Wolfe did.  Over the years, Powers has been somewhat inconsistent as to how long the long-lived Walker can remember things.  It's been mentioned that Walker could remember things for about a hundred years — a normal-ish human lifetime — before forgetting things.  That certainly seemed to be the case in "Forever."  But other stories haven't seemed to maintain that.  In the early issues of Powers vol. 3, we see Walker being a jerk in a Rat-Pack like group after WWII.  Those issues seemed to suggest that he had no memory of his life circa 1936, which wasn't that many years before.  So I'm confused on this point.  I think perhaps The Best Ever tries to address this inconsistency by showing us Wolfe inject Walker with something in the eighties, which seems to allow him to access (some?) of his older memories.  So that could explain why Walker didn't remember the events of 1936 in his Rat Pack days or in the 1980's set-flashbacks here (originally in Powers vol. 5 #7) but that he does after the injection, in the eighties-set chapter of "Forever"?  Was that how this was all intended to work by Mr. Bendis & Mr. Oeming?)
After waiting so long for Powers to return, I'm sad that this graphic novel appears to be the end of the series.  Powers volume 5 seemed to be designed as a whole new relaunch of the series.  I loved those first few issues (which got the gang back together) and I was excited for a long new run of stories.  But it ended just barely after it had begun.  It's a bummer that we didn't get the long run of new stories that I'd been hoping for.
That being said, I like when long-running stories (in any media: comics, books, TV shows, movies, etc.) are given a proper ending.  Powers deserves a true ending, and if this is indeed the end, The Best Ever is a fine way to leave the series and these characters.  I'm very satisfied with where we see all of the characters wind up.  I loved both aspects of this story — the present-day murder investigation, and the lengthy flashbacks to Walker's past.  The story is intense and funny and grotesque and profane and emotional in the perfect Powers combination.  I loved the multi-page flashbacks, near the end, that showed us imagery from throughout the run of the series.  I loved the final scenes.
Michael Avon Oeming's art is perfection.  I don't think he has ever been better.  I've been the fan of his work since the beginning.  If there was one place I was occasionally critical, it's that I felt his heavily-stylized work could sometimes be somewhat inconsistent.  (In particular, I think the artwork in the first four issues of Powers vol. 3 have always struck me as looking rushed and unfinished.)  But, wow, his work throughout this lengthy graphic novel is just stupendous.  There's incredible detail in every panel on every page.  He's just as good portraying the quiet emotional beats between two characters as he is at the bloody super-hero/super-villain smackdown at the end.  The artwork is beautiful and wonderfully consistent from start to finish.  What a note on which to end the series.  I bow my head in Mr. Oeming's honor.
I also want to compliment the gorgeous coloring by Nick Filardi.  Again, I've been a fan of his previous work, but his coloring here is next-level great.  Every single page of this book is absolutely beautiful.
My only real complaint is that for all of the continuity packed into The Best Ever, there are a number of dangling story-lines from the series that remain unresolved.  I've been waiting for years for a resolution to the cliffhanger that Powers: Bureau ended on, with Calista/Retro Girl having torn up her costume after the trauma of being controlled by those weird aliens from the Millennium Guard.  The Best Ever lets us know that Calista got through that and returned to her super-heroics as Retro Girl, but to never actually get the story of what happened there is a bummer.  I have other questions.  Whatever happened to the signal that the creepy bug attached itself to Calista sent out into space, way back in Powers vol. 3 #9?  (The bugs/worms that come out of Calista in Powers: Bureau #12, that said they were sent by the Millennium Guard, look a lot like the bug/worm creatures we saw in volume 3.  But since those bugs/worms first appeared in volume 3 BEFORE Walker earned the Millennium Guard's wrath by using his powers on Earth, I'm confused as to whether they're supposed to be connected.)  The first story-line in Powers: Bureau ended (in Powers: Bureau #6) with another cliffhanger, involving the criminal Erika Broglia, who Pilgrim & Walker had just busted, blackmailing FBI agent Meltzer to release her.  What happened there??  We never found out what Deena was going to confess to the FBI back at the end of Powers: Bureau, either.  We never found out who Enki Sunrise was reporting to about Walker, nor did we ever find out more about the young boy we saw her mothering, nor what happened with Enki's lame boyfriend.  I'm still unclear if FBI Agent Lange was really a villain, or if she was just a hench-person for bigger secret baddies.  For a series that lasted as long as Powers did, I wish those storylines had been wrapped up a little more satisfactorily.  (I also have a few questions regarding the ending of The Best Ever.  I'm not sure I understand why Wolfe wouldn't reincarnate after what happened to him at the end of this story, when he looked just as completely dead and dissolved at the end of "Forever."  Also, what was with the stink-eye that Calista gave to Deena at the end of her speech??  They'd hugged happily before Calista spoke…!)
Still, while those dangling story-threads are more reasons why I hate to see Powers end, none of that is a knock on the fantastic graphic novel The Best Ever.  This book filled me with joy from the first page through the last.  I don't know how I could have possibly asked for any more.  As I wrote above: if this is the end of Powers, it's a terrific ending, and I am satisfied.  I will miss this series deeply.
Please support MotionPicturesComics.com by clicking through one of our Amazon links the next time you need to shop!  As an Amazon Associate, I earn from qualifying purchases.  That means I'll receive a small percentage from any product you purchase from Amazon within 24 hours after clicking through.  Thank you!