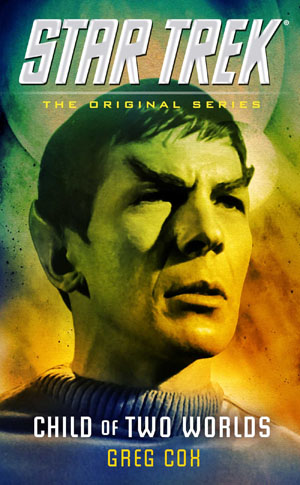 Star Trek: Child of Two Worlds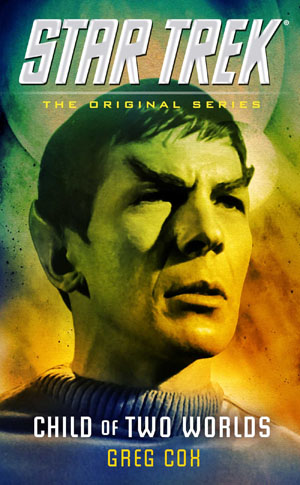 Recently, I have been enjoying catching up on the many great Star Trek: The Original Series novels that author Greg Cox has written over the past several years!  I've arrived at last at the last one that had been waiting patiently on my book-shelf: Child of Two Worlds.
This story is set shortly after the events of "The Cage" (the original, unaired Star Trek pilot, that was later repurposed as the flashback sequences in "The Menagerie").  Captain Christopher Pike is in command of the Enterprise, "Number One" is his first officer, and a young Lieutenant Spock is science officer.
As the story begins, the Enterprise crew is being cut down by a virulently contagious Rigelian fever.  The only known cure within range of the ship can be found on the independent world Cypria, near the Klingon border.  En route, the Enterprise responds to a distress call of a small Cyprian ship being attacked by Klingons.  Pike intervenes and rescues the ship's two passengers: a Cyprian woman named Soleste and an angry Klingon woman, Merata, who angrily claims to have been abducted by the Cyprian.  Soleste claims that the Klingon is no Klingon at all, but actually her sister Elzura, who was kidnapped by Klingons when she was just a girl, following a violent raid on a Cyprian outpost.  Starfleet science quickly confirms this.  Soleste has been searching for her sister for a decade, and is desperate to bring her back home.  But Merata/Elzura has been raised as a Klingon and now sees herself as Klingon.  Captain Pike and the crew of the Enterprise quickly find themsleves caught between the Cyprians, who refuse to share their cure for Rigellian fever unless Elzura is returned to them, and Merata's adopted Klingon father, who stands poised to attack and shatter the tenuous peace between the Federation and the Klingon Empire if his daughter is not returned to him.
Between the book's title (which references a line spoken by Sarek to young Spock in 2009's Star Trek reboot film: "you will always be a child of two worlds") and the cover (which features a close-up on a "The Cage"-era Spock), I'd assumed that this novel would be a deep dive character study of young Spock.  (In much the same way that Margarent Wander Bonanno's novel Burning Dreams, which had a similar-looking cover, focused on Captain Pike.)
That's not the case.  While Child of Two Worlds does have a fantastic story-line for Spock, who sees in Merata/Elzura similarities to the way he himself is torn between his Vulcan and Human sides, the book gives wonderful attention to all of the major Pike-era characters, including Captain Pike himself, Number One, Doctor Boyce, Yeoman Colt, etc.  I loved this!  Spock-focused stories are always fun, but I was very excited that this book wound up being a much more well-rounded story than I'd expected it to be.  There certainly have been some previous books and comics that have explored this time-period (Mr. Cox mentions a number of them in his acknowledgements), but this remains an era ripe for exploration, and Mr. Cox's novel excellently scratches that itch.
The central dilemma, of what should become of Merata/Elzura, is a classic Star Trek style moral quandary, one without any easy answers.  It's a great hook for the book.  The plot is, I must admit, somewhat reminiscent of the DS9 episode "Cardassians," (in which Captian Sisko must decide whether a young Cardassian boy, Rugel, who grew up being been raised as a Bajoran, by Bajoran parents, should be returned to the Cardassian family he is biologically related to).  But with so much Star Trek out there, it's hard to prevent some similar stories from recurring, and this tale unfolded differently enough from the DS9 story that I wasn't bothered.
While the core of the novel is this central moral dilemma, and the character stories spinning out of it, Mr. Cox also showed his skill at writing action with this book.  After setting the story in motion, Mr. Cox skillfully keeps the tension tight throughout the second half of the book, as he presents Pike, Spock, Number One and co. with dangers on all sides, as the landing party on Cypria is beset by an angry mob while the Klingons attack the Enterprise in orbit and a boarding party invades the ship.  Mr. Cox doesn't let the pace drop, and I found the book to be more and more of a page-turner as I got deeper into it.
Although he wasn't the novel's sole focus, Mr. Spock does get a lot of attention in the story.  Mr. Cox showed a fantastic grasp of this character, and where he would have been at in this period of his life.  One of my favorite parts in the book is the novel's heartbreaking prologue, in which Amanda bakes the seven-year-old Spock a birthday cake, and the young boy already finds himself wrestling with his desire to fit in on Vulcan versus his love for his mother and his strong need not to hurt her by rejecting her human culture and background.  It's a wonderful vignette, and right away I knew I was in good hands and that Mr. Cox was the right author to tell this story.
Other notes:
* Although the book's title comes from the 2009 Star Trek film, thankfully this story is clearly set in the Prime universe, not the rebooted "Kelvin" timeline.
* I enjoyed the references to the starship Intrepid and its all-Vulcan crew.  (This ship and its crew met a sad end in the Original Series episode "The Immunity Syndrome".)  It was interesting to see Spock consider the opportunity to join that all-Vulcan crew.  Rightly so, in the end we learn that Spock was not much interested in that career path — had he wanted to live his life surrounded primarily by other Vulcans, he would not have rebelled against his father's wishes and joined Starfleet.  (We don't see any evidence of this rift between Spock and his father in the rebooted 2009 Star Trek film, but the Original Series episode "Journey to Babel" that introduced Spock's father Sarek clearly established that Spock and Sarek didn't speak for decades following Spock's making that choice.)
* In "The Cage"/"The Menagerie," we see Captain Pike wrestling with the deaths of several crewmen on Rigel VII.  I was pleased to see both Pike and Number One refer back to that incident in this book.  It makes sense that such a tragic event would still haunt them, and that the events of "The Cage"/"The Menagerie" wouldn't have resolved all of those issues for them.
* I love the plot point of Spock's thought that future starship designs should incorporate the ability to use anesthezine gas to stun intruders, something that later Trek continuity shows us would indeed eventually be the case!
* I have now caught up with all of Greg Cox's older Star Trek novels!  I do still have several other Original Series-set novels that have been published over the past few years that I am eager to catch up to… and since the long hiatus in new Trek books has finally ended, I'm happy that one of the first new Trek books published was a new Original Series novel by Mr. Cox, The Antares Maelstrom.  I look forward to reading that one soon!
Previous Star Trek novel reviews:
Star Trek – Unspoken Truth , Troublesome Minds, Cast No Shadow, Excelsior: Forged in Fire, Allegiance in Exile, Legacies Book 1: Captain to Captain, Legacies Book 2: Best Defense, Legacies Book 3: Purgatory's Key, The Face of the Unknown, From History's Shadow, Elusive Salvation, Assignment: Eternity, The Rings of Time, The Weight of Worlds, No Time Like the Past, Foul Deeds Will Rise, The Captain's Oath
Star Trek: The Next Generation – The Sky's The Limit, Resistance and Q & A, Before Dishonor and Greater than the Sum, Destiny trilogy, A Singular Destiny, Losing the Peace, Immortal Coil, Cold Equations Book 1: The Persistence of Memory, Cold Equations Book 2: Silent Weapons, Cold Equations Book 3: The Body Electric, The Light Fantastic, Takedown, Armageddon's Arrow, Prey Book 1: Hell's Heart, Prey Book 2: The Jackal's Trick, Prey Book 3: The Hall of Heroes, Headlong Flight, Hearts and Minds, Available Light, Collateral Damage
Star Trek: Deep Space Nine – DS9 relaunch overview, The Soul Key, The Never-Ending Sacrifice, Plagues of Night and Raise the Dawn, Section 31: Disavowed, The Missing, Sacraments of Fire, Ascendance, Force and Motion, The Long Mirage, Section 31: Control, Enigma Tales, Gamma: Original Sin
Star Trek: Voyager – Full Circle, Unworthy, Children of the Storm, The Eternal Tide, Protectors
Star Trek: Enterprise — Kobayashi Maru, The Romulan War: Beneath the Raptor's Wing, The Romulan War: To Brave the Storm, Rise of the Federation: A Choice of Futures, Rise of the Federation: Tower of Babel, Rise of the Federation: Uncertain Logic, Rise of the Federation: Live By the Code, Rise of the Federation: Patterns of Interference
Star Trek: Titan – Book 1: Taking Wing, Book 2: The Red King, Book 3: Orion's Hounds, Book 4: Sword of Damocles, Under a Torrent Sea, Synthesis, Fallen Gods, Absent Enemies (e-book), Sight Unseen, Fortune of War
Star Trek: Typhon Pact – Book 1: Zero-Sum Game, Book 2: Seize the Fire, Book 3: Rough Beasts of Empire, Book 4: Paths of Disharmony, The Struggle Within (e-book), Plagues of Night and Raise the Dawn, Brinkmanship
Star Trek: The Fall — Book 1: Revelation and Dust, Book 2: The Crimson Shadow, Book 3: A Ceremony of Losses, Book 4: The Poisoned Chalice, Book 5: Peaceable Kingdoms
Star Trek: New Frontier – Series overview, Stone & Anvil, After the Fall, and Missing in Action, Treason and Blind Man's Bluff
Star Trek: Department of Temporal Investigations – Watching the Clock, Forgotten History, The Collectors (e-book), Time-Lock (e-book), Shield of the Gods (e-book)
Star Trek: The Lost Era – Book 1: The Sundered (2298), Book 2: Serpents Among the Ruins (2311), Book 3: The Art of the Impossible (2328-2346), The Buried Age (2355-2364), One Constant Star (2319)
Star Trek: Mirror Universe (Books 1 & 2) – Star Trek: Mirror Universe: Shards & Shadows – Star Trek: Mirror Universe: The Sorrows of Empire — Star Trek: Mirror Universe: Rise Like Lions –  Star Trek: Myriad Universes (Books 1 & 2) – Star Trek: Myriad Universes: Shattered Light
Beyond the Final Frontier — Josh's favorite Star Trek novels