The Top 15 Episodes of TV in 2014 — Part One!
A few years ago, I had a hard time writing my list of the Ten Best Episodes of TV for that year.  I felt I had a hard time coming up with ten truly great episodes, and I was also discouraged because I was way behind on much of the TV that everyone else seemed excited about that year.  Well, this year I still feel like there is so much great television that I have not had a chance to watch.  I still haven't finished Breaking Bad (my wife and I are currently in the middle of season three), and I haven't had a chance to watch any of Boardwalk Empire, House of Cards, The Americans, Hannibal, and several other shows that sound amazing.
But, for all the probably-great TV that I HAVEN'T had a chance to watch this year, there is so much great stuff that I DID have a chance to see.  So much so that, just as I felt the need to expand my usual Top 15 Movies list to a Top 20 this year, I have expanded my usual TV Top Ten list to a Top Fifteen.
And so, without further delay, here is my list of the Top Fifteen Episodes of TV of 2014!

15. Game of Thrones: "The Mountain and the Viper" (season 4, episode 8, aired on 6/1/14) — I keep waiting for Game of Thrones to slow down or to loose some of the intensity that was so intoxicating when the show began, but that hasn't happened yet.  Thank goodness!  Season four was incredibly strong, and almost any episode could have made this list.  There are a lot of great moments in "The Mountain and The Viper."  Arya's explosion of disbelieving, cathartic laughter when she and the Hound arrive at the Eyrie only to discover that her aunt, Lysa, has just perished, is amazing.  I loved Tyrion's conversation with his brother Jamie about their slow-witted cousin.  It was incredible to, FINALLY, see Sansa Stark take control of her destiny for the first time on the show, as she puts on a magnificent act in front of the ruling council of the Eyrie in order to convince them that Littlefinger, who murdered Lysa, is in fact innocent of the crime.  But the reason this episode is on my list is because of this episode's crazy cliffhanger, a standout even for this show that excels for its crazy cliffhangers.  After a season of build-up, Tyrion's trial by combat begins as Oberyn Martell and the Mountain do battle.  It is an incredible action sequence, one that had me on the edge of my seat as I wondered just what the heck would happen.  I don't want to spoil everything here, but I'll say that the fight ends with a gruesome death that I can never un-see, and a shocking cliffhanger that had me insanely desperate to see the next episode immediately.  Holy cow.  Great television.  (Click here for my review of Game of Thrones season four.)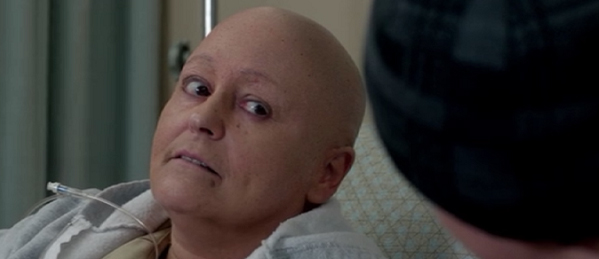 14. Orange is the New Black: "Appropriately Sized Pots" (season 2, episode 8, released on Netflix on 6/6/14) — Many of the second season plot lines heat up in this episode.  Piper's receiving special permission for a furlough (to visit her dying grandmother) starts to piss off some of the other inmates.  Caputo gets stricter as he struggles with increasing desperation to keep control, Fischer gets fired and Pornstache returns!  But what made this episode a standout for me was the focus given to Rosa, who had previously been a fairly minor supporting character.  I enjoyed the glimpses into both her present day life, going through the motions of chemo despite her knowledge that the penal system won't pay for the more-expensive treatments that would actually have a chance of saving her life, and also the flashbacks into her past as a reckless bank robber who had a bad habit of getting her boyfriends killed.  This was a great, poignant character study and also a fun expansion of the Orange is the New Black universe.  It also struck a perfect balance between being fun and funny while also being serious and poignant, something the show is always aiming for.  In this episode, they got everything just right.  (Click here for my review of Orange is the New Black season two.)

13. Fargo: "Eating the Blame" (season 1, episode 4, aired on 5/6/14) — I haven't yet had a chance to write about Fargo on the site, but I hope to take the time to do so soon.  I was incredibly impressed by the way the show took the famous and great Coen Brothers film and expanded it into a TV show, one that told an original story and yet that felt, tonally and thematically, completely of a piece with the original film.  This episode was when I first started to see how the show would be expanding upon the events of the series premiere to create a rich universe of characters and situations that could sustain for a full season, and very possibly far beyond that.  Stavros Milos (Oliver Platt) steps into the forefront here, as Lorne Malvo (Billy Bob Thornton) manipulates him into believing that the wrath of God is upon him.  Meanwhile, Lester Nygaard (Martin Freeman) gets kidnapped by the hit-men Mr. Numbers (Adam Goldberg) and Mr. Wrench (Russell Harvard).  He escapes from them in a very clever manner only to find, in the episode's amazing cliffhanger ending, that his plan has backfired quite spectacularly.  But the main reason that this episode stood out for me from amongst Fargo's excellent first season is that it is in this episode that we got a very surprising (to me at least!) direct connection to the events of the Fargo original film.  I didn't expect that at all.  I found this to be one of the most clever twists the show had up its sleeve.

12. Brooklyn Nine-Nine: "The Pontiac Bandit Returns" (season 2, episode 10, aired on 12/7/14) — I have loved seeing, in the second season of Brooklyn Nine-Nine, the way the show has begun to build up a recurring cast of weirdos and wackos.  I'd love to see the world of this show grow to reach the type of rich, gonzo universes seen in shows like The Simpsons or Parks and Recreation.  We get an exciting hint of that here as Craig Robinson reprises his role of Doug Judy, the "Pontiac Bandit," from season one.  Mr. Robinson is terrific in the role, and I'd love to see him become a regular foil for Andy Samberg's Jake Peralta, with whom he has a great rapport.  The whole Jake/Doug Judy story is great ("P.B. & J ride again!") and a fun opportunity for a classic Jake Peralta alternate identity (Dante Thunderstorm, car thief), but the whole cast shines in this episode.  Charles and Gina are horrified that their parents are dating ("Do you know how disgustingly entangled our lives will be if our parents become a couple?") and concoct a presents-related plan to break them up ("Presents are like old people third base," says Gina) that, of course, backfires completely.  Meanwhile, Amy's plan to get around Captain Holt's no-gifts policy also backfires completely when, in the course of making him a scrapbook of his old cases, she discovers that a perp he put away years ago might have been innocent.  Throw in a flashback to big-afro seventies Holt and a guest appearance by Stephen Root as Charles' dad and you have a classic episode of comedy.

11. Black Mirror: "The Entire History of You" (season 1, episode 2, released in the U.S. on Netflix on 12/14) — This standout episode of the British anthology show (which I showered with praise last month after I watched the show's first two short seasons on Netflix) has already been optioned by Robert Downey Jr.'s production company to be developed as a movie.  That's an understandable move, as this episode has such a juicy hook.  But, really, how could this story be told any better than it was here??  Toby Kebbell (Dawn of the Planet of the Apes) and Jodie Whittaker (Attack the Block) are both exceptional in this gripping piece of speculative fiction.  It is the near future, and most everyone now possesses a small chip in their neck, behind their ear, that allows them to record any moment as they are living it, and to play back those moments whenever they want.  It's like having an iPhone embedded inside one's head.  As the episode begins, we can see this technology used for fairly innocuous purposes.  Liam (Kebbell) tanks an interview, a moment of failure that he can relive over and over (to the amusement of some friends).  Things take a darker turn when he begins to suspect his wife Ffion (Whittaker) of being unfaithful, and Liam falls into a cycle of paranoia and despair as he uses this technology to relive certain moments over and over again.  Gripping, horrifying, and all-too-possible given the way our technology progresses at leaps and bounds, this was an extraordinary hour of television.
And yet, there were ten other episodes that I liked even more!  C'mon back tomorrow as my list continues with numbers ten through five!