The Top 20 Movies of 2014 — Part Four!
What fun this has been, looking back at all of the amazing movies from 2014!  Click here for part one of my list of the Best Movies of 2014, numbers twenty through sixteen.  Click here for part two, numbers fifteen through eleven.  Click here for part three, numbers ten through six.
And now, at last, it's time to draw this list to a close with my five favorite films of 2014.  Here we go:

5. Dawn of the Planet of the Apes — I dearly love every film in the Planet of the Apes series, even the terrible ones.  (Though the least said about Tim Burton's disappointing entry, the better.)  But I was bowled over by the greatness of Dawn, the eighth Planet of the Apes film and the second in the rebooted prequel series.  What a rare thing it is to see a sequel with such ingenuity, such creativity, such narrative power.  Director Matt Reaves has come in and crafted an astounding piece of speculative fiction.  Ten years after the events of the last Apes film, a plague has wiped out most of humanity.  Caesar and his apes have crafted for themselves a utopian civilization, deep in the woods of San Francisco.  But when a small group of humans wanders into Caesar's community, the struggling human community and the developing ape community find themselves on a collision course, and Caesar's belief that the apes are naturally superior to the flawed humans leads him to the precipice of a disastrous misjudgment.  Yes, this is a film that features talking apes, but Dawn is a rich human drama with Shakespearean levels of emotional complexity and power.  When everything goes to hell in the third act, it is tragic.  Andy Serkis does some of the best work of his career as Caesar, bringing such pathos, such richness of feeling to this ape character.  The mad geniuses at Weta Workshop and all the countless visual effects artists and crafts-people who brought the visual effects of this world to life have outdone themselves, creating one of the most impressive visual effects achievements I have ever seen.  Those apes look so real it is staggering.  Dawn of the Planet of the Apes is a spectacular achievement, and I can't wait to see where this series goes from here.  (Click here for my original review.)
4. Guardians of the Galaxy — What was it I said back when writing about Captain America: The First Avenger about Marvel Studios making it look easy?  They took a comic book team fairly obscure even to comic book fans, one that has not been able to ever support its own comic book series for very long, one that features a talking raccoon and a walking tree, and, led by director and co-writer James Gunn, they turned it into a fun, funny, emotional, roller-coaster ride of a sci-fi extravaganza.  Guardians of the Galaxy is able to find that magical balance of a film that is very loose and very funny, but that also has real emotional stakes for the characters.  Chris Pratt becomes a movie star before our eyes as the roguish, Han Solo-ish Peter Quill.  Everyone praises, justifiably, the creation of Rocket Raccoon and Groot, but how great is Dave Bautista as Drax the Destroyer??  An amazing cast that includes Zoe Saldana, Michael Rooker, Lee Pace, John C. Reilly, Djimon Hounsou, Glenn Close, Benicio del Toro, and the voices of Bradley Cooper and Vin Diesel under the leadership of the fiercely talented James Gunn have created one of the most rollickingly entertaining and original films I have seen in years.  The film is visually stunning and emotionally rich, and it has an amazing soundtrack.  It opens up a whole new corner of the Marvel Universe, while continuing to build the vast saga been created by all of these Marvel Studios films (hello Infinity Stones!).  I've already seen this film several times, and I have no doubt I'll be watching it many, many more times in the future.  (Click here for my original review.)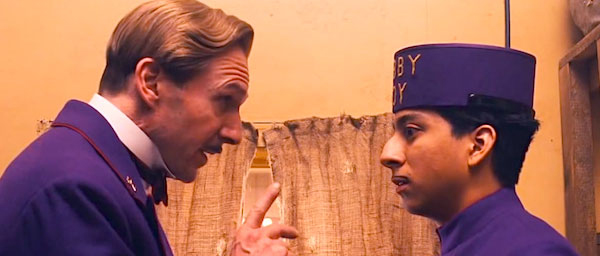 3. The Grand Budapest Hotel — Is there a better American director working today than Wes Anderson?  This man is on an extraordinary winning streak, creating film after film that I sort of feel like was made especially for me.  That is the magic and power of his films, that they feel so personal and so specific.  Mr. Anderson he has topped himself yet again with the deliriously gorgeous concoction that is The Grand Budapest Hotel.  Set in the years between the two World Wars, Ralph Fiennes stars as Gustav H., the elegant concierge of the Grand Budapest Hotel in the fictional eastern European nation of Zubrowka.  Accused of complicity in the death of the wealthy, elderly Madame D. (Tilda Swinton), Gustav and his loyal lobby boy Zero (Tony Revolori) attempt to navigate a universe of weirdos and wackos as they try to clear Gustav's name.  The film is a marvelous puzzle box of stories within stories.  Wes Anderson continues to prove himself not only a visual master and expert world-builder, but also an extraordinary creator of wonderfully unique and compelling characters.  The film is very funny and filled with richly drawn characters portrayed by a staggeringly impressive ensemble of actors, including everyone I have already named along with Adrien Brody, F. Murray Abraham, Willem Dafoe, Jeff Goldblum, Saoirse Ronan, Edward Norton, Mathieu Almaric, Harvey Keitel, Tom Wilkinson, Jude Law, Bill Murray, Jason Schwartzman, Owen Wilson, and Bob Balaban, each of whom absolutely kills.  It's fun and funny and romantic, but The Grand Budapest Hotel is also heart-achingly bittersweet, filled with nostalgic longing for a world that no longer exists.  I was deeply moved by the film, and it filled me with great joy.  (Click here for my original review.)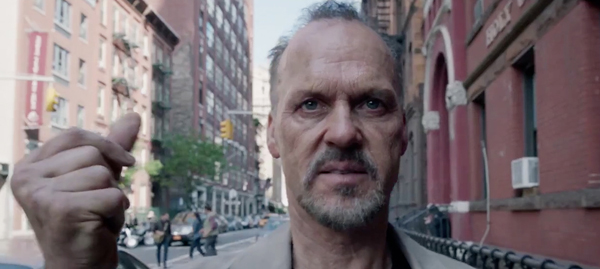 2. Birdman or (The Unexpected Virtue of Ignorance) — Alejandro González Iñárritu has crafted a masterpiece, pulsing with joyous energy from start to finish, even as the film explores dark territory.  Michael Keaton gives his best screen performance in twenty years, if not his entire career, as Riggan Thomson, a former movie-star who faded from prominence after refusing to star in the fourth sequel to the super-hero movie franchise that had made him famous.  Riggan is attempting to return to the spotlight through a Broadway play that he is starring in, and that he is backing with his own money.  The film follows Riggan through the tumultuous final days of rehearsals before the film opens.  Birdman is a visual marvel, as Mr. Iñárritu has constructed the film to look as if the entire movie is one single steady-cam shot, without any cuts.  This gives the film an extraordinary visual energy, as we're right there with the characters, bobbing and weaving in and out of the tiny rooms and tight hallways of the theatre, and getting right up close to the performers' faces in all of their most dramatic moments.  This intensity is even further elevated by the hugely memorable, propulsive jazz-drum score.  The ensemble of powerhouse actors are spectacular, each and every one of them: Edward Norton, Emma Stone, Naomi Watts, Andrea Riseborough, Zach Galifianakis, and Amy Ryan are all absolutely note-perfect.  This is a film that demands repeat viewings, if only so that one can further ponder its enigmatic ending.  I loved every frame of this film.  It was very, very close to being my number one film of the year.  (Click here for my original review.)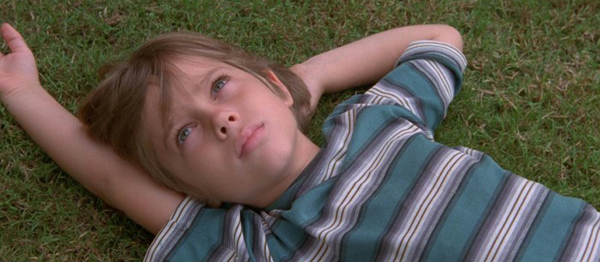 1. Boyhood — Richard Linklater has directed many great films, but this to me feels like his magnum opus.  I was entranced by the film, and deeply moved by it.  Filmed over the course of twelve years for a few weeks each year, Boyhood follows the growth of a young boy named Mason from boyhood to manhood.  As we watch Ellar Coltrane, who plays Mason, age before our eyes, I found myself swept along in the film's affecting but simple story.  Boyhood is not a film about BIG DRAMATIC THINGS.  It's a story about how our lives are the sum of many, many tiny moments and interactions.  Young Ellar Coltrane is tremendous in the film, ably accompanied by wonderful performances by Ethan Hawke, Patricia Arquette, and Lorelei Linklater.  This film would be notable, even if it didn't wind up being great, just because of the audaciousness of Mr. Linklater's twelve-years-long cinematic experiment.  But the film is so much more than just a clever gimmick.  I was overwhelmed by its power, and profoundly affected by the experience of watching it.  Boyhood has a lengthy run-time, but to me it felt like it blew by in a snap.  I would gladly spent many more hours in the company of these characters and these actors.  This is a beautiful, profoundly emotional film, and it's one I can't wait to watch again.  It's my favorite movie of the year.  (Click here for my original review.)
Whew!  I hope you all enjoyed this list!  I have lots more Best of 2014 lists coming next week, including my Favorite Episodes of TV of 2014, so I hope to see you back here soon!