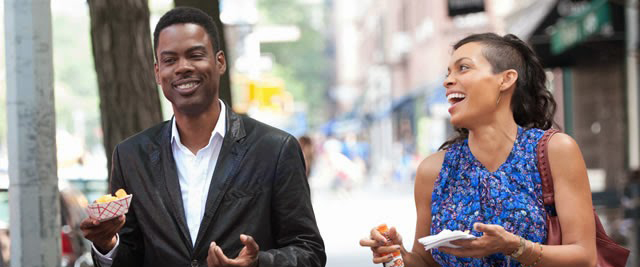 The Top 20 Movies of 2014 — Part Three!
My journey through the Best Movies of 2014 continues!  Click here for Part One of my Top 20 Movies of 2014 list, numbers 20-16.  Click here for Part Two, numbers 15-11.
And now we enter my top ten.  Here we go: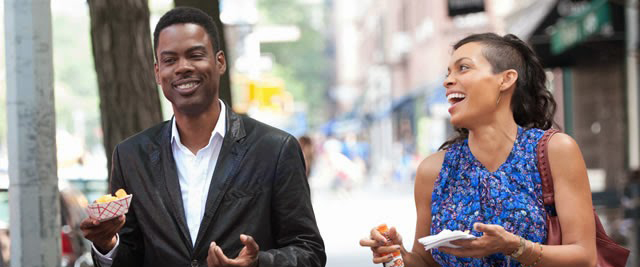 10.  Top Five — Chris Rock has finally found a movie that equals his comedic potential.  Guess what, he wrote and directed it himself!  Rock stars as movie star Andre Allen, famous for acting in the hugely successful "Hammy" comedies in which he wears a big bear suit.  But Allen is sick of that, and is attempting to redirect his career by starring in a serious movie about a Haitian slave rebellion.  On the eve of that movie's opening, Allen agrees to be interviewed by a New York Times reporter, Chelsea Brown, played by Rosario Dawson.  The film follows the two through that one tumultuous day, and both go through life upheavals before the day is done.  Top Five is a wonderfully loose, funny, heartfelt story.  It's hugely funny, and a number of famous comedians pop in for cameos, each more gut-busting than the next.  Kevin Hart, J.B. Smoove, Tracy Morgan, Jay Pharaoh, Jerry Seinfeld, Adam Sandler, and so many others fill out an extraordinarily rich ensemble.  Mr. Rock uses each performer to comedic perfection.  The film is led by Mr. Rock and Ms. Dawson, who have magnificent chemistry together.  They are both alive when on screen together, funny and compelling.  Top Five is a wonderful concoction, one I am eager to revisit.  I'll have more to say about this film on the site soon.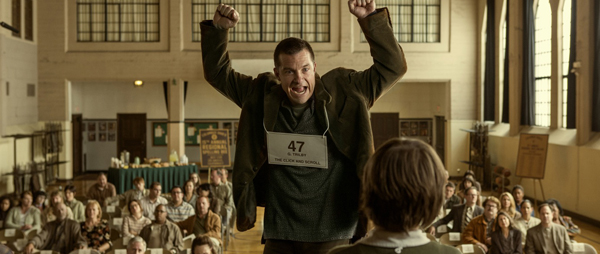 9. Bad Words — Jason Bateman knocks it out of the park with his directorial debut.  He stars as Guy Trilby, a forty-year-old man who exploits a loophole in the rules of the National Quill Spelling Bee to enter the national children's spelling bee.  If you don't think you're going to laugh at a grown man gleefully defeating little kids in a spelling bee, then this might not be the film for you.  For me, I found it to be absolutely hilarious and tremendous fun in its just-on-the-edge of bad taste transgressive comedy.  Most astonishingly, for all the fun to be had watching Guy torture innocent kids, Bad Words is surprisingly sweet in the end.  Jason Bateman is at the top of his game, Kathryn Hahn kills it, and Allison Janey & Philip Baker Hall are tremendous.  I love this movie.  (Click here for my original review.)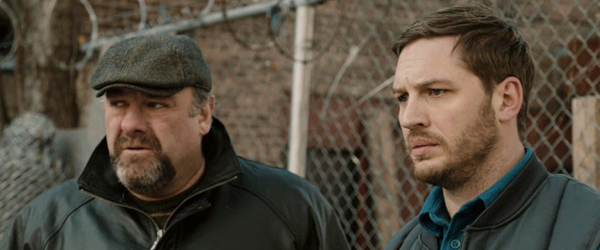 8. The Drop — This crime film, written by brilliant novelist Dennis Lehane, is a brutally intense slow burn.  It features James Gandolfini, who is phenomenal in his final role.  He plays Cousin Marv, a man who once had some power in organized crime but who now just runs a small bar owned by the mob.  But the film belongs to Tom Hardy, making his second appearance on my Best Movies of 2014 list (he starred in my number thirteen film, Locke).  Mr. Hardy plays Bob, the seemingly simple-minded young man who tends bar at Cousin Marv's bar.  Is there more to Bob than at first meets the eye?  Mr. Hardy draws the audience in, challenging us to try to answer that question in our minds as the film progresses.  Add in Noomi Rapace and you have the ingredients of a classic crime film, tough and taut and staggeringly compelling.  (Click here for my original review.)

7.  The Skeleton Twins — Writer/director Craig Johnson has crafted a wonderful film, led by extraordinary performances by Kristen Wiig and Bill Hader.  Ms. Wiig plays Maggie and Mr. Hader plays Milo, the titular skeleton twins (a nickname from their youth) who haven't spoken in a decade.  They're brought together by Milo's failed suicide attempt, after which he moves in with Maggie and her cheerfully dim husband Lance (Luke Wilson, as comedically on-point as he has ever been).  The chemistry between Kristen Wiig and Bill Hader is astounding, and both are able to turn in remarkably compelling dramatic performances, rich and honest, while also, of course, hitting the comedic moments out of the part.  I have greatly enjoyed both actors before, but together here in this film they are magical.  There are some tough dramatic moments in this film, but also some very funny moments, and the movie is able to balance those disparate tones with ease and grace.  Funny and moving, this is a phenomenal film.  (Click here for my original review.)

6. The Hobbit: The Battle of the Five Armies — Peter Jackson's trilogy adapting J.R.R. Tolkien's incredible novel has been, in my opinion, vastly under-appreciated.  True, none of these Hobbit films have been anywhere near the greatness of the magnificent Lord of the Rings films that Mr. Jackson made a decade ago.  But they are still remarkably rich, entertaining, gorgeously realized fantasy adventure films.  It's a mistake to stop appreciating the astounding accomplishment that Mr. Jackson and his team of hundreds of talented and devoted artisans have achieved with their creation of Middle Earth, one of if not the most fully achieved fantasy world I have ever seen on screen.  The costumes, the sets, the props, is there any aspect of this film series that is not perfectly realized?  The Battle of the Five Armies is the strongest theatrical version of these three Hobbit films.  It has a narrative intensity that the others were missing, and, finally, an emotional richness.  There is extraordinary action and visual spectacle in this film — come on, the Thorin versus Azog and Tauriel & Legolas versus Bolg fights are astounding, inventive and fun — and, at the end, a lovely sense of melancholy at the end of this six-film journey through Middle Earth.  This is a film that I know I'll be enjoying for many years to come.  (Click here for my original review.)
Come on back tomorrow for numbers five through one!