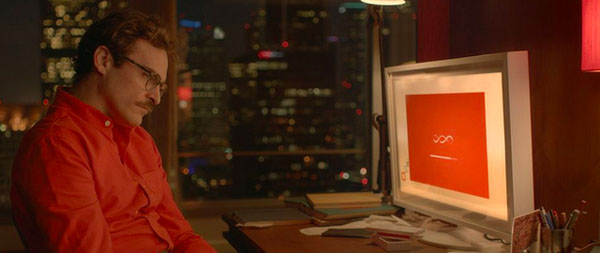 The Top 20 Movies of 2014 — Part One!
2014 was a fantastic year for movies.  I had so many films that I wanted to make mention of in my end-of-the-year best-of list, that I've decided to expand my usual Top 15 list into a Top 20.  Cheating?  Perhaps!  But it's all in the service of spreading love for a great group of terrific films, so I hope you'll forgive me.
Even with a Top Twenty list, there are still plenty of great films that I saw in 2014 that didn't make this list: They Came Together, Gone Girl, Interstellar, Noah, Supermensch: The Legend of Shep Gordon, Harmontown, Neighbors, Snowpiercer, Chef, A Million Ways to Die in the West, The Fault in Our Stars, The One I Love, Obvious Child, and lots more.
There were also plenty of 2014 movies that interested me but that I just didn't have a chance to see.  These include, but are by no means limited to: Selma and Inherent Vice (neither of which had yet opened near me when I wrote this list), Whiplash, Foxcatcher, Rosewater, Fury, St. Vincent, Nightcrawler, Laggies, Big Hero 6, The Homesman, Force Majeure, Only Lovers Left Alive, Men Women & Children, and plenty of others.
With those caveats out of the way, let's begin!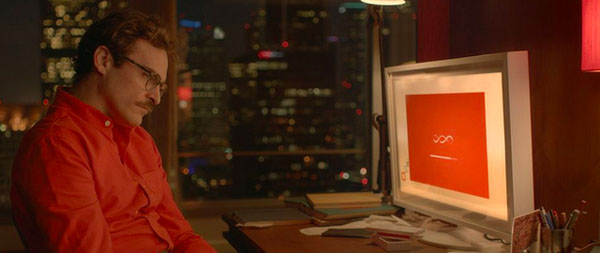 Honorable Mention: Her — This was technically a 2013 film but, like Selma and Inherent Vice this year, it did not open near me until well into 2014, so it wasn't until late January 2014 that I saw it.  Had I been able to see it before writing my Best of 2013 list, it certainly would have been high on that list.  I wasn't sure whether or not I should include it on this year's list, so I've settled for giving it an "Honorable Mention".  This gorgeous, gentle, heartbreaking story from writer/director Spike Jonze is mesmerizing, a fascinating piece of speculative fiction in which we see a vision of a society not very far removed from our own.  Joaquin Phoenix is wonderfully affecting as Theodore, a lonely man who has just been divorced from the woman he thought was the love of his life.  He purchases a new OS (Operating System), and gradually finds himself falling in love with this A.I. (voiced by Scarlett Johansson) who is with him everywhere he goes.  Is Theodore retreating dangerously from real life into fantasy?  Or is this a beautiful story of a man and a woman falling in love with the essence of each other's character, entirely separate from any physical attraction?  That's up to the viewer to decide.  Me, I was touched and intrigued by this a beautiful, unique film.  (Click here for my original review.)

20. A Most Wanted Man — Philip Seymour Hoffman's final leading role is a devastating reminder of the loss we all suffered when this brilliant actor passed away.  Mr. Hoffman plays a German spy, Gunther Bachmann, who is on the trail of a Muslim philanthropist in Hamburg who Gunther believes is funneling money to terrorists.  This is a quiet, spare film, but one that is white-knuckled in its drama as the screws slowly turn and the story builds towards its climax.  Adapted from a John le Carré novel of the same name, the story is a wonderful puzzle of competing spies and their plans within plans.  Philip Seymour Hoffman has never been better.  He plays Gunther with a quiet, subdued intensity that is riveting to watch.  This is a great spy story and an acting tour de force.  (Click here for my original review.)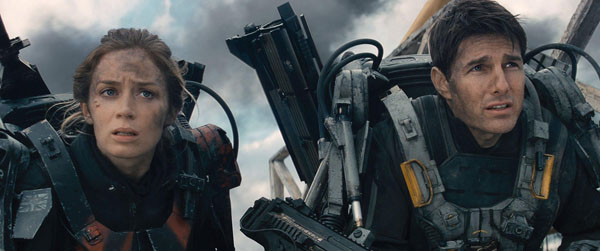 19.  Edge of Tomorrow — A sci-fi version of Groundhog Day, this film could so easily have been lame but it's a surprisingly fun, exciting sci-fi action/adventure.  You've gotta love Tom Cruse's willingness to jump into all sorts of different, interesting projects.  As always, he is a better actor than he needs to be with his movie-star super-stardom and good looks.  He's terrific here as William Gage, a coward who finds himself the unwitting potential savior of humanity as we face apocalyptic defeat by alien invaders.  Gage becomes trapped re-living one crucial day on the battlefield over and over and over again.  The sci-fi twistiness is fun, but it's the chemistry between Tom Cruise and Emily Blunt (playing Rita, a hero of the war effort who apparently has had the same experience that Gage is having) that makes this film work so well.  I love the arc of their relationship.  This movie boasts some really inventive sci-fi designs (of the aliens, of the mecha-war-suits the human grunt soldiers wear, etc.) and a lot of terrific action.  I have some quibbles with the film's third act, but the very last shot is superb.  I'm still amazed how much I enjoyed the film.  Ignore the film's horribly generic title (the film has, hilariously, been given an entirely different title for its DVD/blu-ray release: Live. Die. Repeat.) and dive in.  (Click here for my original review.)

18.  Wish I Was Here — I just wrote about this film last week, as it was one of a bunch of films I watched in the final weeks of December as I prepared my end-of-the-year best-of lists.  Zach Braff waited a decade to follow up the first film he wrote/directed, Garden State, with this, a film about family and religion and the search for meaning and connection in our lives.  Mr. Braff plays Aiden Bloom, a married father of two who feels unmoored in his life.  He dreams of success as an actor but he's struggling to find work, and he discovers his father is dying of cancer, which also means that his father can no longer afford to pay for Aiden's two kids to continue attending the Orthodox Jewish day school they've been going to.  This is a film with some big emotions, but it's also very funny and surprisingly gentle and light on its feet.  Zach Braff does great work as a director & writer (he co-wrote the film with his brother, Adam Braff) and he's accompanied by a terrific ensemble that includes Mandy Patinkin and Josh Gad.  I was impressed with how personal a piece of work it feels like this was for Mr. Braff and his brother Adam.  There are some fairly in-depth sequences in which we see Aiden struggle with his feelings towards the Judaism that is so important to his father and his kids, but from which he nevertheless feels entirely disconnected.  The film looks gorgeous, with some wonderfully inventive and playful sequences.  This one took me by surprise, but I'm really happy to have seen it.  (Click here for my original review.)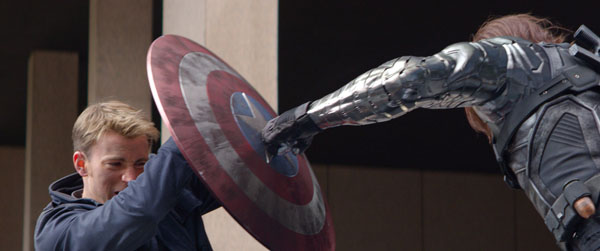 17.  Captain America: The Winter Soldier — Marvel Studios has been on an impressive win streak lately, producing one film after another that are both commercial and critical successes.  They are making it look easy!  Captain America: The Winter Soldier is a wonderful sequel to the first Cap film, and also one that builds beautifully on the web of continuity that Marvel Studios has been building up amongst all of its films.  The climax of this film turns over some big apple carts in the Marvel universe.  Whereas the first Cap film was a retro pulp adventure, this sequel feels more like a seventies political thriller, with Cap forced to go on the run after discovering the existence of evildoers among the agency, S.H.I.E.L.D., that is supposed to be keeping the world safe.  Additionally, the film adapts elements of the seminal Captain America story-line written by Ed Brubaker, in which the international assassin The Winter Soldier is revealed to be someone with close ties to Cap's past.  The film is fast-paced and intense, with real stakes, without losing the light touch of humor that has characterized these Marvel Studios films.  This movie isn't perfect.  I wish The Winter Soldier was more of a character in the film that bears his name, and I wish the film's third act didn't hinge on such a simplistic macguffin.  (All three super-helicarriers are controlled from one location?  Sigh.)  But there is so much that is great in this film that I can forgive the flaws.  (Click here for my original review.)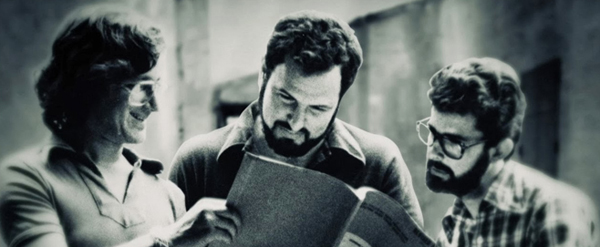 16.  Milius — The first of several documentaries on my list, Milius is a fascinating exploration of a phenomenal Hollywood talent who has, nevertheless, faded from prominence in recent decades.  John Milius wrote Apocalypse Now and the first two Dirty Harry movies, he wrote and directed Conan the Barbarian and Red Dawn, he wrote Quint's speech about the U.S.S. Indianapolis in Jaws and he wrote a lot of Sean Connery's best stuff in The Hunt For Red October.  This outsize personality was a phenomenal writer, and he is a man about whom there are many Hollywood legends.  (Though denied by John Goodman, Milius was reportedly the basis for Mr. Goodman's character Walter in The Big Lebowski.)  John Milius was a peer and contemporary of George Lucas, Steven Spielberg, and Francis Ford Coppola.  I'm always fascinated by the period in which those men came to prominence, and this documentary shines a fascinating light on those years in the seventies in which all of those exciting, dynamic young filmmakers were staking a claim to a new way of making movies.  We also dig deep into what went wrong for John Milius after around 1984.  The joy of this film is in hearing a parade of Hollywood luminaries discuss the truth and the legends surrounding John Milius.  He was an undeniably huge talent, and it's a shame that he's not still involved in making movies today.  (Click here for my original review.)
We've barely scratched the surface of 2014.  C'mon back tomorrow for numbers fifteen to eleven!