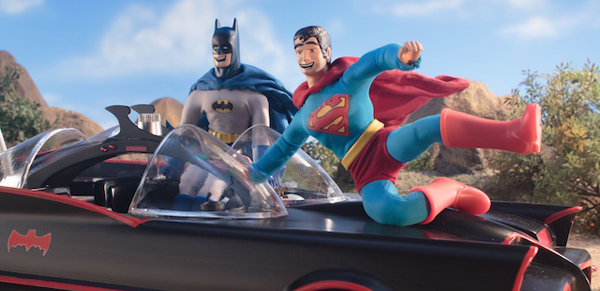 The Top Fifteen Episodes of TV in 2015 — Part One!
Last week I listed by Top Twenty Movies of 2015.  (Click here for part one of my list, numbers twenty through sixteen.  Click here for part two of my list, numbers fifteen through eleven. Click here for part three of my list, numbers ten through six.  Click here for part four of my list, numbers five through one.)
Now I am excited to look back all of the great TV we were blessed with in 2015.  This was a tremendous year for TV.  I watched a LOT of great TV.  And yet, as always, there was a lot of great TV that I didn't get to.  More than ever, it felt like!  Our current age of "Peak TV" (click here if you don't know what I'm talking about) is a blessing and a curse.  2015 TV series that I didn't have time to watch include: Fargo season two, Better Caul Saul season one, The Americans season three (I'm still catching up with season two, only a few episodes to go), Transparent, Justified, The Man in the High Castle, Review, Documentary Now!, Halt and Catch Fire, The Leftovers, Red Oaks, Silicon Valley, The Knick, The Last Man on Earth, Inside Amy Schumer, Broad City, and more.  That's a lot of amazing TV that I didn't get to see!  All of those are shows that I hope to catch up with, one of these days.
But enough lamenting the TV I didn't get to watch.  Let's bask in the glow of my Fifteen Favorite Episodes of TV in 2015!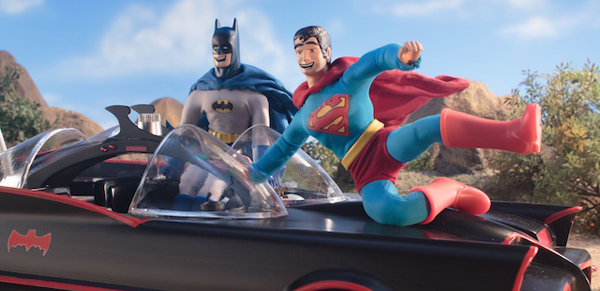 Honorable Mention: Robot Chicken DC Comics Special 3: Magical Friendship (aired on 10/8/15) — I've loved Robot Chicken's two previous DC Comics specials and his third one did not disappoint.  While there are several of the expected random skits, this special has a more distinct than usual for Robot Chicken story that carries through the episode, a focus on the very funny friendship/rivalry between Batman and Superman that was introduced in the previous two specials.  Robot Chicken co-creators and show-runners Breckin Meyer and Seth Green voice Superman and Batman, respectively, and they are magnificent.  In this installment, Superman and Batman's escalating rivalry builds to a spot-on spoof of DC's regular "Crisis" events, one that allows the Robot Chicken gang to jam in all sorts of wonderfully obscure jokes and references, including great appearances by the Batman and Robin of the 1960's TV show, with both Adam West and Burt Ward reprising their roles.  Great fun.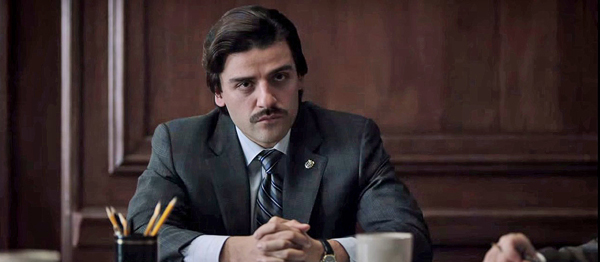 15. Show Me a Hero: "Parts 1 & 2" (aired on 8/16/15) –– The Wire's David Simon returned to TV with this gripping miniseries, telling the story of the fight to desegregate Yonkers from 1987-1994.  Oscar Isaac delivers a devastating performance as the young mayor, Nick Wasicsko, caught in the middle of the political firestorm.  I found this entire six-part miniseries absolutely gripping from start-to-finish and I had a hard time choosing which episode to highlight.  I settled on the first two-hour block, because of the wonderful way that it was able to introduce all of the different characters in this sprawling yet intimate epic.  This is an important American story, exceedingly well-told.  (Click here for my full review of Show Me a Hero.)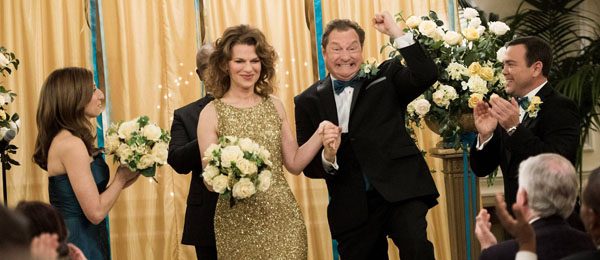 14. Brooklyn 99: "Boyle-Linetti Wedding" (season 2, episode 17, aired on 3/1/15) — There were a lot of great episodes of Brooklyn 99 in the back half of its second season and the first half of its third and it was very hard to pick a favorite, but for me this was a stand-out, primarily for the fun to be had from the addition of Stephen Root (brilliantly cast Charles' father) to the ensemble.  In this episode, Charles' dad and Gina's mom get married, an awkward event considering that Charles and Gina had themselves recently hooked up.  (Charles: "To think this started with us just going to town on each other's sexy parts!"  Gina: "Charles, promise me that is not in your toast!")  Meanwhile, Jake helps Amy track down her counterfeiting nemesis, an effort that distracts from Jake's efforts to woo the girl, Jenny Gildenhorn, who spurned him at his Bar Mitzvah.  Every member of the Brooklyn 99 team gets a great moment in this episode.  Rosa is nervous about inviting her boyfriend Marcus to the wedding ("I've only said I love you to three people and one of those I regret") while Captain Holt gets tasked with officiating the ceremony after the priest drops out and Terry gets too emotional (leading to Andre Braugher's magnificently deadpan delivery of the line: "I am good at… emotion").  Even Scully gets a moment in the sun, singing "Don't You Forget About Me" to stall the wedding guests.  Stephen Root is predictably magnificent as Charles' father Lynn (whether admitting to his five previous failed marriages, two of which were "back-to-back Catfish scenarios", or gleefully telling Gina that he's taking her mother's name, thus becoming "Lynn Linetti"), as is Sandra Bernhard as Gina's mother Darlene (Gina: "I found an extra place-setting for your psychic."  Darlene: "Strange, she said you wouldn't be able to.").  The episode is hilarious from start-to-finish, and it wraps up on a lovely little sweet moment between Jake and Amy.  Great stuff.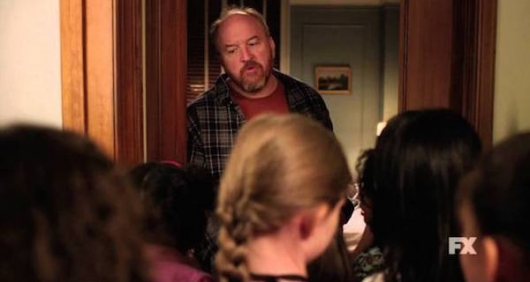 13. Louie: "Sleepover" (season 5, episode 6, aired on 5/14/15) — One of my favorite aspects of Louis C.K.'s show Louie is the way that Mr. C.K. is able to create wonderfully inventive, unique situations that he then plays out to the fullest.  "Sleepover" is a great example of this.  It starts with a great hook: Louie's having to host a birthday party sleepover for his daughter Jane's friends.  The idea of Louie trapped in an apartment with a bunch of hyper tween girls is a brilliant premise and fodder for a lot of great humor.  But the episode takes a left-hand turn into genius-land when Louie gets a call from his brother, who needs Louie to come bail him out of jail.  Unwilling to either let his brother sit in jail for the night, or to leave Jane and all her friends alone in the apartment, Louie decides to take the whole group of girls with him down to the police department.  Watching the escalating chaos that unfolds was glorious.  (Click here for my full review of Louie season five.)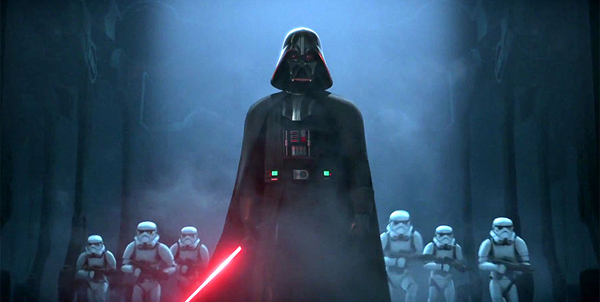 12. Star Wars Rebels: "The Siege of Lothal" (season 2, episode 1, aired on 6/20/15) — The first season of the animated Star Wars Rebels, set about five years before the events of the original Star Wars, was entertaining; good if not great.  But the show took a giant leap forward with its second-season premiere, in which Darth Vader becomes personally involved in the hunt for the show's rebel characters.  The depiction of Vader (voiced by James Earl Jones himself!!) is absolutely amazing, just one-hundred-percent perfect.  This is the top-of-his-game, evil and terrifying Vader we haven't truly seen since The Empire Strikes Back in 1980.  The Vader in this episode is merciless and cruel, willing to massacre a village in order to draw the rebels out, and unstoppable with the Force, whether dueling with his lightsaber or lifting a fiery crashed Imperial Walker up into the air.  It's joyous to behold.  This episode is also wonderful for giving fans a bit of payoff to the relationship between Anakin Skywalker and his padawan Ahsoka, who were the main characters of the animated Clone Wars show.  Ever since Ahsoka was first introduced, fans wondered what her ultimate fate would be, seeing as how we knew the Jedi were all wiped out in Episode III.  We'd learned in the season one finale of Rebels that Ahsoka had survived, but it's not until this episode that we got the really juicy moment in which Ahsoka discovers that the murderous Darth Vader is in fact her former master Anakin Skywalker.  It was a phenomenal moment, perfectly executed.  (Click here for my full review of "The Siege of Lothal.")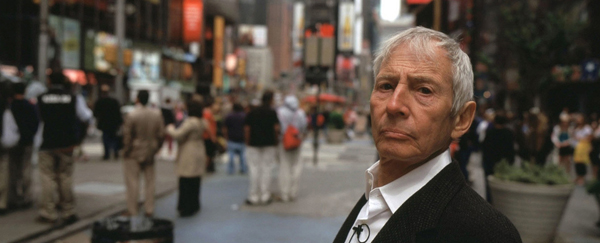 11. The Jinx: The Life and Deaths of Robert Durst: "Chapter 6: What the Hell Did I Do?" (episode 6, aired on 3/15/15) — The Jinx tells the story of Robert Durst, the wealthy man who has been a suspect in three separate murders going back to 1982.  As director Andrew Jarecki and his team peels back the layers of Mr. Durst's story over the course of this six-episode miniseries, the result is a riveting true-crime story.  But what elevates The Jinx even beyond that is the willing participation of Robert Durst himself.  Back in 2010, Andrew Jarecki had directed a movie, All Good Things, that retold the story of the murder of Mr. Durst's first wife.  After seeing the film, Mr. Durst contacted Mr. Jarecki and agreed to sit down for a series of interviews so that he could tell his own story, and thus the project that became The Jinx began.  The entire mini-series is phenomenal, but it's the finale, "What the Hell Did I Do?" that gives us a moment unlike any that I have ever seen before on television.  Following the discovery of an incredible new piece of evidence that seems to be a "smoking gun" implicating Mr. Durst in one of the murders — which in itself would have been an incredible twist and climax to this story — we get to see Mr. Jarecki confront Mr. Durst with the information, live and on camera.  That ALSO would have been an incredible climax to this story!  But things go beyond that as, following the interview, Mr. Durst walks into the bathroom and starts talking to himself, not realizing that his mic is still live and he is being recorded.  What happens next is, well… if you haven't been spoiled already by all the news this episode made, then I don't want to say anything more, beyond the fact that my jaw was on the floor.
I hope you'll join me back here on Wednesday for numbers ten through six!