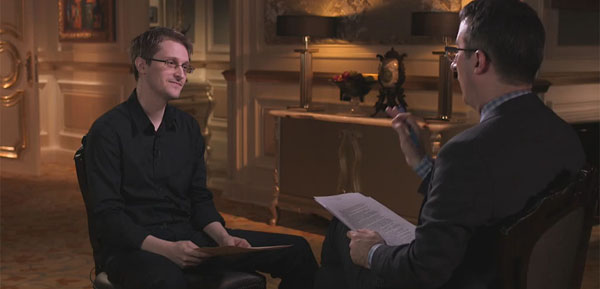 The Top Fifteen Episodes of TV in 2015 — Part Two!
Last week I listed by Top Twenty Movies of 2015.  (Click here for part one of my list, numbers twenty through sixteen.  Click here for part two of my list, numbers fifteen through eleven. Click here for part three of my list, numbers ten through six.  Click here for part four of my list, numbers five through one.)
Yesterday I began listing my Top Fifteen Episodes of TV in 2015.  (Click here for part one of my list, numbers fifteen through eleven.)
And now, onward!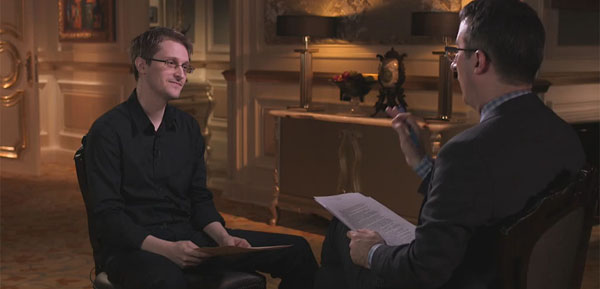 10. Last Week Tonight with John Oliver: "Edward Snowden" (season two, episode eight, aired on 4/15/15) — While I wish that John Oliver had stuck around The Daily Show a little longer so that he could have taken over that show following the departure of Jon Stewart, I must admit that I've been very impressed with the way Mr. Oliver has created a distinct new vehicle for himself with Last Week Tonight.  The show has a very similar tone to Jon Stewart's Daily Show while also creating a show with a distinct style and format all it's own.  (I'd never have predicted the success Mr. Oliver would find with devoting his show to longer, more in-depth looks at particular topics each week.)  But the moment when Mr. Oliver truly staked a claim to Jon Stewart's legacy was with this extraordinary, extra-length interview with Edward Snowden.  Mr. Oliver's lengthy interview was truly something special: a very funny, very angry, and very human exploration of what Mr. Snowden had done, why he did it, and what the consequences have been for him.  Whether you agree with Edward Snowden or condemn him, every American should watch this interview.

9. Jessica Jones: "AKA Ladies Night" (season one, episode one, released on 11/20/15) — Netflix's second Marvel mini-series was just as great if not better than last fall's Daredevil.  Jessica Jones (created by Brian Michael Bendis and Michael Gaydos in the phenomenal comic-book series Alias) is a woman who has been deeply scarred by a trauma in her past.  When we meet her, she is struggling mightily to create some semblance of a life for herself, working as a private eye.  But her past quickly catches up with her as she learns that the mind-controlling Killgrave who'd destroyed her life is not nearly as dead as she had believed.  Jessica (Krysten Ritter) is a wonderful character, a hugely flawed but nonetheless noble woman struggling to make the best of an impossible situation.  The show surrounds her with a rich coterie of complex, interesting female supporting characters such as Jessica's best friend Trish Walker (Rachael Taylor) and the tough attorney Jerri Hogarth (Carrie-Ann Moss).  We also get some wonderful male characters, from Luke Cage (Mike Colter, perfectly cast) to the vile Killgrave (David Tennant, knocking it out of the park).  This is technically a super-hero show but there are no costumes anywhere in sight and not that much action.  That's not at all a bad thing.  Instead, to my delight, the show is focused on the emotional arcs of Jessica and her supporting characters.  The thirteen episodes of Jessica Jones were completely serialized, making it hard to separate one episode out from the rest.  So, for this list, I picked the premiere episode that introduced us to Jessica and her world.  (Click here for my full review of Jessica Jones season one.)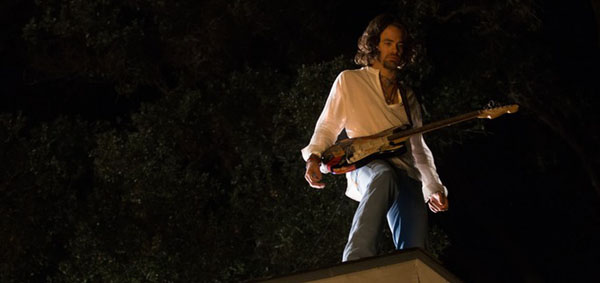 8. Wet Hot American Summer: First Day of Camp: "Day is Done" (episode eight, released on 7/31/15) — All the threads woven throughout David Wain and Michael Showalter's magnificent eight-episode sequel to Wet Hot American Summer come together in this, the final episode.  Neil (Joe Lo Truglio) finally makes it with his girlfriend.  ("Should I stick it in?")  Chef Gene and hired assassin The Falcon (Jon Hamm) duke it out (in a marvelously madcap, lunatic fight) in the Camp Firewood kitchen, only for us to later discover that they've been allies all along.  (The Falcon to Beth (Janeane Garofalo): "If you think about it, it'll make sense, I promise.")  Camp Tiger Claw and Camp Firewood engage in an all-out brawl.  (Courtney (Kristen Wiig): "You're about to get stabbed with a sterling silver oyster fork!")  The American military, led by President Reagan (Michael Showalter) attempts to destroy Camp Firewood.  It's possible that episode six, "Electro/City" was the all-around funnier episode, but "Day is Done" has my absolute favorite moment in the entire eight-episode run: the revelation of the origin of the Wet Hot theme song, as Chris Pine's reclusive genius musician Eric climbs a rooftop to sing "Higher and Higher."  Great stuff.  "We are all camp people!!"  Amen.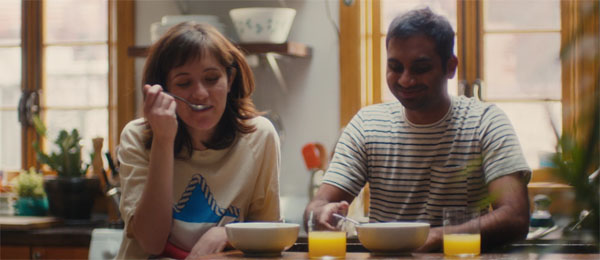 7. Master of None: "Mornings" (season one, episode nine, released on 11/6/15) — I enjoyed every episode of Aziz Ansari's wonderful Netflix show, Master of None.  But it was with this, the penultimate episode, that I really fell in love with it.  Mr. Ansari abandons the show's usual format for this installment that covers the arc of Dev (Mr. Ansari)'s relationship with his girlfriend Rachel (Noel Wells), for over a year.  Holy cow, this episode moves the show's story-lines forward by a full year!!  And not in a time-jump.  Instead, the show just presents us with an array of little vignettes — some lasting mere seconds — as we see a year's worth of mornings that Dev and Rachel share together in Dev's apartment.  (The episode never leaves Dev's apartment.)  This is a brilliant idea, one I have never seen done like this before on television.  This episode made me care deeply about Dev and Rachel's relationship.  Somehow in just a few short minutes the show is able to craft a deeply compelling character drama for Rachel and Dev as we follow the arc of their relationship.  I sort of wish the first season had left this couple where they were at the end of this wonderful episode, rather than what happened in the actual finale.  The episode is brilliantly written by Mr. Ansari and Alan Yang and very well directed by Eric Wareheim, and it's a tremendous showcase for Aziz Ansari and Noel Wells, who are pretty much the only two actors who appear on-screen (with the welcome exception of some brief moments with Dev's parents, played wonderfully by Aziz Ansari's actual mom and dad).  Clever, funny, and very sweet, this was a stand-out half-hour of television.  (Click here for my full review of Master of None season one.)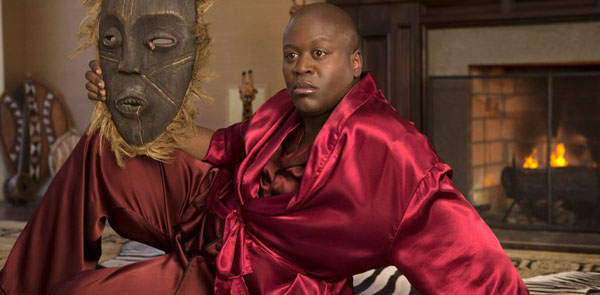 6. Unbreakable Kimmy Schmidt: "Kimmy Goes to School!" (Season one, episode six, released on 3/6/15) — This episode is absolute genius from start-to-finish, from Lillian's updated lyrics to "We Didn't Start the Fire" to the blink-and-you'll-miss-it joke about Winston Zedemore High School to the show-stopping, jaw-dropping "Peeno Noir" music video that plays over the ending.  In this episode, Kimmy decides to go back to school to earn her GED, but she's stymied by her pathetic, disinterested teacher, Mr. Lefkowitz, played with aplomb by the great Richard Kind, perfectly cast.  Mr. Kind kills one great line after another ("You're also gonna have to monitor my breathing.  Hurricane Sandy took my sleep apnea machine so, you know, waking up is not a given.") and, to see a genius acting choice, watch the perfectly listless way he can't even manage to write his full name on the chalk-board.  Kimmy's attempt to reignite Mr. Lefkowitz's love for teaching ("You touched a boy… and made him a man") fails when she discovers he never had any, and is just trying his best to get assigned to the Rubber Room, where terrible tenured teachers are sent to hang out all day, sine it's too hard to fire them.  (Woven into this comedy is a lot of social commentary, actually — this episode is a pretty fierce attack on the budget cuts that have damaged the American educational system.  "Is that why the fall dance theme is gymnasium?")  So Kimmy enlists her new friend Dong ("In Vietnam, Kimmy means penis") to help her learn the material herself.  Meanwhile, Titus enlists Lillian to help him film his music video masterpiece, "Peeno Noir."  (Titus: "An ode to black penis."  Lillian: "I assumed!")  They decide to film inside Kimmy's boss Jacqueline Voorhees' mansion, for production values, but get caught by Jacqueline's spoiled daughter Xanthippe (Titus to Xanthippe: "Not so fast, MTV's Daria!") and attempt to explain their presence in the Voorhees' mansion by telling Xanthippe that she is in the Matrix.  Titus' pretending to be a straight workman is funny ("I'm not a handyman… though that was my nickname one summer on Fire Island"), but it's his hysterical, passionate performance of the insane "Peeno Noir" song that makes this episode a keeper.  (Click here for my full review of Unbreakable Kimmy Schmidt season one.)
I hope you'll all join me back here on Friday for the part three of this list, numbers five through one!