The Top Twenty Movies of 2015 — Part Two!
Yesterday I began my list of the Top Twenty Movies of 2015, listing numbers twenty through sixteen.  Now, on with my list!

15. Trainwreck — A perfect vehicle for Amy Schumer (who wrote the film, in addition to starring in it) and a wonderful combination of her very specific comedic sensibilities with those of director Judd Apatow, it's no surprise that Trainwreck was a breakout hit for Ms. Schumer.  That a raunchy comedy can have a woman as the lead shouldn't be a big deal, but it is.  The film is hugely funny and elevated by a spectacular cast including Bill Hader, Colin Quinn, Brie Larson, Tilda Swinton, Ezra Miller, Vanessa Bayer, Randall Park, a who-knew-he-could-be-so-funnt LeBron James, and many more.  But the film is Ms. Schumer's show and she crushes it from start to finish.  Trainwreck would be higher on my list if it didn't fall into a few romantic-comedy cliches in the third act, but it's hard to criticize a film that is so joyously funny and filthy.  (Click here for my original review.)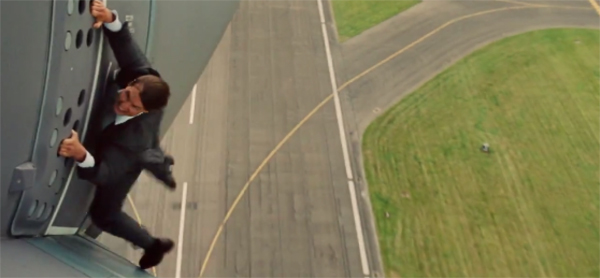 14. Mission: Impossible — Rogue Nation — I still can't believe how much better this film wound up being that this year's James Bond installment Spectre.  Both films are about our super-spy hero uncovering a super-secret criminal organization that, it turns out, is responsible for most of the acts of terror happening around the world.  Both are globe-hopping action-adventure stories, both feature our hero assisted by a small cadre of allies and meeting a woman who shares the adventure.  And yet Mission: Impossible — Rogue Nation crushes Spectre in every way.  I just re-watched Rogue Nation last week, and I was again bowled over by what a fun, thrilling roller-coaster-ride it was.  Writer/director Christopher McQuarrie has a perfect command of tone, creating a film that is a ridiculously entertaining romp that also has serious physical and emotional stakes for our heroes.  The film is gorgeous to look at and extremely well-edited.  The action sequences are spectacular.  That Tom Cruise hanging-off-an-airplane stunt that opens the film got everyone's attention, and rightly so.  The sequence is magnificent.  (And once again an example of this Mission: Impossible film out-Bonding Bond, as this opening action sequence — a Bond-movie trademark — is far more memorable than anything in Spectre.)  But there are so many other amazing action sequences in the film, from the extraordinary opera fight, to the underwater break-in, to that last big shoot-out-and-chase through the streets of London, and don't forget my favorite: the escalatingly crazy car-and-motorcycle chase in-and-around Morocco.  Making great use of the ensemble from the last two M:I films (including Simon Pegg, Jeremy Renner, and Ving Rhames) along with several new additions (Alec Baldwin and the star-making turn from Rebecca Ferguson), it's impressive how much life this film franchise has almost twenty years after the first one.  (Click here for my original review.)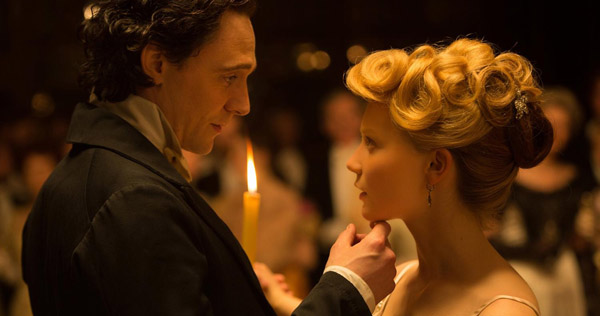 13. Crimson Peak — Guillermo del Toro's gothic romance and haunted-house film was unfortunately ignored by most movie-goers this year.  That's a shame, because the film is another wonderfully unique, idiosyncratic tale from master director Guillermo del Toro (who also co-wrote the film with Matthew Robbins).  Mr. del Toro is extraordinarily skilled at creating rich fantasy environments, and the world of this film is gorgeously brought to vivid life long before we get to the titular haunted house.  When we do finally arrive at the place called Crimson Peak in the second half of the film it is, no surprise, a staggeringly original and iconic creation.  The film is gorgeous, a marvel of set-design and costuming.  The images in the film are rich and vivid.  Mr. del Toro is unparalleled in his ability to use color very intentionally to establish tone.  But all of that is background dressing to the gripping story and the wonderful characters that the film's terrific ensemble have created.  Mia Wasikowska has never been better (or more luminously beautiful) than she is here as the young, intelligent Edith Cushing.  Tom Hiddleston leaves Loki far behind as Sir Thomas Sharpe, the dashing English aristocrat with a secret who captures Edith's heart, and Jessica Chastain is magnificent as Thomas' sinister sister Lucille.  The film is a mystery, a romance, a period piece, and a horror film all rolled up into one marvelously unique, entertaining creation.  (Click here for my original review.)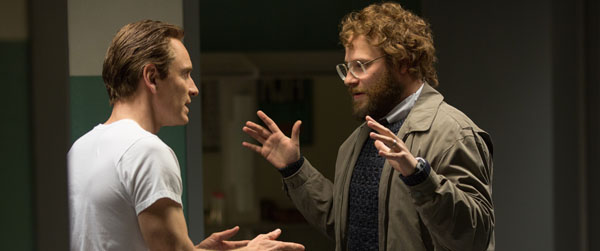 12. Steve Jobs — Here's another film that seems to have been mostly ignored by movie-goers this year, which leaves me scratching my head as I thought it was terrific.  Aaron Sorkin loves to write about brilliant but difficult men, so it's no surprise that Steve Jobs would prove to be a juicy subject for him.  Mr. Sorkin and director Danny Boyle have structured his film very cleverly.  Rather than trying to tell Mr. Jobs' entire life-story, as so many biopics try and fail to do, Mr. Sorkin has divided his film into three parts, each taking place in the moments before Steve Jobs will go on-stage to announce the launch of a new product.  The first section is in 1984, at the launch of the Macintosh computer.  The second is in 1988, after Jobs' ouster from Apple (the company he had co-founded), at Jobs' presentation of the NeXT computer.  The third and final section is in 1988, with Jobs back at Apple and ready to present the iMac.  I love this theatrical structure to the film (and the very-clever way that different film-stock gives each of the film's three segments a very distinct visual look).  Michael Fassbender does terrific work in the lead role as Steve Jobs, and he's joined by a fiercely talented ensemble that includes Kate Winslet, Jeff Daniels, Seth Rogen, Michael Stuhlbarg, and Katherine Waterston.  The film is fast-paced and very funny — two hallmarks of Mr. Sorkin's work — and a fascinating look at this man who did so much to change the fabric of modern American life.  (Click here for my original review.)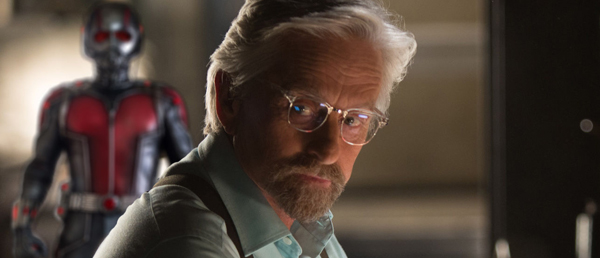 11. Ant Man — After the enormous Avengers: Age of Ultron, Marvel took a few steps back with Ant-Man, probably the smallest-scale Marvel movie since the first Iron Man.  The result is a terrifically winning little yarn about small-time crook Scott Lang (Paul Rudd, perfectly cast and a welcome addition to the Marvel cinematic universe) who meets elderly inventor Hank Pym (Michael Douglas, having great fun) and uses Pym's super-suit to become the hero Ant Man.  Marvel Studios is in the middle such a spectacular winning-streak that they make these films look so easy.  But it would be so easy to screw these films up.  Thankfully that's not the case here.  The filmmakers made the right decision in keeping this film at a relatively small scale.  There are no threats to the world in this film, and that's exactly the right choice.  Yes, there is a megalomaniacal evil businessman to defeat (Corey Stall, terrific as the bad-guy), but the story is more about Scott's struggle to make things right with his family and Hank's struggle to reconnect with his estranged daughter Hope (Evangeline Lilly).  As always in a Marvel film, the casting is perfect.  Paul Rudd is phenomenal in the lead, able to sell the stakes but also all the jokes, and his chemistry with Michael Douglas (I don't know how the heck they got Michael Douglas to be in this film but he is so great) and Evangeline Lilly is terrific.  And let's not forget the film's comedic secret weapon: Michael Pena, absolutely hilarious.  Director Peyton Reed and screenwriters Adam McKay (who wrote & directed the Anchorman films, along with The Big Short which is already on my Best Movies of 2015 list!) and Paul Rudd have crafted a film that is able to tell an adventure story that is very loose and very funny.  The sequences in which Michael Pena's character describes the chain of people through whom he has acquired certain information are genius-level stuff.  (Click here for my original review.)
I'll see you tomorrow for numbers ten through five!