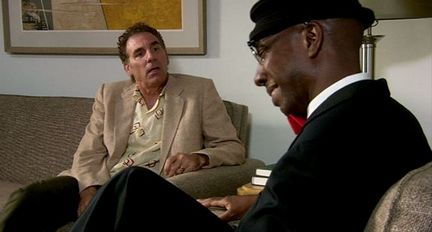 Top 10 Episodes of TV in 2009 — Part Two!
Yesterday I began my list of the Top 10 Episodes of TV from 2009.  Click here for numbers 10-6.  Now here is the rest of the list!
5.  Lost: "The Incident" (season 5, episodes 16/17, aired on 5/13/09).  Everything comes together, questions are answered, and (of course) new questions are raised.  We finally get to meet the oft-discussed Jacob, and we see how this apparently ageless man has interacted with the lives of many of the castaways long before they ever crashed on the island.  In the '70s, Jack seeks to change the future by detonating a hydrogen bomb, thus destroying the island.  This once again puts him in conflict with Sawyer, who believes that "what's done is done."  In 2007, Locke, Ben, and the mysterious other survivors of Ajira flight 316 converge in the shadow of the statue, we learn the true final fate of Jeremy Bentham, and a shocking murder is committed.  The cliffhanger ending leaves us in the dark as to whether Jack's audacious plan has succeeded, or whether he has just caused "the incident" that we've been hearing about since "Orientation" in season two (that necessitated the construction of the Swan Station and the button).  Either way, this was a magnificent two hours of television.  It's been a great delight watching the makers of Lost weave together the show's many characters and story-lines as we prepare for the show's final year.  I have high hopes for what's ahead!
4.  Parks and Recreation: "The Hunting Trip" (season 2, episode 10, aired on 11/19/09).  I thought that Parks and Recreation was extraordinarily mediocre in its first season, but just as NBC's The Office only found its footing during its second year, Parks & Rec has really turned things around this season.  Many weeks I consider it — are you sitting down? — the strongest of NBC's Thursday night comedies.  "The Hunting Trip" is a prime example as to why.  Ron prepares to take the men in the office out on their annual hunting trip, but Leslie (Amy Poehler) wants the girls (and Tom Haverford) to be included too.  Since Ron is legally forbidden from excluding them from what is tenuously a work-related outing, the whole gang heads out to the woods, rifles in hand.  What follows is an escalating series of madness that culminates in poor Ron getting shot (not fatally, of course!!).  The whole episode is a riot, in which every member of the ensemble gets a lot to do.  But Leslie steals the show when she realizes that she cannot reveal the identity of the person who shot Ron to the ranger who comes to investigate, so she tries to take the fall by putting on a "daffy woman who knows nothing about guns" act.  This montage had me in hysterics.  It begins with her saying "I got that tunnel vision that girls get" and just goes from there. Comedy gold.
3.  Battlestar Galactica: "The Oath" (season 4, episode 15, aired on 1/30/09).  BSG's final run of episodes certainly had its flaws, but this astonishing, nail-biting hour was exactly the type of intense episode that made this series so frakking phenomenal.  Outraged by the alliance with the Cylon rebels, an embittered Felix Gaeta throws in with Tom Zarek and stages a mutiny on-board Galactica, taking control of the ship right out from under Adama.  Old grudges are paid off and long-gone chickens come home to roost as the survivors of the Pegasus take their revenge on Helo, Sam Anders is beaten and tossed in the brig, Tigh and Adama are escorted out of CIC at gunpoint, and Kara and Lee find themselves back to back in an impossible situation one final time.  The whole tapestry of the show comes into play as characters we haven't seen in a while return (such as Laird, the engineer from the Pegasus, and Kelly, who was one of the Galactica crew-members back in the original miniseries), and some of our beloved characters (Racetrack!  Skulls!  Seelix!) make shocking choices.  In an episode stuffed to-the-brim with fantastic moments, I have never-ending love for the scene in which old men Adama and Tigh kick the asses of a bunch of armed marines.  I've seen mutiny episodes on ship-based sci-fi shows before, but never anything like this.  As always, BSG plays for keeps.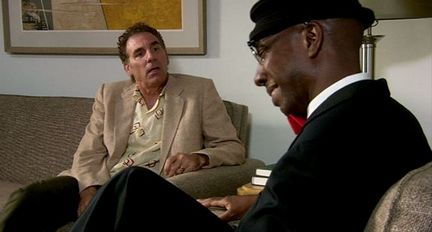 2.  Curb Your Enthusiasm: "The Table Read" (season 7, episode 9, aired on 11/15/09).  The glimpses that this episode gives us into the Seinfeld Reunion that we'll never see would be enough to get this installment a spot on this list.  I loved seeing actual events of Larry's life (from previous seasons of Curb) acted out by Jerry & the gang, and I loved the storyline the Larry created for George.  ("George, are you marrying her for YOUR money?")  I really enjoyed all the Seinfeld supporting cast cameos.  But what is amazing is that this episode has far greater pleasures than all of the Seinfeld reunion fun.  There's Marty Funkhouser's painfully awkward interactions with Jerry.  There's Larry's inability to shake his new nine-year-old texting friend (that leads to the great last line of the show that had me on the floor with laughter).  And there is the incredibly ballsy, heads-on manner in which Larry & co. tackle Michael Richard's infamous outburst.  Once I glimpsed Leon Black dressed in that Nation of Islam get-up, I knew we were in for it, but I never guessed just how far things would go.  Unbelievably brilliant.
1.  The Daily Show.  Day in and day out, there is nothing funnier or more piercing on planet Earth than Jon Stewart and The Daily Show.  Wondering why this is at the top of my list?  Check these out:
My list of my Top 10 DVDs of 2009 is coming later this week!  See you there!