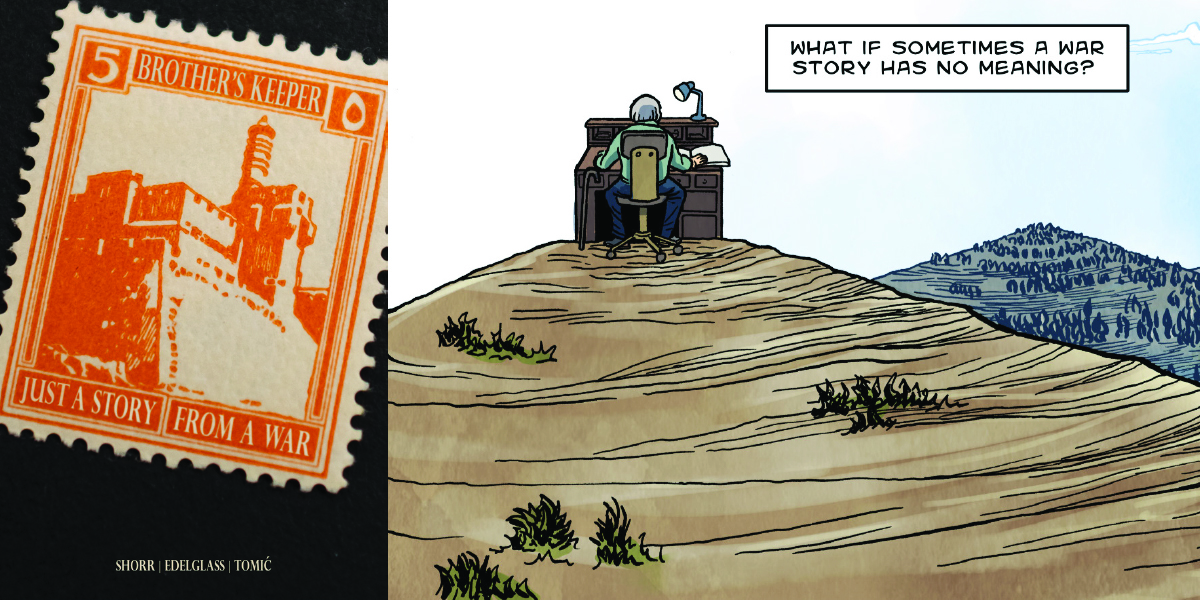 Brother's Keeper: A 1948 Story Takes on New Meaning
A few hours after I published my post yesterday about the launch of Arnon Shorr's and my new comic book, "Brother's Keeper", at JewCE (the Jewish Comics Experience in NYC), this wonderful article from The Forward was published about our book!
Here's an excerpt:
A Jewish family story about defending a kibbutz in 1948 takes on new meaning
By Stav Ziv
November 13, 2023
It was supposed to be "just a story from a war." It wasn't intended to impart any kind of grand message and it certainly wasn't meant to feel familiar or timely. When Arnon Shorr and Joshua Edelglass decided to make a short comic book about the time Shorr's grandfather was wounded defending a kibbutz in 1948, the goal was only to share a slice of family history with a bit of a surprise twist I won't give away here.
They had just sent the first couple pages of inked drawings to their colorist when Hamas invaded Israel, attacking several kibbutzim among other targets. By the time Shorr and Edelglass got those colored pages back in an email at 6 a.m. on Monday, Oct. 9, the world had changed irrevocably and so had their project.
"Our thinking about this story and its purpose and its meaning shifted," said Shorr, a filmmaker and screenwriter based in Sharon, Massachusetts. "It's a significance that we couldn't have predicted, not in our worst nightmares. But there it is."
New life for an old story, Part I
Shorr's grandfather Jacob, a.k.a. Saba Yaacov, didn't talk all that much about the war that followed Israel's declaration of independence on May 14, 1948.
"Everybody knew that my grandfather had been shot in the knees during the war and that's why his knees sometimes hurt," Shorr said. "I didn't really get the full story from him until my uncle sat him down over the course of many days and interviewed him on video."
Born in Jerusalem in 1930, Jacob, a.k.a. Saba Yaacov, was only 18 when the war broke out.
Born in Jerusalem in 1930, Yaacov was only 18 when the war broke out, but the young sabra was assigned to train new recruits, some of them Holocaust survivors. Barely a week in, Arab forces were advancing toward Kibbutz Ramat Rachel, a crucial strategic target on the path into Jerusalem. Yaacov and his men held the hilltop for as long as they could amid the heavy bombardment. When they were down to their last grenade, it was time to retreat. As Yaacov and his motley crew of soldiers ran, he was shot in both knees.
Shorr first turned to Saba Yaacov's story from this battle — and to the care that saved his legs and life — for a short film script he wrote for an event at his shul back when he was living in Los Angeles. He called it Brother's Keeper and Yaacov, still alive at the time, liked the Hollywood take on his tale. Though Shorr never ended up producing the film, he kept the script in his digital file cabinet of ideas. This past summer, he and Edelglass came across it as they brainstormed.
The pair met more than a decade ago at Camp Ramah New England, where Edelglass is now the co-director and Shorr came in to teach a filmmaking workshop. A few years ago when Shorr was looking to make his first foray into comics, he turned to Edelglass, who's long kept up a side gig as a freelance illustrator. The camp colleagues ended up collaborating on José and the Pirate Captain Toledano, a graphic novel about Jewish pirates in the 16th-century Caribbean.
Back at Camp Ramah this past August, Saba Yaacov's story caught their attention. They quickly decided: Brother's Keeper would be their next project and they'd get a short, single-issue comic book done in time for The Jewish Comics Experience (a.k.a., JewCE) in New York City in November.
There's lots more!  Click here to read the full article.
Click here to order a print copy of Brother's Keeper, or click here to read the e-book on Amazon Prime.  The e-book is FREE to all Kindle Unlimited readers!!!
Please support my website by clicking through one of our Amazon links the next time you need to shop!  As an Amazon Associate, I earn from qualifying purchases.  That means I'll receive a small percentage from any product you purchase from Amazon within 24 hours after clicking through.  Thank you!