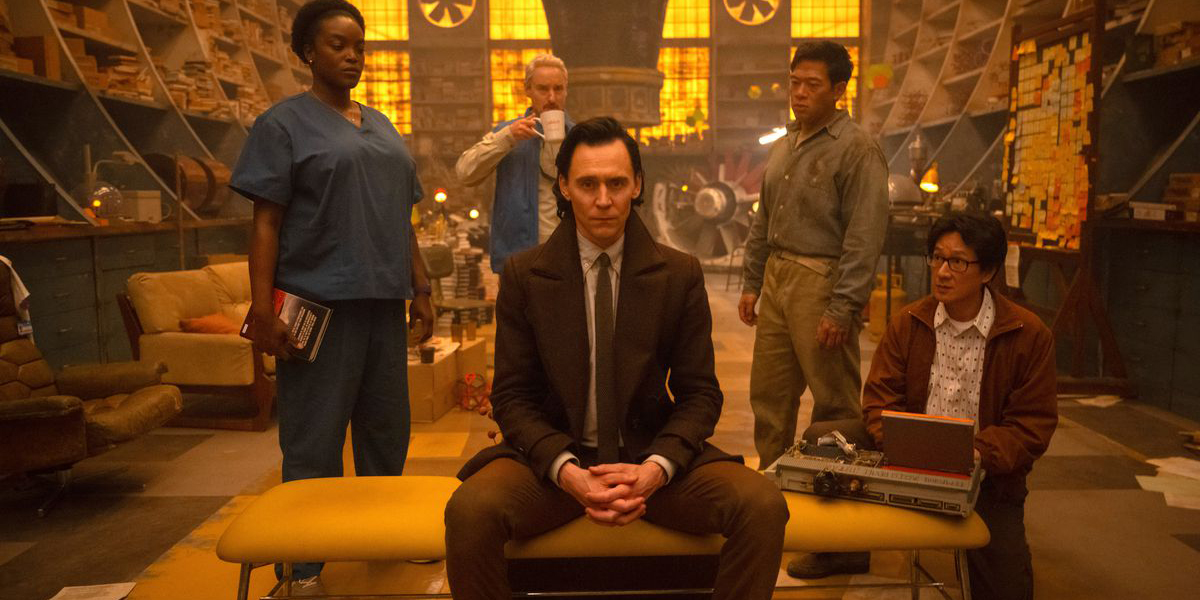 Josh Reviews Loki Season Two
I loved season one of Loki!  It was joyously weird and strange, dipping into obscure corners of the Marvel Comics universe (I never thought the Time Variant Authority would be depicted on-screen!), and it provided a well-deserved showcase for Tom Hiddleston's villain-who-we-loved, Loki.  Loki was the first Marvel Disney+ show to get a second season.  (And possibly the last?  I really wish more of these Marvel shows were being allowed to continue.  My first choice would be for more Ms. Marvel and my second would be for more She-Hulk.)
It's been a long wait, but after two years a second six-episode season of Loki has arrived!  Whereas the key creative forces in season one appear to have been writer Michael Waldron and director Kate Herron, here in season two they seem to be writer Eric Martin (credited as solo or co-writer on all six episodes) and the directing team of Justin Benson & Aaron Moorhead (who directed four of the six episodes).
I had a lot of fun watching this second season; I thoroughly enjoyed watching all six of these new episodes, and I can happily recommend this show as very much worth your time.  However, weirdly (as was the case with the recent Star Wars series Ahsoka), while I really enjoyed all six episodes, the season as a whole felt to me like less than the sum of its parts.  When looking back on these six episodes, I see a lot of missed opportunities and unexplored potential (particularly when compared with how great season one was).
Shall we dig in?  Beware some SPOILERS ahead, gang!
The main joy in Loki continues to be from the inspired pairing of Tom Hiddleston's Loki and Owen Wilson's Mobius.  These two actors are magical together.  Tom Hiddleston's Loki has been a central character in the MCU since the very beginning, the original Thor film from 2011.  Mr. Hiddleston clicked as Loki right from the beginning, and I loved the way the films took him from being the villain of The Avengers to his sacrifice in Avengers: Infinity War.  The Loki show — which features the variant of Loki introduced in Endgame — takes that even further, and my favorite aspect of this second season was how the final two episodes really cemented the idea that this Loki has made a 180-degree switch from his selfish, villainous beginnings.  I was moved by the revelation, late in the season, of why an important plot element was centered around the connection Loki felt to his friends in the TVA, and I was very pleased by the choices Loki made in the finale.  Those were very emotionally satisfying moments.  Beyond that, Tom Hiddleston is just so fun and so compelling in this role!!!  Owen Wilson, meanwhile, remains delicious fun as Mobius, and I could watch him banter and eat pie with Tom Hiddleston's Loki all day long.  Mr. Wilson fits perfectly into the MCU.  I really hope we see this character again.
This season introduced Ke Huy Quan as O.B. (full name: Ouroboros).  Mr. Quan, of course, played Short Round in Indiana Jones and the Temple of Doom, Data in The Goonies, and returned to cinemas after a two-decade absence in Everything Everywhere All at Once.  Mr. Quan is phenomenal here as O.B.  He fits perfectly into the vibe of Loki!  O.B. is strange and smart and sweet.  He's a fantastic character, and Mr. Quan knocks this role out of the park.  I'm retroactively mad that O.B. wasn't in season one!!!  I really hope this character pops up again somewhere else in the MCU in the years ahead.
Jonathan Majors made his first appearance as Kang in the finale of Loki season one, before stepping into center stage as the villain of Ant Man and the Wasp: Quantumania.  It's great fun to see another Kang variant be a part of season two: the stuttering Victor Timely, who is a con man who also happens to have a brilliant knowledge of temporal mechanics.  I love how Mr. Majors keeps creating distinct new Kang variants.  Victor Timely is quite different from any of the Kangs we've seen before.  It's a terrific performance.  (Though I do wish the character had more to do in the back half of the season.  I wanted Victor to be more central to the plot.  In the end, he winds up being kind of irrelevant, which was a bit of a bummer to me.)  Mr. Majors, of course, is in all kinds of legal trouble these days, so I wonder if this will be his final performance in the MCU.  If that's the case, it's a shame we won't get to see where his interpretation of this character might have gone from here.
Eugene Cordero (Pillboi on The Good Place) was a minor player in season one; I was happy to see him back, and with more to do, here in season two.  His character of Casey — jovial and smart — feels pretty much exactly like his character of Rutherford on Star Trek: Lower Decks… but I don't mind!  Mr. Cordero is a wonderful presence on screen.
I wish this second season hadn't let down its female characters.  Sylvie (Sophia Di Martino), Renslayer (Gugu Mbatha-Raw), and B-15 (Wunmi Mosaku) were wonderful characters introduced in season one, each played by terrific actresses.  But I didn't feel any of them got the development I'd been hoping for here in season two.  Let's start with Sylvie, who was such a compelling foil for Loki in season one.  Here in season two, she had very little to do.  She'd completed her life's goal in season one; I'd thought this season might explore her feeling unsatisfied or regretful following her murder of He Who Remains in the season one finale, but none of that happened.  She seemed perfectly fine hanging out in a McDonald's in an alternate timeline.  We never really saw her change at all this season — she's willing to help at the very end, but only because she has no choice when all the timelines are being spaghettified.  There was no real character arc there.  (In fact, there was no real reason for Sylvie to be involved in the story at all in the first 3-4 episodes of the season. I never understood why they needed her at all to help with what was going on at the TVA and the Loom.  It was like they felt they had to include her because she's a main character on the show, but they didn't actually give her a real story or character reason to be there.)  As for Renslayer, I never really understood her motivations.  Why was she helping Kang and Miss Minutes?  Why was she wasting so much time and effort fighting with Loki and Mobius over Victor Timely, when they both had the same goal of saving the TVA?  I liked the revelation that she and Kang had been partners back in the past during the multiversal war (that was a nice connection to her character from the comics), but the show never explored how she felt about then having her mind wiped.  (Why would she help Kang after he did that to her?  Did she even know?)  And then she basically dropped out of the back half of the season entirely.  As for B-15, she was in a lot of the season, and I always loved seeing her character, but you could have removed her from the season and the story wouldn't have changed one iota.  That's a problem.  I wish she'd had more to do in the story.  I wish we'd gotten to know her better.
This whole season had a heck of a lot of plot and circumstance, but it was a lot of frantic running around without much sense.  The early episodes of the season did a very poor job of setting up the stakes of the season.  For the most part, it seemed that the destruction of the Loom would mean the destruction of the TVA.  I didn't understand why that was bad, when anyone in the TVA could just pop open a time door and leave.  I assumed that the destruction of the Loom would also mean the destruction of all the timelines in the multiverse — something which proved in episode five to be correct — but the show never bothered to actually establish that threat.  (Also: all of Loki's time-jumping in episode one was fun, but felt at the time to be a bit of a time-waster.  I was glad that by episodes five and six that time-jumping proved to have importance.)
Most problematically, by the end of the season, it felt like very little of what had come before mattered.  Nothing we saw our characters do in this second season really made much difference, as it all came back to Loki and Sylvie's fight on the season one finale, and Loki's needing to find some way to undo that.  It was very cool to circle back to the events of the season one finale (which was a terrific episode), but it also felt like it undermined all the events of episodes 1-4 of this second season.
Season two introduced several new TVA characters.  They were all interesting and played by strong actors, though I wish the show had explored them more deeply.  (I was also a little confused in the second season premiere, asking myself, wait, am I supposed to remember these characters from season one??  Part of that was the result of the long wait between seasons, while it was also the result of the storytelling approach to just drop these new characters right into the story.  A little more audience-friendly introduction might have been helpful.)  Rafael Casal plays Hunter X-5, "Wolfe".  Mr. Casal is terrific, though I don't understand the approach of spending a huge amount of time focusing on this character in episode two, and then basically dropping him from the show.  (He has one more consequential moment, when he chooses to betray his comrades and go with Renslayer… but then he totally vanishes from the show!  It's weird!!)  I also enjoyed the two new senior TVA agents: General Dox, played by Kate Dickie (Lysa Arryn on Game of Thrones) and Liz Carr as Judge Gamble.
This season felt like it had a somewhat smaller scale than season one.  We spent a lot of time in the familiar TVA locations.  On the other hand, we still got several wonderful new locations and set-pieces.  The chase through London in episode two was fun, and I quite enjoyed seeing the 1893 fair in episode three.  That was very cool, particularly all the action on the ferris wheel.  I also loved the recreation of a 1980's McDonalds that was so important to Sylvie!  That was unexpected, but very fun.
Emotionally I loved the finale and the choice to allow Loki to finally become a true hero.  I have some plot problems with that episode, most notably the inconsistency that, for the story of the finale to work, whenever Loki time-shifts, he shifts back into his body in that previous time-period.  But that's not how the time-shifting worked for the rest of the season — Loki existed separately from the Loki of that time-period, allowing him to repeatedly encounter himself.  Whoops.  Also, I wish I better understood what Loki was actually doing to save all the timelines.  Somehow he's using his magic to protect them, I guess… I wish it was a little less vague.  But emotionally, it worked wonderfully.  It was lovely to see Loki — who gave a speech in The Avengers decrying free will — willing to give his all to protect that.  And I loved that he finally got his throne.  Naming the finale "glorious purpose" was a great call-back to The Avengers, and also brought the series full-circle in a satisfying way (because the season one premiere had the same title).  And having the recreated multiverse (with Loki at the center) revealed to be the World Tree at the very end was genius!
This season leaves Loki in a place that could very well be the ending for this character.  If that turns out to be the case, I'm very satisfied on a character level.  (But I'll also be bummed if we never again get to see Mr. Hiddleston playing this role!  I'd love to see them find a way to bring Loki back into the mix, if the multiversal Avengers sequels ever actually get made.  Theoretically Avengers: The Kang Dynasty is coming down the road in a few years…)  I'm glad this season ended on a strong note, even if the path to get there was a little shaky.  But as I'd written at the beginning of this review, I enjoyed the experience of watching all six of these episodes.  I hope I can find the time soon to rewatch this show from the beginning; I think that'd be fun.
Please support my website by clicking through one of our Amazon links the next time you need to shop!  As an Amazon Associate, I earn from qualifying purchases.  That means I'll receive a small percentage from any product you purchase from Amazon within 24 hours after clicking through.  Thank you!