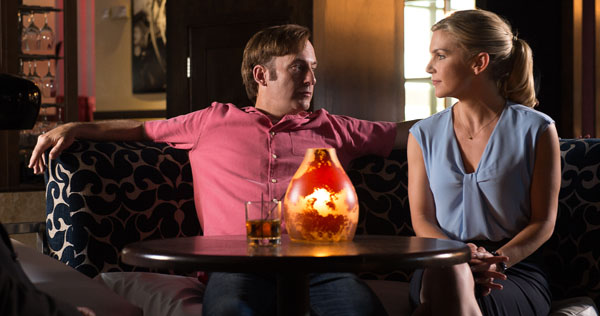 Josh Reviews Better Call Saul Season Two!
I loved the first season of Better Call Saul.  I was blown away by Bob Odenkirk's performance in the lead role, and by the extraordinary groups of actors with whom he was surrounded, most notably fellow Breaking Bad alum Jonathan Banks as Mike Ehrmantraut, along with new faces Rhea Seehorn as Kim Wexler and Michael McKean as Charles McGill.  I found that first season to be tense and gripping while also being a huge amount of fun.  This is an incredibly impressive balance of tone.  I wrote in my review that I enjoyed that first season of Better Call Saul more than any season of Breaking Bad except for Bad's final run of episodes.  Soon after finishing Saul season one I eagerly dove into season two.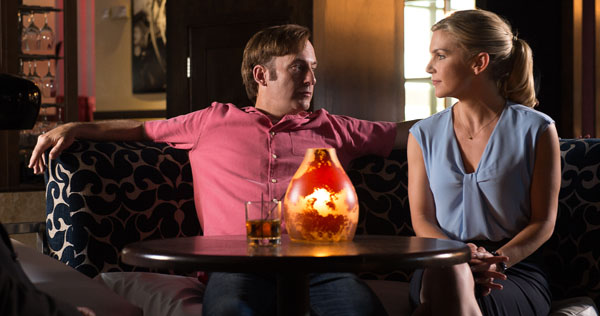 While perhaps not quite as perfect as season one (and without the thrill of discovery of this new show), Better Call Saul season two remains a master class in television craftsmanship, hugely enjoyable and gripping, fun and also heartbreaking.  I loved it.  I tore through it at a rapid pace and am left eagerly counting the days until season three.
Season one began with a wonderful black-and-white vignette, a peek at the fate of Saul Goodman following the events of Breaking Bad.  I didn't think we'd ever see any more of that time-period until the end of Better Call Saul's run, but I was delighted to have been proven wrong as the first moments of season two gave us another look at the sad, lonely life being lived by Jimmy McGill/Saul Goodman after his life had been torn apart by his relationship with Walter White.  It was fascinating to note that in the tiny, desperate bit of graffiti left behind by Jimmy/Saul, he identified himself not as Jimmy, but as Saul.  Watching the first season of Better Call Saul, I was stunned by how much I grew to love Jimmy McGill.  Rather than being impatient for the show to hurry up and get to Jimmy's transformation into Saul — the fun, fast-talking, morals-free dude we'd gotten to know and love in Breaking Bad — I was dreading the day when the sweet, good-hearted Jimmy would be replaced by Saul.  And yet, while I as a viewer might lament the coming loss of Jimmy, it was fascinating to see in this intro vignette that, even after arriving at the sad lonely end of Saul Goodman's road, this man considers himself Saul rather than Jimmy.  It's heartbreaking and also a tantalizing glimpse of where this show is going.  Two seasons in, I am still not sure how the Jimmy who I have grown to love so much will eventually be crushed and replaced by Saul.  I'm even more eager to see what transpires in this character's journey than I was to see the end of Walter White's transformation in Breaking Bad, and that is a magnificent achievement by creators Vince Gilligan and Peter Gould and everyone else involved with this incredible show.
Following that flash-forward, I was very surprised to see the early minutes of season two's premiere episode, "Switch," walk back the end of the season one finale, showing us that Jimmy actually did go in and meet (albeit briefly), with the prestigious law firm with whom Kim had helped set him up, and that in fact by the end of the episode he winds up taking the position they had offered him.  At first this was disappointing to me, as it seemed a lame way of rolling back what had seemed like the very dramatic and definitive conclusion of season one.  On the other hand, I can forgive the Saul writers for wanting to slow down the pace of Jimmy's transformation into Saul, as clearly they were enjoying the Jimmy character as much as I have been.  Plus, how can I complain about the writers allowing us to see the story of Jimmy's misadventures at the law firm of Davis & Main?  Watching Bob Odenkirk's Jimmy butt heads with Ed Begley Jr. as Clifford Main was tremendous fun, and a very worthwhile digression for the show to have gone on.
I wasn't sure, watching the final moments of season one, how Kim Wexler was going to be able to continue to be a part of the show and have any further connection to Jimmy.  I was pleased that they found a way for Kim to remain a critical part of the story here in season two.  Whereas I'd thought that Jimmy's actions in the season one finale meant the death knell of his friendship with Kim, I was pleasantly surprised to see how quickly here in season two their relationship actually deepened and became more intimate.  After a first season spent dancing around the true nature of their relationship, it was fascinating to see Kim enter into a romantic relationship with Jimmy here in season two.  This turns the screws on the audience, as it's fun to see them together but we don't want to see Kim hurt by Jimmy's coming transformation into Saul.  Rhea Seehorn continues to be this show's secret weapon, absolutely wonderful in her performance as Kim.  I particularly enjoyed the way the show paused to focus on Kim's desperation to get out of the doghouse with Howard Hamlin (her boss at her law firm).  Those sequences of Kim's creating sticky-note after sticky-note and making phone call after phone call in the firm's glass-encased stairwell was a tour de force showcase of Ms. Seehorn's extraordinary acting.
One of the delights of Better Call Saul season one was learning that this show would be as much Mike Ehrmantraut's story as it would be Saul Goodman's.  I love this character, and I loved that season two continued to tell Mike's story.  After getting a glimpse of Tuco Salamanca (Raymond Cruz) in season one, it was great fun to see Mike cross Tuco's path here in season two.  And it was even a greater thrill to see the return of Hector Salamanca (Mark Margolis).  He was a terrific villain in Breaking Bad and just as wonderfully despicable here in Better Call Saul.  It was great seeing the fiercely intelligent and fearless Mike lock horns with Hector, and heartbreaking (a word I have already used several times in this review) to see Mike struggle to find a way out from under Hector's thumb.  The season two finale left me with lots of questions as to where Mike's story goes from here, but my guess was that it was Gus Fring who left Mike that note on his windshield, and I am overcome with anticipation to see Gus's eventual appearance on this show, and to learn how Mike will, at some point, come to work for him.
Season one of Better Call Saul was a perfect, complete thing.  Had that season been the only season of the show, I would have been satisfied by the story that had been told.  But whereas season one tied up everything in a nice bow, the end of season two leaves lots of story-lines unfinished.  While that means that season two doesn't have the same impact, in its final moments, as did the end of season one, this is not at all a cause for complaint for me.  Here in season two we can now see a show that is comfortably playing the long game and settling back to tell a multi-season story.  I can't wait to see where this all goes.
Other thoughts:
I was impressed by how masterfully the show played with the audience's feelings in terms of Chuck (Michael Mckean) this season.  That character had been sympathetic in season one but became a hateful villain at the end of the season when we learned just how long Chuck had been actively standing in the way of Jimmy's career as a lawyer.  Here in season two Chuck started off in that same, totally evil mode, but then gradually some sympathy returned (when we hear his speech to Kim about his dad).  Then, at the end, he shifts back into villain mode with that great cliffhanger ending as we discover that he's pulled a Jimmy-like con on Jimmy himself.  (I can't wait to see where that goes in season three.)
Speaking of Jimmy and cons, I loved this season's exploration of Jimmy's con-man past.  It was fascinating to meet his former partner and to see the two of them spend a crazy week engaging in one con after the other.  It was also interesting to see, this season, how much this con-man aspect is still a huge part of Jimmy's character, from the skillful con he (mostly) successfully pulls on Chuck (switching the addresses on all of Chuck's paperwork) to the joyous sequence in which he and Kim rope in a wealthy dude at the hotel where Jimmy has been staying.
This season made good use of the occasional flashback to help illuminate the characters.  I loved the glimpse of Jimmy's youth working in the convenience store with his gullible dad, and also to the death of his mother.  It's fascinating to see how their parents shaped the people who Chuck and Jimmy would become.
It was interesting to me how separate Mike and Jimmy's stories were this season.  The two characters only very briefly crossed paths this year.  This could have been a weakness but the show's writers and editors skillfully allowed this unusual story-telling structure to work.  Still, I do hope that Jimmy and Mike have more to do together in season three, because I dearly love seeing those two oil-and-water characters together on screen.
I loved seeing Jimmy's skill at putting together a commercial.
I've got to single out for praise the incredible, unbroken tracking shot that opens the episode called "Fifi," in which we follow one of the Salamanca's ice cream trucks and its driver through the complete process of an inspection stop at the U.S. border.  Extraordinary work.
I was surprised but happy to see the Walter White-esque nebbish Daniel turn up again this season.  His naive stubbornness concerning his stolen baseball cards was a riot.  And Jimmy's crazy speech to the cops about, um, cobblers (in an attempt to get Daniel off the hook and divert the cops' attentions), was a highlight of the season.
Once again I doff my cap to Vince Gilligan, Peter Gould, and all of the many other talented women and men involved with making Better Call Saul.  Season two showed that the great season one was no fluke.  I am now all-in on this show.  Bring on season three.