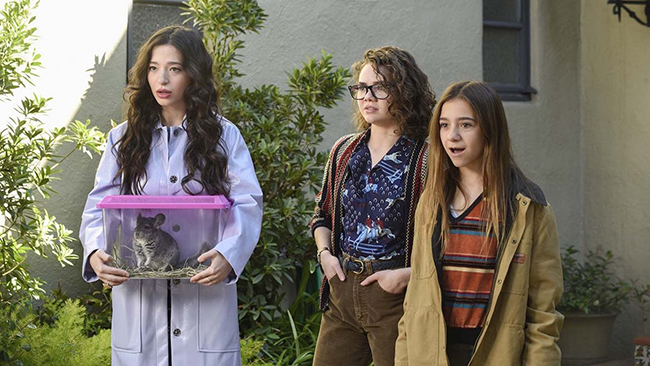 Josh Reviews Better Things Season Four
Pamela Adlon's magnificent TV series, Better Things, seems to get better and better with every season.  The ten episode fourth season was another wonderfully memorable, moving and funny installment.  I love this show, and if you're not watching it, I highly recommend you change that forthwith!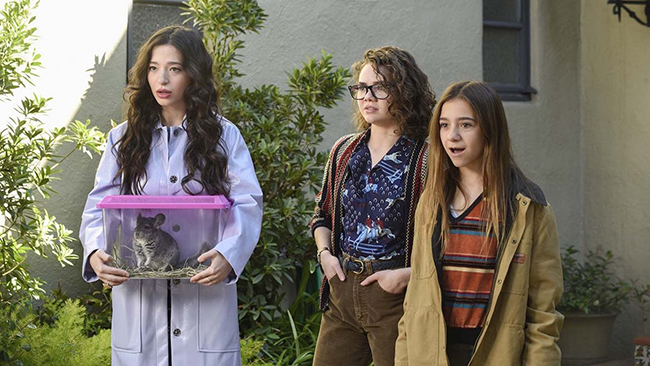 Better Things was co-created by Pamela Adlon, who also plays the lead role, writes most of the episodes (she wrote or co-wrote five of the ten season four episodes), and directed ALL of them.  I have a particular love for TV shows that feel like the strong expressions of their creator/showrunner, and Better Things is a prime example of this.  The show feels so personal and autobiographical for Ms. Adlon, even as I recognize that it's a work of fiction.  But there are clearly many levels of underlying truth to the stories being told; this makes the show so compelling to me.  It is also, as I have written before, a magnificent showcase for Ms. Adlon's talents.  I love that she has created a show that is so wonderfully unique.
The show is a beautifully-made character study, allowing us a peek into the life of Sam, her three daughters (Max, Frankie, and Duke), her mother Phil, and many of the other women in her life.  The show is focused on exploring the lives of these women; not in a tacky or superficial way, but through rich, complex, nuanced storytelling.
There is plot to be found in Better Things, but unlike most TV shows, the series is never really about the plot.  It's about these characters.  The show is, at the same time, bracingly realistic and lifelike, while also being dreamlike and playful.  As the narrative flows onwards, we're carried forward from vignette to vignette.  Sometimes we linger to dig deeply into a moment and then we move on (often skipping the type of plot-driven connective-tissue scenes found in other TV shows).  The result is a beautiful ensemble character piece.
The cast is amazing.  I'd enjoyed Pamela Adlon's work before Better Things (she was so memorable in her sporadic appearances on Louie), but now that I've seen this show I am cemented as a fan for life.  The three young actresses who play her character's daughters — Mikey Madison, Hannah Alligood, and Olivia Edward — get better each season (and they were terrific to begin with).  I was particularly pleased that this season gave Frankie (Hannah Alligood's character) a number of interesting stories, allowing her to mature out of the angry phase we saw her in for most of season three.  (I also love how delicately the show continues to address Frankie's fluid sexuality without making it into a Big Deal.)  Celia Imrie continues to be delightful as Sam's elegant, stubborn mother Phil.
The show has a rich array of supporting actors who portray the many wonderful women in Sam's life.  Additionally, I was delighted by how much attention the show allowed Diedrich Bader to have this year as Rich, one of Sam's closest male friends (and possibly the only male character on the show who is depicted in a positive light).  Rich has always been a terrific character, but they really allowed Mr. Bader to play some wonderful scenes this year.  We move from seeing him at a low point in the season premiere, after having been dumped by his younger boyfriend, into some great poppa bear moments towards the end of the season in which he demonstrates his love for, and protectiveness of, Sam and her daughters.  Mr. Bader absolutely nails some hilarious comedic zingers over the course of the season, while also being very powerful in playing some tough emotional moments.  It's a phenomenal performance.
While TV shows and movies usually portray L.A. as a sunny haven, I loved how this season instead took the trouble to show us L.A. during the rainy season.  It was a running point throughout most of this season that, whenever characters were outside, it was raining.  I loved that!  (I also loved the symbolism of the finale ending with a scene in water…)
This fourth season was filled with so many incredibly wonderful, memorable moments.  In the second episode, "She's Fifty" we get another classic example of the outgoing Sam striking up a conversation — and making a connection with — a stranger, in this case a man at a gas station she runs into after the electric car she was driving runs out of electricity in the middle of nowhere.  (The man was played by spectacular actor Lance Henrikson, who I haven't seen on-screen in quite a while.  He was note-perfect, as always.)  Sam winds up purchasing his El Camino (and the series gets a lot of comic mileage out of Sam and her daughters' driving the El Camino for the rest of the season).
Episode six, "New Orleans," is a gorgeous sense-memory experience.  The story involves a few days Sam spends in New Orleans to attend a friend's wedding.  But the episode is really all about capturing the sights and sounds and tastes of New Orleans, its places and its people.  It's a dazzling episode to watch.  I felt completely immersed in the sensations of the city that the episode was, somehow, able to capture.
I loved getting to see Kevin Pollak back for a few more appearances this year as Sam's brother Marion, such as in episode seven, in which Sam & co. visit a housewarming party thrown by Marion and his wife Caroline.  (I loved the running story of Phil and Caroline's mutual dislike, and I was thrilled to see Rosalind Chao — Keiko O'Brien from Star Trek: The Next Generation and Star Trek: Deep Space Nine — as Caroline!)
The episode "Father's Day" is a wonderful spotlight on Sam and a number of her female friends, most of whom have popped up occasionally throughout the series.  I love how the vignettes of this episode allowed us to explore the lives of these women.  (An aside: as with so many episodes of the show, food and drink were central to the women's evening together; I love how powerfully Better Things is able to allow the audience to feel the sensations of good food and drink, even though we're just watching images on a screen.)  It's wonderful to dip into the lives and feelings of these women — Lenny (Cree Summer), Lala (Judy Reyes), Tressa (Rebecca Metz), and Chaya (Judy Gold) — and allow them time in the spotlight.
Episode nine, "Batceañera", was another example of the compelling way in which Better Things can capture all of the sights and sounds and tastes and emotions of a festive evening of friends and family.  In this case, it's Frankie's spectacularly unique combination of a Quinceañera and a Bat Mitzvah.  I love how Ms. Adlon and her team are able to create a sensory experience, watching these episodes, that allows me as the viewer to really feel like I am there, immersed in what's happening.  There were deep emotional moments in the episode, many revolving around Sam's ex-husband and the girls' absent father Xander.
In any other show, the season finale would focus on Big Important Things.  In Better Things, the bulk of the episode chronicled a seemingly-random evening in which Sam took Duke and one of Duke's friends to a L.A. Dodgers game.  As usual for Sam, though, it turns into an adventure and an experience getting to know several interesting and memorable people, from a friendly ballpark security guard to a ride-share driver with "you have to smile, and you have to sing" ground-rules for his vehicle.  This is another of my favorite things about the show: how obsessed the series — and Sam — are with getting to know people; their stories and their humanity.  It's uplifting,
That episode also gives us a moving series of sequences in which we get to see some of the project Sam was working on all season long: interviews with women reflecting on their lives and experiences.  We get to hear these women talking about getting their first period, reaching menopause, and so much more.  It feels like something of a thesis statement for the entire show.
I'd have been completely satisfied had that been the end, but the episode gives us even a little more: the surprising and delightful and extremely memorable moment in which Sam and Rich follow Phil for a bout of skinny-dipping in their neighbor's pool.  It's a lovely comedic payoff to the references from earlier in the season about Phil's habit of swimming nude in their neighbor's pool.  It's an example of the series' awe-like embrace and acceptance of women and their bodies in all shapes and sizes and forms.  And it's a beautiful, poetic resolution to the emotional issues that many of the series' characters, particularly Sam, were wrestling with all season long. Spectacular.
This show is a gift.  I'm so glad to have seen this fourth season.  Someday soon I need to watch this whole show over again from the beginning.  Perhaps I'll find a time for that at some point during the long wait for a fifth season that I hope will come someday in the not-too-distant future.