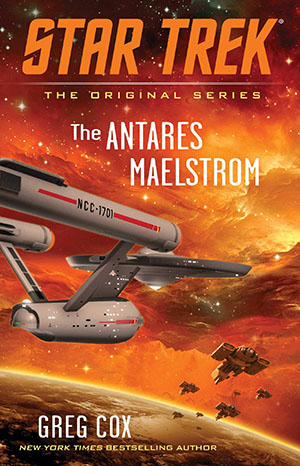 Star Trek: The Antares Maelstrom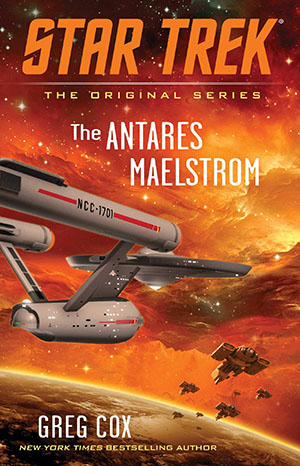 Star Trek: The Antares Maelstrom, the new Star Trek novel by Greg Cox, is set in the later days of the Five Year Mission.  As the novel begins, Captain Kirk and the U.S.S. Enterprise are summoned to assist the colony of Baldur III.  A rare and valuable material known as pergium has been discovered on the planet, leading to a "gold rush" as prospectors from across the galaxy rush to the colony, hoping to make their fortune.  This has overwhelmed the infrastructure of the small, independent colony, as well as the local space-station, and tensions are rising as the colony's locals fight with the newcomers and all are frustrated by breakdowns in power, supplies, and other necessities of life.  And so Captain Kirk is forced to divide up his leadership team: Scotty works to keep the colony's power station operational; McCoy helps assist the beleaguered medical staff; Uhura coordinates with the local civilians; and Sulu assists the security team on the space station.  Spock and Chekov, meanwhile, head off to a neighboring world on a mission of their own: they fear that smugglers are interfering with the pre-industrial society there in order to obtain a rare tea that is popular on Baldur III, a tea for which demand has skyrocketed due to the influx of newcomers.
Mr. Cox has written quite a number of terrific Original Series Star Trek novels.  (When Pocket Books temporarily halted their publication of new Trek books, I took the opportunity to read a variety of older Trek novels I hadn't gotten to; quite a few of Mr. Cox's stand-alone Original Series novels were among that number.)  The Antares Maelstrom is a fine addition to his oeuvre.
I like the idea of a "gold rush" in the 23rd century.  This is a fun and original hook for the novel.  And I particularly enjoyed the way Mr. Cox was able to give an important, meaty story-line to every single one of the Original Series characters.  This was a true ensemble story, and I loved that.  It's especially nice to get to see Uhura, Chekov, and Sulu.  I loved how Uhura's story-line allowed her to use her people-skills to great advantage, while also showing off her competency under pressure and her organizational and leadership skills.  As a bridge officer on the Starfleet flagship she would surely possess those qualities, but many Original Series adventures don't really allow her to show them off.  I also liked how her musical skills were also utilized.  Sulu, meanwhile, got to show off his piloting skills, his scientific acumen, and his leadership skills, when he's forced to basically take command of a huge city in space.  Chekov's story, meanwhile, builds on the way we have occasionally seen him as a scientific protege of Spock's, and it's nice to see Spock acknowledge Chekov's skills in those areas.
The novel contains several lovely allusions and follow-ups to previous Original Series adventures.  After the Enterprise crew helped the put-up Toglytes in the third-series Original Series episode "The Cloudminders", it's fun to now see a group of liberated Trogs show up in this novel, hoping to use their mining skills on Baldur III.  We also get some follow-up to the events of the first-season episode "Dagger of the Mind."  There's even a reference to the Shenzhou from Star Trek: Discovery, which was a nice touch (even though I have a very hard time believing that Discovery actually exists in the same continuity as the Original Series, but let's not go down that hole now).
I loved that Mr. Cox featured Yeoman Landon (from the Original Series episode "The Apple") as a major supporting character in the novel, allowing us to see her competency in the field, able to kick ass and handle herself, while also ably fulfilling her functions as Captain Kirk's yeoman.  I was also pleased to see a few mentions of Lieutenant Palmer (who appeared in "The Doomsday Machine" and "The Way to Eden").  It's great to get a feeling of continuity among these lower-ranked officers on Kirk's crew.
My main complaint about the novel is that it's not really about The Antares Maelstrom at all!  I was really excited by the book's title, which of course is based on Khan's line from Star Trek II: The Wrath of Khan ("I'll chase him 'round the moons of Nibia and 'round the Antares Maelstrom and 'round perdition's flames before I give him up!").  I was excited by the prospect of exploring what exactly that interesting-sounding astral phenomena really was… and the novel's beautiful cover promised something very cool.  But the Antares Maelstrom hardly factors into the story at all!  It's mostly a backdrop to the book's events.  No one enters the Maelstrom until about 280 pages into this approx. 350-page novel, and when that happens, events transpire in a rather by-the-numbers, predictable way.  (Ship gets in trouble, ship gets attacked by creatures living in the phenomena, eventually they realize it's a misunderstanding and find a way to communicate, and then the creatures help them escape.)  So that was a bit of a let-down.  It's nothing against the rest of the novel's story, which is terrific!  It's just not the story I was expecting, based on the book's title and cover.
Previous Star Trek novel reviews:
Star Trek – Unspoken Truth , Troublesome Minds, Cast No Shadow, Excelsior: Forged in Fire, Allegiance in Exile, Legacies Book 1: Captain to Captain, Legacies Book 2: Best Defense, Legacies Book 3: Purgatory's Key, The Face of the Unknown, From History's Shadow, Elusive Salvation, Assignment: Eternity, The Rings of Time, The Weight of Worlds, No Time Like the Past, Foul Deeds Will Rise
Star Trek: The Next Generation – The Sky's The Limit, Resistance and Q & A, Before Dishonor and Greater than the Sum, Destiny trilogy, A Singular Destiny, Losing the Peace, Immortal Coil, Cold Equations Book 1: The Persistence of Memory, Cold Equations Book 2: Silent Weapons, Cold Equations Book 3: The Body Electric, The Light Fantastic, Takedown, Armageddon's Arrow, Prey Book 1: Hell's Heart, Prey Book 2: The Jackal's Trick, Prey Book 3: The Hall of Heroes, Headlong Flight, Hearts and Minds, Available Light, Collateral Damage
Star Trek: Deep Space Nine – DS9 relaunch overview, The Soul Key, The Never-Ending Sacrifice, Plagues of Night and Raise the Dawn, Section 31: Disavowed, The Missing, Sacraments of Fire, Ascendance, Force and Motion, The Long Mirage, Section 31: Control, Enigma Tales, Gamma: Original Sin
Star Trek: Voyager – Full Circle, Unworthy, Children of the Storm, The Eternal Tide, Protectors
Star Trek: Enterprise — Kobayashi Maru, The Romulan War: Beneath the Raptor's Wing, The Romulan War: To Brave the Storm, Rise of the Federation: A Choice of Futures, Rise of the Federation: Tower of Babel, Rise of the Federation: Uncertain Logic, Rise of the Federation: Live By the Code, Rise of the Federation: Patterns of Interference
Star Trek: Titan – Book 1: Taking Wing, Book 2: The Red King, Book 3: Orion's Hounds, Book 4: Sword of Damocles, Under a Torrent Sea, Synthesis, Fallen Gods, Absent Enemies (e-book), Sight Unseen, Fortune of War
Star Trek: Typhon Pact – Book 1: Zero-Sum Game, Book 2: Seize the Fire, Book 3: Rough Beasts of Empire, Book 4: Paths of Disharmony, The Struggle Within (e-book), Plagues of Night and Raise the Dawn, Brinkmanship
Star Trek: The Fall — Book 1: Revelation and Dust, Book 2: The Crimson Shadow, Book 3: A Ceremony of Losses, Book 4: The Poisoned Chalice, Book 5: Peaceable Kingdoms
Star Trek: New Frontier – Series overview, Stone & Anvil, After the Fall, and Missing in Action, Treason and Blind Man's Bluff
Star Trek: Department of Temporal Investigations – Watching the Clock, Forgotten History, The Collectors (e-book), Time-Lock (e-book), Shield of the Gods (e-book)
Star Trek: The Lost Era – Book 1: The Sundered (2298), Book 2: Serpents Among the Ruins (2311), Book 3: The Art of the Impossible (2328-2346), The Buried Age (2355-2364), One Constant Star (2319)
Star Trek: Mirror Universe (Books 1 & 2) – Star Trek: Mirror Universe: Shards & Shadows – Star Trek: Mirror Universe: The Sorrows of Empire — Star Trek: Mirror Universe: Rise Like Lions –  Star Trek: Myriad Universes (Books 1 & 2) – Star Trek: Myriad Universes: Shattered Light
Beyond the Final Frontier — Josh's favorite Star Trek novels