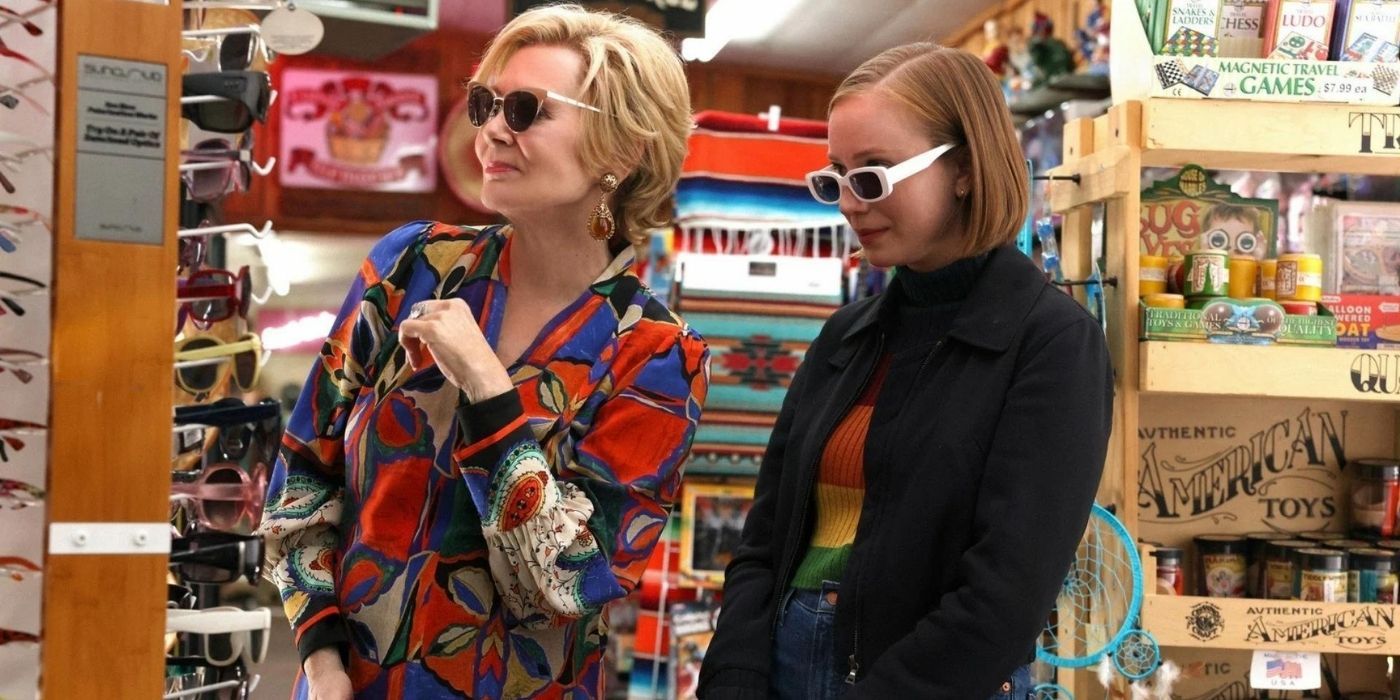 Josh Reviews Hacks Season Two
I quite enjoyed the first season of Hacks, which was created by Lucia Aniello, Paul W. Downs, and Jen Statsky.  The show centered on the unlikely, oil-and-water pairing of Deborah Vance (Jean Smart), a Las Vegas stand-up comic who had been a star for decades, and Ava (Hannah Einbinder), the young, opinionated comedy writer who starts working for her.  Though the two women disliked one another at first, each found they needed the other.  After years living the cushy life of a wealthy Las Vegas star, Deborah was getting pushed aside in favor of younger, newer talent.  She found that she needed someone like Ava to help her reinvent herself.  Ava, meanwhile, had blown up her career with an unfortunate tweet, and found other employment opportunities scarce-to-nonexistent.  The first season of Hacks was a very funny character study mixed with a potent comedy, and Jean Smart and Hannah Einbinder proved to be a spectacular pairing.
I pretty much loved season one right up until we got to the cliffhanger ending, in which Ava once again blew up her life by sending a terrible, drunken, angry email.  Urgh, I hated that ending, which seemed design to undo the relationship of mutual respect that had slowly blossomed between Deborah and Ava over the course of the season, and reset things back to the status quo of the start of the show.
Thankfully, that unfortunate plot-twist did not prove nearly as problematic for the start of season two as I'd feared.  The writers wisely chose to deal with the effects of that email right away, as opposed to dragging it out as a secret Ava was keeping from Deborah for many episodes.  Even better, I was impressed with how they were able to explore the impact of Ava's bad choices without totally destroying the relationship between Ava and Deborah.  That was a very careful balancing act, but they managed it extremely well.  Before too much time has passed in the season's early going, we were right back in there with Deborah and Ava's surprisingly tight, push-and-pull relationship.  That's where I thought the show was at its best in season one, and it was for sure again the case here in season two.
Once again, Jean Smart demonstrates that she is a powerhouse of a talent.  She commands the screen as Deborah.  She's completely believable as this powerful figure who is used to getting what she wants.  (For the most part.)  And she is also compelling and moving as we get to dig deeper under Deborah's skin, to learn more about the challenges she's faced as a woman attempting to be a star in the male-dominated world of comedy.  It's a spectacular performance.
Matching her beat-for-beat is Hannah Einbinder as Ava.  I love how Ms. Einbinder's performance continues to allow Ava to repeatedly make somewhat of a fool of herself and a mess of her life, while keeping her likable and someone we're rooting for.  Even more impressively, the show allowed Ava to continue to be funny, while also allowing her to actually grow and better herself.  That's a tricky path to follow, and one many lesser TV shows would avoid, preferring to keep their characters locked into the same predictable character traits.  But it would have been frustrating had Ava continued to learn nothing and just be a mess.  (That's part of why I so strongly disliked the ending of season one.)
What's most impressive about the show, and the key to its working as well as it does, is that I found myself rooting not so much for either Deborah or Ava, but for their friendship.  I wanted these two to get along and unite their comedic superpowers in order to take on the world and get everything they deserved!!  I really enjoyed following the arc of their relationship over the course of these two seasons, and I'm glad that here in this second season the show did allow them to (mostly) get along and work together.
The device of Deborah and Ava's going on tour together, stuck together on the road, was a delicious idea and it immediately paid out many comedic dividends.  I loved seeing these two out in middle America, where both were very out of place.
The only down-side to that structure is that I didn't feel any of the show's wonderful supporting cast has as much good stuff to do as they did in season one.  With Deborah and Ava mostly separated from Marcus (Carl Clemons-Hopkins), Kiki (Poppy Liu), DJ (Kaitlin Olson), and Marty (Christopher McDonald), not to mention Deborah & Ava's manager Jimmy (Paul W. Downs) and his frustrating assistant Kayla (Megan Stalter), it felt like the show struggled somewhat to keep them all involved in the stories.  Some of them (like DJ) were absent for long stretches.  It wasn't very much fun seeing Marcus struggle so much with his work/personal-life balance, though I felt his character clicked back into place in the back half of the season when he joined Deborah and Ava on the road.  (Having him with them made his character more integral to the stories again!)  And while the idea of Jimmy and Kayla being forced to work together and strike out on their own feels like a great plot twist, I wish they'd had more to do and that story had more payoff at the end of the season.
These are minor complaints.  I really like all of these supporting characters, which is why I wanted to see more of them, though everyone got some good juicy moments during the season.  (I particularly enjoyed the whole sequence in which DJ drags Deborah to her husband's MMA fight in the season premiere.)
And we got some terrific additions in season two.  Laurie Metcalf (Roseanne) was terrific and extremely funny as "Weed", the seen-it-all tour manager Deborah hires to accompany her on the road.  And Ming-Na Wen (Fennec Shand on The Mandalorian and The Book of Boba Fett) was perfect as Janet Stone, the tough-as-nails agent who becomes Jimmy's rival.
Is season two the end of the show?  I was surprised by the degree to which the final minutes of the season two finale seemed to quickly wrap everything up in a bow and give Deborah and Ava a happy ending.  On the one hand, I love seeing them get a happy ending!  I'd been watching the finale with my stomach clenched, waiting for the other shoe to drop and something to truly go horribly wrong.  I'm glad that didn't happen.  But I was surprised how what I'd thought was a season finale suddenly seemed to turn into a season finale in the final minutes.
If this is the end of Hacks, I am satisfied, and I think it's great they were able to wrap up the show's storylines and give the characters — particularly Deborah and Ava — a proper ending.  On the other hand, these first two seasons were great and I'd love to see more…!
Please support my website by clicking through one of our Amazon links the next time you need to shop!  As an Amazon Associate, I earn from qualifying purchases.  That means I'll receive a small percentage from any product you purchase from Amazon within 24 hours after clicking through.  Thank you!