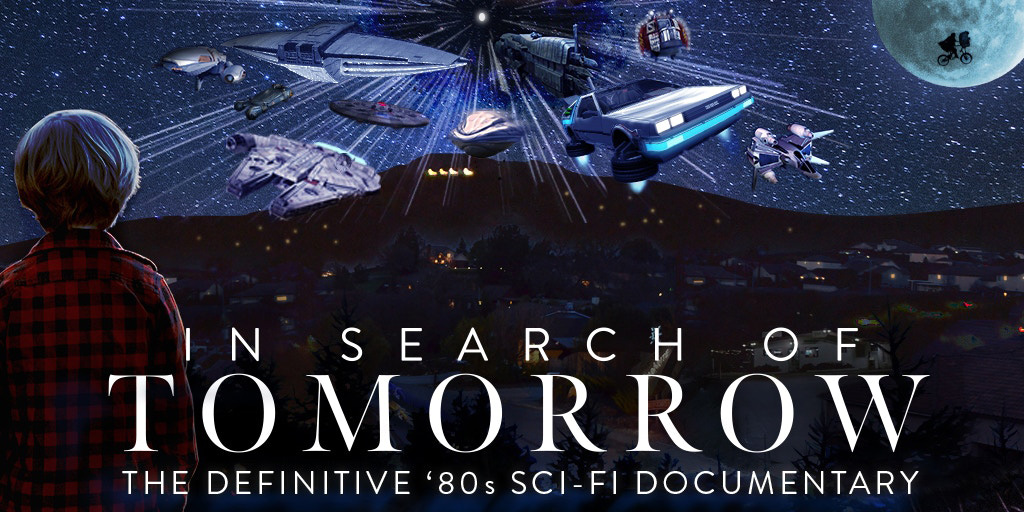 Josh Reviews In Search of Tomorrow
In Search of Tomorrow is a crowd-funded documentary that takes an in-depth look at the sci-fi movies of the eighties.  (I backed this project on Indiegogo back in 2021.)
From the huge blockbusters to the low-budget camp-fests, this lengthy film takes a deep dive into the many wonderful (and wonderfully varied) science fiction films released in the eighties.  The doc explores movies including The Empire Strikes Back, Return of the Jedi, Star Trek II: The Wrath of Khan, Blade Runner, E.T. the Extra-Terrestrial, Back to the Future, Dune, Aliens, Tron, The Terminator, Ghostbusters, Predator, The Road Warrior, The Abyss, Short Circuit, RoboCop, Akira, WarGames, and many more.
The production team managed to score interviews with a terrific array of the actors, writers, and directors associated with these films.  Unsurprisingly, many of the big names in those films didn't participate, which is a bummer.  For instance, the only major Star Wars actor who participated was Billy Dee Williams.  But the doc makes up for that by allowing us to hear from many of the other interesting but less famous people involved in these groundbreaking films.
And don't get me wrong, there ARE a LOT of big names involved in this documentary!  We get to hear from directors & writers such as James Cameron, Ivan Reitman, Nicholas Meyer, John Carpenter, Bob Gale, Joe Dante, Paul Verhoeven, Peter Hyams, and Shane Black.  We get to hear from actors such as Walter Koenig, Will Wheaton, Ernie Hudson, Peter Weller, Sean Young, Alex Winter, Bruce Boxleitner, Shane Black, Bill Duke, Clancy Brown, Nancy Allen, Kurtwood Smith, Ronny Cox, Sarah Douglas, and Robert Englund.  We get to hear from special effects masters such as Dennis Muren, Phil Tippett, Douglas Trumbull, and John Dykstra; composer Brad Fiedel, and so many more talented artists, in front of and behind the cameras.  I'm impressed by the breadth and depth of the talented people who the filmmakers were able to track down and interview for this project.
I had a lot of fun watching this!  The film is epic in length; it's around five hours long.  I watched it in about five sittings, treating it more like a TV mini-series than a movie.  That felt like the right approach, as I think this would be too much to try to watch in one, or even two, sittings.  But watching about an hour at a time, this blew by for me.  I'd have been happy to have been able to keep watching for many more hours!
There's such love pouring through the screen for these sci-fi movies of the eighties, both the great ones and the not-so-great ones.  I grew up with these movies, and it's so much fun to see them so lovingly saluted.
Frankly, I most enjoyed the sections of the film dealing with the not-so-great films (or maybe I should say the not-so-famous ones).  Because when it comes to the big, famous classics from the eighties, films such as The Empire Strikes Back, Return of the Jedi, Star Trek II, Ghostbusters, Back to the Future, etc., those films have been explored already in so much more depth elsewhere (in books, other documentaries, special features on the various home-media releases, etc.).  So when this film gives them a ten-ish minute look, it winds up feeling fairly superficial.  And because many of the big names associated with those films didn't participate in this project, it feels like something is missing from those segments.  (Again, I love Billy Dee Williams, and he's amazing in The Empire Strikes Back, but when he's the only actor talking about that film, the absence of the others feels glaring.)
However, when it comes to the lesser-known films, I felt the documentary really comes to life.  I loved the segments exploring films like The Last Starfighter, Innerspace, Tron, Flight of the Navigator, Outland, The Adventures of Buckaroo Banzai, and so many more movies that I have a lot of nostalgia for.  (The film also covered some weird films I'd never seen before, but now I'll have to track down!)
I watched this film on the beautiful blu-ray I'd gotten through the Indiegogo campaign; it is available to stream on the Roku channel.
Please support my website by clicking through one of our Amazon links the next time you need to shop!  As an Amazon Associate, I earn from qualifying purchases.  That means I'll receive a small percentage from any product you purchase from Amazon within 24 hours after clicking through.  Thank you!