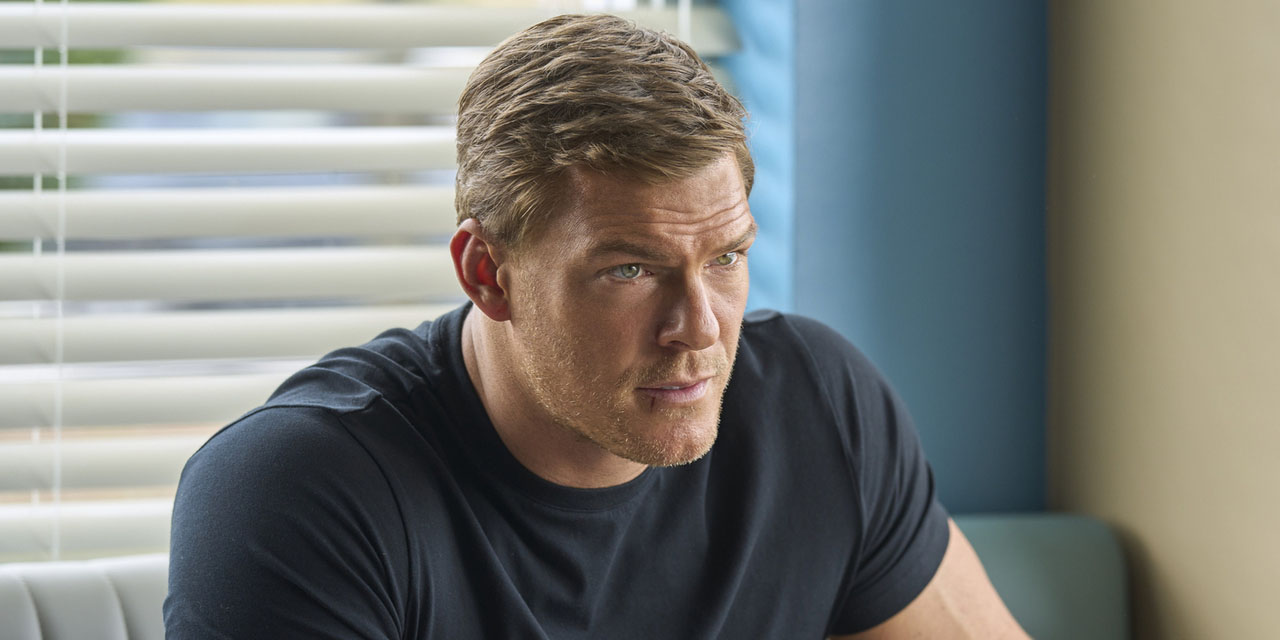 Josh Reviews Reacher Season One
The eight-episode Amazon series Reacher is based on Killing Floor, the first novel in Lee Child's Jack Reacher series.  When the story opens, the wandering Jack Reacher has sat down at a diner in the small town of Margrave, Georgia, when he is arrested for the murder of three men, an event that happened the night before.  As bodies continue to fall, it becomes evident to Chief Detective Oscar Finlay and fellow officer Roscoe Conklin that Reacher innocent.  While Reacher's first instinct is to leave town as soon as he's released from custody, events conspire to keep him involved.  Soon he, Finlay and Roscoe find themselves uncovering a horrific network of money and crime, and they're not certain who among the people of Margrave can be trusted.
I'd watched both of the Jack Reacher movies starring Tom Cruise (2012's Jack Reacher and the 2016 sequel Jack Reacher: Never Go Back) and I wasn't terribly impressed.  When this new series came out, I decided to read Killing Floor and I was surprised by how much I enjoyed the novel.  It's a terrifically entertaining page-turner, with well-drawn characters and a compelling crime/mystery story.  I was very excited to see how it would be adapted for TV!
This first season of Reacher is solid if unspectacular.  It's a relatively faithful adaptation of Killing Floor, which I was happy to see.  The bones of the story from the novel are strong, and it works as a compelling basis for a TV show that is a combination of mystery, action and suspense.
One of the main selling points of this new show has been that in casting Alan Ritchson as Jack Reacher, they've created a far more faithful depiction of the character than what we saw in the Tom Cruise movies.  On a surface level, that's surely the case.  Mr. Ritchson (who I remember from his days playing Aquaman on Smallville) is huge; he certainly captures the way that Reacher is an instantly intimidating physical presence when he steps into a room.  But I wouldn't be too quick to discount the way Tom Cruise captured Reacher's intelligence and his noble stubbornness.  Mr. Cruise is also a terrific actor; frankly, a far better actor than Mr. Ritchson.  Mr. Ritchson is perfectly good in the role.  I like this Reacher and I enjoyed following him through this story.  But there were definitely moments for me when I think Mr. Ritchson's acting chops weren't quite up to snuff.  There were moments when I felt his Reacher came off as too quippy or smarmy, in a way that somewhat undercut the character for me.  Part of that can be blamed on the writing.  (Most of the scene-ending quips and comments they gave Reacher weren't in the book.  Nor was the silly moment in the first episode in which Reacher snapped out of his wrist-bindings just to show that he could — a rip off of the exact same scene in Man of Steel.  I wish the show hadn't felt the need to give Reacher those sorts of silly moments.  They kept throwing me out of the reality of the drama of the story.  As I'd noted above, the bones of this story from the novel Killing Floor are strong.  Most of the time when the show diverged from the novel, it was not for the better in my opinion.)
I thought far more highly of Mr. Ritchson's two main co-stars, Malcolm Goodwin and Willa Fitzgerald.  Mr. Goodwin plays Finlay, the prim and proper Chief Detective who hails from Boston.  I loved Mr. Goodwin's version of Finlay!  He was able to allow the audience to have some fun with Finlay while never for a second undermining the character's seriousness and the reality of his emotional truth.  Meanwhile, Ms. Fotzegarld was equally compelling as the brave, smart, competent officer Roscoe.  She had great chemistry with Mr. Ritchson's Reacher.  I enjoyed all the scenes of the two characters together, and I really liked the way the arc of their story played out on the show.  (Although it worked in the novel, one successful change the show made was in not having Reacher and Roscoe hook up after that first night they share getting drunk at an out-of-town bar.  I liked that their relationship developed more gradually.)
It was fun seeing Kristen Kreuk (another Smallville connection!) in her supporting role as Charlie, the wife of missing banker Paul Hubble.  Ms. Kreuk did a nice job fleshing out this woman who's been caught up in this horrible situation.  (I always thought Ms. Kreuk did great work on Smallville and that she was better than the material the show usually gave her.)  Marc Bendavid is solid as Paul Hubble.  Bruce McGill (Animal House, My Cousin Vinny, The Insider, The Sum of All Fears, and he played time-traveling Captain Braxton on Star Trek: Voyager) is fun as the corrupt town mayor.
One major supporting character who wasn't in the novel was Frances Neagley, played by Maria Sten; a private investigator with a past connection to Reacher.  I assume this is a character from future Reacher novels that the show decided to work into this story.  I suspect her inclusion made fans of the novels happy.  Ms. Sten was solid and I enjoyed seeing her on the show, though she doesn't wind up having too much to do.
Eight episodes was the perfect length for this adaptation.  I felt the story unfolded at a strong, smooth pace.  The mysteries were compelling and carried me through the episodes; keeping my interest without any boring lull in the middle.
Frankly the only storytelling misstep the show made was that they made the baffling decision to cut one of my very favorite scenes from the novel: the moment towards the end in which Reacher meets the elderly sister of the friendly African American barbers (there are two in the book, though only one in the show) and gets the full story about the blues singer Blind Blake, which was the reason Reacher had gone to Margrave in the first place.  The show certainly included plenty of references to Blind Blake, so I couldn't believe they skipped the pay-off!  That was a bummer for me!
Other than that, I enjoyed Reacher.  I'm in for a season two.
Please support MotionPicturesComics.com by clicking through one of our Amazon links the next time you need to shop!  As an Amazon Associate, I earn from qualifying purchases.  That means I'll receive a small percentage from any product you purchase from Amazon within 24 hours after clicking through.  Thank you!