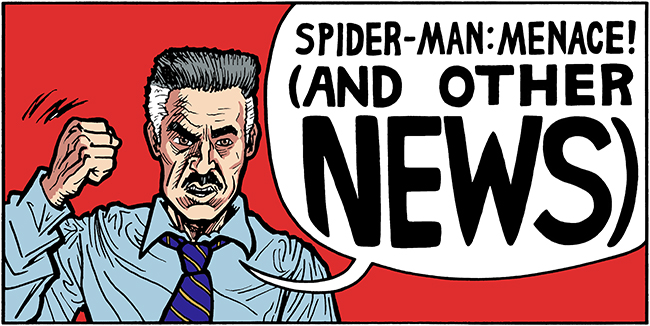 News Around the Net
This trailer for season two of Only Murders in the Building makes me very happy:
I loved the first season and I can't wait for season two!
Say halleluyah: the 4K "Director's Edition" of Star Trek: The Motion Picture is finally here!  Here's a trailer — it looks terrific:
I have been hoping and dreaming for a 4K version of this, the best version of TMP (and frankly the ONLY version of TMP that anyone should watch) for many years.  I can't wait.  Click here for a look inside this new version of TMP with producer David C. Fein.
Matt Reeves released this juicy deleted scene from The Batman — apparently, they shot a whole scene between Batman and Barry Keoghan's Joker:
I really dug The Batman but frankly the one scene with the Joker stuck out to me as one of the few things in the movie that didn't quite work.  It's fascinating to watch this scene that gives much more of a sense of what Mr. Reeves and Mr. Keoghan had planned for the character.  This scene is certainly very creepy and unsettling.  But this malformed Joker doesn't really connect with me.  I hope that if they make a sequel and want to include the Joker that they rethink this version…
Yay, Undone season two is finally almost here!!  Here's a (spoilery) trailer:
I loved the first season of this bizarre and beautiful show, which was created by Kate Purdy and Raphael Bob-Waksberg (BoJack Horseman).  I can't wait for more.
The same team behind the terrific Star Trek: Deep Space Nine documentary What We Left Behind has been working on a Voyager documentary called To the Journey.  Here's a very interesting first look:
I'm not a Voyager fan (for a long time it was by far my least favorite Trek series, but then the modern shows demonstrated what terrible Star Trek REALLY looked like), but I'm very interested to see this documentary, which I backed on Kickstarter.
Sad news that Estelle Harris has passed away.  Ms. Harris is of course best known for her indelible performance as George's mother Estelle Costanza on Seinfeld.
This is also sad: Bruce Willis is retiring from acting due to his diagnosis with aphasia.  I feel like Mr. Willis' star has dimmed somewhat in recent years, but he's had an amazing career and I've loved him so much in so many great movies, from Die Hard to Unbreakable to Pulp Fiction and more.  Here's a fun look back at some great performances from across Mr. Willis' career.  I wish Mr. Willis the best.
The Game of Thrones prequel series, House of the Dragon, is really happening and will be premiering in August.  I'll watch, but right now I'm finding it hard to get too excited for this.  I'm interested to see if the show is good enough to make me care about the Game of Thrones world again.
This is interesting — did an early version of the Obi-Wan Kenobi Disney+ show involve the return of Ray Park as Darth Maul?  Ever since Mr. Park's cameo as Maul in Solo I've been hoping we'd get to see more of the character in the time-period between the Prequels and the "Twin Suns" episode of Rebels.  Maybe someday.
Click here to read a wild, fascinating, in-depth look at the production of the in-the-works next two Mission: Impossible films.  I hope it's not too much longer before we get to see them!
I haven't seen Morbius, and I have no plans to do so.  I am not interested in movies about Spider-Man villains in which Spider-Man does not appear.  (Frankly I'm not interested in any villain spin-off solo movies; every one I've ever seen has been terrible.)  And I'm not a big fan of Jared Leto.  And I think the trailers for the movie looked cheap and silly.  Nevertheless, I was very interested in this article in The Hollywood Reporter discussing the negative critical consensus regarding Morbius.  It's a compelling read, and the author makes some excellent points.  The way certain sections of fandom — and critics — just love to sharpen their knives and attack certain stuff, often sight-unseen, is distasteful.  When I write a negative review of a movie or TV show, I try my best to evaluate the project on its merits and rationally discuss where I think it fell short.  And regarding Morbius — because I'm pretty confident I won't like it, I'm not going to hate-watch it; I'm just going to skip it.  (If I do someday wind up watching it, I'll try my best to go in with an open mind, as I always try to do.)
Please support MotionPicturesComics.com by clicking through one of our Amazon links the next time you need to shop!  As an Amazon Associate, I earn from qualifying purchases.  That means I'll receive a small percentage from any product you purchase from Amazon within 24 hours after clicking through.  Thank you!