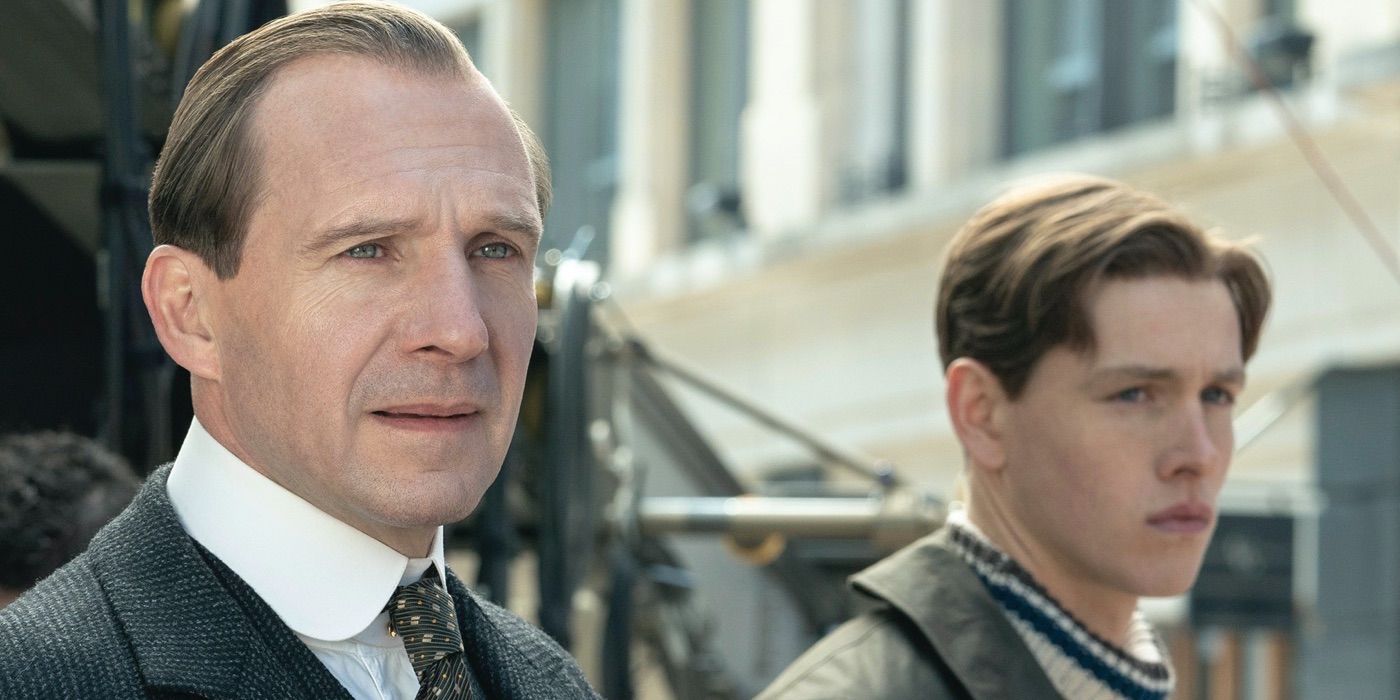 Josh Reviews The King's Man
The King's Man tells the story of how the Kingsmen — the "independent intelligence service" seen in 2014's Kingsman: The Secret Service and 2017's Kingsman: The Golden Circle — came to be.  It's 1914, and the world stands on the brink of the First World War.  Orlando the Duke of Oxford (Ralph Fiennes) has formed a covert network of spies, using the skills and contacts of the two "servants" who help run the duke's household: Polly Watkins (Gemma Arterton) and Shola (Djimon Hounsou).  They in turn have employed and connected other unseen servants and workers who are highly placed in the halls of power across the globe.  As Orlando and his colleagues work to combat the rise of evil in nations around the world — personified by the Tsar's trusted advisor Rasputin — Orlando also seeks to find some sort of common ground with his son, Conrad (Harris Dickinson).  Orlando has done his best to honor his promise to his late wife to protect Conrad at all costs, but the young man now longs to go out and make his mark.  Can this small but stalwart group of men and women do anything to stave off the rising chaos and violence of the first World War?
Wow, I can't believe that there are actually now THREE Kingsman films in existence!  I am happy but also surprised.  I really loved the original comic book series The Secret Service, by Mark Millar and Dave Gibbons.  But while I enjoyed both previous Kingsman films, I didn't feel either quite hit the mark for me.  I love the idea of a cheeky, modern version of a James Bond adventure story.  Both films had terrific ensemble casts and a lot of fun, inventive action.  But the tone never felt quite right for me.  I didn't think either film quite was able to balance the elements of silliness and humor with what was also supposed to be a tense action/adventure story.  And both films were somewhat undercut for me by a tendency to go for the dirty joke.  (The first Kingsman film ends with an anal sex joke that really soured the whole film for me.)
So I'm a little shocked that Matthew Vaughn & co. have come back with a third Kingsman film.  But while generally I hate prequels, here I think they've come up with a very clever idea to travel back a hundred years to tell a very different type of story that serves as an origin story for the entire franchise.
While The King's Man isn't perfect, I found it to be a thoroughly enjoyable, epic adventure story.  This is easily the best of the three Kingsman films so far.  And while it does contain some fun nods and connections to the previous two Kingsman films, it impressively stands on its own.  You definitely don't need to have seen the other two movies to understand and enjoy this film.
The cast is top-notch all around.  Ralph Fiennes (Schindler's List, Quiz Show, and of course he has played both the heroic M in the Daniel Craig Bond films and the villainous Lord Voldemort in the Harry Potter films) is terrific as Orlando Oxford, the Duke of Oxford.  Mr. Fiennes was born to play the lead in a Kingsman movie!  He has that perfect British aristocratic dignity, combined with an openness and emotional honesty that allows his Oxford to be a compelling heroic lead for the story.  Orlando is rich and privileged, but the film never allows us to dismiss him as a stuck-up jerk.  Mr. Fiennes imbues him with tremendous humanity and warmth.  And Mr. Fiennes is also able to be remarkably convincing in the action sequences when it's time to kick ass!
Gemma Arterton (Quantum of Solace) is terrific as Polly, the head maid in Orlando's household.  Polly is intelligent, brave, and fierce, and Ms. Arterton brings such nobility and quiet heroism to her performance.  She's really terrific and fun to watch… as is Djimon Hounsou (Amistad, Gladiator, Guardians of the Galaxy) as Shola, the head butler in Orlando's household and Polly's counterpart.  Harris Dickinson is quite likable as Conrad Oxford; I like the way Mr. Dickinson is able to show Conrad's youth and inexperience without turning him into the sort of annoying teenaged sidekick that often can pop up in this sort of film.
Tom Hollander (Gosford Park, Mission: Impossible — Rogue Nation, Bohemian Rhapsody) threatens to steal the film every moment he's on-screen in his incredible TRIPLE role as King George, Kaiser Wilhelm and Tsar Nicholas.  (Incredibly, it's true that the three rulers of Britain, Germany, and Russia at the time were all the sons of Queen Victoria; and if you look at the photographic evidence, they really did look almost exactly alike!  It's wild!)  Though if we're going to talk about someone stealing the film, that honor has to go to Rhys Ifans (Notting Hill, Xenophilius Lovegood in the Harry Potter films, and the Lizard in The Amazing Spider-Man and Spider-Man: No Way Home) for his bonkers, off-the-wall and insanely funny and scary work as Rasputin.  I loved every second Mr. Ifans was onscreen as Rasputin!
This is just a taste of the film's great ensemble.  There's also: Daniel Brühl (Captain America: Civil War, The Falcon and the Winter Soldier) as Erik Jan Hanussen (a real person who was involved in both the Weimar Republic Germany and the rise of Adolph Hitler and Nazi Germany); Charles Dance (Game of Thrones) as Herbert, Lord Kitchener (the British Secretary of State for War); Matthew Goode (Match Point, A Single Man, Allied) as Kitchener's right-hand-man Captain Morton; Valerie Pachner as Mata Hari; Joel Basman as Gavrilo Princip (the assassin of Archduke Franz Ferdinand of Austria); and also Aaron Taylor-Johnson (who previously starred in Matthew Vaughn's Kick-Ass and also played Quicksilver in Avengers: Age of Ultron) as Lance Corporal Archie Reid and Stanley Tucci as the U.S. Ambassador to the United Kingdom.  (Mr. Taylor-Johnson and Mr. Tucci are recognizable faces who only appear for a few moments on-screen… but because we see them when the group assembles at the end, it's clear they're being set up for a hoped-for sequel.)
I think this is my favorite of the three Kingsman films because it has the most consistent, balanced tone.  While this is far from a historically accurate period-piece drama, the film is more grounded and serious than the two previous Kingsman films.  There's some surprisingly brutal stuff in the film, particularly several haunting sequences set in the WWI trenches.  I enjoyed the way Mr. Vaughn & co. were able to keep the film grounded and emotionally real, while also crafting a very modern, epic-scale story that takes place over several years and that spans the world.
I also enjoyed the way the film blends together actual real-life characters and history with fantasy/spy Kingsman-style adventures.  It's a delicate balancing act, and there were a few moments when the film stumbled a bit (the suggestion that Woodrow Wilson was seduced by Mata Hari was rather outlandish), but for the most part I thought it was fun the way the film's story danced in and out of the raindrops of real history.
What didn't work?  I'm not sure I understand the thinking behind the early sequence set in a concentration camp that introduces us to Oxford and Kitchener.  By having Kitchener presented as someone running a concentration camp — and by casting Charles Dance to play the role — I thought Kitchener was a villain.  I continued to think that all the way through the film, at which point it became clear that I had that all wrong.  I wish that had been clearer from the beginning.
I also felt the story was somewhat hamstrung, because we know this group of good guys isn't going to be able to stop WWI… or WWII for that matter.  Sometimes using real people threatens to cheapen the serious world events being chronicled (such as the previously-noted plot-point in the film, suggesting that Woodrow Wilson kept the U.S. out of the war at first because he was being blackmailed because he'd been filmed having sex in the Oval Office with Mata Hari).
On the other hand, sometimes that play between fact and fiction gave the film a thrilling energy, such as the suggestion that Kitchener died at sea not because his ship hit a German bomb (as is the historical record), but because his ship was torpedoed by the villain in a sub.  That was a cool example of how the film had fun playing with history, so one can blur one's eyes and imagine that this is all what "actually" happened!
Speaking of the villain, that was probably the biggest missed opportunity in the film.  I think they made a mistake keeping his identity secret for most of the movie.  The long wait for the reveal made it impossible to live up to the expectations that had been built up for a mind-blowing surprise when it finally came.  Instead, it was sort of an "oh-well" revelation that didn't really make too much plot sense.  (How that villain got back and forth between where we'd seen him previously and the site of his evil lair is a mystery to me.)  And because he only gets the final few minutes of the film to actually be seen in full villain mode, he doesn't get enough time to really be threatening or interesting.  His heavy Scottish accent, and his histrionic behavior, plays more silly than threatening.  So that was a bit of a let-down.
As I noted above, I can't believe they actually have made THREE Kingsman films!  To my surprise, I find that I'd be game for more.  I'd love see either return to the present-day Kingsman team or a sequel to this prequel, telling more stories with this ensemble, set in the years between WWI and WWII.  Will this improbable franchise come back for more…?  It seems unlikely, but I'm on board if they do.
Please support MotionPicturesComics.com by clicking through one of our Amazon links the next time you need to shop!  As an Amazon Associate, I earn from qualifying purchases.  That means I'll receive a small percentage from any product you purchase from Amazon within 24 hours after clicking through.  Thank you!