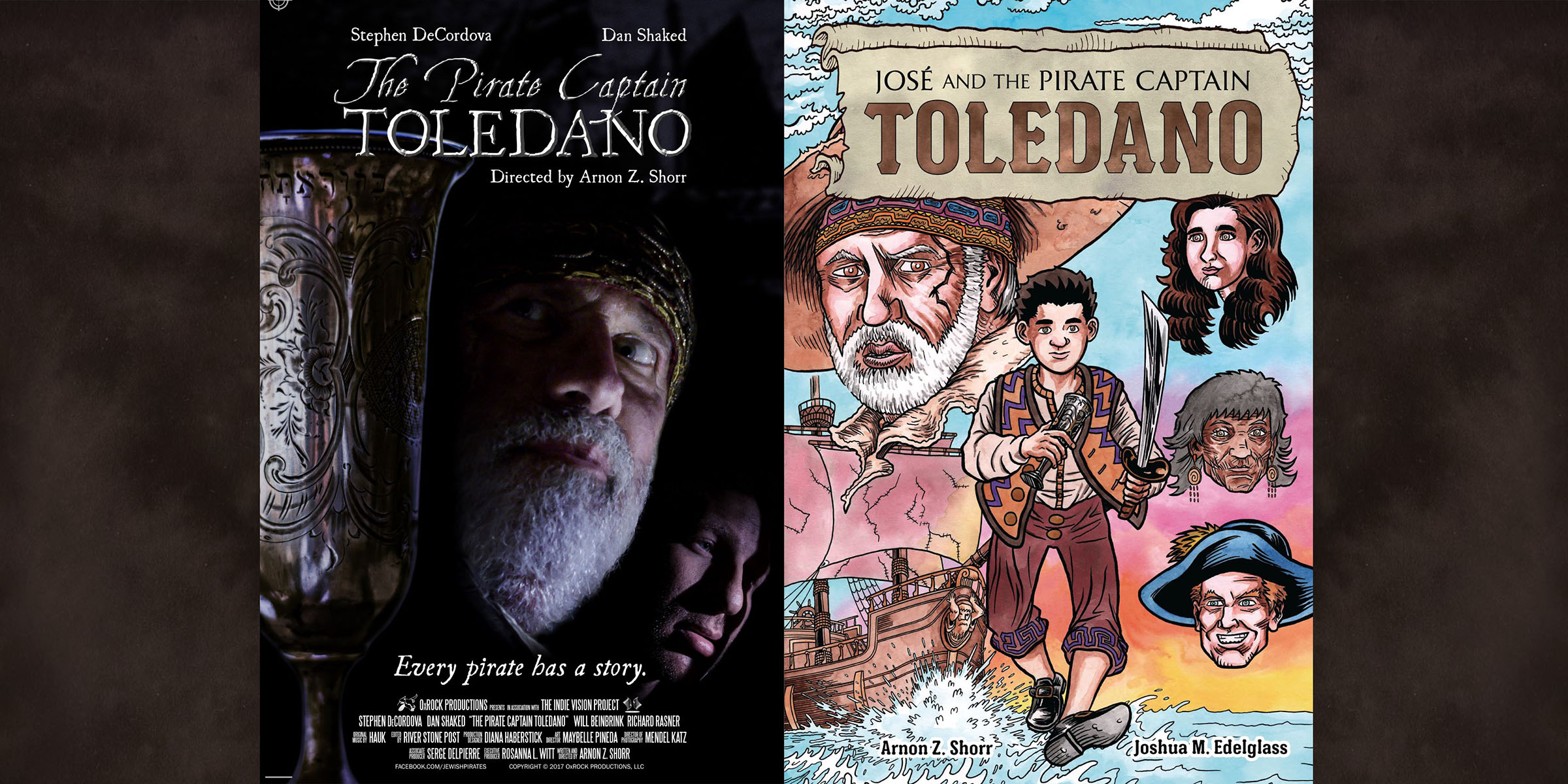 Jewish Stories, Pirate Style!
We're only a few days away from the release of my graphic novel José and the Pirate Captain Toledano!! I'm so excited for everyone to finally be able to see this!  You can click here to order the book on Amazon!
And this is very cool: Arnon Shorr (the book's author) and I were interviewed by Boaz Hepner of The Jewish Journal, the largest weekly Jewish newspaper in the U.S.!  You can click here to read this very extensive interview!  We talk all about our collaboration and the process of creating our graphic novel, and many other subjects as well!
Here's an excerpt:
Jewish Stories, Pirate-Style: Meeting the Creators of a Swashbuckling Comic for the Whole Family
To know Arnon Shorr is to know someone who could easily be a character within one of his stories: A distinctive moustache, a stylish hat, and long, deep pauses before delivering fascinating soliloquies. When my wife and I found out our dear friend Arnon was trying to create his dream project, a short film about a 16th century Jewish pirate evading the Spanish Inquisition, we were excited to support it. The Pirate Captain Toledano started out as a crowdfunded passion-project and became an award winning short film, written and directed by Arnon in 2017.
When I found out that he was writing a graphic novel based on the short, I assumed it would be a straightforward adaptation. To my excitement, it turned out to be so much more. Set during the Spanish Inquisition, José and the Pirate Captain Toledano is the story of a young refugee and the connection he forms with a mysterious pirate captain. This high sea adventure, rife with hand-to-hand combat and ship-to-ship action, highlights a dark time in history when people took unusual paths to survive.
I had the pleasure of interviewing Arnon and his delightful illustrator Joshua Edelglass, and despite a background of comic book fandom, I still learned so much about the process. It's my pleasure to share highlights from our fun and illuminating two hour conversation, where the three of us discussed this new release.
How did you two meet?
Joshua Edelglass – We have a little bit of a history. I'm Assistant Director of Ramah New England. We run a week-long program, a mini-camp where we bring in artists, musicians, sports coaches etc.  I forget who initially connected us, but about ten years ago I brought Arnon to camp as a filmmaking expert. He was a guest programmer for a week, where he ran programs for kids who signed up because they were interested in filmmaking – what we call an "expert-a-thon". We've been in touch as friends ever since, and now we suddenly live near each other in the Boston area!
Arnon Shorr – Actually Boaz, it's similar to what I did for your nieces Eve & Ada. A few years ago when they came to town for a few days, if you recall I introduced them to different aspects of filmmaking.
I remember, and that was lovely! They're both in Israel for seminary now. And Eve got in early to Princeton, maybe it's thanks to your mini-camp!
AS – (Laughing) Print that rumor and the book will sell even better!
Yes, read the book and you get into the college of your choice, or your money back! What attracted you to this project, Josh? Was it the story itself, or working with Arnon?
JE – I sparked to the story immediately. I watched his short film and loved it. As Arnon was telling me about his visions to expand those several scenes into a much larger story, I just got really excited for it right away. Not only could I see it was a great narrative, but I easily saw it as a graphic novel. It's highly visual, and I got excited to draw it. There's also a second level that compelled me to work on this. I've been a freelance illustrator for about 20 years, and I've always been interested in comics and graphic novels. Over the last few years I've gained a thirst to go toward the graphic novel area. I was published in the Jewish Comix/Comics Anthology twice over the past five years. It was a mixture of famous collections of artwork from people such as Art Spiegelman, who wrote Maus, plus some original artwork from people like me.
Arnon, was Josh your only plan? Were you screwed if he said no?
AS – The way this developed doesn't connect with the way that question is framed. What happened was that after each film festival screening, there was a Q&A, and the first question would always be, "Wow that was great, where's the rest of the story?" And I would say, "Pirate movies are expensive, but if you pull out your checkbook"…and people would laugh. I started to wonder: all these people want to know what the rest of the story is – I should probably figure it out for myself! So I wrote out a few pages, a treatment, something where if lightning strikes a second time, this is the story I would want to tell. I knew it was very unlikely, so I started to think of other ways, other mediums to get the story out there. The idea of comics swam through my mind, and I thought, "This could be really interesting, what if this was a graphic novel". But I had no idea how they are made, what the process is, how to do it – no idea. So I asked around for advice.
Around the time the second anthology that Josh was published in came out, I saw his post on Facebook about it. And I realized, "Oh my gosh, here's this guy I've known for a decade, I had no idea that he illustrates comics". I knew him as the camp guy.  So I reached out to Josh and said, "I'd like to pick your brains, I'm curious how comics work." So we came very organically to the conclusion that we should try to see if we could get Toledano as a graphic novel off the ground. So the decision to make this book really emerged collaboratively out of a conversation that was more broadly about graphic novels in general, how they happen, what stories might work, and what the process looks like. So I was never actually considering other artists, because I didn't even know where to begin; and Josh was really excited about it, so I decided let's let Josh guide me through this…and it worked, and we have a book now!
I love that answer. What do you think you would have done if he didn't offer to collaborate?
AS – I think I really needed a collaborator to get this done, even if I didn't realize that right away. So in that sense I got really lucky, because it turns out Josh is an excellent collaborator. We've had a strong and enriching partnership over the last few years. I don't know that I would have known that that's what I needed, so who knows where this could have gone if not for this strange Facebook kismet that happened.
JE – I think we both got very lucky with our partnership.
There's LOTS more to the interview: click here to read the rest!