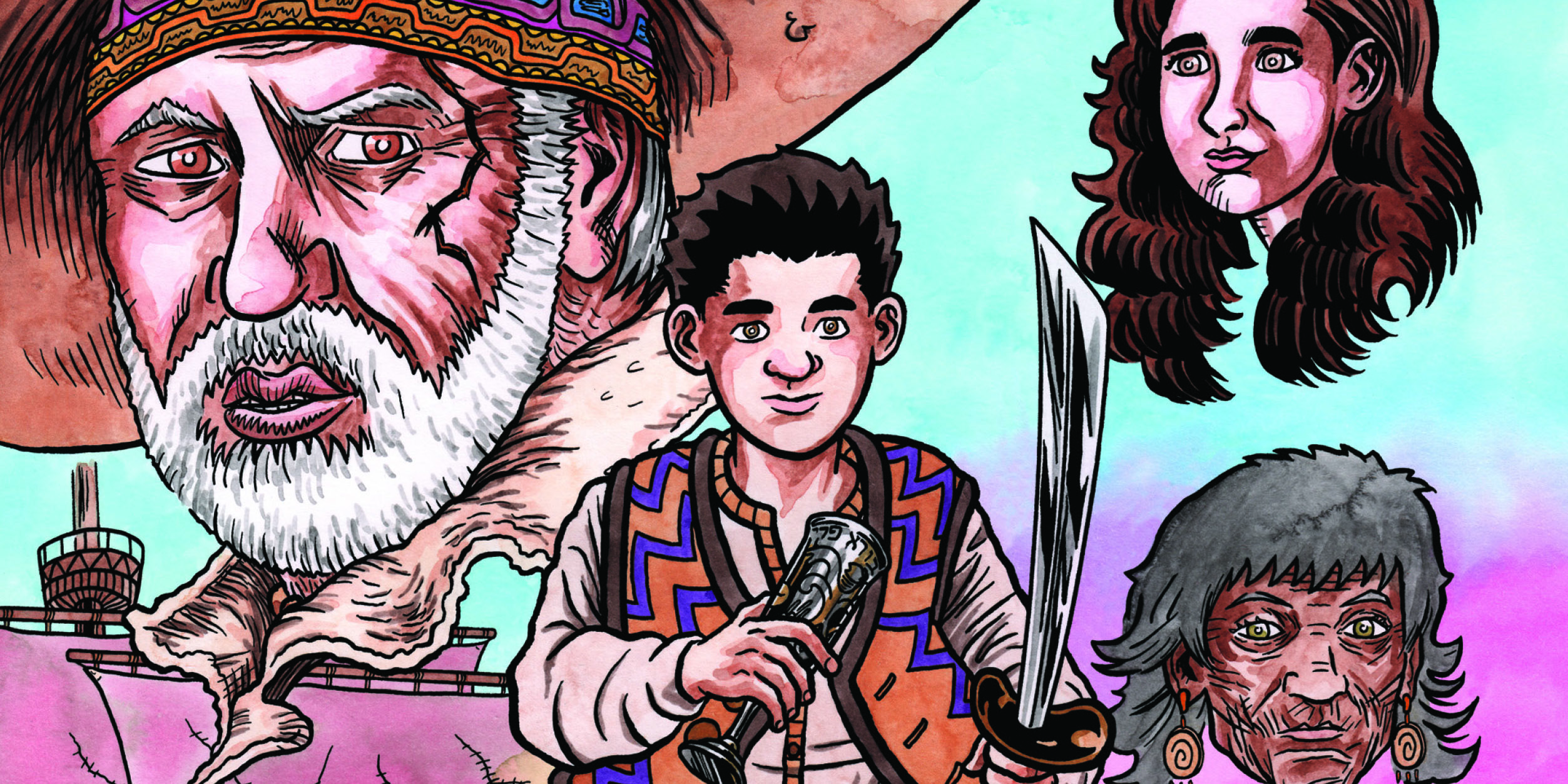 News Around the Net!
We're only a few days away from the release of my graphic novel José and the Pirate Captain Toledano!! I'm so excited for everyone to finally be able to see this!  You can click here to order the book on Amazon!
In case you missed my post from yesterday: Arnon Shorr (the book's author) and I were interviewed by The Jewish Journal, the largest weekly Jewish newspaper in the U.S.!  You can click here to read this very extensive interview!  We talk all about our collaboration and the process of creating our graphic novel, and many other subjects as well!
I love this first look at Thor: Love and Thunder!
I love the vibe, and seeing Jane Foster as Thor at the end makes me very happy.
I'm excited by this trailer for the second season of Hacks!
Wow, the fourth season of Stranger Things is finally, finally almost here:
I feel like I've lost some of my enthusiasm for the series during this lengthy hiatus.  (It's been a long time since season three!!)  But I've enjoyed all three previous seasons of the show and I'm interested to see what's next.  I hope once I start watching again I'll be swept back into the story.
Even more exciting — season three of For All Mankind is almost here!!
I wish more people were watching this show.  I love it so much.  (Click here for my review of season one, and here for my review of season two.)
I'm also excited for season three of Lower Decks, the only modern Star Trek show I actually like!  (And after the excellent second season, I now LOVE this show.)
Continuing this theme of returning TV shows, I'm glad to hear that season twelve (!!) of Curb Your Enthusiasm is in the works!
There was a whole kerfuffle a few weeks ago when news leaked that the upcoming Star Trek prequel series Strange New Worlds was going to give Spock a first name: S'Chn T'Gai.  So Spock's name is S'Chn T'Gai Spock.  Sigh.  Can you hear the sound of my eyes rolling?  What a stupid, stupid change.  Spock's name is Spock!!  What's crazy is that the origin of this name actually comes from an old Star Trek novel: 1985's Ishmael by Barbara Hambly.  (I read that as a kid, probably not long after 1985; I don't remember anything about the book.)  The modern Star Trek series have made a total mess of Star Trek continuity and history; so now one of the shows finally decides to dig deep into Trek lore… and they come up with this dumb and best forgotten old idea.  There are countless amazing Star Trek books, books that are FAR better than any canonical Trek story made in the past several decades.  That the makers of modern Trek dug into the books to pull out this silly idea just blows my mind.  (Paramount+ quickly took back the announcement of this name.  Does this mean that they're not going to go through with this, or just that they weren't ready to announce it??  I hope the former.)
Also a bummer: after all the articles a few months ago about how Ed Brubaker wasn't compensated by Marvel when the character he created, The Winter Soldier, appeared in the Marvel movies (specifically, as the title character of Captain America: The Winter Soldier), comes a similar report from Joe Casey, the creator of America Chavez (a popular character who will be appearing in the upcoming Doctor Strange: In the Multiverse of Madness).  Come on, Marvel.  Do the right thing here.
This is cool: an interview with African-American composer Anthony Parnther (who's worked on The Mandalorian, The Book of Boba Fett, and the upcoming Obi-Wan series).
Francis Ford Coppola's The Godfather is one of my all-time favorite films.  And so, at first, I was very interested in The Offer, the new 10-episode Paramount+ series telling the story of the making of The Godfather.  But the reports are that the show wildly diverges from actual fact, which is a big disappointment for me.  Peter Bart's fascinating article for Deadline explores what the series gets wrong.
This is an old post, and kind of silly, but I also sort of love it: Why Robotech is the Greatest Love Story of the 20th Century.
I'll leave you with what is by far the best article I've read following the mess of this year's Oscars: Scott Feinberg's manifesto on how to save the Oscars.  Everything he writes in this piece seems so sensible to me.
Thanks for reading!
Please support MotionPicturesComics.com by clicking through one of our Amazon links the next time you need to shop!  As an Amazon Associate, I earn from qualifying purchases.  That means I'll receive a small percentage from any product you purchase from Amazon within 24 hours after clicking through.  Thank you!