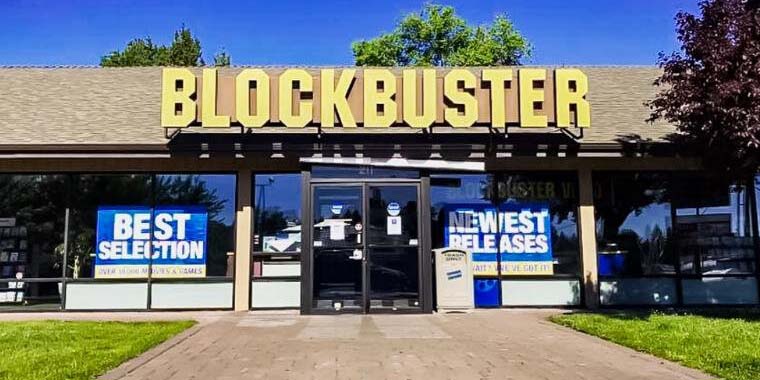 Josh Reviews The Last Blockbuster
The Last Blockbuster is a documentary film, directed by Taylor Morden and written & produced by Zeke Kamm, that chronicles the rise and fall of the once-ubiquitous video rental company Blockbuster Video.  It also shines a light on the very last Blockbuster that is still open and operating, in Bend, Oregon, and the story of Sandi Harding, who manages and operates that last Blockbuster along with her family.
After watching and enjoying Colin Hanks' documentary All Things Must Pass: The Rise and Fall of Tower Records, I thought it'd be interesting to move on to this documentary about another once-huge but now (mostly) gone chain of stores.
I quite enjoyed The Last Blockbuster, though not nearly as much as All Things Must Pass, which felt to me like a far more comprehensive piece of work (with a more detailed look at the history of the company, and with the involvement of many more interview subjects).
Unlike in All Things Must Pass, here in The Last Blockbuster, we don't really get to hear from any of the people who worked at or ran the Blockbuster Video company.  So as I watched the doc, I wasn't rooting for this corporation the same way I was for Tower Records when watching All Things Must Pass.  Also, while Tower Records also impacted (and drove out of business) smaller companies, I came into this doc with a much less favorable view of Blockbuster, which I know destroyed so many wonderful smaller local video rental businesses.
While this documentary was less interested than I'd expected in telling the broader story of the rise and fall of Blockbuster Video, where it comes to life is in its focus on Sandi Harding and her family, and the fascinating story of how it came to be that Ms. Harding is in charge of the very last Blockbuster Video in existence.  I really enjoyed getting to know Ms. Harding and her family, and to learn about how hard it is to keep the doors of the very last Blockbuster open!  I wasn't rooting for Blockbuster as a company, but watching this documentary I was very much rooting for Ms. Harding.  It's fascinating that the once-huge Blockbuster corporation has now been reduced to what is basically the type of small family business that Blockbuster mostly wiped out.  I was definitely rooting for this family business to succeed and thrive!
I enjoyed that the doc spent a few minutes exploring the origins of the whole idea of a video rental story.  I'd never thought to ask that question of how these video stores began!  They were ubiquitous in my childhood!  I was also interested to hear some argue that it wasn't Netflix that destroyed Blockbuster, as I (and many others) assumed.  The doc reminds viewers that Blockbuster had a digital business, like Netflix, at the end, but it was their large debt and then the impact of the 2008 financial crash that brought down the big company.
Although the star wattage of this documentary is lower than that of All Things Must Pass, it's fun to hear from some big-name celebrities, such as Kevin Smith.  I also enjoyed hearing from a very energetic James Arnold Taylor (who voiced Obi-Wan Kenobi on Star Wars: The Clone Wars).  We also get a few funny moments with Troma head Lloyd Kaufman, who really doesn't like Blockbuster Video.  (The doc makes fun of Mr. Kaufman, though I actually think he has good reasons to not be a Blockbuster fan!)
Also, I got a good laugh at the VCR version of the standard home video FBI warning at the start of the film.  That was a nice touch.
The Last Blockbuster isn't as comprehensive a history of the rise and fall of Blockbuster as I'd expected, but it's an interesting story of a family business in the very unique position of running the very last Blockbuster on planet Earth.  This was fun to watch.
Click here to purchase my "Maclunkey" Star Wars/Highlander mash-up t-shirt!

Please support my website by clicking through one of my Amazon links the next time you need to shop!  As an Amazon Associate, I earn from qualifying purchases.  That means I'll receive a small percentage from any product you purchase from Amazon within 24 hours after clicking through.  Thank you!