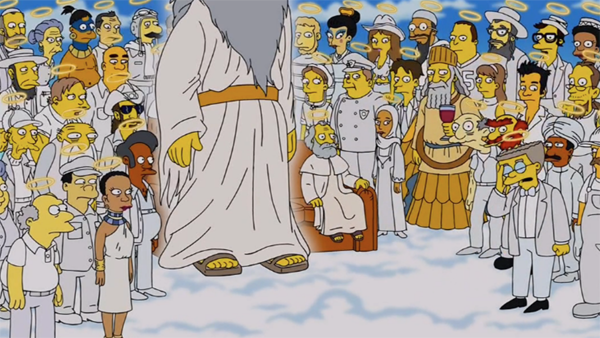 Josh's Favorite Episodes of TV of 2018 — Part One!
Ok, here we go!  I'm a bit later that usual launching my annual Best of the Year lists (I've been working on some illustration projects that have been taking up all of my free time — click on my updated portfolio page for a few teases, with more news hopefully coming in the next few months), but I'm here now and ready to go!
This annual list began as a Top Ten list and last year ballooned to a Top Twenty-Five!  This year it's a Top 19.  What can I say, that's a weird number, but there were 19 shows/episodes that I wanted to highlight!
I always begin these lists with a list of the shows I HADN'T watched but wanted to, and this year that list of shows I missed is longer than ever.  I mean, insanely long.  I keep a running list of shows that interest me and that I wanted to watch, and while I watch a lot of TV, I nevertheless wasn't able to get to: Atlanta, Barry, Homecoming, Killing Eve, A Very English Scandal, Bodyguard, Bojack Horseman, The End of the F***ing World, Counterpart, American Vandal, Maniac, Patriot, Altered Carbon, The Expanse, and The Romanoffs.  Then there were the returning shows whose latest seasons I still haven't found time to watch: Black Mirror season four (I watched the first few episodes but never finished), The Marvelous Mrs. Maisel season two, Legion season two, Westworld season two, Iron Fist season two, and Daredevil season three.  Aargh that is a lot of fantastic TV that I wasn't able to see in 2018!!  I'm hoping to catch up with some of those shows in 2019… even though there are lots of new 2019 shows already out and/or coming soon (True Detective season three, the final episodes of Unbreakable Kimmy Schmidt, etc.)!!  Sigh.  The joys and pain of "Peak TV".
But, OK, enough moaning, there WAS so much great TV that I DID see in 2018 and am so excited to celebrate.  Here we go: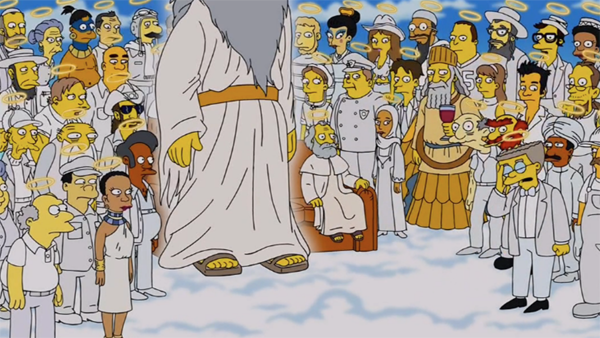 19. The Simpsons: "My Way or the Highway to Heaven" (season thirty, episode three, aired on 10/14/18) — Wow!  For very first time since I started writing these lists a decade ago, The Simpsons makes an appearance!  I started watching The Simpsons a few episodes into season one, and I watched it religiously through around season 15, but then I drifted away.  I started watching again after The Simpsons Movie (which I loved) and watched for about half that season, but it didn't hold my interest.  I've dipped back in occasionally over the past decade, but it wasn't until this past year that I watched several episodes in a row that made me happy.  What I've seen of seasons 29 and 30 has been pretty good!!  Not as good as seasons 3-6, but very entertaining and enjoyable.  This episode was the best I've seen in a good, long while.  God and St. Peter are chatting in heaven about how nobody good seems to be getting into heaven these days, which leads into a trilogy of stories that are all somewhat based around faith.  We get the origin of Ned Flanders' mustache (and his religious devotion) in a tale featuring young Ned as a heartless door-to-door salesman selling dangerous trampolines ("the vertebreaker").  In the second story, we see Marge's atheist grandmother in WWII, married to a Nazi collaborator bar-owner (Moe).  In the third story, we see a wealthy princess (Lisa) learn the path of the Buddha in this version of the Siddhartha legend.  I love the concept behind this episode, and all three vignettes are a lot of fun.  Great moments include: God and St. Peter wondering which of his wives Ned will spend eternity with; Lisa's comment regarding her story being about "the one princess not affiliated with Disney — unless we are now owned by Disney" (with Disney's purchase of Fox a near-certainty at this point), and this exchange between Chief Wiggum and Ralph that can stand with classic Simpsons quotes from years ago: when Ralph asks his dad if the people he shoots go to heaven, Wiggum replies: "they do if they didn't do anything wrong, so a lot of them, yes."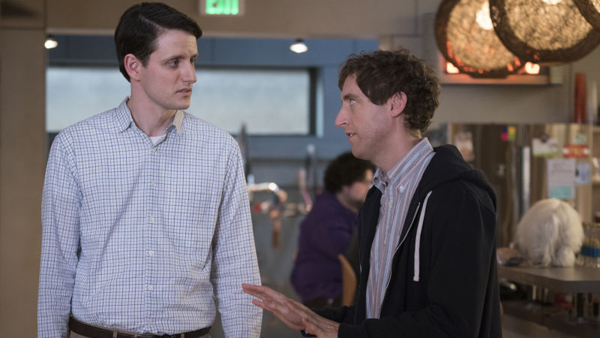 18. Silicon Valley: "Reorientation" (season five, episode two, aired on 4/11/18) — Richard has hired 50 new employees for Pied Piper, but can't figure out how to properly lead all these new people who are new to the team.  (Jared: "These are conquered soldiers wearing their old uniforms!")  Silicon Valley has erred in its later seasons by turning Richard into an often unlikable figure, but his catastrophic bloody-nose-resulting speech gone awry here is a lot of fun and a great return to form for the character.  The Dinesh-Gilfoyle Tesla war is solid, and any mention of their "stallions" made me laugh.  I also loved the revelation of Gavin Belson's disastrous Signature Box design, which resembles, well, male genitalia.  We even got the return of Andy Daly as Richard's terrible doctor!  All this plus Jared's description of Al Gore: "He talked like a narcoleptic plantation owner so he lost the presidency to a fake cowboy and now he makes apocalypse porn."  (Click here for my full review of Silicon Valley season five.)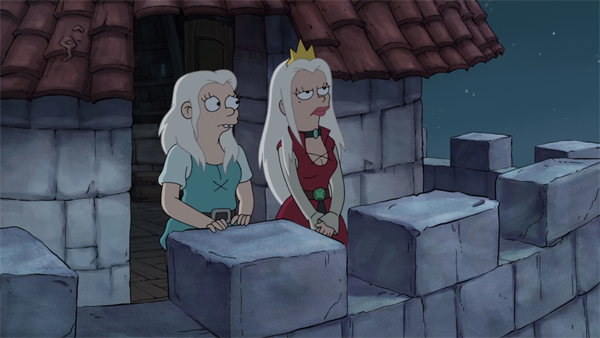 17. Disenchantment: "Dreamland Falls" (season one, episode ten, released on 8/17/18) — I quite enjoyed the first season of Matt Groening's new animated Netflix show, a comedy set in a medieval fantasy world.  I enjoyed the new ensemble of characters the show gradually developed over the course of the first season, the animation and design was terrific, and the show made me laugh on a regular basis.  The first season finale proved that Mr. Groening & Josh Weinstein and their team were not only able to tell funny, compelling stand-alone stories as was the expected pattern from The Simpsons and Futurama, but also that they were surprisingly able to weave the show's characters and stories together into an engaging tapestry that developed as the ten episodes unfolded.  Futurama, which I adore, also had continuity between episodes, but it was of a more gentle, gradual sort.  This season finale of Disenchantment showed that we'd actually been watching a tightly-plotted season-long arc, we just hadn't realized it!  ("Incredible. All that malarkey with the magic elf blood actually paid off." "It took all season, but it did, and by season, I mean fall or summer or whatever this is.")  The whole thing ended on a whopper of a cliffhanger that left me eager for season two!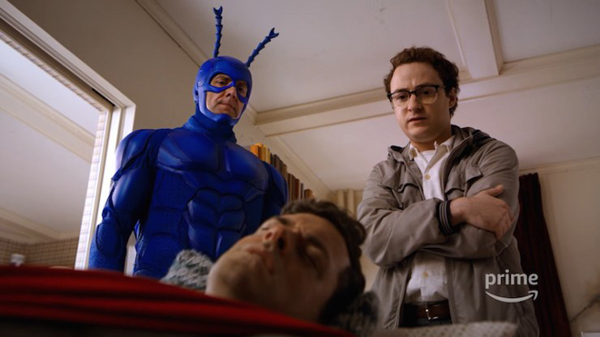 16. The Tick: "The Beginning of the End" (season one, episode eleven, released on 2/23/18) — Ben Edlund's superhero parody character began as an independently-published black-and-white comic book series, then it was an animated series in the nineties, then a very-short-lived live-action series on Fox in 2001, and now Amazon has launched it as a new live-action series, starring Peter Serafinowicz!  I loved the whole run of Amazon's new version of The Tick; it was hard to pick a stand-out episode.  But I'll go with this one, the penultimate episode of the season.  This episode was just as funny as the rest, but it had the added bonus of all of the season's story-lines coming together towards an exciting finish.  It's hard to create a funny show that also feels like it has some danger and also emotional stakes, but everything worked perfectly here.  Supervillain Lint and angry-superhero Overkill's love-hate relationship came into focus (in a very funny and twistedly awkward was), and Arthur's sister Dot (who is a terrific character on the show) had a great heroic moment saving Overkill.  I especially loved seeing Arthur's step into courage at the end; it was a great pay-off to his season-long story-line.  This episode was filled with witty turns-of-phrase (my favorite being the evil doctor Karamazov: "science is not an exact science"), looked terrific, and ended on a great cliffhanger to lead into the season finale.  (Click here for my review of season one of The Tick.)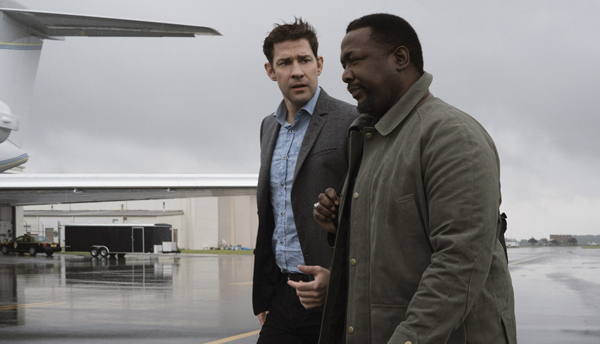 15. Jack Ryan: "Pilot" (season one, episode one, released on 8/31/18) — Amazon's Jack Ryan series was a fun reintroduction to Tom Clancy's great character.  The first season was structured like one big continuing story, with stories flowing from episode-to-episode.  Luckily, at only eight episodes, the season didn't overstay its welcome or feel padded, as many streaming shows tend to these days.  My favorite episode was the pilot, which did a terrific job of (re)introducing us to Jack Ryan (played wonderfully by John Krasinski, using his geeky The Office persona to his best advantage) and Ryan's boss James Greer (Wendell Pierce, the show's secret weapon).  I loved the character work and the way these two characters were established.  Their initial antagonism was fun to see.  The attack on the army base in Yemen was a thrilling action sequence and a great declaration that this version of Ryan would be intense and serious, with terrific production values.  I was hooked.  (Click here for my full review of Jack Ryan season one.)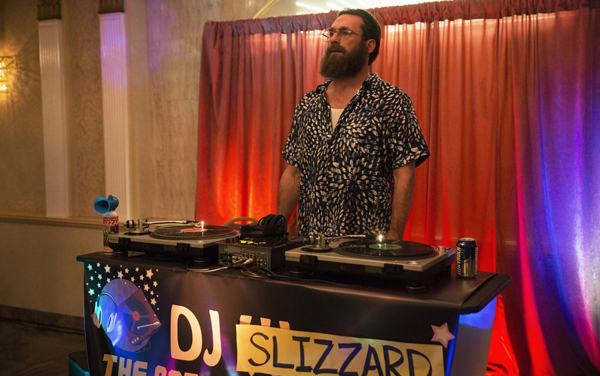 14. Unbreakable Kimmy Schmidt: "Party Monster: Scratching the Surface" (season four, episode three, released on 5/30/18) — The standout of Kimmy Schmidt's terrific fourth season (at least, the first half of the season which was released last summer) was this episode-long fake documentary about the DJ alter-ego of the Reverend Richard Wayne Gary Wayne (Jon Hamm) who had held Kimmy and other women prisoner in the bunker (which is the key point of backstory for Kimmy and the show).  Tina Fey's shows have previously done this sort of experimentation (Tituss Burgess' first time in the spotlight on a Tina Fey show was in a similar-style 30 Rock episode, "Queen of Jordan," that depicted an episode of an inane reality series), but I found this one to be head and shoulders above any other fake-TV-show-within-a-real-TV-show episode I have ever before seen.  I was impressed by every moment we saw of the ridiculous documentary made by a doofus (DJ Fingablast — what a gloriously profane and juvenile name) who idolizes the Reverend's former DJ identity.  The whole thing was a phenomenal send-up of true-crime documentaries and TV shows, and it's always a delight to see Mad Men's Jon Hamm back on the show and displaying his terrific comedy chops.  Derek Klena was terrific as DJ Fingablast, effortlessly carrying the episode, and I loved Bobby Moynihan as "men's rights activist" Fran Dodd.  (This character represented the season's strongest attack on privileged white male behavior.  Fran Dodd is a potent condemnation of men everywhere who think they "deserve" anything from any woman.)  As if all of that wasn't enough, I was particularly delighted to see the first actual appearance on the show of the auto-tune guy from the opening credits!!  Genius!!  (Click here for my full review of Unbreakable Kimmy Schmidt, season four part one.)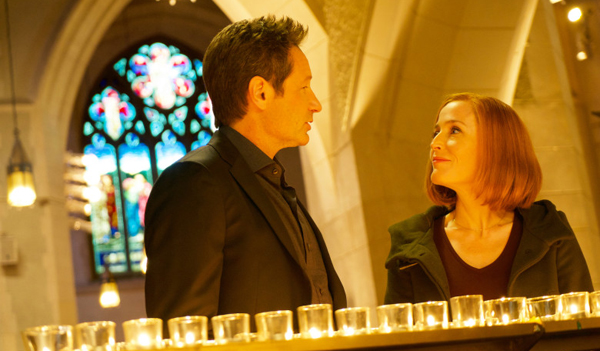 13. The X-Files: "Nothing Lasts Forever" (season eleven, episode nine, aired on 3/14/18) — In this penultimate episode (of this recent revival season, and possibly of the show forever), Mulder and Scully's investigation of organ theft leads them to a coven of people consuming human organs and blood in an attempt to reverse the aging process. It's an interesting, fun, gruesome, and intense stand-alone episode, with a terrific guest appearance by Angie Tribeca's Jere Burns in the role of the "scientist" involved with the vampire cult.  But it's the riveting final scene, featuring Mulder and Scully in church lighting candles, that is the reason this episode is on this list.  It's a gorgeous scene, one which provides a wonderful capstone to this revival season and to The X-Files as a whole.  I choose to ignore the terrible final episode and instead see this as the final scene of the final episode of The X-Files.  I was extremely taken by Mulder's use of the transitive property to describe reason and faith in harmony, as beautiful a summation of his and Scully's relationship as I have ever heard.  Scully's "Are we together?" reply took me aback, as it did Mulder, but it was an honest assessment of how vague the show has been about the state of their romantic relationship or lack thereof.  Mulder's heartfelt declaration of his wish that Scully had fled his basement office long ago, so she could have gone on to live a happier life, moved me as it did Scully.  "I've always wondered how this was gonna end," Mulder states, voicing the thoughts of every X-Files fan since the show's beginning so many years ago.  Will we ever know what Scully whispers to Mulder in the end?  Probably not, but that's OK.  I wish we'd gotten lots of concrete answers to the show's other many mysteries (such as the true nature and history of William), but this, I don't need to know.  Based on Scully's final words in the scene to Mulder, I choose to believe that here at the end of the season and, perhaps, the show, Mulder and Scully are finally, truly together.  At least… I want to believe.  (Click here for my full review of this episode, and here for more on The X-Files season eleven.)
I'll be back on Friday with numbers twelve through six on my list!  See you there!