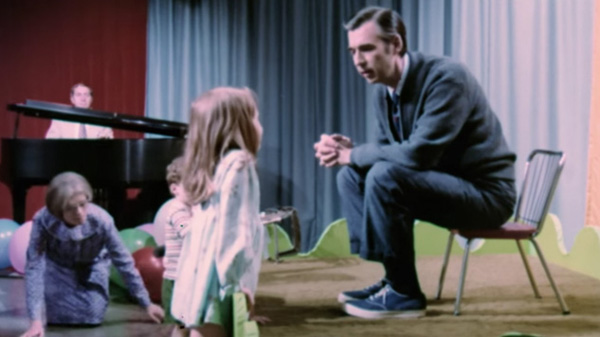 Josh's Favorite Movies of 2018 — Part Four!
We've reached the end of my list of my Favorite Movies of 2018!  Click here for part one of my list, and click here for part two, and click here for part three.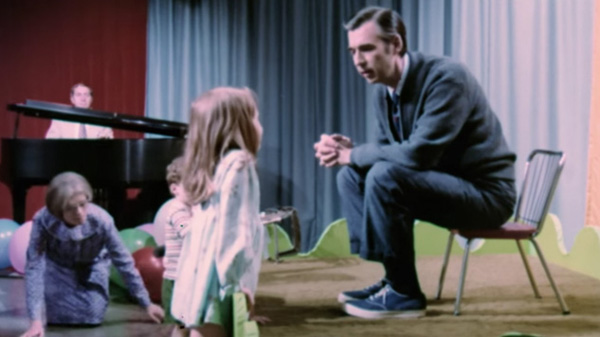 5. Won't You Be My Neighbor? —  Like so many of my generation, I grew up watching Mr. Rogers' Neighborhood.  The moral and life lessons of Fred Rogers' television program for children have stayed with me, and are deeply woven into my being.  I knew this, but watching Morgan Neville's incredible documentary Won't You Be My Neighbor? I was struck anew by the lessons that Mr. Rogers taught me and so many other kids like me.  The film is a heartwarming (and also, at times, sad) look back at Mr. Rogers' life and his life's work: using the medium of television to educate children.  The film allows us to hear from Fred Rogers himself, via archival footage (such as clips from his famous testimony before Congress in 1969) and generous helpings of scenes from the show.  Even better, the film brings together many of the men and women who knew and worked with Mr. Rogers, and they each have fascinating and insightful stories to tell.  Watching the film, I felt a profound sense that something important had been lost from our culture with the passing of Fred Rogers and his children's television program.  Our world needs more teachers and leaders out there focusing on the values of kindness, of understanding, and of love.  (Click here for my full review.)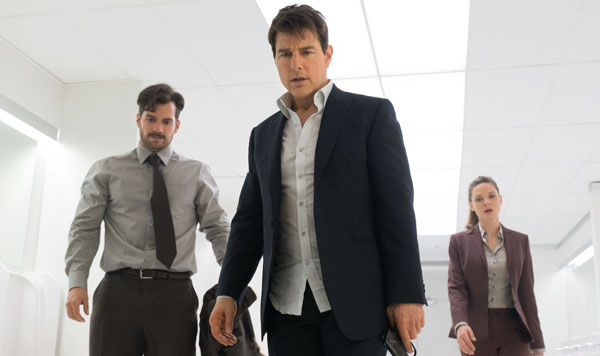 4. Mission: Impossible — Fallout — I am sort of bowled over at how great this FIFTH Mission: Impossible movie is!  Writer-Director Christopher McQuarrie (returning to helm his second-in-a-row Mission film, the first time the same director returned for the next Mission film in the series) has crafted a triumph of fun pop action-adventure filmmaking.  It's a delight from start to finish, filled with terrific characters, a tightly-woven plot (that actually, for the most part at least, makes sense), and some of the most outrageously bonkers action sequences I have ever seen.  Tom Cruise is tremendous as always, and I love how well this film allowed the IMF team (Ving Rhames, Simon Pegg, Rebecca Ferguson, Alec Baldwin) to play together.  I was delighted that they brought back Michelle Monaghan, drawing to a close story-threads that were begun back in M:I-III.  Henry Cavill's brute-force CIA operative was a fantastic foil for Cruise's Ethan Hunt.  But this film is all about the astounding action sequences: the halo-jump sequence over Paris; the brutal fist-fight in a bathroom; the prison-van breakout sequence; the motorcycle-and-car chase across Paris; and, of course, the gonzo helicopter chase in the film's climax (in which not only does Tom Cruise actually pilot a helicopter, on his own, through an incredibly tight ravine, but he actually hangs outside of one and then FALLS OFF).  Watching these stunts, knowing they were done for real, gives the film a riveting intensity that I found to be irresistible.  (Click here for my full review.)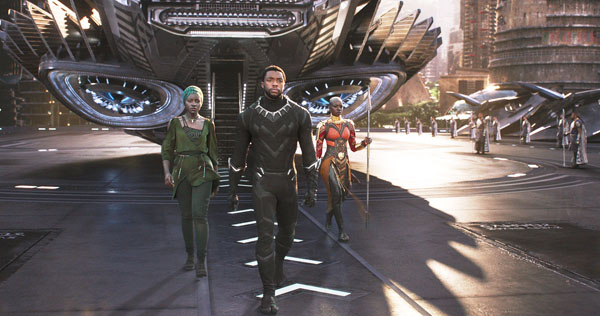 3. Black Panther — Director Ryan Coogler has crafted a magnificent film, one that is filled with fantastic imagery and adventure while also being well-grounded in three-dimensional, human characters and their relationships.  The cast that Mr. Coogler assembled for this film is extraordinary.  One of the secrets to the success of these Marvel Studios films has been their casting, and Black Panther might just represent the most phenomenally talented assemblage of actors yet, one that is anchored by the magnificent leading roles of Chadwick Boseman as T'Challa and Michael B. Jordan as Killmonger.  I love that the film surrounds T'Challa with a group of strong female characters: Okoye (Danai Gurira), Nakia (Lupita Nyong'o), Shuri (Letitia Wright), and Ramona (Angela Bassett).  But then there is also Daniel Kaluuya as W'Kabi, Forest Whitaker as Zuri, Sterling K. Brown as N'Jobu, Winston Duke as M'Baku, Martin Freeman as Everett Ross, and Andy Serkis as Ulysses Klaue.  Wowsers!  The film looks absolutely gorgeous, with extraordinary costumes, sets, and props; the world of Wakanda is brilliantly established as a real, living place, beautifully brought to life through a combination of practical and visual effects.  The film contains an important message of equality and brotherhood (that mid-credits scene of T'Challa speaking at the U.N. is the most important scene in the movie), and the film was rightly praised for having been brought to life by so many African-American artists behind and in front of the camera.  It's fitting that this story of an African super-hero was brought to life by men and women of color, and it is exhilarating to see a big-budget super-hero movie with a primarily African-American cast.  But Black Panther is not just a great film for the African-American community.  It's a great film, full stop.  (Click here for my full review.)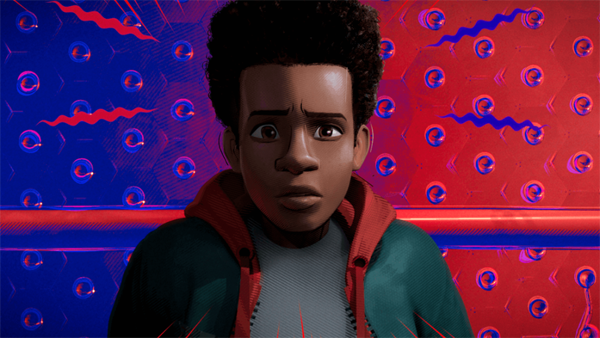 2. Spider-Man: Into the Spider-Verse — This film came out of nowhere and absolutely knocked my socks off.  I am so overjoyed to finally see the character of Miles Morales on screen!!  Miles is a young man from Brooklyn, son of an African American father and a Puerto Rican mother, whose life is turned upside down after witnessing the death of Spider-Man, revealed to the world as Peter Parker.  (Miles, the "Ultimate" Spider-Man, was created by Brian Michael Bendis and Sara Pichelli.)  I am so happy at how perfectly they brought this wonderful character to life on-screen, and I can't believe how many great Miles storylines from the comics, many of which unfolded over the course of years, were incorporated into the film!  The animation in this film is gorgeous, just staggeringly beautiful.  The entire film is delightfully original and creative.  This film has a visual look that is entirely unique and memorable.  My jaw was on the floor throughout.  This film is hilarious, one of the funniest films I have seen in a while, and it is jam-packed with creativity and ingenuity.  I love how JOYOUS the entire film is, and how good-hearted the film and its characters are.  I love the crazy cast of characters, featuring amazing actors playing characters from the comics who I never, ever, ever in a million billion years thought I'd ever get to see in a movie.  Spider-Gwen?  SPIDER-HAM???  My mind is blown.  Shameik Moore, Jake Johnson, Hailee Steinfeld, Mahershala Ali, Brian Tyree Henry, Chris Pine, Lily Tomlin, Zoë Kravitz, John Mulaney, Nicolas Cage, Kathryn Hahn, Liev Schreiber are all incredible and note-perfect, every single one of them.  This is an extraordinary piece of work.  It is so funny and also able to frequently hit an emotional richness far beyond what is found in most blockbuster films.  This film works in every possible way.  I truly couldn't have asked for anything more.  (Click here for my full review.)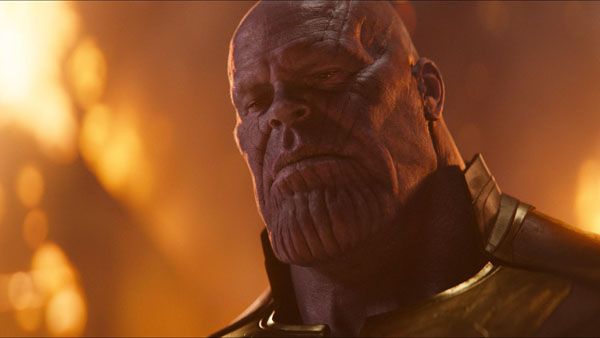 1. Avengers: Infinity War — What else could have been my #1 movie of the year?  (How amazing is it that Marvel Studios films made my TOP THREE movies of the year?!!  And a fourth, Ant Man and the Wasp, was in my Top Ten!!)  Infinity War is an extraordinary epic, weaving together characters and story-lines from across ALL of Marvel Studios' previous EIGHTEEN movies into an epic, thrilling super-hero extravaganza that was fun, funny and heartbreaking in equal measure.  Directors Anthony & Joe Russo, working from a screenplay by Christopher Markus and Stephen McFeely, skillfully and seamlessly wove together almost every single super-hero from all of Marvel's disparate films and series.  Every character in the film's vast ensemble got a few great moments of humor and/or heroism.  Most impressively, the film solved the unsolvable problem of how to handle twenty-plus main characters by making the villain, Thanos, the main character!  That's a clever idea, and it's beautifully well-executed, as it is Thanos' quest for the Infinity Stones that takes us through the movie.  (Note how the movie begins and ends with Thanos, and how the end of the credits tells us that "Thanos will return", rather than mentioning the Avengers or any of the other franchise-leading super-heroes!)  Josh Brolin is tremendous in the role, and the design and CGI animation of Thanos works beautifully.  The film maintains the usual Marvel humor and witty banter, while also bringing a level of grim dread to the entire story that is unusual for this type of film (and extremely effective at separating Infinity War out from the rest of the pack).  Visually, the film is extraordinary.  This is a film that needed to be huge, to be cosmic in scope, and the film delivers that in spades.  The film takes place across multiple continents and even planets — from New York City (I love that opening fight between Tony Stark, Dr. Strange, and Wong with the Children of Thanos) to Edinburgh to Wakanda to Knowhere (the city-size head of a Celestial), Nidavellir (a forge surrounding a dead star) and Thanos' home planet Titan — and they're all brilliantly realized.  Holy cow, that third act battle in Wakanda is amazing.  (And, remember, the film also features a number of completely CGI characters, from Rocket to Groot to the Hulk to Thanos himself!  They're all so realistically realized, it's easy to forget those characters are CGI!!)  The film plays for keeps, as it should, killing off several beloved characters even before the main title appears.  And that ending… wow.  Just perfect.  Infinity War is a staggering achievement, a gloriously satisfying climax to the entire Marvel Studios series of films so far, and it was easily my favorite film of 2018.  (Click here for my full review.)
Thank you for following me through this list!  Have a great weekend!  Lots more fun stuff to come next week…!