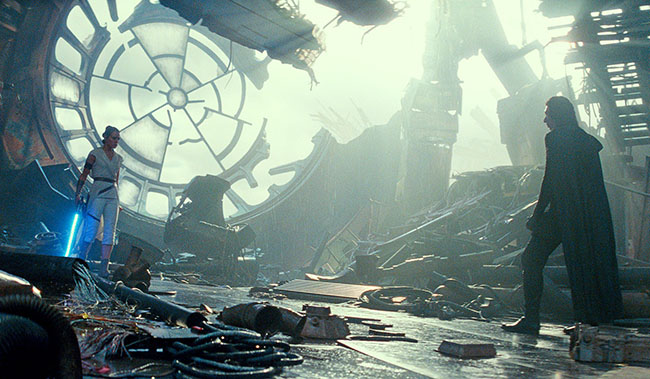 Josh's Favorite Movies of 2019 — Part One!
I hope you enjoyed my list of my favorite TV series of 2019!  And now, on to my list of my twenty favorite movies of 2019 — here we go…!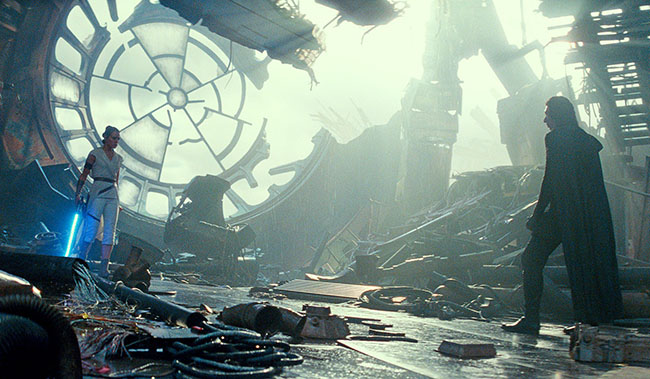 20. Star Wars: The Rise of Skywalker — I debated whether or not to include The Rise of Skywalker on this list.  The film has so many flaws.  I don't like how simplistic and predictable it is.  I don't like how it undoes many of the things I loved about The Last Jedi (putting Kylo Ren back in the mask, saying that Rey DOES have a familial connection to a famous Star Wars character after all, and, most damningly, totally sidelining Rose Tico).  I don't like how dumb and nonsensical the Emperor's plan is.  On the other hand, there is still a lot that I enjoyed about this film.  I loved the renewed focus on the trio of Rey-Finn-Poe.  I loved the clever way Leia was incorporated into the film's story despite the tragic passing of Carrie Fisher.  I loved Adam Driver's continued amazing work as Kylo Ren.  I thought the film was visually stunning.  I thought John Williams' score (his final Star Wars score ever…?) was beautiful.  I loved the Han-Kylo scene.  I had a lot of fun sitting in the theatre and being carried along by the film's rollicking pace.  Despite it's many flaws, I'm sure this is a film that I will rewatch many times in the future — probably, in all honesty, more times than many other films on this list.  So I figured The Rise of Skywalker needed to be included.  (Click here for my full review.)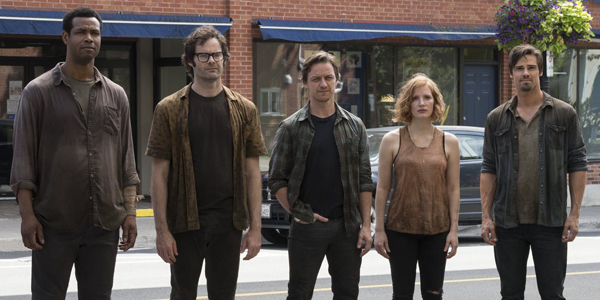 19. It: Chapter Two — Like The Rise of Skywalker, It: Chapter Two is flawed.  The film is too long, and it doesn't pack the emotional punch or the scares that the first film did.  And yet, I think that critics were way too hard on this film.  I quite enjoyed it.  The casting of the adult versions of the Losers' Club was absolutely perfect.  Better than I could have dreamed: James McAvoy as Bill, Jessica Chastain as Beverly, Bill Hader as Richie, James Ransone as Eddie, Isaiah Mustafa as Mike, Jay Ryan as Ben, and Andy Bean as Stanley.  Wow!  The best moments in the film are the scenes (such as their epic reunion over Chinese food) when that ensemble was all together.  Additionally, of course, Bill Skarsgård returned as Pennywise, as deliriously weird and horrific as he was in Chapter One.  It's exciting to see Stephen King's brilliant novel brought to life as skillfully as it was here.  (Click here for my full review.)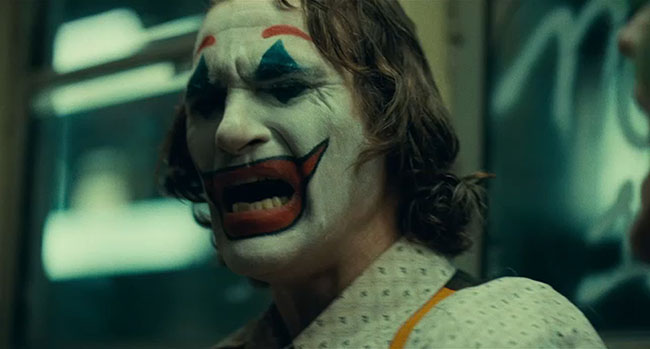 18. Joker — Todd Phillips' Joker isn't exactly what I'm looking for in movies based on comic book super-hero/super-villain characters.  I am all for a dark, adult take on that material (I loved Christopher Nolan's Dark Knight trilogy), but Joker is a little more nihilistic than my tastes usually run.  (The film ends with the people of Gotham revolting and the Joker, basically, triumphant.)  I'm not generally interested in films that try to turn a comic book hero's supporting character into the lead (see: Venom, Catwoman, Elektra, etc.).  And Joker was a tad too derivative of Martin Scorsese's films (especially The King of Comedy and Taxi Driver) to suit me.  All that being said, I applaud Mr. Phillips and his team's unusual take on this familiar Batman character.  Joaquin Phoenix's intense, unhinged performance is extraordinary, and more than enough reason too see this film.  It's a brilliant, haunting, moving depiction of a man slowly coming apart at the seams.  Robert De Niro is also terrific in his small role as late-night television talk-show host Murray Franklin.  There is a lot to enjoy and unpack in this film, and I expect I'll be revisiting it multiple times in the years to come.  And so Joker earned its place on this list.  (Click here for my full review.)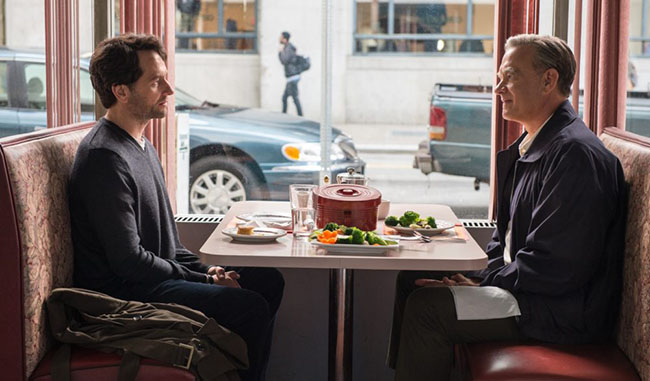 17. A Beautiful Day in the Neighborhood — OK, here we go with the first film on this list that I can unabashedly praise without also listing its flaws.  Marielle Heller's A Beautiful Day in the Neighborhood wisely eschews the usual biopic tropes.  I was expecting a live-action version of last year's spectacular Fred Rogers documentary by Morgan Neville, Won't You Be My Neighbor?.  Instead, this film is a loose adaptation of Tom Junod's 1998 Esquire article "Can You Say … Hero?".  Fred Rogers really isn't the main character of this story: it's cynical, beaten-down journalist Lloyd Vogel.  Lloyd is assigned to write a short profile of Mr. Rogers, an assignment this tough, serious journalist views with disdain.  We encounter Mr. Rogers in the movie through Lloyd's eyes, and as we see the ways in which Fred Rogers helps Lloyd to heal himself and his life, the film effectively and powerfully shows us the impact of this amazing man.  Tom Hanks is just as perfect as you'd expect/hope as Fred Rogers, and The Americans' Matthew Rhys is tremendously compelling as Lloyd.  Chris Cooper, Susan Kelechi Watson, Christine Lahti, and Enrico Colantoni are all great in their supporting roles.  This is a very moving film.  I loved it.  (Click here for my full review.)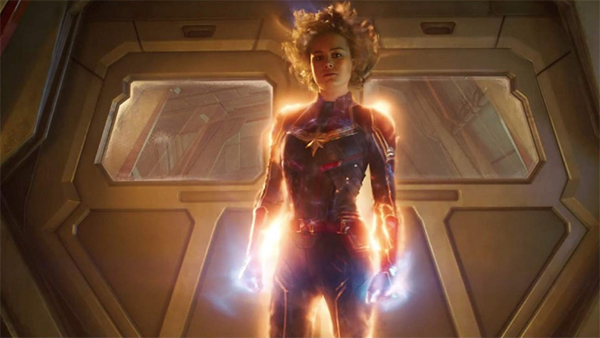 16. Captain Marvel — Marvel Studios finally gave us a super-hero film with a female character in the solo lead (after Evangeline Lilly's Wasp shared the title of Ant Man and the Wasp, and of course DC Comics/Warner Brothers had already given us Wonder Woman), and it was just as spectacular as I'd hoped.  Brie Larson was terrific as Carol Danvers, and the film's emphasis on female friendships (through Carol's close bond with Maria Rambeau, played by Lashana Lynch) and Carol's strength (both physical and mental) and courage was joyous to behold.  (The montage towards the end, in which we see Carol, throughout her life, dusting herself off after a defeat and standing up tall, was spectacular — as was her declaration to Jude Law's Yon-Rogg that she didn't have anything to prove to him.)  Set in the past of the Marvel Cinematic Universe, this film was filled with lots of fun 1980's moments as well as a ton of fun connections to the MCU as a whole: we saw a young Nick Fury (Samuel L. Jackson) and Agent Coulson (Clark Gregg), as well as younger versions of Korath (Djimon Hounsou) and Ronan (Lee Pace) from Guardians of the Galaxy, and, of course, we learned how Nick got that beeper that he used at the end of Avengers: Infinity War.  I was super-excited to see Skrulls finally on-screen in a Marvel movie, and I loved how the film played with the standard comic-book depiction of the Skrulls.  Ben Mendelsohn (Rogue One) was a delight as the Skull leader Talos — I really hope we get to see him again!  (Click here for my full review.)
I hope you'll join me back here tomorrow as my list continues, with numbers FIFTEEN through ELEVEN…!
Please support MotionPicturesComics.com by clicking through one of our Amazon links the next time you need to shop!  We'll receive a small percentage from any product you purchase from Amazon within 24 hours after clicking through.  Thank you!