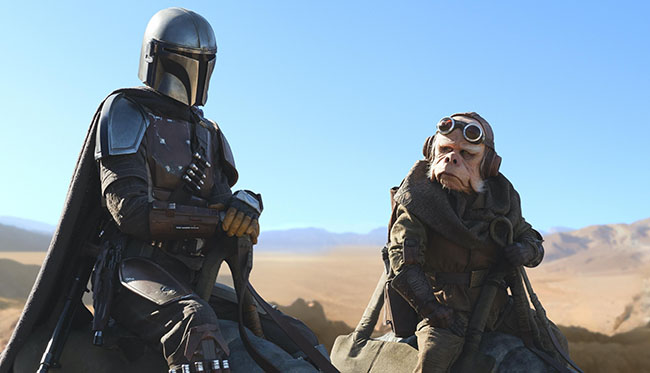 Josh's Favorite TV Series of 2019 — Part Five!
Huzzah!  We've arrived at the end of my lengthy list of my favorite TV series of 2019!  Click here for numbers twenty-five through twenty-one, click here for numbers twenty through sixteen, click here for numbers fifteen through eleven, and click here for numbers ten through six.  And now, without further delay or fanfare, here are my five favorite TV series of 2019: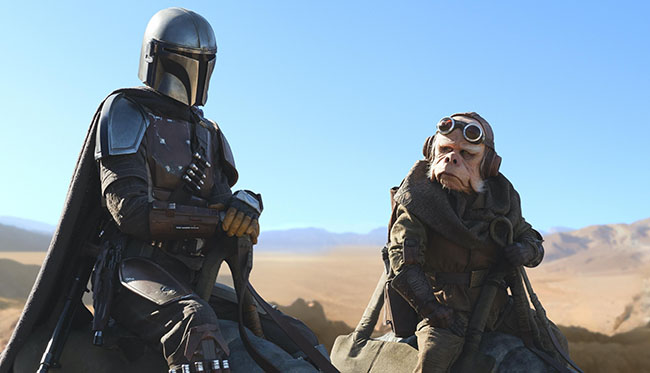 5. The Mandalorian — The first live-action Star Wars TV show was a revelation!  Created by Jon Favreau, this new show made the new Disney+ streaming service an essential purchase.  Each of the eight episodes in this short first season were near-perfect.  I loved how wonderfully retro they were in their approach of telling a complete story in every single episode.  Set several years after the events of Return of the Jedi, the series follows a Mandalorian bounty hunter who finds himself on the run from the bounty hunter guild after deciding to rescue the asset that he was hired to deliver to an aged Imperial officer (played beautifully by Werner Herzog).  Of course, we all know by now that the asset was a child that we all refer to as "baby Yoda".  The series is a wonderful expansion of Star Wars lore.  It's awesome to see lots of new planets as well as some familiar ones (episode five took place on Tattoine).  The series is filled with nods and references to the history of Star Wars (we get to see Battle Droids, Jawas, an Ugnaught, etc.) while doing what I want the film series to do: telling new stories with new characters set within the Star Wars universe.  (The influence of Dave Filoni, who masterminded the animated Star Wars: The Clone Wars and Star Wars: Rebels, was clearly felt.)  The series is gorgeous to behold — it's visually stunning.  The production values are incredible — absolutely movie-quality, not at all cheapened for TV.  The cast was spectacular: Pedro Pascal (Game of Thrones) was fantastic as the titular Mandalorian, despite having his face concealed behind a mask; I fell in love with the Taika Waititi-voiced IG-11, as well as the Ugnaught voiced by Nick Nolte ("I have spoken"); I already mentioned Werner Herzog, and I also loved seeing Giancarlo Esposito (Breaking Bad) as Moff Gideon; Gina Carano was perfect as the ex-Rebellion shock trooper Cara Dune… and I haven't even mentioned Amy Sedaris, Ming Na-Wen, Clancy Brown, and so many more great actors who filled out this universe!!  Each episode was an absolute delight.  I cannot wait for more to come next year.  (Click here for my review of the Mandalorian premiere.  My full review of this first season is coming soon.)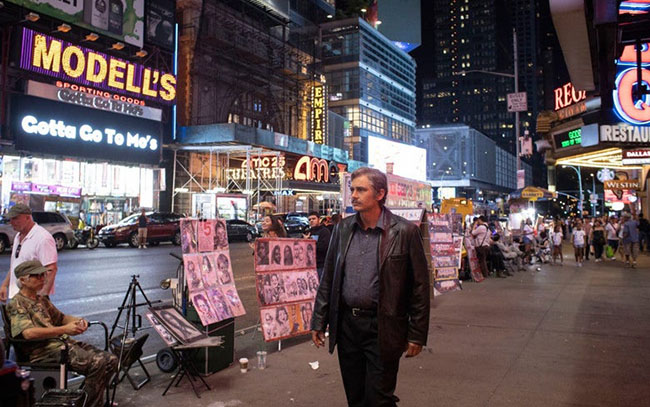 4. The Deuce — I can understand why the idea of a TV show about the porn business in New York City in the seventies and eighties was a tough sell for many people.  But this latest series from David Simon (the mastermind behind The Wire), co-created with George Pelecanos (who wrote many episodes of The Wire and Treme) was a brilliant, gripping, heartbreaking experience.  This was an exploration of another broken great American city; just as The Wire dissected Baltimore across multiple levels (from the drug-dealers on the corners, to their drug-lord bosses, to the cops on the street, to the detectives in their offices, to the people in city hall, and lots more), so too did The Deuce explore the people involved in the sex trade in the area that would become Time's Square across all social strata: the prostitutes on the street and the pimps behind them, the street-cops making busts, the politicians looking to clean up the streets so big business interests could move in, the pornographers shooting dirty movies, the people working behind the counter in the local greasy spoon cafes and the bars, the mob men behind those bars, and on and on.  The Deuce was an epic saga at the same time as it was an intimate character drama.  As always, Mr. Simon and his team were able to create an enormously vast ensemble of characters, each of whom were astonishingly well-fleshed out, with their own human stories that developed across these three seasons.  And what a cast.  James Franco was as brilliant as he has ever been, playing the dual role of twin brothers Frankie and Vincent Martino; Maggie Gyllenhaal was riveting as as Eileen/"Candy", a prostitute who finds her way into porn and then into directing porn, and realizes along the way that she has an artist's eye; Chris Coy as Paul, a gay bar-owner who, in this final season, has to watch the love of his life wither and die of A.I.D.s; Emily Meade as Lori Madison, a woman who has become famous in porn but who is nevertheless trapped by her lifestyle and addictions; David Krumholtz as Harvey Wasserman, who runs a company that makes porn films; Michael Rispoli as Rudy Pipilo, a Gambino family mobster who has a piece of the pie of most of the businesses in which the show's characters are involved.  That's just the tip of the iceberg — there are so many other great characters and stories!  This third and final season was spectacular.  Not surprisingly, many of the show's main characters didn't make it to the end of the finale.  In the end, The Deuce was a devastating indictment of the failures of American society that so many of us try not to see.  It's a masterpiece.  (Click here for my review of The Deuce season one, and here for season two.  My full review of season three will be coming soon.)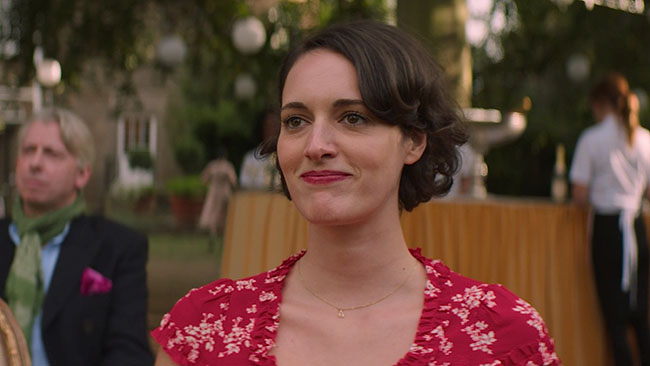 3. Fleabag — Speaking of masterpieces, let's talk about Phoebe Waller-Bridge's Fleabag.  This magnificent series achieves the impressive tightrope-balance of being incredibly, extraordinarily, astoundingly funny, while also gradually developing into a story of great depth and emotion.  I can't believe that a show exists that can be at the same time so hilarious and so poignant.  Phoebe Waller-Bridge (who created the show, stars in it, and wrote every episode) has created something very special.  Her performance as the unnamed main character is staggering in its perfection.  She's able to create an intimate bond with the audience, bringing us into her inner life as her secret confidantes.  She has killer comedic timing, and she can sell an incredibly ribald joke to perfection with her sly delivery.  Season one was a perfect, complete piece of work and yet, somehow, Ms. Waller-Bridge was able to top that with a second season that felt essential in every way.  The Fleabag ensemble was already perfect (Sian Clifford as Fleabag's sister Claire; Olivia Colman as her difficult step-mother; Bill Paterson as her somewhat daft dad; Brett Gelman as Claire's husband), but it was propelled even higher by the addition of Andrew Scott (Sherlock) as the hot priest with whom Fleabag begins to fall in love (or, at least, lust).  That he was able to do you-know-what, just as Fleabag can, was a genius-level surprise. The moment in which that was revealed was one of the greatest things I've seen on TV in a good long while.  And the series' final shot?  Perfection.  I am in awe.  (Click here for my full review of Fleabag seasons 1 and 2.)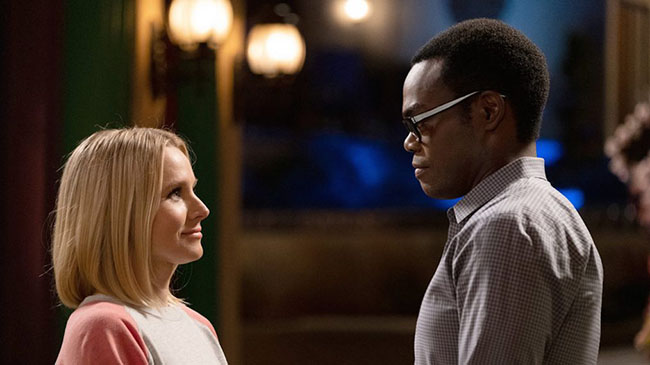 2. The Good Place — Mike Schur (Parks and Recreation)'s series about four dumb-bells in the afterlife is funny, smart, clever, and sweet in equal measure.  It's a deliriously funny, brilliantly bizarre series that is, at the same time, one of the silliest, goofiest TV shows on TV, and also a staggeringly intellectual meditation on life, death, morality, and what it all means.  As Marc Evan Jackson ("I play Shawn") likes to say on The Good Place: The Podcast (an absolutely essential accompaniment to the show), this is the stupidest/smartest show on TV.  It's certainly a concoction quite unlike anything else currently out there.  Over the three-and-a-half seasons that have been made so far (the show's final batch of episodes will begin later this month), I have fallen absolutely head-over-heels in love with the show's characters (and also with the actors who portray them, actors who I will now follow into whatever projects they do next, forever): Kristen Bell's "Arizona dirtbag" Eleanor Shellstrop; William Jackson Harper's gentle, smart, and staggeringly indecisive Chidi Anagonye; Jameela Jamil's name-dropping Tahani Al-Jamil; Manny Jacinto's Jason Mendoza, a character who is dumber than even Homer Simpson, while also being one of the most sweet and loyal characters to ever appear on TV; D'Arcy Carden's Janet, who is "not a woman" and "not a robot," and who has nevertheless developed into one of the most human characters on the show; and, of course, the great Ted Danson as Ted Danson as Michael, a demon in a human skin-suit, trying his darnedest to save the world.  I am so sad that this show is ending soon; I wish I could continue watching new installments for many years more.  But I am so grateful that these brilliant, mind-blowing, super-weird and super-funny show exists.  I am evangelical about this show, and I fully expected it to be #1 on my list.  And yet there was one show that I loved even more…  (Click here for my full review of The Good Place, season three.)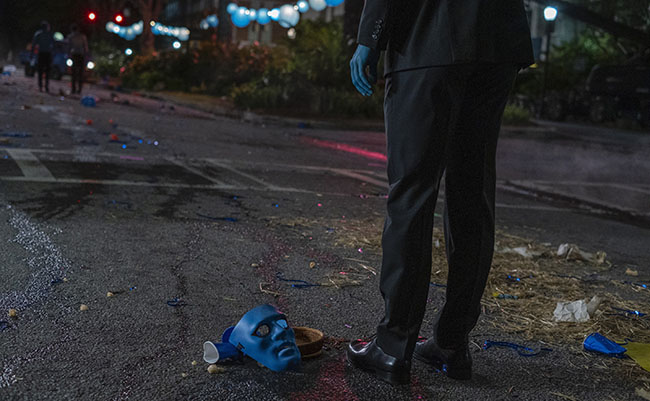 1. Watchmen — Rather than adapting Alan Moore and Dave Gibbons' seminal 1985-86 comic book series (the way Zack Snyder's flawed but underrated film adaptation did), Damon Lindelof (Lost, The Leftovers) decided to create new characters and new stories set in the world of Watchmen but taking place in our current time, 2019, decades after the events of that original comic-book story.  This brilliantly allowed the show to be new and original and inventive, rather than just a recreation that would surely suffer in comparison to the near-perfect original source material.  This magnificent nine-episode Watchmen series has exceeded even my highest expectations, and it seems to work just as well for people who have never read the original comic-book series.  This Watchmen series was epic in scale, containing many wonderful elements of the fantastic and super-heroic.  But this was an adult drama first and foremost, firmly rooted in compelling characters and their stories.  And, like the very best sci-fi/fantasy stories, the series was very much about today's world, with a lot to say about who we are as a society here in the United States at the end of 2019.  Specifically, the show wrestled with the rising tide of racism and xenophobia and White Supremacism; the origins of those fears and hatreds and how destructive they can be; and the lingering effects of trauma.  The cast was astounding: Regina King as Angela Abar/Sister Night; Tim Blake Nelson as Wade Tillman/Looking Glass; Jean Smart as Laurie Blake (formerly the Silk Spectre); Jeremy Irons as Adrian Veidt/Ozymandias; Yahya Abdul-Mateen II as Angela's husband Cal Abar; Don Johnson as Tulsa Chief of Police Judd Crawford; Louis Gossett Jr. as the mysterious, elderly Will Reeves; Tom Mison and Sara Vickers as Mr. Philips & Ms. Crookshanks; Hong Chau as the wealthy Lady Trieu; Mad Men's James Wolk as Senator Joe Keene Jr.; and so many more!  Each one of them could have been the lead character in their own series!  (I also have to highlight Jovan Adepo, who was also great this year on Jack Ryan season two, who played a young Will Reeves in the astounding and heartbreaking sixth episode, "This Extraordinary Being".)  This series was filled with incredibly unexpected moments and imagery.  It told a complicated, twisty tale packed with mysteries and surprises, and, most impressively, it all came together in an incredibly satisfying finish.  I don't know if there will ever be more of this show, but I will treasure these nine episodes, and I am sure I will rewatch them many more times in the years to come.  (Click here for my full review.)
Well, there you have it!  My TWENTY-FIVE favorite TV series of 2019!  That's a LOT of TV.  And, truly, I loved each and every one of the twenty-five shows on this list.  What a year for TV.
My look back at 2019 isn't over — we've only just begun!  I hope you'll come back on Monday as I begin to review my favorite movies of 2019!  See you then!
Please support MotionPicturesComics.com by clicking through one of our Amazon links the next time you need to shop!  We'll receive a small percentage from any product you purchase from Amazon within 24 hours after clicking through.  Thank you!