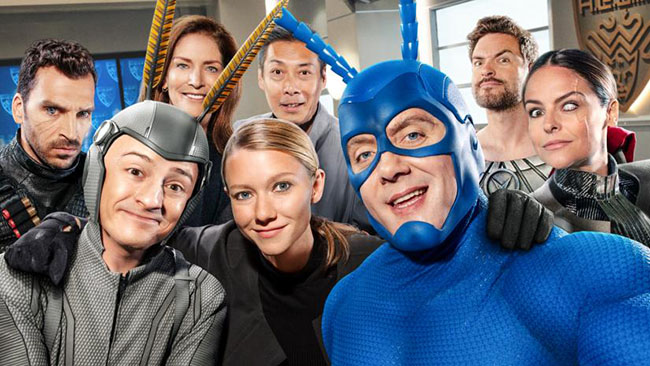 Josh's Favorite TV Series of 2019 — Part Three!
Welcome back! Click here for numbers twenty-five through twenty-one on my list of my favorite TV shows of 2019, and click here for numbers twenty through sixteen.  Shall we proceed…?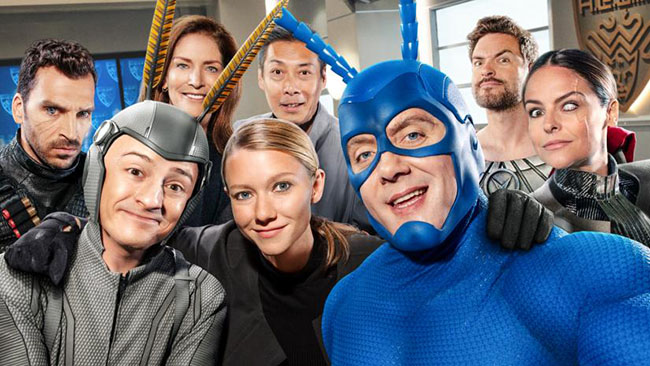 15. The Tick — Amazon's fantastic super-hero comedy-adventure was sadly cancelled after only two seasons.  There have now, unbelievably, been three different TV versions of Ben Edlund's The Tick (which began as an independently-published, black-and-white comic book-series in 1988), and they've all failed.  But I'm thankful these two great seasons of this latest version exist!  I don't know anyone who watched this show, but you're all missing out!  This joyous, sweet, funny series was a constant delight.  The cast was spectacular: Peter Serafinowicz (Guardians of the Galaxy) was absolute comedic perfection as the Tick; Griffin Newman was the every-man anchor of the show as Arthur; Valerie Curry was terrific as Arthur's sister Dot; Yara Martinez was a deadpan delight as the villainous Miss Lint; Scott Speiser was great as the growling, hyper-violent vigilante Overkill, and Alan Tudyk (Firefly) was hilarious as always as Overkill's partner, the sentient boat Dangerboat.  These two seasons are still available on Amazon — go watch them now!  (Click here for my review of The Tick series premiere.  My full review of season two is coming soon.)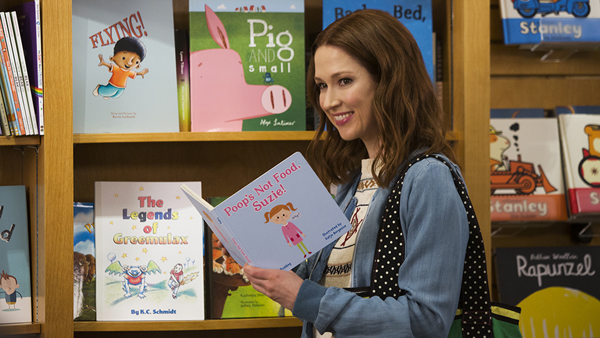 14. Unbreakable Kimmy Schmidt — Tina Fey & Robert Carlock's brilliant, hilarious, criminally-underrated show was every inch as brilliant, hilarious, and criminally-underrated as always in its fourth and sadly final season.  I already miss this show so much!!  This was one of the funniest shows on television, with an insane joke-per-second pace.  It was also one of the sweetest, with a heart-warming emphasis on positivity and niceness.  The perennially good-hearted Kimmy was the role that Ellie Kemper was born to play, and Tituss Burgess, Carol Kane, and Jane Krakowski were unendingly amazing.  Females are stong.  Dammit!  (Click here for my full review of season four.)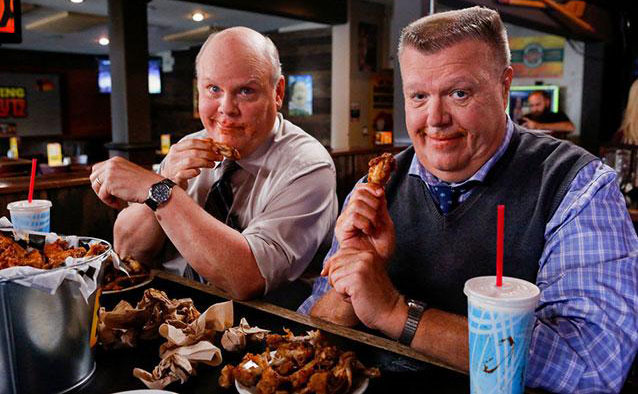 13. Brooklyn Nine-Nine — This amazing show was, thankfully, saved from cancellation by NBC.  This sixth season was a gift, and I would have been thankful had it just been an indulgent victory lap.  But what we got was possibly the best season of the show!  From the origin of Hitchcock and Scully, to Gina's farewell, to the episode ("The Crime Scene") that unfolded over weeks and months, to the episode ("Ticking Clocks") that took place in real time, the show was always inventive and playful.  The main cast is one of the best on television (Andy Samberg, Andre Braugher, Stephanie Beatriz, Terry Crews, Melissa Fumero, Joe Lo Truglio, Chelsea Peretti, etc.), and the guest stars this season were amazing: Lin-Manuel Miranda, Sean Astin, Ike Barinholtz, and many more.  This show is fantastic, and I'm not taking it for granted any longer.  (Click here for my full review of season six.)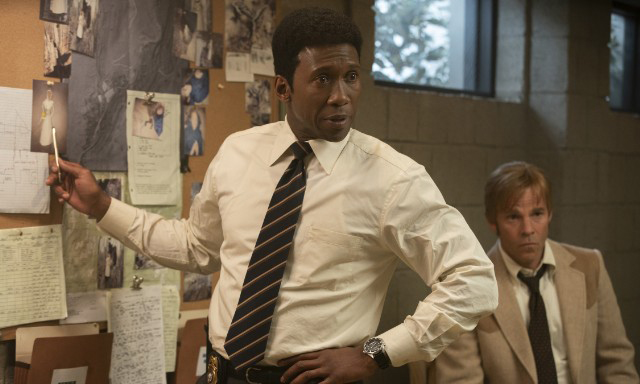 12. True Detective — I thought this series was done after the generally-loathed season two (which I think is underrated).  So it was a wonderful surprise that the show not only returned for a third season, but one that is possibly the best season yet!  Even if season one remains the show's best, this third season was a magnificent season of television, complex and dark and gripping.  Mahershala Ali was riveting as the haunted Detective Hays, who devotes decades of his life to unravelling the mystery of the disappearance of two children, Will and Julie Purcell.  This was a phenomenal showcase for Mr. Ali's enormous talent.  I was also blown away by how great Stephen Dorff was as Hays' partner, Roland West.  Unlike season one, this season-long mystery was complicated but one that I could actually follow, and I was delighted by how satisfactorily everything came together by the end.  I hope this isn't the end of True Detective.  (Click here for my full review of season three.)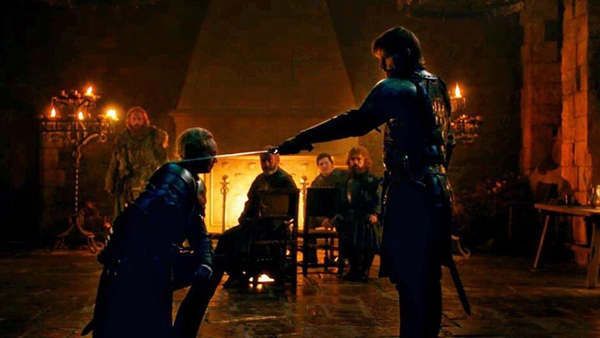 11. Game of Thrones — There's no question that the final season of Game of Thrones was somewhat disappointing.  Events were too compressed; the show didn't successfully pull off the twist regarding Daenerys Targaryen; and many other opportunities seemed to have been missed.  (Why didn't Arya have an opportunity to use her super-power to assume others' faces, a talent we'd spent years watching her develop?  Why didn't Bran have an opportunity to use his superpower to warg into other creatures, such as, say, the Night King's dragon?)  It's a sign of the show's missteps that it's this low on my list.  But despite that, I still got a tremendous amount of enjoyment over these final episodes, and I think the internet hatred towards this final season is way over the top.  The show continued to be an epic spectacle the likes of which has never existed on TV.  These final episodes were gloriously enormous, full to the brim with epic carnage and fantastical confrontations.  And this season was stuffed to overflowing with incredible character moments and pay-offs to the relationships we'd been following for so many years.  (My favorite episode of the season was the second episode, "A Knight of the Seven Kingdoms," which was ALL about character moments: Jamie repays his debt to Brienne by making her a knight; Jamie stands before the Starks, ready to confront his crimes, and Bran throws that "the things you do for love" line in his face; Tormund Giantsbane tries to impress Brienne by telling her a story of how he suckled at a giantess' breast for three months; Jon Snow, Edd, and Tormund reunite; Tyrion reunites with Podrick and disobeys Brienne's instructions not to allow him to drink; Arya and Gendry get it on; Dany and Sansa size one another up; Arya shares a drink with the Hound; and so many other amazing scenes.)  It's been years since I have been so excited, from week to week, to watch a TV show.  The experience of watching this final season unfold was thrilling; an experience that I know won't come soon again.  I'm bummed that it didn't wind up being all that I had hoped it would be, but I am so grateful for everything that it was.  Valar morghulis.  (Click here for my full review of the series finale.)
Please rejoin me tomorrow as we enter my TOP TEN!
Please support MotionPicturesComics.com by clicking through one of our Amazon links the next time you need to shop!  We'll receive a small percentage from any product you purchase from Amazon within 24 hours after clicking through.  Thank you!