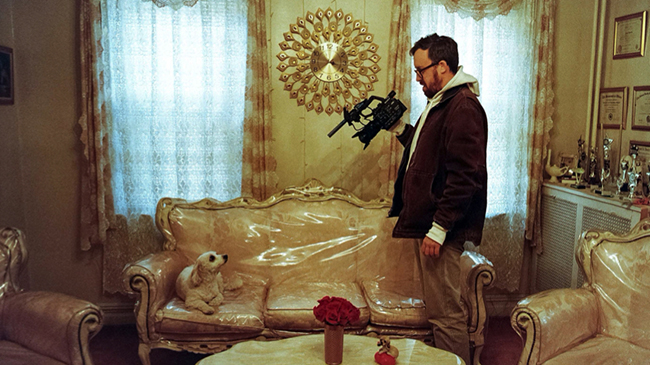 Josh's favorite TV Series of 2020 — Part Five!
We've arrived at the conclusion of my list of my favorite TV series of 2020!  Click here for part 1 of my list, click here for part two, click here for part three, and click here for part four!  And now, here are my five favorite TV series of 2020: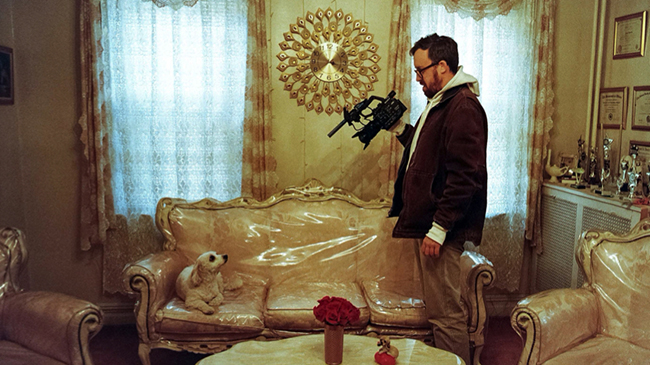 5. How To with John Wilson — This bizarre, beautiful documentary series is hard to describe, and I think it's best to go into it knowing as little as possible.  Filmmaker John Wilson has created six short masterpieces with this incredible first season.  Each episode purports to explore a different "how to" topic, but inevitably the joy of each episode is in the unexpected (and often deep and moving) digressions from that initial topic.  The series is a love-letter to New York City, and also to our wonderfully weird fellow human beings.  (My full review will be coming soon.)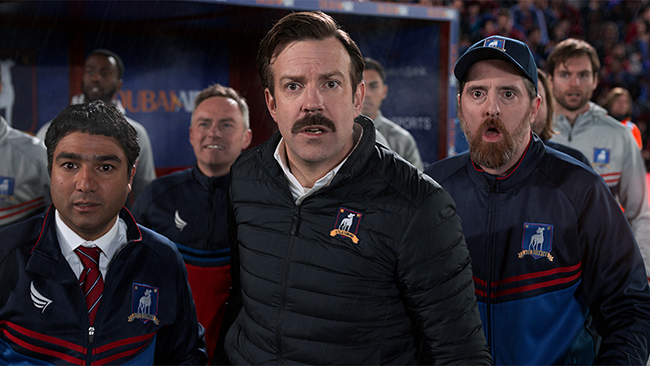 4. Ted Lasso — Jason Sudeikis, working with Bill Lawrence (mastermind behind the wonderful comedy Scrubs), Joe Kelly, and Brendan Hunt, took Mr. Sudeikis' silly commercial character and turned him into the basis for one of the best new TV comedies I've seen in years.  The show is absolutely hilarious; but what makes it great is how soulful it is too, how joyful and life-affirming.  Mr. Sudeikis is absolutely perfect in the leading role as the incredibly up-beat Ted Lasso, an American football coach who, improbably, winds up coaching an English Premiere League football (what Americans call soccer) team.  The entire cast is dynamite.  This is a show in which I almost immediately fell in love with every single one of the main characters: Brendan Hunt as Coach Beard (his Doc Brown impersonation was amazing!!); Hannah Waddingham as team owner Rebecca Welton; Jeremy Swift as Rebecca's sweet and unassuming assistant Leslie; Phil Dunster as the hot arrogant young super-star Jamie Tartt; Juno Temple as Jamie's girlfriend Keeley Jones; Brett Goldstein as aging veteran Roy Ken; and Nick Mohammed as Nathan Shelle, the team's kit man who flourishes under Ted Lasso's influence.  I love this show!!  I can't wait for season two!  (My full review will be coming soon.)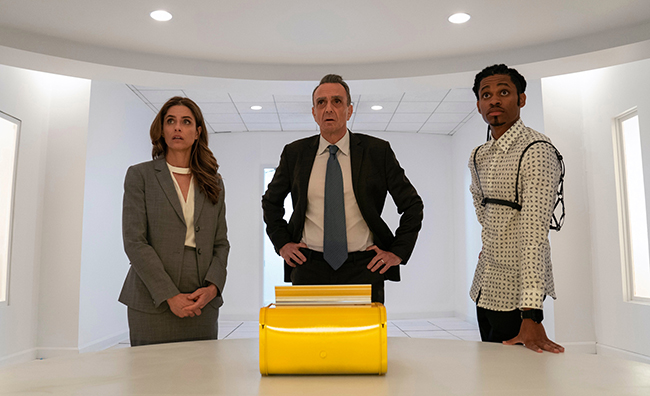 3. Brockmire season 4 — The fourth and final season of this amazing show brought the story and characters to a wonderfully satisfying conclusion.  I love the way these four seasons gave such a rich and complete story-arc to the character of Jim Brockmire, the broken and profane disgraced baseball announcer.  As I have written many times before, this is the part Hank Azaria was born to play.  It's an incredible comedic performance and an incredible dramatic performance, all in one.  I love how deeply this show is in love with baseball.  Season 4 of Brockmire was the show's boldest yet, being set in the future: specifically, the year 2033. The show was completed long before the start of this pandemic, but watching these episodes during the early spread of COVID-19 made the show's social commentary incredibly powerful.  The show was consistently hilarious, but suddenly the depiction of a world in which all of the many social, economic, and cultural problems of the United States had been exacerbated to an extreme packed quite a punch!  As did the show's depiction of "Limon": a ubiquitous tiny lemon-shaped device which is like an iPhone crossed with a personal assistant, and which seems to have completely taken over most Americans' lives.  In this final season, it was up to recovering alcoholic Brockmire, the very-much still drunk Jules (Amanda Peet), and their old intern Charlie (Tyrel Jackson Williams), now a super-rich mogul, to stop this growing A.I. and save the world.  And also baseball.  I know that sounds crazy, but it all works so perfectly.  I miss this show already!  (Click here for my full review.)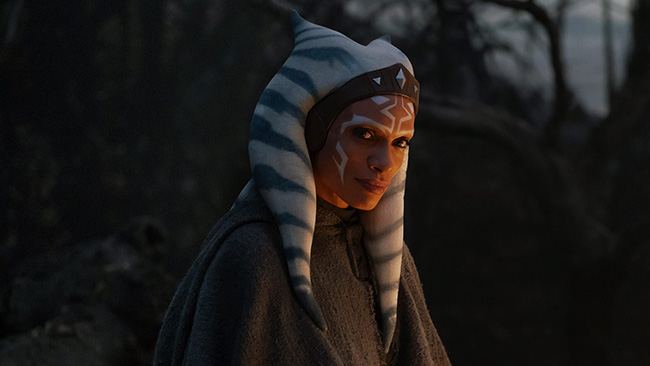 2. The Mandalorian season 2 — I never dreamed a Star Wars TV show could be this great.  The Mandalorian is everything that I want new Star Wars stories to be.  It's deeply respectful to the history and continuity of Star Wars, while also telling new types of stories with new characters.  I was delighted by how season two expanded the scope of the show dramatically, weaving together connections to the movies (Boba Fett), the animated series (Bo Katan, Ahsoka Tano, the Darksaber), and also to Star Wars novels (Grand Admiral Thrawn, Cobb Vanth), comic books (the planet Tython where Baby Yoda communes with the Force) video games (the Dark Troopers), and so much more.  I cannot describe how happy it made me to see Ahsoka Tano and Bo Katan, two wonderful characters from the animated series Star Wars: The Clone Wars and Star Wars: Rebels, brought to life so perfectly in live action.  The return of Boba Fett was decades in the coming, and it was so satisfying to finally have confirmed that he didn't really die so lamely in Return of the Jedi, knocked into the Sarlacc pit.  Fantastic.  And the appearance of you-know-who in the final moments of the season finale was pure bliss.  I cannot wait to watch this season again, and I'm excited for where Star Wars on TV/Disney+ will go from here.  (Click here for my full review.)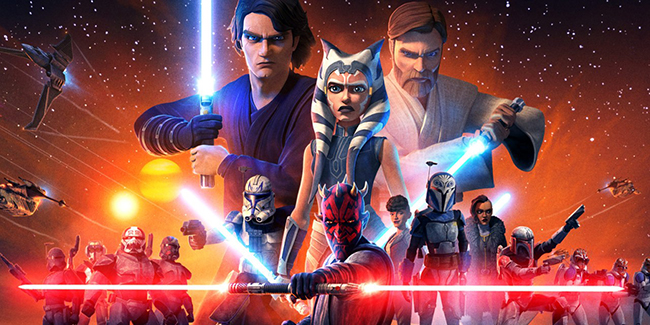 1. Star Wars: The Clone Wars — I never expected this show, which was cancelled when Lucasfilm was first sold to Disney, would ever return to reach its planned conclusion.  That it did was a miracle.  And that this conclusion was so extraordinary was a miracle upon a miracle.  Finally, we got to see what happened to Ahsoka Tano and Anakin Skywalker's loyal clone soldier Captain Rex in the final days of the Clone Wars.  Finally we got to see the Siege of Mandalore.  Finally we got to see the characters and stories from this series connect with the tragic events of the fall of the Jedi and the Republic, as depicted in Episode III: Revenge of the Sith.  The final four episodes of this show were, without question, the best new Star Wars stories I have seen in years.  I am not exaggerating!  I was BLOWN AWAY by the final four episodes!!!  The animation was spectacular, beyond anything the show had done before.  But it was the character storylines that made these episodes so jaw-dropping. Deeply emotional, richly nuanced, these episodes gave us the payoff to more than a decade of story-telling, and it was incredible.  This was ESSENTIAL Star Wars, and cements the legacy of this Clone Wars series as a critical part of the Star Wars saga.  I wouldn't have said this before these final episodes, but I'll say it now: if you haven't seen these episodes, you haven't seen the full Star Wars story.  (Click here for my full review.)
Please support MotionPicturesComics.com by clicking through one of our Amazon links the next time you need to shop!  As an Amazon Associate, I earn from qualifying purchases.  That means I'll receive a small percentage from any product you purchase from Amazon within 24 hours after clicking through.  Thank you!