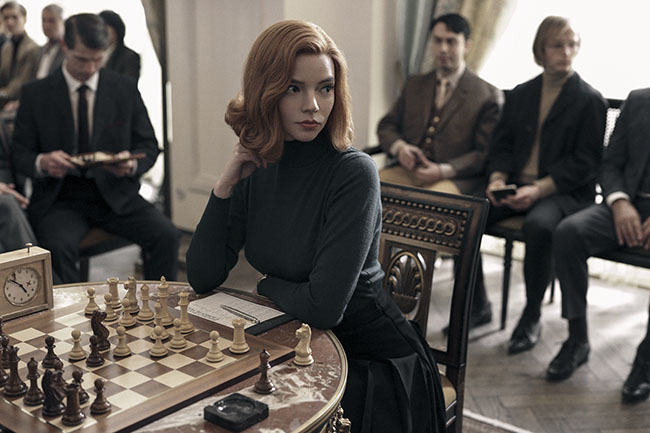 Late to the Party: Josh Reviews The Queen's Gambit
The Queen's Gambit was released on Netflix almost exactly a year ago (in October, 2020), and right away it seemed like everyone was raving about it.  I was intrigued and definitely interested in watching it, but I was so busy that I had trouble finding the time, and one thing after another kept bopping The Queen's Gambit down on my to-watch list.   But after the summer, this was one of the first shows on my list.  I wondered what I'd think of the show, with a little separation from all of the excitement about it last year.  I needn't have worried about being over-hyped.  I thought The Queen's Gambit was terrific — it was riveting, high-quality storytelling from start to finish.
The seven-episode mini-series was written and directed by Scott Frank, based on Walter Tevis's 1983 novel.  The series follows Beth Harmon from age eight into her twenties, as she discovers she is a chess prodigy and gradually climbs from an unhappy orphanage to the highest levels of the international chess world.
Anya Taylor-Joy plays Beth, and she is tremendous in the role.  I've enjoyed Ms. Taylor-Joy's work, mostly in genre movies like Split or The New Mutants.  But this is a stunning leap forward; it feels like one of those perfect matches between character and performer that come along every now and then.  To say that Ms. Taylor-Joy owns this role would be an understatement.
I also quite enjoyed Isla Johnston's work as young Beth in the first episode.  I was quite surprised to discover that Ms. Taylor-Joy wasn't in that first episode, that the entire opening episode focused on young Beth's experiences in an orphanage after the death of her mother.  In the end, this was a wonderful choice, because so much of Beth's future behavior was molded by her formative experiences in the orphanage.  I must admit that I found some of this difficult to watch; I have a hard time watching kids suffering on TV or in movies.  But I found that first episode to be gripping; I was totally hooked into Beth's story, and when Ms. Taylor-Joy took over the role in the second episode, things only got more compelling.
Beth displayed some, um, anti-social tendencies at times, but one of my favorite aspects of the show was seeing how a small but tight group of friends from within the chess world slowly gathered around her.  (One of my favorite moments in the finale was seeing a group of them on the phone, working hard to counsel her on her moves in her match against Borgov!)  This was a great ensemble of actors: Thomas Brodie-Sangster (Jojen Reed on Game of Thrones) as the talented and arrogant Benny Watts; Jacob Fortune-Lloyd as Townes, the first really talented chess player who Beth beats, and on whom she develops a bit of a crush; and Harry Melling (who's come a long way since playing Dudley Dursley in the Harry Potter films) as Harry Beltik.  I particularly enjoyed Mr. Melling's subtle work as the bright though awkward Beltik.  Bill Camp (a familiar face from so many movies, including Joker, Lincoln, Molly's Game, and he had a small but critical role on The Leftovers) was extremely memorable as Mr. Shaibel, the quiet janitor who first teaches Beth chess.  I also enjoyed the work of Moses Ingram as Jolene, Beth's one friend at the orphanage; Marielle Heller as Beth's adoptive mother Alma Wheatley; and Marcin Dorociński as Vasily Borgov, the Russian grandmaster.
I was endlessly impressed by the skill with which the show was able to keep my attention hooked throughout all of the many chess games.  The strategies used by the players went way over my head, but that was never a problem.  Though careful direction, shot-choices and editing, combined with the wonderful performances of all the actors playing on screen, I wasn't bored for an instant and I was completely engaged in the drama of the games as they unfolded.  This is a most impressive achievement in filmmaking.
The Queen's Gambit is a near-perfect example of the prestige TV miniseries which has replaced the mid-budget adult drama movie.  The series is a rich character study, one that benefits tremendously from the time available in a seven hour mini-series (as compared to a two-hour feature film).  The production values are tremendous.  I never saw any seams in the series' rich and detailed recreation of the fifties and sixties, and the many different locales visited on-screen.  (One could probably write an entire article just analyzing the many wonderful wigs Ms. Taylor-Joy wears over the course of the series!)
I'm delighted to have caught up to The Queen's Gambit.  (Since watching it, my wife and I have been playing chess pretty regularly!!)
Photo credit: CHARLIE GRAY/NETFLIX © 2020
Click here to purchase my "Maclunkey" Star Wars/Highlander mash-up t-shirt!

Please support MotionPicturesComics.com by clicking through one of our Amazon links the next time you need to shop!  As an Amazon Associate, I earn from qualifying purchases.  That means I'll receive a small percentage from any product you purchase from Amazon within 24 hours after clicking through.  Thank you!