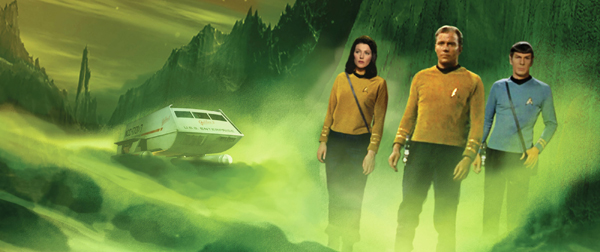 Star Trek Legacies: Captain to Captain
In celebration of this year's fiftieth anniversary of Star Trek, several of the best of Pocket Books' stable of Star Trek authors have collaborated on a fiftieth anniversary trilogy of novels called Legacies.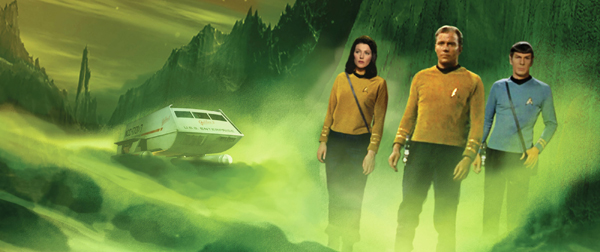 The first novel, Captain to Captain, written by Greg Cox, is set during the five-year mission of Kirk's Enterprise. As the story opens, Kirk and Spock are pleased to receive a very special guest to the ship: the woman nicknamed "Number One", who was the ship's first officer a decade previously, when Christopher Pike was captain of the Enterprise.  ("Number One" was the unnamed character played by Majel Barrett in Star Trek's original pilot, "The Cage.")
Ostensibly, Captain Una (the name Mr. Cox gives to "Number One") is visiting the ship to confirm her suspicions as to the true fate of her former Captain, Christopher Pike. (In the episode "The Menagerie," the two-part TOS episode that re-purposed footage from "The Cage," Spock commandeered the Enterprise in order to bring the crippled Captain Pike back to Talos IV, where the powerful telepaths would enable Pike to live out the rest of his life unconstrained by his ruined body.)  But, in fact, Una's visit to the Enterprise is a mission to steal a powerful alien object that the captains of the Enterprise had been hiding on board the ship for almost two decades. In a lengthy flashback, the story shifts back eighteen years previously to depict the fateful mission in which Lieutenant Una, serving on the Enterprise under Robert April (the Enterprise's first captain), was involved in obtaining that powerful alien device.
Captain to Captain is an entertaining novel. It's not that lengthy, and it is a very quick read as Mr. Cox's crisp, clean prose zips along at a fast pace. Mr. Cox has a terrific grasp on the Original Series characters, particularly the Kirk-Spock-McCoy triumvirate.  I love the idea of a secret that has been shared between the three Enterprise captains (April, Pike, and Kirk), that's a nice hook for a fiftieth anniversary story intended to honor the franchise as a whole. The character of "Number One" is an interesting and mysterious one, based on her single brief on-screen appearance, and so the idea of delving into her character and her past is also a great idea for this fiftieth anniversary trilogy.  I love that Mr. Cox chose to have her flashback set, not during the time of "The Cage" and Pike's captaincy, but before that, during the time of Robert April, an era even less explored than that of Pike. (Robert April never appeared on-screen in any live-action Trek episode or movie, he was only seen once in a single episode of The Animated Series, "The Counter-Clock Incident".)
Captain to Captain stands in its own, but Mr. Cox's work nicely flows from the (few) previous novels that have set out to explore the eras of Robert April and Christopher Pike.  It's been a while since I've read some of these books, but Robert April was featured in Diane Carey's novels Final Frontier and Best Destiny, as well as the short story "Though Hell Should Bar the Way," written by Greg Cox himself, from the Enterprise Logs anthology, while Christopher Pike and his era were explored in Burning Dreams by Margaret Wander Bonanno and The Captain's Table: Where Sea Meets Sky by Jerry Olton, among other books.
If the novel has a weakness, it's that the story turns out to feel somewhat slight and by the numbers. Except for the twist about a member of Kirk's crew at the very end, the story unfolds fairly straightforwardly, without too many surprises. (OF COURSE there turns out to be an understandable reason for Captain Una's behavior!  Does anyone reading this novel believe that she was actually going rogue?)  The explanation of why Una is behaving as she is turns out to be rather familiar.  The novel's references to the events of "The Cage"/"The Menagerie" only serve to remind me that Una's actions in Captain to Captain are almost exactly the same in structure as Spock's actions in "The Menagerie." (An Enterprise first-officer takes apparently rogue actions in order to repay a debt whose origins lie in a decades-earlier Enterprise mission.)
For Trek's 40th anniversary a decade ago, Pocket Books released several extraordinary novels. The two that come to mind after reading this fiftieth anniversary novel are David R George III's Crucible trilogy (which, like Legacies, is a trilogy focused on the Kirk-Spock-McCoy team that began during the five year mission) and the afore-mentioned Margaret Wander Bonanno's Burning Dreams (which, like Legacies, fleshes out a character glimpsed only in "The Cage", in that case Captain Christopher Pike). But while I enjoyed Captain to Captain very much, it felt like a more superficial book than either the Crucible trilogy or Burning Dreams, both of which dig far deeper into their characters than this book did.  (Other than her actual name, what do we really learn about "Number One" in this book that we didn't already know? Perhaps the next two books in this trilogy will go deeper…)
By the way, I should also comment that, while I guess I understand that Mr. Cox (and the other authors involved in this trilogy) felt that they couldn't write three books about "Number One" without giving her a name, somehow I was a bit disappointed to finally learn the name of this character who has been such an intriguing mystery for fifty years. (And Peter David has managed to feature a future version on this character in his "New Frontier" Trek novels for years without confirming her a name.)  The revelation of "Una" felt a bit anticlimactic to me.
Legacies doesn't yet feel like as epic or as significant a story as I had expected from a fiftieth anniversary trilogy, but I did thoroughly enjoy this first book. It's a nice, classic-feeling Trek adventure.  I sped through Captain to Captain at rapid speed and I am excited to dive into book two, David Mack's Best Defense. I'll be back soon with my thoughts on that one!
Previous Star Trek novel reviews:
Star Trek – Unspoken Truth , Troublesome Minds, Cast No Shadow, Excelsior: Forged in Fire, Allegiance in Exile
Star Trek: The Next Generation – The Sky's The Limit, Resistance and Q & A, Before Dishonor and Greater than the Sum, Destiny trilogy, A Singular Destiny, Losing the Peace, Immortal Coil, Cold Equations Book 1: The Persistence of Memory, Cold Equations Book 2: Silent Weapons, Cold Equations Book 3: The Body Electric, The Light Fantastic, Takedown, Armageddon's Arrow
Star Trek: Deep Space Nine – DS9 relaunch overview, The Soul Key, The Never-Ending Sacrifice, Plagues of Night and Raise the Dawn, Section 31: Disavowed, The Missing, Sacraments of Fire, Ascendance, Force and Motion
Star Trek: Voyager – Full Circle, Unworthy, Children of the Storm, The Eternal Tide, Protectors
Star Trek: Enterprise — Kobayashi Maru, The Romulan War: Beneath the Raptor's Wing, The Romulan War: To Brave the Storm, Rise of the Federation: A Choice of Futures, Rise of the Federation: Tower of Babel
Star Trek: Titan – Book 1: Taking Wing, Book 2: The Red King, Book 3: Orion's Hounds, Book 4: Sword of Damocles, Under a Torrent Sea, Synthesis, Fallen Gods, Absent Enemies (e-book), Sight Unseen
Star Trek: Typhon Pact – Book 1: Zero-Sum Game, Book 2: Seize the Fire, Book 3: Rough Beasts of Empire, Book 4: Paths of Disharmony, The Struggle Within (e-book), Plagues of Night and Raise the Dawn, Brinkmanship
Star Trek: The Fall — Book 1: Revelation and Dust, Book 2: The Crimson Shadow, Book 3: A Ceremony of Losses, Book 4: The Poisoned Chalice, Book 5: Peaceable Kingdoms
Star Trek: New Frontier – Series overview, Stone & Anvil, After the Fall, and Missing in Action, Treason and Blind Man's Bluff
Star Trek: Department of Temporal Investigations – Watching the Clock, Forgotten History
Star Trek: The Lost Era – Book 1: The Sundered (2298), Book 2: Serpents Among the Ruins (2311), Book 3: The Art of the Impossible (2328-2346), The Buried Age (2355-2364), One Constant Star (2319)

Star Trek: Mirror Universe (Books 1 & 2) – Star Trek: Mirror Universe: Shards & Shadows – Star Trek: Mirror Universe: The Sorrows of Empire — Star Trek: Mirror Universe: Rise Like Lions –  Star Trek: Myriad Universes (Books 1 & 2) – Star Trek: Myriad Universes: Shattered Light
Beyond the Final Frontier — Josh's favorite Star Trek novels