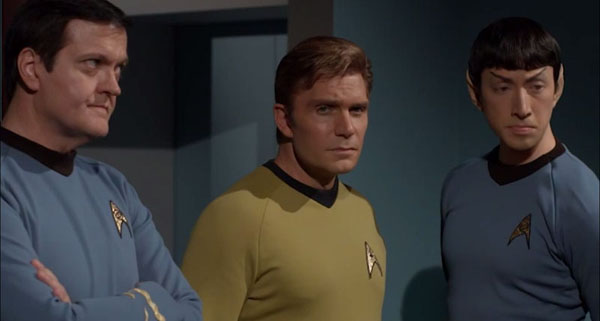 Star Trek Lives Part 1: "Lolani"
Forget the dismal Star Trek Into Darkness.  It's a great time to be a Star Trek fan.  This week sees the release of not one but two full-length, completely fan-made episodes of "Classic" Kirk/Spock/McCoy Star Trek.  First up: the second episode of Star Trek Continues, "Lolani."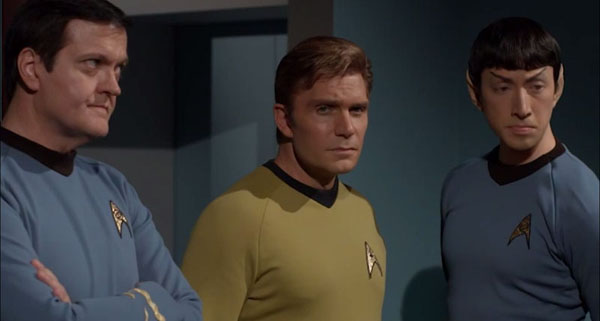 I have written a lot on this site about the extraordinary fan-made series Star Trek: Phase II, a group of dedicated and talented Trek fans who have set out to create a fourth season of classic Trek episodes, releasing about one full-length hour-long episode a year.  They released an episode last month, the Klingon-centric "Kitumba" (click here for my review), and, impressively, they have another episode coming out in just a few days.  Meanwhile, last year, another group began working to create their own full-length episodes of Classic Trek, called Star Trek Continues.  Their first episode, "Pilgrim of Eternity," was great (click here for my review), and just a few days ago they released their second episode: "Lolani."
I enjoyed "Pilgrim of Eternity," but this second episode is even better.  What is consistent are the stupendous production values.  This fifty-minute episode looks and sounds exactly like an episode of Classic Star Trek, and I mean exactly.  The costumes, the props, the sets — it is extraordinary how the men and women of Star Trek Continues have replicated the look and feel of the original 1960's Star Trek.  There is no a single off-moment that I could spot, not a single prop or set that looked wrong to me.  And the visual effects, supervised by Daren Dochterman (who worked on the fantastic Director's Edition of Star Trek: The Motion Picture a decade ago), are absolutely gorgeous.  These visual effects are WAY BETTER than anything seen on the Original Series, and also superior in my opinion to the "official" Star Trek: Remastered project overseen by CBS several years ago.  What's particularly great about the visual effects is that, while the CGI shots are much better than any of the primitive model-work used in the Original Series, the effects maintain the "feel" of those original effects shots.  These effects look like exactly what the special effects artists of the Original Series would have created had they had the technology.  The Enterprise looks and moves exactly the way she should.  I was bowled over by the beauty of those shots.
In this episode, "Lolani," the Enterprise comes across an adrift Tellarite vessel.  Its four-person crew is dead, with only an Orion slave girl named Lolani still alive on-board.  While the Enterprise crew investigates what happened, Lolani is brought on board.  She very quickly requests asylum in the Federation, fearing a return to a life of sexual slavery.  But Starfleet Command refuses that request, not wanting to incite a war with the powerful Orions over just one girl.  Lolani's owner, a huge male Orion named Zaminhon (played by Lou Ferrigno!!) arrives to claim his property, and Captain Kirk must weigh his belief in every sentient being's inalienable right to freedom with his duty as an officer to follow orders and preserve the peace.
I've never been a huge fan of the idea of these green Orion slave girls on Star Trek (they appeared several times in the Original Series, and once or twice since then).  The whole idea of these women seemed to be one aimed at titillating the audience, without any real acknowledgement of the real-life horrors of sex-trading.  So in the first few minutes, when I realized that this episode would be focusing on an Orion slave girl, I was concerned.  But, to my surprise and pleasure, this episode turned out to be far more nuanced that I had expected.  In fact, the episode develops into the classic sort of moral dilemma that formed the basis of the very best episodes of Star Trek.  This is a great story, and the sharp script by Paul Bianchi and Huston Huddleston (based on a story by Star Trek Continues creator and star Vic Mignogna and Mr. Huddleston) gives Kirk & co. a deliciously juicy ethical problem with which they must wrestle.
While I enjoyed "Pilgrim of Eternity," their first episode, one quibble I had with that episode was that I felt the story meandered a bit, with various sequences that, while interesting, didn't always seem to go anywhere or impact directly upon the main story (such as the gorgeous to look-at, but somewhat random, EVA sequence on the Enterprise hull).  The script to "Lolani," by contrast, is much tighter, with every scene following logically from the one before and directly focused on the main through-line of Lolani's story.
The main cast of performers is great, as they were in the previous episode.  Vic Mignogna does a solid job as Captain Kirk.  I still think his voice is a little high, but he sure looks the part, and I think he does a great job at embodying Kirk's charismatic swagger without coming off as silly or overly-imitative of William Shatner.  Todd Haberkorn really gets to shine as Mr. Spock in this episode, in a phenomenal mind-meld sequence that quite impressed me.
This episode boasts a strong array of guest-stars.  I don't know how on earth they got Lou Ferrigno — yes, Lou Ferrigno!! — to play the huge Orion slave-trader Zaminhon.  What a coup.  Mr. Ferrigno is fantastic in the role.  His dialogue is a little hard to understand at times, but it doesn't matter.  Mr. Ferrigno is perfect physically, of course, to play a huge male Orion.  But I was really blown away by how seriously Mr. Ferrigno took his performance.  There is not a hint of campiness.  He throws himself completely into the role of Zaminhon, bringing a great balance of humor and menace to the character.  Mr. Ferrigno looks to be having a ball, and he creates a wonderfully memorable character in Zaminhon.  This is a great performance, the highlight of the episode for me!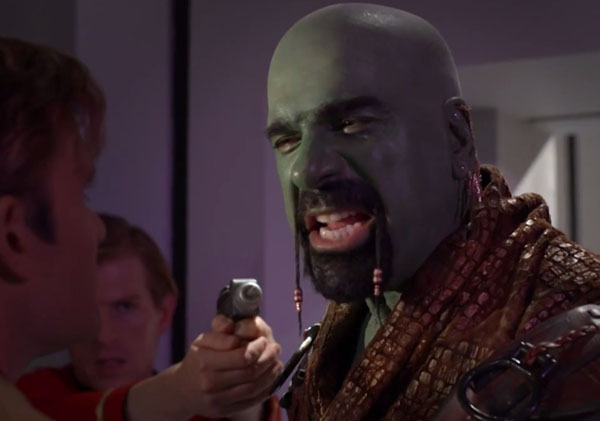 This episode wouldn't work if the titular Orion character, Lolani, wasn't convincing, and Fiona Vroom does great work in the role.  This is a huge part with a wide range of performance required.  Ms. Vroom must be, at varying points in the episode, sweet and innocent and sexy and seductive and calculating and dangerous, and she succeeds at bringing each of these different aspects of Lolani to life.  This episode is a great showcase for Ms. Vroom's work.  I'm sorry she's not a recurring character.
This episode is so good, and so professionally-made, that I feel able to evaluate this with the same eye that I would an "official" Star Trek episode.  As such, I do have a few quibbles.  Primarily, I was disappointed by how little screen-time the regular supporting players got in this episode.  Chris Doohan as Mr. Scott gets some decent moments (and Mr. Doohan is PHENOMENAL in the role), but McCoy, Sulu, and Uhura were barely seen, and Chekov, after getting short shift in the first episode, is entirely absent from this episode.  Instead, we get a long introduction in the teaser to some never-before-seen Enterprise crewman sitting in Chekov's seat on the bridge (Ensign Tongaroa, played by Daniel Logan, who played young Boba Fett in the Star Wars prequels).  Mr. Logan is another great guest-star, but I was confused as to why we spent so much time in the opening with this character who we'd never seen before, and who didn't have anything else to do in the rest of the episode.  Then there is Crewman Kenway, who falls under Lolani's spell.  This is a big guest-part in the episode, and it's well-played by Matthew Ewald, who successfully makes Kenway seem young and innocent but not a total idiot, a fine but critical line to walk.  I have no complaints at all about Mr. Ewald's work, but I can't help but wonder why his role in the story wasn't given to Sulu, Chekov, Uhura or Scotty.  Instead of spending so much time with this crewman we've never seen before and will never see again, wouldn't it have been far more interesting had one of the characters we KNOW been the one to get tangled up in Lolani's plans?  I'm a little bit stunned that they didn't go that route with the script.
Also, while ultimately I was very satisfied with the story's ending, I must confess to being surprised that Captain Kirk let Lolani beam off the ship in those final moments.  I don't want to spoil the episode, so let me just say that while ultimately Kirk makes what I feel is the right choice, I can't believe that the highly moral, highly stubborn Captain Kirk would, even momentarily, bow to the will of a far-away Starfleet and let Lolani leave the ship.  Just my opinion.
Be that as it may, I am stunned by the skill and talent of the many men and women who, for free, just because they love Star Trek, collaborated to create this fantastic episode.  Star Trek is alive and well!!  I can't wait to see their next episode.  My hat is off to each and every one of you incredibly talented Star Trek fans.
And, as I wrote at the beginning of this post, Star Trek fans don't just get ONE new Star Trek episode this week, they get TWO!!  On Friday, Star Trek: Phase II will be releasing their next episode, "The Holiest Thing," and I'll be back on Monday with my thoughts.  I am excited!