The Top 15 Movies of 2013 — Part Three!
Click here for part one of my list of the Top 15 Movies of 2013, and click here for part two!  And now, let's complete my list:
5. The Wolf of Wall Street — This is a very polarizing film.  I've had a lot of debates with folks ever since I published my very positive review of the film.  I stand by every word I wrote.  This is Martin Scorsese back at the very top of his game, telling a raucously entertaining but also fiercely angry story about Wall Street scumbags.  This is an epic film, three hours long, but I felt that it flew by and felt like a film half its run-time, so engaged was I by the story unfolding before me.  There are some spectacular performances in this film, particularly a very, very funny Jonah Hill and an absolutely magnetic Leonardo DiCaprio, using every watt of his charisma to show us how this man, Jordan Belfort, rose from nothing to become a man of huge wealth, all on the backs of others.  This is a film that might offend some, as Mr. Scorsese and his team don't flinch away from showing us the sex-and-drugs-fueled antics of Jordan and his cronies.  How great is it that 71-year-old Martin Scorsese is still making movies that can push people's buttons!  Personally, I was spellbound by the bravura filmmaking on display.  (Click here for my original review.)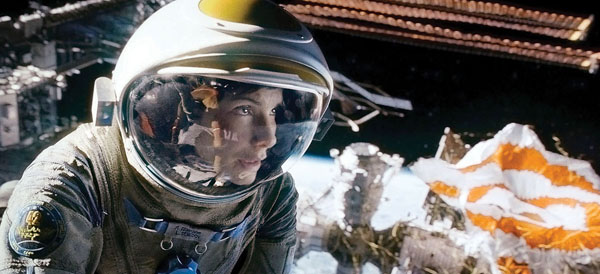 4. Gravity — Speaking of bravura filmmaking: Alfonso Cuaron's thrilling survival story in outer space is a visual effects extravaganza, gloriously beautiful and dazzlingly ambitious.  Mr. Cuaron's filmmaking is beyond anything I have ever seen before, taking full advantage of the 3-D to pull the audience right into the middle of the story.  Watching this story unfold in IMAX 3-D was a riveting experience.  Mr. Cuaron's lengthy, seemingly uninterrupted takes are incredibly inventive and impressive from a filmmaking aspect, but they're not just empty cinematic exercises — they give this fantastical, sci-fi story a you-are-right-there-in-the-middle-of-it reality that is extraordinary.  All of this would be useless, though, were not this sci-fi story balanced by a small-scale, deeply personal tale of one woman's struggle to find a reason for living again in the wake of grief, and were it not anchored by Sandra Bullock's gripping, gritty performance (and great supporting work from George Clooney).  This is a marvelously original movie that pushed the boundaries of cinema while also telling a heart-pumpingly engaging story.  I loved it.  (Click here for my original review.)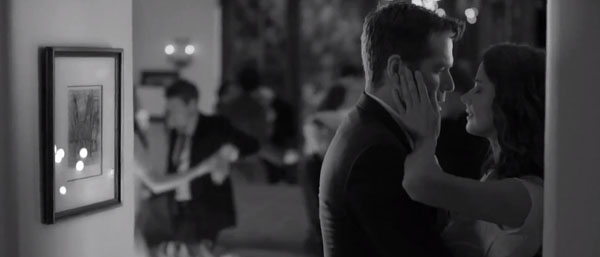 3. Much Ado About Nothing — Joss Whedon's adaptation of William Shakespeare's Much Ado About Nothing, filmed on a low budget over twelve days in Mr. Whedon's own house, and featuring his friends and frequent TV collaborators, is a magnificent concoction.  Mr. Whedon and his cast demonstrate a wonderful comfort with the Bard's words, and through the staging and the individual performances they are able to bring the play to energetic, vivacious life.  The whole cast is marvelous, most particularly Amy Acker & Alexis Denisof in the lead roles of Beatrice & Benedick.  (And Nathan Fillion & Tom Lenk are a hoot as Dogberry & Verges.)  Very, very funny and also very, very dramatic, this performance of Much Ado About Nothing captivated me.  Joss Whedon has proven himself with this film to be a master at realizing Shakespeare, and I would love to see him and this amazing ensemble cast film many more Shakespeare plays in the future.  For now, though, I feel blessed to have this one.  That the same man who helmed the enormous blockbuster The Avengers could also create this deliriously entertaining, teensy tiny little movie, boggles my mind.  Funny, sweet, and compelling, there's nothing more I could ask for in a movie.  (Click here for my original review.)

2. In a World… — I never paid much attention to Lake Bell before now, but this film has changed that forever for me.  This film was Ms. Bell's directorial debut, and she also wrote it, produced it, and starred in it.  I always love seeing films that feel like they are the product of an original, singular voice, and In A World… is that in spades.  I love the film's subject matter: set in the niche world of Hollywood voice-over artists, this film is the story of Carol (Lake Bell), who is the daughter of one of the most famous voice-over artists currently working, Sam Soto (played by the great Fred Melamed).  For years, famous (real-life) voice-over artist Don LaFontaine, made famous the "in a world…" beginning to the narration of movie trailers.  Since his passing, no trailer has used that iconic phrase.  But now, the studio behind a Hunger Games-style epic wants to use that phrase to open the trailer for their new film, and all of the voice-over artists in Hollywood are competing with one another to get the gig, including Carol, her dad, and the pompous hot young voice-over guy Gustav (played by the very funny Ken Marino).  That's a great subject matter for a film, an exploration of this niche sub-culture of Hollywood.  But on top of that, In a World… is the story of Carol's personal journey to try to find herself, and to step out from the shadow of her famous father.  That sounds like Serious Business, but Ms. Bell has crafted a very funny film, and she's able to tell an engaging character study while also keeping the film very light on its feet.  She has assembled a magnificent cast, including the afore-mentioned Fred Melamed (A Serious Man) and Ken Marino (Party Down, Wanderlust), along with Demetri Martin, Michaela Watkins, Rob Corddry, Nick Offerman, Tig Notaro, and others.  I am bowled over by the fact that this incredible movie was written & directed by a first-time filmmaker, in particular an actress to whom I'd never given a second thought.  That is all changed now!  Lake Bell has created a magnificent film, and I can't wait to see what she does next.  Meanwhile, I suspect that many of you reading this list never saw this film, and I encourage you to remedy that as soon as possible.  (Click here for my original review.)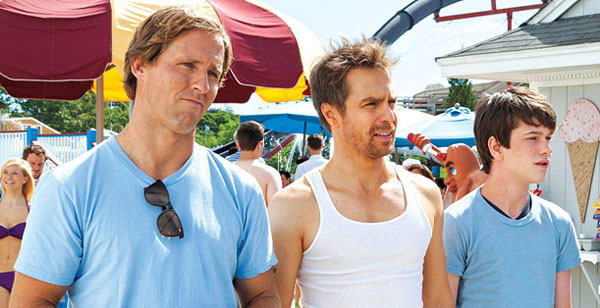 1. The Way Way Back — There were a lot of great coming-of-age movies released in 2013 (The Spectacular Now made my list at number eight), but this was my very favorite.  When we first meet Duncan (Liam James), he is riding in the way-way back of the station wagon being driven by his mom (Toni Collette)'s new boyfriend, Trent (Steve Carell).  Trent has a beach-house where Duncan and his mom will be staying for the summer, much to Duncan's chagrin.  Trying to find any way he can to get away from Trent, Duncan eventually meets Owen (Sam Rockwell), the immature owner of a local water-park.  Owen takes a liking to Duncan and gives the kid a job at the park, where Duncan finally finds a place where he can make friends and belong.  This is a sweet, very funny film, written and directed by Jim Rash & Nat Faxon, and I can't believe how much I adore the world they were able to create in the film.  Every member of the film's ensemble does extraordinary work, including Allison Janney (who has never been funnier), AnnaSophia Robb, Rob Corddry (2013's good-luck charm, apparently, as he appeared in my #1 and #2 films!!), Maya Rudolph, and Amanda Peet.  But the film belongs to Sam Rockwell, who dials back his usual sarcastic edge just enough to be extraordinarily effective as Owen, the lovable man-child who, in a turn of events he himself would have never seen coming, serves as a mentor of sorts for Duncan.  I love their friendship in the film, and in fact I love the exploration of the friendships between all of the water-park employees.  I am a sucker for films that explore the magic sub-culture of summer-jobs, and that aspect becomes the beating heart of this film.  Jim Rash & Nat Faxon have done extraordinary work here, creating a truly unique vision (can you see how, as usual, a unique world-view is one of the qualities I most look for when assembling my Best Movies of the Year list?) that is funny and endearing and wonderful.  My favorite film of the year.  (Click here for my original review.)
I hope you enjoyed my list!  This was a great year for movies.
I have lots more Best of 2013 lists coming for you next week, including my list of the Top 10 Episodes of TV of 2013, the Top 15 Comic Book Series of 2013, and the Top 10 DVDs/Blu-Rays of 2013.  See you then!!