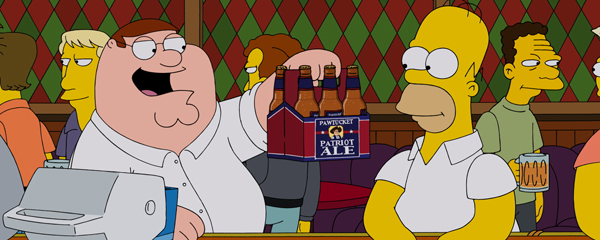 The Top 15 Episodes of TV in 2014 — Part Two!
I have expanded my usual end-of-the-year list of the Top Ten Episodes of TV to a Top Fifteen list for 2014!  Yesterday I wrote about numbers fifteen through eleven, discussing stellar episodes of Game of Thrones, Orange is the New Black, Fargo, Brooklyn Nine-Nine, and Black Mirror.
And now, let's continue!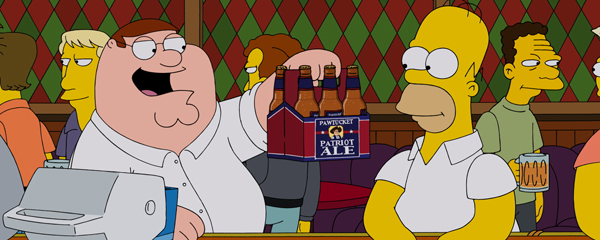 10. Family Guy: "The Simpsons Guy" (season 13, episode 1, aired on 9/28/14) — In this hour-long special, the Griffins leave Quahog and travel to Springfield, where cartoon universes collide.  I never ever thought that a) I would actually see a Simpsons/Family Guy crossover, or that b) it would be made with such obvious love for both shows.  This crossover was made by the Family Guy team, and the first few minutes (in which Peter gets into trouble for his controversial political cartoons) are pure Family Guy.  But once the show heads to Springfield, I was delighted by the clear love and respect on display for The Simpsons, and also by the depth of attention which the Family Guy creators brought to their exploration of the Simpsons universe.  There are obvious pairings that are mined for a lot of fun (seeing Homer and Peter drinking together, and comparing Duff Beer to Pawtucket Patriot Ale, is of course a hoot), but we also get to dig deeper into both cartoon universes as, for example, Carl meets Cleveland and Mayor Quimby meets Mayor Adam West, and the Simpsons version of James Woods meets the Family Guy version of James Woods.  Is the epic Homer/Peter Chicken Fight way longer and more violent than it needs to be?  I suppose it is, but that's part of the joke, isn't it?  It certainly worked for me.  Throw in Kang and Kodos in a rare non-Halloween episode appearance and a callback to Homer's skateboarding over the Springfield Gorge (a classic early Simpsons gag) and you have a terrific love-letter to both of these animated shows.  (Click here for my original review of "The Simpsons Guy.")

9. Mad Men: "Waterloo" (season 7, episode 7, aired on 5/25/14) — What a powerhouse of an episode.  The political machinations in the office run thick as Don receives a letter stating he is being fired for breach of contract, only for Don to call a meeting that turns the tables on Jim Cutler and Lou Avery.  Roger then negotiates with another agency, McCann Erickson, to buy SC&P as an independent subsidiary of McCann, but has to get Don and an increasingly depressed Ted Chaough to agree.  The show finally arrives at the dramatic events of July 20th, 1969, when Neil Armstrong walks on the moon.  At the last minute, Don decides that Peggy should give the Burger Chef presentation in his place and, in one of the show's most compelling and emotionally thrilling scenes, Peggy absolutely nails the presentation.  After watching the moon landing, Bert Cooper passes away.  In the episode's bizarre, wonderful final minutes, Don hallucinates seeing Bert singing and dancing to "The Best Things in Life are Free."  Wow was this episode phenomenal.  It embodies all of Mad Men's best qualities.  There is intense drama at a personal level and also at the larger level of the fate of the agency.  We see the lives of our characters intersect with the dramatic events of the sixties.  And we get to jump into the deep end of the playfulness that the show sometimes exhibits with Bert's gloriously wonderful song-and-dance routine from beyond the grave.  Having followed Peggy's journey from innocent, naive secretary in her first day on the job in the show's premiere episode, it was incredibly emotional watching her kill the Burger Chef presentation, having finally become as talented and skilled an ad (wo)man as Don Draper.  As for Don, we continue to see his good qualities and his bad ones on display, and I continue to wonder just how Matt Weiner & co. are going to wrap up his story, with just seven more episodes left to go in the run of the show.  (Click here for my review of Mad Men season 7.1.)

8. True Detective: "The Long, Bright Dark" (season 1, episode 1, aired on 1/12/14) — Part of the beauty of True Detective is the way that all eight episodes fit together so perfectly.  This is an exciting benefit of having the same writer (Nic Pizzolatto) and director (Cary Joji Fukunaga) for all eight episodes.  It felt like one, long eight-hour movie, rather than a collection of individual episodes.  As such, it was hard for me to single out one episode to highlight.  But I felt I had to go with the very first episode, which staggered me with its complexity and power.  Narratively dense, filled with complex characters and over-lapping timelines; with different characters telling different versions of events and not all in the same order; with the introduction of a gruesome murder mystery and a rich array of characters, this first episode hit me with the power of a freight train.  I love the show's balancing act in telling the story simultaneously in two timelines: the investigation of Dora Lange's murder in Louisiana in 1995, and the subsequent, separate interviews in 2012 discussing the case.  Matthew McConaughey and Woody Harrelson are both immediately perfect in their roles as homicide detectives Cohle and Hart.  Right from their first moments together on-screen you can see that they have each created a rich, complicated character, and the charisma between these two men — when they are working together and, most especially, when they are at each other's throats — is magnificent.  This episode was one of the most exciting introductions to a new TV show that I can recall seeing for a long, long time.  (Click here for my review of True Detective season one.)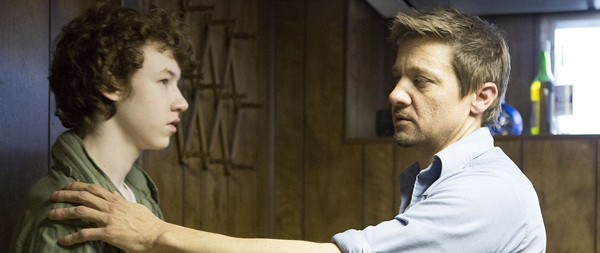 7. Louie: "Into The Woods" (season 4, episodes 11-12, aired on 6/9/14) — This triple-length episode of Louie is almost like a Louie feature film.  And what's even more extraordinary is that Louis C.K. is barely in it.  After catching his daughter Lilly smoking pot, we're treated to an extended flashback of Louie at around the same age, when he first got involved with drugs.  Young Louie (played by Devin Druid) meets up with a friendly drug dealer (played by Jeremy Renner), who agrees to trade Louie pot for scales that he steals from his high school.  To do so, Louie must betray the trust of the one teacher who seems to make an effort to befriend and support him, his science teacher Mr. Hoffman (Skipp Sudduth).  At first, Louie's life seems to have taken an amazing turn, as he's entered an exciting new adult world.  But things become more serious than the young Louie can handle, as his guilt over his stealing grows and he finds that the seemingly friendly drug-dealer can be very scary if crossed.  I love the central idea of comparing Louie and his daughter at around the same ages, dealing with similar situations, and I love Louie C.K.'s continued playfulness with the form of his show, suddenly presenting us with this lengthy flashback episode.  (The events in the episode are apparently loosely based on real events from C.K.'s life.)  I also love the complexity of the issues that C.K. has chosen to grapple with in this episode: kids and drugs and how a parent can best respond.  This episode avoids any easy answers or simple TV resolutions, and while I feel that there is an anti-drug message, ultimately, to the show, it is one that lives in the shades of grey that make up real life.  The whole flashback cast is terrific, particularly Mr. Sudduth and Amy Landecker, who returns as Louie's mom.  (F. Murray Abraham also returns to the show, playing yet another character, this time Louie's dad in one great scene.)  This is another great, surprising, compelling installment of a great TV show.  (Click here for my review of Louie season four.)

6. Black Mirror: "The National Anthem" (season 1, episode 1) — While "The Entire History of You" has a more compelling sci-fi hook, I find that I still cannot shake the very first episode of the amazing British anthology show, Black Mirror.  There are scenes from this episode that have been seared onto my brain.  Of the six Black Mirror episodes that I have seen, this one presents us with a world that is closest to our own.  There are no sci-fi devices or anything like that in the world of "The National Anthem."  The only thing separating the world of this episode from our own is the horrifying way that we see someone use the technology that we already have.  As this episode opens, the Prime Minister of England, Michael Callow (Rory Kinnear, familiar to all Bond fans) is informed that the popular young Princess Susannah has been kidnapped.  Her abductors promise to kill her unless the Prime Minister… well… you have to watch the episode.  Although the scenario is far-fetched, the beauty of the episode is the way events unfold in a terrifyingly realistic way.  If this scenario ever actually happened in real life, one could easily see events playing out exactly as they do in this episode.  And that is staggeringly frightening to contemplate.  This episode is bold and gripping and dark.  It's difficult to watch at times but, boy, few things I saw on TV this year made a deeper impact on me.  (Click here for my review of Black Mirror seasons one and two.)
C'mon back tomorrow for the conclusion of my list, numbers five through one!