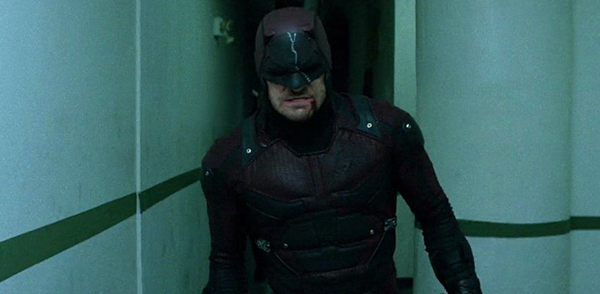 The Top Twenty Episodes of TV in 2016 — Part One!
I hope you all enjoyed my list of the Twenty Best Movies of 2016!  And now, onward to TV…
Just like I felt when considering all the movies I'd seen in 2016, on the one hand I feel like I watched a lot of amazing TV in 2016, and on the other hand, in this era of Peak TV I feel that what I saw was just a drop in the bucket compared to all the great TV that is out there.  I never found time to watch: Veep, Transparent, Silicon Valley season 3, Horace and Pete, Atlanta, Better Things, Roots, The Man in the High Castle, Preacher, Powers season 2, Documentary Now!, Halt and Catch Fire, Red Oaks, Lady Dynamite, Fleabag, Search Party, Rectify, The Good Place, and many other great shows.
But, on the other hand, I saw so much great TV that I felt the need to expand what had once been a Top Ten list and which was, in 2015, a Top Fifteen list, to a TOP TWENTY list this year.
And so, I am proud to present to you my list of the Top Twenty Episodes of TV in 2016:
20. Last Week Tonight with John Oliver: "President-Elect Trump" (aired on 11/13/16) — Week in and week out in 2016, John Oliver solidified his claim as heir to the throne of Jon Stewart (whose tenure as host of The Daily Show was deeply, profoundly missed this tumultuous election year).  I was all set to write about Mr. Oliver's searing indictment of Republican Presidential nominee Donald Trump in his "Make America Drumpf Again" episode (watch it here), or his warnings about the dangers of Brexit (watch it here), and yet following the upheaval of November 8th I found I could only post Mr. Oliver's final show of 2016, which aired just a few days after the election.  Mr. Oliver perfectly summed up the emotions felt by the almost 66 million Americans who cast ballots for Hillary Clinton.  You can watch the whole episode at the link above.  It's been a rough past few weeks without Mr. Oliver's presence and I can't wait for his return in early 2017.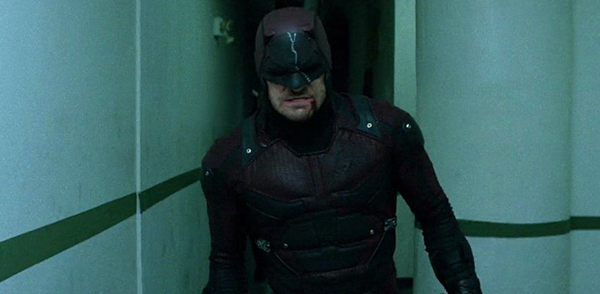 19. Daredevil: "New York's Finest" (season two, episode three, released on 3/18/16) — The second season of Netflix's Daredevil wasn't as consistently spectacular as season one, but other than the anticlimactic rooftop ending I still thought it was a great season of superhero TV.  This third episode was a standout, possibly the high point of the season-long story of Daredevil's confrontation with violent vigilante Frank Castle ("the Punisher").  This episode begins with DD defeated and chained up on a roof in Hell's Kitchen, and explores the two characters' dramatically different viewpoints on crime and punishment.  While the Punisher has often been used, and seen, as a hero (albeit a dark one), I like that this episode (and really, this whole season) presented the Punisher not as a hero but as the flawed almost-villain for DD to confront and defeat.  This episode uses Matt and Frank's rooftop conversation/argument to frame a look into both men's backgrounds — the Catholic nun who helped raise Matt, and Frank's experiences as a soldier — and how those events shaped the men they are now.  The episode concludes in the best action sequence of the season, a vicious extended fight as DD tries to make his way out of the building atop which he'd been held, fighting his way through a hallway and down a flight of stairs, trying to get past a huge group of angry gang-members.  It's riveting, intense and very much not-for-kids.  I loved it.  (Click here for my full review of Daredevil season two.)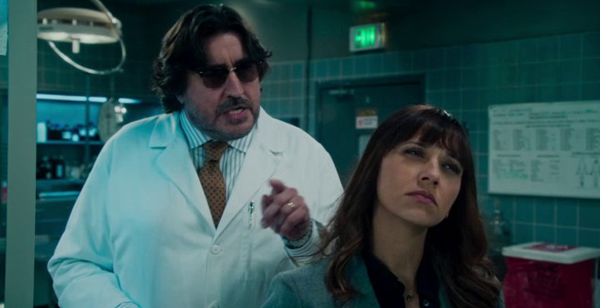 18. Angie Tribeca: "Pilot" (season one, episode one, aired on 1/17/16) — Because TBS didn't know quite what to do with this show and held the release of the first season, we actually got two full seasons of Angie Tribeca in 2016.  Every episode was great, but the pilot sticks out in my mind as being particularly terrific, a wonderful entry-point into this nutty world.  Angie Tribeca (created by Steve and Nancy Carell) is a crazy, silly, Police Squad/Naked Gun style farce, focusing on a squad of Los Angeles homicide detectives.  Rashida Jones shines as the lead character, Angie, and she's surrounded herself with a terrific ensemble.  I particularly enjoy Jere Burns as Lieutenant Atkins, the always-slightly-yelling head of the precinct, and Alfred Molina as the bizarre coroner Dr. Edelweiss.  In this pilot episode, Angie gets a new partner, Jay Geils, and together they investigate someone trying to blackmail the mayor.  One of my favorite gags of the whole run of the series is in this first episode: when Angie warns a suspect, played by Gary Cole, not to do anything stupid, the camera then cuts to Mr. Cole's character sticking a metal fork into a toaster.  That's the tone of this show, and it's right up my alley.  (Click here for my review of Angie Tribeca season one, and here for my review of season two.)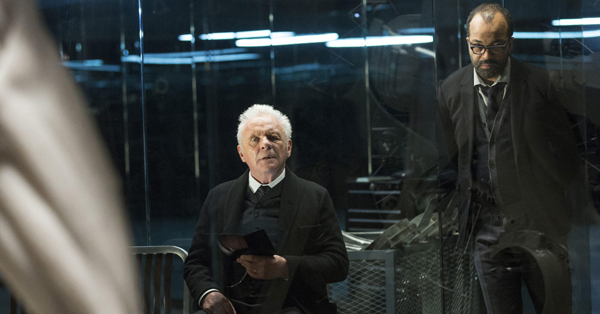 17. Westworld: "The Original" (season one, episode one, aired on 10/2/16) — Westworld was an impressively ambitious undertaking.  I quite enjoyed the first season, even though I had some complaints about the show's focus on mysteries (many of them currently unresolved) over its characters.  The first season was relatively consistent, but I have to highlight the extra-length pilot, which was an impressive introduction to this sci-fi world and its sprawling cast of characters.  I appreciated that this first episode put the spotlight on the robot characters (the Hosts): Dolores (a terrific Evan Rachel Wood), Teddy (James Marsten), Maeve (Thandie Newton), and others.  I was intrigued by this episode's exploration of the Hosts' Groundhog Day like existence, reliving similar events and moments over and over again.  Bernard asks Dolores "have you ever questioned the nature of your reality?", and this episode sets up Westworld's viewers to ask that same question about the show itself, beginning with some playful misdirection about Teddy's true nature.  The robots are front-and-center (and the prime sources for the audience's engagement and sympathy), but this first episode also introduces us to an array of human characters as well: Bernard (Jeffrey Wright, spectacularly deadpan as always), Dr. Ford (Anthony Hopkins, who is great fun to see participating in a TV series), Bernard's assistant Elsie, the complaining writer Sizemore, the stoic head of the park Theresa, the head of security Stubbs, and the enigmatic Man in Black (the always fantastic Ed Harris).  This episode delighted me with its visual splendor — this episode looked absolutely gorgeous, with beautiful vistas and spectacular sets and costumes.  The production design on display was magnificent.  This first episode left me with lots of questions, but I was 100% on board for the journey.  When Dolores swatted that fly in the episode's final moment, I had a big smile on my face.  (Click here for my review of Westworld season one.)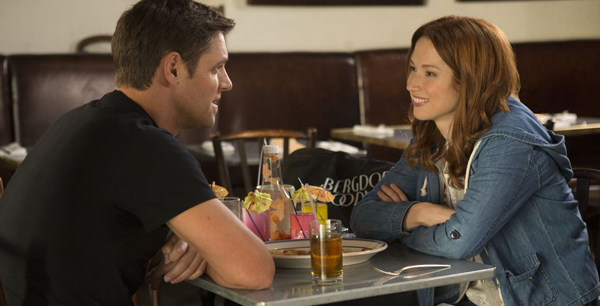 16. Unbreakable Kimmy Schmidt: "Kimmy Walks Into a Bar!" (season two, episode seven, released on 5/15/16) — This episode marked an interesting shift in direction for the wonderful Netflix comedy, as it began to explore in a deeper way the darkness of the show's premise: that Kimmy was held captive for many years.  In this episode, Kimmy meets an Army veteran, Keith (Samuel Page), and we see that both Keith and Kimmy are suffering in their own ways from PTSD.  This is a fascinating start to a story-line that would run until the season two finale, in which we'd see Kimmy finally learning to face her past.  I loved that Tina Fey and the show's creative team chose to address this aspect of their show's premise head-on, and this also eventually led to Ms. Fey's terrific recurring appearances as Kimmy's drunk therapist.  But all that aside, I have to be honest: the reason this episode is on this list is because it contains what I believe is the funniest gag I saw on TV this year: the out-of-nowhere parody of Game of Thrones' "Hardhome," in which Jacqueline Vorhees (Jane Krakowski) raises her arms like the Night King and leads a bunch of rich white people out of her rival Deirdre Robespierre (Anna Camp)'s gala.  I almost fell off my couch, I was laughing so hard.  Brilliance.  (Click here for my full review of Unbreakable Kimmy Schmidt season two.)
I hope you'll all join me back here on Monday for numbers fifteen through eleven!