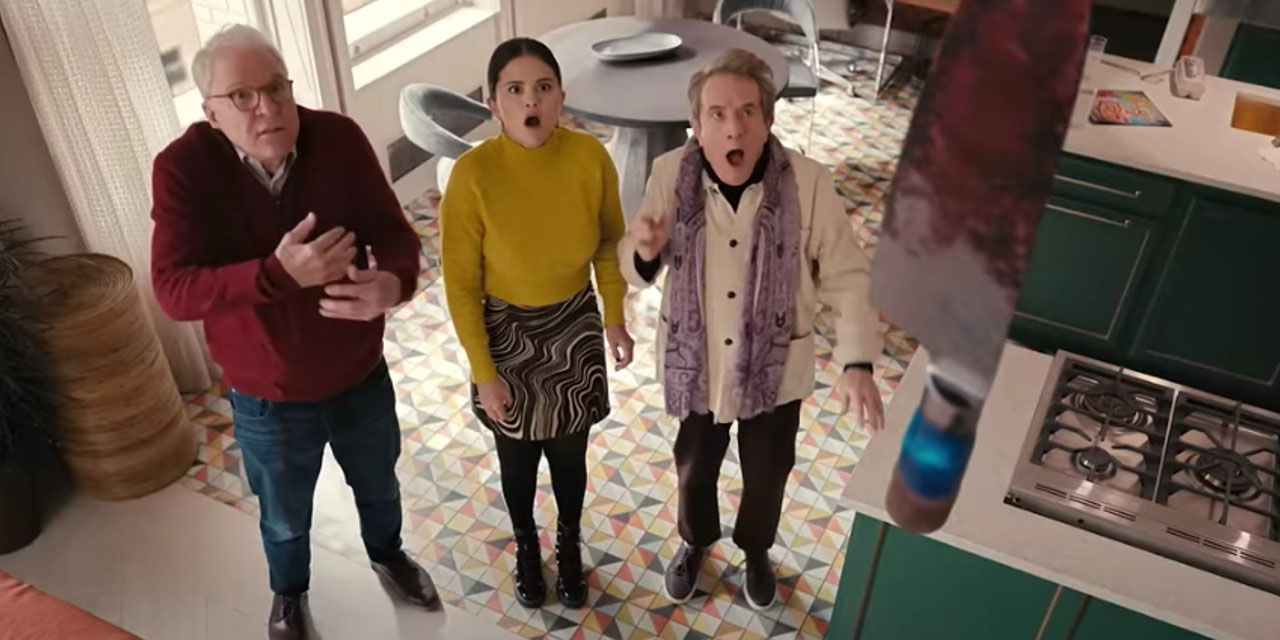 Josh Reviews Only Murders in the Building Season Two
I adored the first season of Only Murders in the Building.  I must confess that I was somewhat nervous about whether the second season could possibly live up to what a perfect concoction that first season was.  I'm relieved to report that season two of Only Murders in the Building doesn't miss a beat; it's a fantastic continuation and expansion of what began in the first season.
For this show to succeed, it has to work as a comedy, a character-based drama, and also a mystery.  I was happy to see that season two expertly balanced those three aspects of the show just as well as had been the case in season one.  I was surprised that the first season ended on a cliffhanger, and I worried a bit as two whether this show could really sustain itself.  Would it turn into a Murder She Wrote sort of thing, stretching credulity that so many murders could surround our lead characters?  I was very pleased by how much I enjoyed the new twisty-turny mysteries introduced in season two, and how well those new questions connected to the characters we'd already met in season one.
I loved the way the show used these new mysteries to deepen and enrich the characters.  One of the things I enjoy best about this show is how empathetic it is to all its characters.  The show would often introduce characters who are (or appear to be), if not quite villains, at least one could say they're antagonistic to our three heroes.  And then, time after time, the show spends time fleshing out those characters, allowing us to know them and we to understand their point of view.  This allows us to build empathy towards them.  My favorite episode in season three was the third-episode spotlight on Bunny (Jayne Houdyshell).  That episode really made me love Bunny!!  That was so critical, because we have to invest in the story of the investigation of her death.  That might be the best example, but I also enjoyed the way the show spent time with, say, Teddy Dimas (Nathan Lane) and also his deaf son Theo (James Caverly).
The show's central trio of Steve Martin, Martin Short, and Selena Gomez continue to be an absolute delight.  The show is at its best when the three are together; their comedic energy is wonderful.  I love these actors and I love these characters, and it's never not fun to see them bouncing off of one another.
A key aspect of the show's strength in season one was the fantastic supporting cast, and that was even more the case here in season two.  I love that the show has continued to explore and develop the denizens of the Arconia and the other friends and foes in our central trio's orbit.  I was happy to see Da'Vine Joy Randolph back for more as Detective Williams; her deadpan attitude and ever-present frustration with our heroes was always funny.  I've enjoyed the glimpses the show has given us into her private life; I'd love to see more of that in future seasons.  I'm glad that Tina Fey returned, in a surprisingly big way, as rival podcaster Cinda Canning.  I was not expecting how deeply the show wound up digging into the life and backstory of Poppy (Adina Verson), Cinda's perpetually put-upon assistant.  That was great.  Michael Cyril Creighton (Spotlight) is perfect as the prickly, cat-loving Howard Morris; I loved getting to see him involved in a cute flirtation with a fellow Arconia denizen (who is an actual Broadway singer, something Howard can only dream about).  (Hearing his yodeling group's yodeling version of the show's main theme over the end credits of episode eight was a highlight of the season for me!)  Jane Lynch is comedic gold as Sazz Pataki, Charles' stunt double from his Brazzos days; her break-up scene, on Charles' behalf, with an imprisoned Jan was so, so funny.  Speaking of Jan, I wasn't expecting to see Amy Ryan (The Wire, The Office, Gone Baby Gone) back, but I loved how the show used her here in season two; her weird, so-wrong, continuing romance with Charles was a hoot.
We got a lot of great new additions to the ensemble in season two.  The great Shirley MacLaine was phenomenal as Bunny's tough, dry-witted mother Leonora Folger.  Her scenes with Steve Martin just crackled.  It was wonderful seeing Ms. MacLaine in a juicy role like this.  She doesn't have too much time on screen, but Andrea Martin (SCTV, Wag the Dog, My Big Fat Greek Wedding, the film adaptation of the Broadway musical version of The Producers… and I will always especially love her for originating the role of Quark's mother "Moogie" on Star Trek: Deep Space Nine) was a delight as Charles' sweet long-time make-up person, Joy.  Cara Delevingne (Suicide Squad, Valerian and the City of a Thousand Planets) was appropriately sexy and mysterious as Alice Banks, a new love-interest for Mabel.  I loved Amy Schumer's brief appearance playing herself (after having moved into Sting's former apartment in the Arconia).  It was fun to see Michael Rapaport (True Romance, Copland, Small Time Crooks) as grumpy NY Detective Krebs.  Christine Ko (Stumptown, Master of None: Moments in Love) was a great new addition to the Arconia gang as Nina Lin, the new board president (now that Bunny is dead).  And Zoe Colletti did a great job as Lucy, Charles' sort-of daughter.
Other thoughts on the second season:
I loved the running story of Charles' return to TV as "Uncle Brazzos".
I loved all the business with the bizarre, erotic painting of Charles' father.  (I enjoyed the flashbacks, allowing us to see a little more of Charles' not-great childhood.)
I'm not sure how Charles, Oliver and Mabel could continue living in the Arconia after discovering the secret passages allowing others to spy on them, and enter their apartments!  That was even creepier than the murders that have happened in the building!!
Martin Short was particularly great performing the "Son of Sam" monologue, which we saw him repeatedly do at parties over the years.  I enjoyed the way the show continued to develop and deepen his complicated relationship with his son Will (Ryan Broussard).  The revelations regarding Will's true parentage were sad for me to see; Mr. Short played those scenes exquisitely well.
I loved the glitter bomb!
Did anyone else find it weird that Bunny continued to be seen at the end of the show's (wonderful) opening credits scene, despite her being dead?
I liked seeing Theo help Mabel on Coney Island in episode seven.  It was nice to get some more insight into Theo's perspective on things and to see how he's handling everything that had happened.  I was bummed we didn't see more of him in the season's final episodes; I hope he has more to do in season three.
I was not surprised that the season ended on a cliffhanger, just as season one did.  However, I was very glad that the show allowed the various mysteries and stories that had been running through these first two seasons to come to a definitive conclusion, before skipping ahead a year to launch a new murder mystery.  That was the right choice.
Over-all, I was reasonably satisfied with how all the various mysteries came together in the end.  I'm not sure I quite understand everything — this is a show I hope I have a chance to watch through again some-time soon, so I can better follow all the twists and turns — but it felt like they answered most of the questions they'd raised.
The epic sequence in the finale in which almost all the show's main characters were gathered together, so the murderer could be revealed, was fun.  My one objection is that I don't really believe that Mabel and Alice would be able to put their feelings aside to work together like that.  (Alice's prior betrayal of Mabel was really rough!!)
The guest appearance of Paul Rudd in the finale was a pleasure!  Will we see more of him in season three?  (Maybe in flashbacks?)  I hope so!
I'm so impressed by how great this second season of Only Murders in the Building was.  I'm so happy they were able to maintain the quality throughout these ten new episodes.  Season three cannot come fast enough!!
Please support my website by clicking through one of our Amazon links the next time you need to shop!  As an Amazon Associate, I earn from qualifying purchases.  That means I'll receive a small percentage from any product you purchase from Amazon within 24 hours after clicking through.  Thank you!