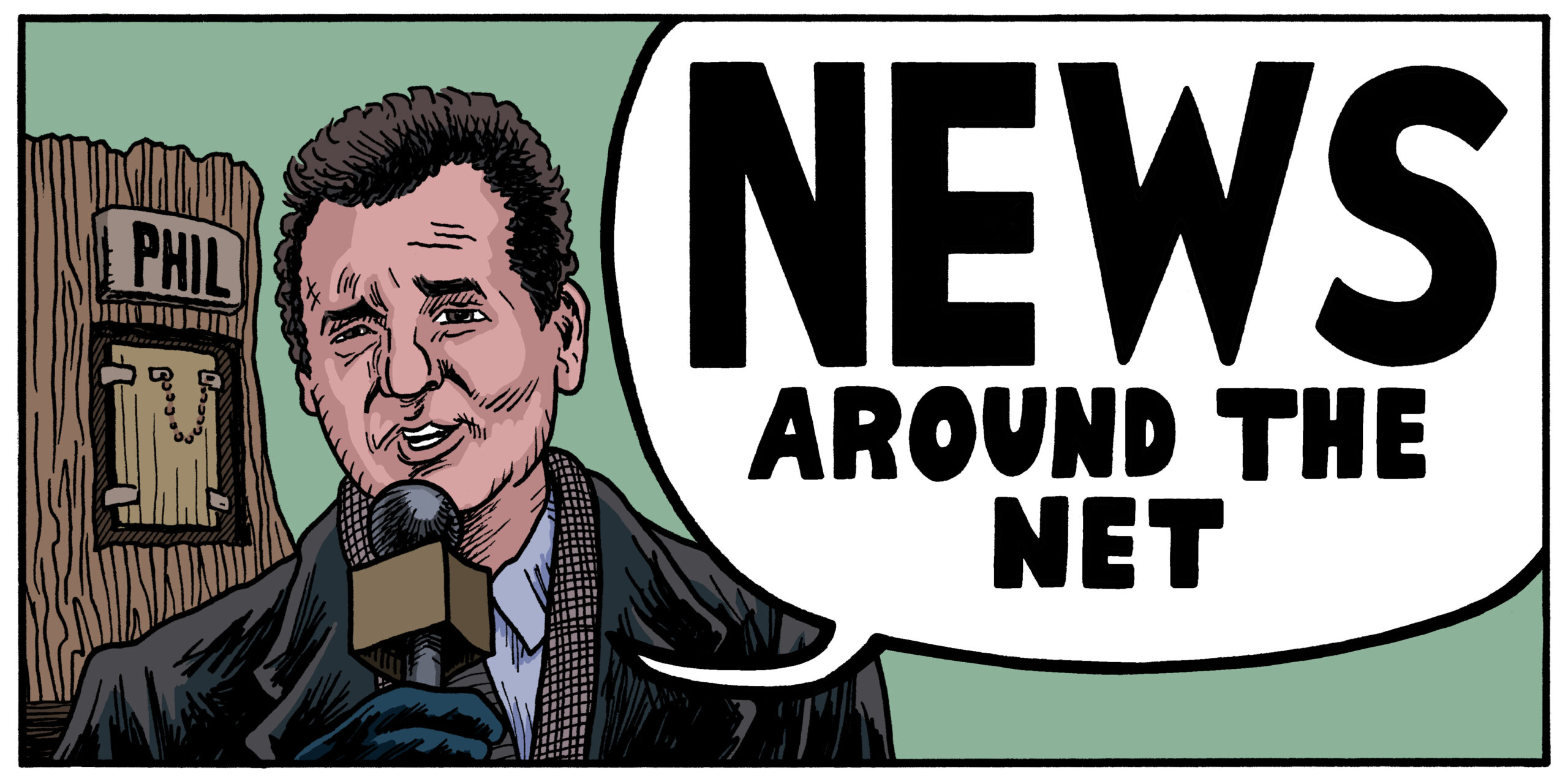 News Around the Net!
At last — Ted Lasso season three is coming!!
Here's the Super Bowl trailer for Indiana Jones and the Dial of Destiny:
This is a great-looking trailer for Air, the film reuniting Ben Affleck and Matt Damon on-screen:
I'm thrilled that Ben Affleck is back directing.  I think he's a terrific director.  (His adaptation of Gone Baby Gone is a masterpiece.)
Well, for sure the biggest news to drop since my last news post is that James Gunn and Peter Safran unveiled their slate of new DC film and TV projects!!  I must say, I'm thrilled by these announcements.  Let's take a look, shall we?
The initial arc is called Gods and Monsters, which is a terrific title.  It does a nice job summing up what DC is all about.  It's also, intriguingly, a chapter title in Darwin Cooke's masterpiece Justice League saga DC: New Frontier.  I would be thrilled if the plan here was to do a modern-day retelling of that story, as the overarching thread connecting the next few years of DC projects.  That would be amazing!!  (New Frontier was adapted into a strong animated film back in 2008 that is worth watching.)  (The name Gods and Monsters has been used with other DC properties as well, such as Bruce Timm's 2015 animated film depicting an interesting alternate-universe version of the Justice League!)
The first project will be a seven-episode animated series called Creature Commandoes.  I have little knowledge of or connection to these obscure DC characters, but the series is being written by James Gunn, so I am interested. I'm also intrigued that they're trying to assemble a voice cast who can also play these characters in live-action in future projects, which suggests a very cool degree of interconnectedness between these upcoming projects.  I love that.
Next up is Waller, a TV-show spin-off of Viola Davis' character who initially appeared in the first Suicide Squad film, and who also appeared in James Gunn's far-superior second Suicide Squad film as well as his Peacemaker show.  I am really, really bummed that Mr. Gunn's commitments to overseeing this new DC universe means he's too busy to make a second season of his brilliant, amazing, profane Peacemaker show for now.  This Waller show, which will apparently feature many of the Peacemaker cast members, is a consolation prize.
Next up is Superman: Legacy, a new Superman film being written by Mr. Gunn.  This will feature a new actor playing Superman.  I am ready for a great new Superman film.  Will this be it?  I trust Mr. Gunn.
Then comes Lanterns, a Green Lantern TV series featuring Hal Jordan and John Stewart.  This is described as an Earth-based show that will be "in the vein of True Detective".  Ok… I don't know what that means!  I'm curious to learn more about this.
After that will come a movie adaptation of The Authority, the violent superhero team originally created for Jim Lee's Windstorm universe by Warren Ellis and Bryan Hitch.  Their original run on The Authority was brilliant.  This could be an incredible movie if done right.  There are rumors that characters from the Authority will first be introduced in the Superman film, leading me to wonder if that film might not adapt the "What's So Funny about Truth, Justice, and the American Way?" story from Action Comics #775 back in 2001, written by Joe Kelly and pencilled by Doug Mahnke and Lee Bermejo.  In that story Superman, seen by many as old-fashioned and out-of-touch, confronts a more modern, violent super-hero team, and is able to prove to them that his way is best.  That could be a terrific basis for a Superman film.
Next up is Paradise Lost, described as Game of Thrones on Themyscira, the home of Wonder Woman.  As with Lanterns, this is an out-of-the-box approach.  I'm not initially so interested in a Themyscira story that doesn't involve Wonder Woman (the series is apparently set some time in the past), but I'm intrigued to learn more about this.  I'm also curious whether this will maintain a loose continuity with the 2017 Wonder Woman movie, or if it will go its own way.
Then we come to The Brave and the Bold, an adaptation of Grant Morrison and Andy Kubert's "Batman and Son" storyline from the comics, in which Batman discovers he has a son who has been raised to be a master assassin (by his mother Talia, the daughter of villain Ra's al Gaul).  That's a terrific storyline, and Damian Wayne has become a very popular character in the comics.  It will be cool to see him on-screen.  And I love that a film/TV project is finally using this famous DC Comics title.  I'm excited by this one!
Out of continuity from these other films will be the sequel to Matt Reeves' The Batman, to be called The Batman Part II.  I'm delighted this film series is continuing (through that title is boring).  We'll also still be getting the planned sequel to Todd Phillips' Joker.  These out of continuity films will be called Elseworlds, adapting the much-loved name used in the comics for alternate-universe storylines.  I like that approach.
We'll also be getting a Booster Gold TV series.  I love Booster, a janitor from the future who comes back in time and pretends to be a super-hero.  If done right, this could be great, a funny and exciting film.
Then we come to Supergirl: Woman of Tomorrow, a film adaptation of Tom King and Bilquis Evely's marvelous mini-series from last year.  This sci-fi mini-series sees Supergirl swept up in an epic sci-fi adventure.  It's a terrific story and another great choice for an adaptation.  Again, if done right, this could be a terrific movie.
Finally, they are working on a Swamp Thing film, peeking into the horror side of the DC universe.  I don't have much attachment for Swamp Thing, outside of Alan Moore's famous run on the series from the eighties.
So… wow!!  That is a very elaborate and very eclectic array of upcoming projects!!  They all sound very, very exciting to me.  I hope these actually happen, and I hope they are good.  It would be very cool to see DC and Warner Brothers finally get their act together to give us a great new connected superhero universe and give Marvel a run for their money.
And while Mr. Gunn and Mr. Safran are working on their reinvention of the DC movies, there are still FOUR other previously-made DC films coming out this year.  Here's our first substantial look at the much-delayed Flash movie:
Wowsers, that actually looks pretty great!!!  I am over the moon happy to see Michael Keaton back as Batman!
Not to be outdone, here's an in-depth interview with Marvel Studios head honcho Kevin Feige on the upcoming Marvel slate of films and shows.  There's a LOT of cool Marvel stuff coming down the pike!  On the other hand, I'm not thrilled to hear that Disney's financial problems might cause them to pump the breaks on the upcoming slate of Marvel TV shows on Disney+.  This report suggests we might only get two new shows in 2023, Secret Invasion and Loki season two.  That means delays for the Echo spin-off show, the Daredevil show, Ironheart, and others.  Bummer!
But back in the good news department, here's a terrific new trailer for Guardians of the Galaxy vol. 3:
Alan Sepinwall has a look behind the scenes at the Party Down revival.  I am so excited for this!!
Click here to watch a trailer for a very interesting-looking documentary film, called WHAAM! BLAM! Roy Lichtenstein and the Art of Appropriation.  The doc will examine whether famous pop artist Roy Lichtenstein was a genius… or a rip-off artist.  Click here to learn more.  I can't wait to watch this!
Sad news that actress Annie Wersching passed away last month, at only 45.  Ms. Wersching was great in the later seasons of 24, and she also was terrific as the Borg Queen in season two of Star Trek: Picard.  What a loss at such a young age.
I was also sad to read of the passing of actor Charles Kimbrough, who played straight-laced news anchor Jim Dial on Murphy Brown.  Mr. Kimbrough was fantastic on that show!
This is an interesting look back at when Netflix surprised the world with a trailer during the Super Bowl announcing the release of a finished movie immediately after the game: The Cloverfield Paradox!!  That was an amazing stunt.  Sadly, while I loved Cloverfield and I also loved the sort-of sequel, 10 Cloverfield Lane, I thought The Cloverfield Paradox was a disappointment.
I don't think I'm the only person shocked to learn that Whose Line is it Anyway? was still being made!  This article about the show's stars walking away from the long-running series because of lack of compensation and lack of promotion is sad for me.
I'm happy that Disney/Pixar are working on a fifth Toy Story movie, and that Tim Allen will be back to voice Buzz Lightyear after Chris Evans voiced the character in Lightyear.  Good move.  (I thought Lightyear was just OK.  Chris Evans was great as the voice of Buzz in that movie, but I don't think there was any reason for them to have not brought back Tim Allen to voice the character.)
This is an interesting interview with Star Wars mastermind Dave Filoni, who is promoting the upcoming third season of The Mandalorian.
Speaking of Star Wars, I'm excited by the variety of different animation studios working on the second season of Star Wars: Visions… including Wallace and Gromit's Aardman Studios!!  Holy cow!  An Aardman Star Wars short??  I cannot wait to see that!
I'm excited to read about this in-the-works documentary about Paul McCartney's time with Wings!
A new Guy Ritchie movie is always interesting to me, and his new film, The Ministry Of Ungentlemanly Warfare (terrific title!), has a great cast!
I'll leave you with this article that blew my mind: an A.I. created fake — but totally convincing — artwork for a movie that never existed: a 1976 version of Tron directed by Alejandro Jodorowsky.  You have got to click through to that article to see some of the absolutely wild images the computer created.  Amazing.  I wish that movie actually existed!!!
Thank you so much for reading!  I appreciate you!  It would mean a lot to me if you could please support my website by clicking through one of my Amazon links the next time you need to shop!  As an Amazon Associate, I earn from qualifying purchases.  That means I'll receive a small percentage from any product you purchase from Amazon within 24 hours after clicking through.  You don't have to purchase what I've linked to!!  If you click through my links, anything you purchase from Amazon will help. Thank you!