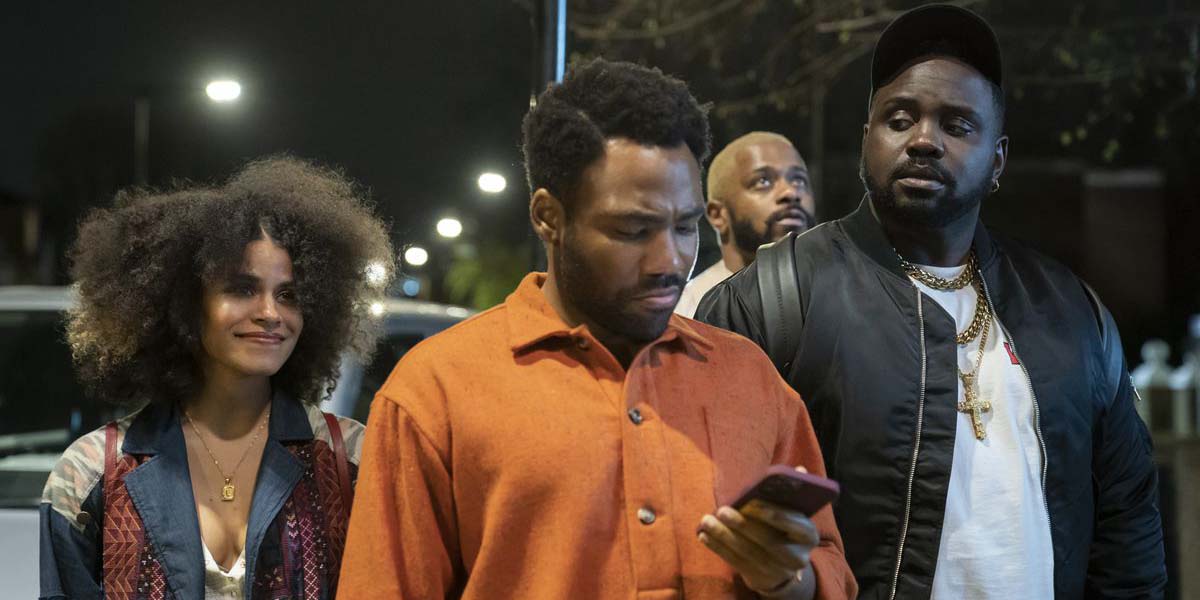 Josh Reviews Atlanta Season Three
After four years away, Donald Glover's series Atlanta finally returned this spring with a ten-episode third season.  Earn (Donald Glover), Darius (Lakeith Stanfield), and Van (Zazie Beetz) are all in Europe, accompanying Alfred/Paper Boi (Brian Tyree Henry) on tour.  This doesn't seem to be the tour the gang were about to embark on at the end of Atlanta season two, but rather a second tour several years later.  Paper Boi is established as a successful rap artist and Earn seems much more confident and competent as his manager.  The season follows this foursome on a variety of adventures and misadventures, both together and separately, while visiting Amsterdam, London, and Paris.  There are also a number of stand-alone episodes featuring one-off vignettes about other characters.
I was excited for new episodes of Atlanta, and I enjoyed this season.  At the same time, I did not find myself nearly as engaged by the show as I'd been when watching those first two seasons.  I must confess that I find it difficult to determine how best to analyze a show that returns after so long away.  With a gap of four years between seasons, an enormous amount of expectation and anticipation has built up among the audience.  And after waiting so long, we get only ten episodes (which is a normal-length season for a TV show in 2022, but which still feels short to someone like me who grew up in the age of 24-plus episode seasons).  And so it's hard to imagine a show not disappointing with the pressure of that sort of build-up and expectation.  I try to put that all out of my mind when thinking about a show, but it's hard to banish that entirely.
One of my favorite aspects of Atlanta has been its narrative playfulness.  From episode-to-episode, the show could be entirely different.  One episode might be hilariously funny, and the next wrenching and heartbreaking.  The show really embraced that idea here in season three, becoming almost an anthology show in the process.  Four of the ten episodes this season don't feature Earn, Paper Boi, Darius or Van.  (There's the premiere, "Three Slaps," about the young boy Loquareeous who winds up adopted by a horrible white lesbian couple; "The Big Payback," a piece of speculative fiction in which African Americans are given the right to sue the ancestors of the white families who had enslaved their forebears; "Trini 2 De Bone," in which a white couple reacts to the death of their Trinidadian nanny, Sylvia, who has basically raised their child; and "Rich Wigga, Poor Wigga," in which a millionaire decides to pay for the college tuition of every black student at a certain high school, though they have to appear before a panel to determine their blackness.)  Of the six episodes that remain, not even all of them tell traditional types of stories about the show's four main characters.  (I'm thinking specifically about "New Jazz," which follows Alfred on a space-cake-fueled bizarre evening in Amsterdam; and also about the finale, "Tarrare," which focuses on the entirely new life and persona Van has created for herself in Paris.)
It's interesting: I loved when Atlanta broke format in its first two seasons — it was cool to see the show play with TV conventions and push itself to tell all different types of stories.  And I've loved this sort of thing in TV shows in the past.  (I'm thinking, for example, of Aziz Ansari's show Master of None, particularly in its second season.)  And yet, here, I found it somewhat frustrating.  I think this has to do with the long break between seasons.  Those first two seasons made me really like and care about the show's main characters!!  After such a long hiatus, I was excited to dip back into the lives of Earn, Alfred, Darius and Van, and I wish the season had allowed us to spend more time with them as opposed to going on all of these digressions.  It's no surprise that my favorite episode of the season was "The Old Man and the Tree," in which we get to spend time with all four main characters as they experience an extremely weird party hosted by a London billionaire.  (That might also have been the funniest episode of the season, which is also why I liked it so much!)
I quite enjoyed the stories given to all four main characters this season (while still wishing we'd gotten more time with each of them)!  It was nice to see Earn actually seeming to be doing a good job managing Paper Boi (even though he still does dumb things like leaving his laptop in the wrong country); while it was also sad to see him seeming so lost in his personal life.  I've been rooting since the beginning for Earn and Van to find a happy ending together, though the show seems to be making clear, again and again, that that is most likely not going to happen.  Similarly, it was fun to see that Paper Boi has only become more famous and successful since last we left him; though sad to discover in "Cancer Attack" that he feels he's lost his genuine musical inspiration.  My favorite Darius adventure this season was the slowly heartbreaking tale in "White Fashion" in which he innocently shares his enjoyment of the food at a small Nigerian restaurant with the white head of hospitality of a fashion company, only to see her drive that restaurant out of business with her food truck imitation.  I was bummed that Van was on the sidelines for much of the season, though the payoff came in the season finale spotlight on her.  That was a disturbing and sad story of how she had fled her old life, and all of its attendant responsibilities and disappointments, to craft an entirely new life and persona for herself in London.  That was such a sad story at heart, though wow did Zazie Beetz's powerful charisma make Vam/Tarrare such an entertaining character to watch, fake French accent or no.
It was interesting to see this show called Atlanta leave Atlanta behind!  It was fun to explore Europe with these characters, and I enjoyed the time spent this season giving us a taste of what these four Atlanta young people both enjoyed and disliked about these different European locations in which they found themselves.  We get a lot of that right away in the second episode this season, ""Sinterklaas is Coming to Town".  I was as amused as Al was at the kindly, hotel-like treatment he received in an Amsterdam prison… though that turned sour when we saw the crowd at the concert all in black-face, because they were dressed like Zwarte Piet.  (Something I had to google, by the way.  Wow.)
While I wasn't as in love with all of the stand-along "anthology" episodes this season, I respect Donald Glover and the makers of this show for their ambition.  Mr. Glover has often been quoted as saying that the goal of Atlanta is to express what it is to be Black in America, and I was impressed by how much every single one of these ten new episodes — especially the "anthology" ones!! — had to say on that subject.  (Despite the fact that Earn & co. were not even in America this season!)  Sometimes the show makes its points with a sly joke; sometimes with a painful sledgehammer.  Both methods are effective.  This is nothing new for the show.  (This might not have been so much on the minds of white people in America back in 2016, but remember that the first season finale of Atlanta depicted the show's characters witnessing a black man get shot by the white police officers…)  And if the show seems a little more serious now, a little more strident… well, given the realities of the United States in 2022, I'm not sure that's a bad thing.
To my delight, Atlanta season four has already been shot, and is coming out in September!!  I can't wait for the next batch of episodes.  (Though sadly, this fourth season looks to be the last for the show.  That is a bummer.)  I'm excited to see what's next.
Please support my website by clicking through one of my Amazon links the next time you need to shop!  As an Amazon Associate, I earn from qualifying purchases.  That means I'll receive a small percentage from any product you purchase from Amazon within 24 hours after clicking through.  Thank you!