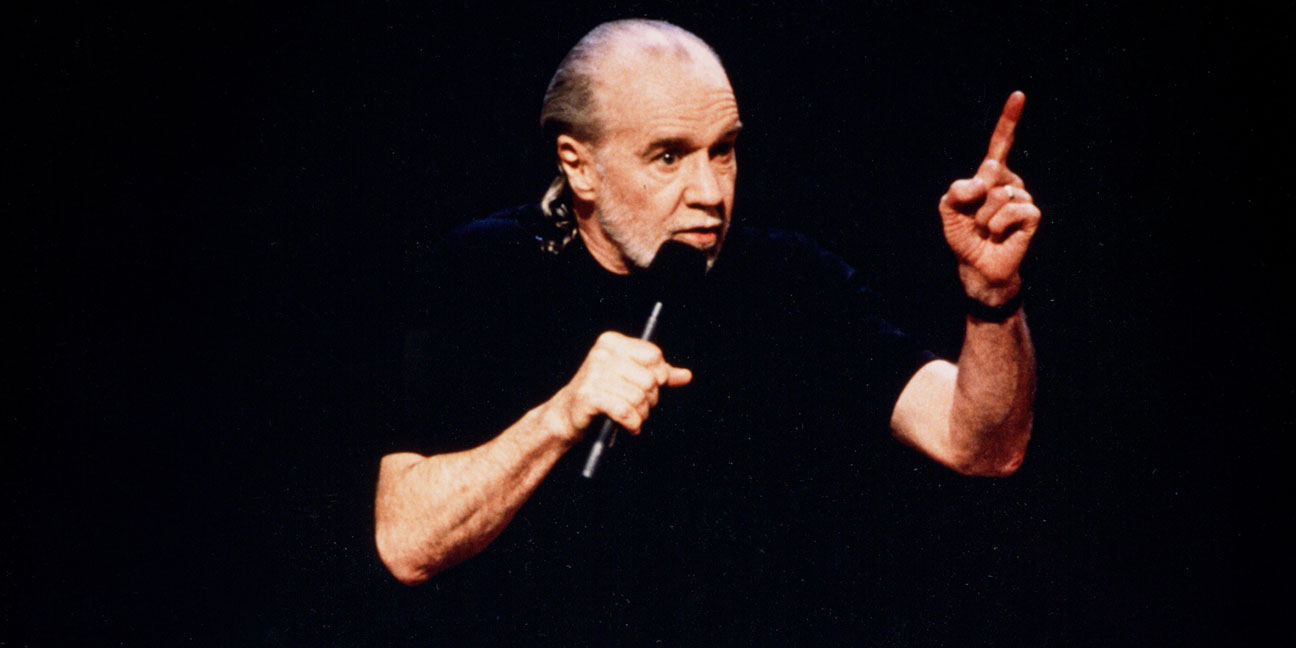 Josh Reviews George Carlin's American Dream
George Carlin's American Dream is a two-part documentary film (running close to four hours in total), exploring George Carlin's life and seminal stand-up career.  It was directed by Judd Apatow and Michael Bonfiglio.  (This is a fantastic companion piece to Mr. Apatow's extraordinary two-part Garry Shandling documentary The Zen Diaries of Garry Shandling).  
I've been a fan of George Carlin for decades.  As a kid, when I first heard his "seven words you can never say on television" routine, I was shocked and astounded, and I immediately fell deeply in love with how funny and audacious it was.  But what truly hooked me on Carlin was that one of my camp friends had an audio recording of his 1988 comedy special What am I Doing in New Jersey?  We listened to that over and over again — I thought it was brilliant then and I still think it's brilliant now.  (Seriously: I know that nostalgia might slightly be coloring my perspective, but I think What am I Doing in New Jersey? is one of the greatest stand-up specials ever made.  It's a near-perfect balance of juvenile silliness with angry, biting political commentary that, unfortunately, is still sadly relevant today.)  ("We're the only nation whose national anthem mentions rockets and bombs in the damn thing!!")
American Dream is a riveting exploration of George Carlin's life and work.  As we follow the arc of his career, we get tremendous insights into his home life, the good and the bad.  His daughter, Kelly Carlin, is featured extensively in the doc, and she speaks very openly about the highs and the lows of growing up as George Carlin's daughter.  She tells fascinating stories about the struggles that George and his wife Brenda went through together.  (It's uplifting that, despite the trauma and difficult times, this is one Hollywood marriage that didn't end in divorce!)  It's interesting to learn so much about the (apparently quite big-hearted) human being behind the stand-up routines.
The film also, of course, charts the many twists and turns in George Carlin's stand-up career.  As a fan, I was aware of the different personas he's adopted over the course of his multi-decade career, but this documentary beautifully highlights how bold and innovative Mr. Carlin was in — about once a decade! — completely changing his style and approach to stand-up in order to keep pushing the edge and to stay relevant.  There was the earliest phase of Mr. Carlin's career, in which he was a clean-cut, mainstream comic.  Then there was his shift into the counterculture, as he grew a beard and embraced the drug culture of the seventies.  (This is the era of his famous "hippie-dippier weatherman" bit.)  Then there was his move into clever wordplay and more biting social commentary… and finally his shift even further into anger and nihilism in the later years of his career.  In each phase of his career, Mr. Carlin was brilliant, funny, and insightful.  Any one of those phases might have been the life's work of another comedian.  That George Carlin could encompass all of these different styles and approaches is incredible, and it's a key to how he stayed so relevant throughout his multi-decade career.
And his work is staggeringly relevant!  That's a point the documentary drives home over and over.  Bits from the eighties and nineties about our culture and our politics are still (unfortunately) 100% on-point and relevant to our culture and politics today in 2022.  (One of the documentary's most incredible sequences is an almost five-minute fast-paced run towards the end of part two, in which various clips from Mr. Carlin's stand-up are edited together with clips from today's America.  It's staggering and heartbreaking.)
The film is filled with fascinating, funny interview clips with the people (mostly comedians) who knew, respected and loved George Carlin, including (but by no means limited to): Jon Stewart, Stephen Colbert, Jerry Seinfeld, Bill Burr, Chris Rock, Patton Oswalt, and so many others.
And we get to hear extensive clips of Mr. Carlin's interviews and stand-up performances from throughout his life.  Mr. Apatow and Mr. Bonfiglio's love for George Carlin truly shines through in seeing how much of Mr. Carlin's stand-up they managed to incorporate into this documentary.  They let the clips play — they don't cut away after two seconds — thus allowing the viewer to really sink into his bits.  It's a joy.  As a fan, every single classic bit that I've known and loved for so long was included in the doc.  (And I particularly loved hearing other great comedians wax poetic about how much they loved all the Carlin bits that I too have loved for so long!!)
For any fans of comedy out there, I highly recommend this documentary.  I could easily have watched four additional hours.  It was a delight.
Please support my website by clicking through one of our Amazon links the next time you need to shop!  As an Amazon Associate, I earn from qualifying purchases.  That means I'll receive a small percentage from any product you purchase from Amazon within 24 hours after clicking through.  Thank you!