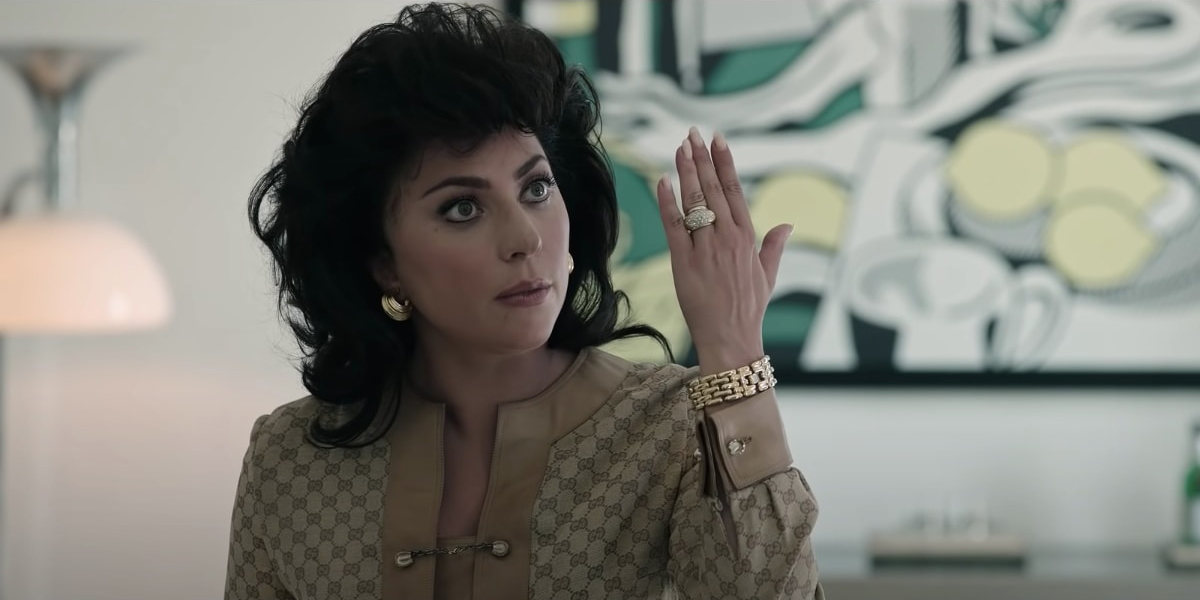 Josh Reviews House of Gucci
Amazingly, Ridley Scott directed two films that were released in 2021: The Last Duel (which I think is a very strong film that was improperly ignored upon its release) and House of Gucci.  I missed House of Gucci in theaters when it was first released, so I'm thrilled to have caught up to it now.
The film is based on Sara Gay Forden's 2001 book The House of Gucci: A Sensational Story of Murder, Madness, Glamour, and Greed.  The film begins in 1978, when Patrizia Reggiani (Lady Gaga) first meets Maurizio Gucci (Adam Driver).  Patrizia is an enterprising young woman who works in the office of her father's trucking business.  She is excited by the wealth and glamour of the Gucci family, even though Maurizio is, at the time, a law student with little involvement in the Gucci business, which is being run by his father Rodolpho (Jeremy Irons) and Rodolpho's brother Aldo (Al Pacino).  What follows is a tragic story of fashion and wealth and eventually betrayal and murder.
I've said this before, but it's worth repeating: Ridley Scott is one of the most talented directors working today.  There are so many elements that impress me about his work, but probably what tops the list is how he is able to adapt his style to each new movie he works on.  Mr. Scott has directed so many different types of films over the years!  No two are alike.  Look at the films he's directed in the last decade: The Counselor, Exodus: Gods and Kings, The Martian, Alien: Covenant, All the Money in the World, The Last Duel, and now House of Gucci.  Each of those films is so different from the others!  And yet, at the same time, the quality is very high across them all.  (The only real misfire is Exodus: Gods and Kings.  I'd love to someday see a longer director's cut of that film.  Many of Mr. Scott's films have been greatly improved by their longer director's cuts, most notably Kingdom of Heaven, which was a mess in its chopped-up theatrical version but a masterpiece in its extended cut.)
Actually, the one previous film of Mr. Scott's with which House of Gucci shares some DNA is All the Money in the World, as both are concerned with the corrupting effects of wealth.  Both films give us a peek into a world of incredible privilege and money, and while that is captivating, both films make a point of showing us the dark underbelly that lies beneath.
House of Gucci is a tragedy, but Mr. Scott is a master of tone and he's able to keep the film upbeat and fast-paced, with even some moments of humor.  This kept me as a viewer captivated and engaged; but Mr. Scott was careful to never undermine or lose sight of the character dramas at the heart of this story.  It's a skillful balancing act.
The film is propelled by its astounding cast, each of whom delivers incredible, memorable performances.  Let's start with Lady Gaga, who is astounding as Patrizia Reggiani.  Lady Gaga is so vibrant and endearing when we first meet Patrizia.  We instantly like her and are rooting for her.  And then she (assisted by a terrific script written by Becky Johnston and Roberto Bentivegna) guides us step by careful step down Patrizia's journey into darkness, greed and violence.  It's absolutely incredible, an all-time great performance.  Every bit her equal is Adam Driver (reteaming with Mr. Scott for the second film in a row, after his terrific work as Jacques Le Gris in The Last Duel) as Maurizio Gucci.  At this point it seems like Mr. Driver is capable of pretty much anything.  To see his growth from his scene-stealing role in Girls through the diverse array of performances he's delivered in recent years (from the Star Wars prequels to BlacKkKlansman to The Report) is so impressive.  He's dynamite here as Maurizio.  Mauricio comes across as an innocent when we first meet him.  He's sheltered and private, but while he understands the obsession many have with his family's wealth and glamour, he wants nothing to do with it.  Sadly, things curdle for Maurizio as the story unfolds, and Mr. Driver plays every small nuance in Maurizio's transformation as he eventually embraces a role within (and eventually at the head of) his family's company.
Jeremy Irons is very much in Adrian Veidt from Watchmen mode here as the wealthy Rodolpho.  Rodolpho is getting on in years but he's still dignified… not to mention singularly strong-willed and stubborn.  I particularly enjoyed Mr. Irons' scene with Al Pacino as Aldo; it was so much fun seeing those two great actors together!  Speaking of Mr. Pacino, he is a lot of fun as the confident, jovial Aldo.  It's a fairly restrained performance by Mr. Pacino, though he does get to go big in a few key moments.  I loved every minute Mr. Pacino was on screen.
I freely admit that I've never been a big fan of Jared Leto.  His performances that I've seen have seldom connected with me, and I much of what I've read about his method-like process on set sounds pretentious and annoying to me.  But, wowsers, Mr. Leto is absolutely fantastic here as sad-sack, bumbling Paulo Gucci.  Mr. Leto is totally unrecognizable under brilliant prosthetics.  (The make-up and prosthetics look perfectly real and life-like — I would never ever have suspected this isn't what the actor playing Paulo really looks like, had I not already known that it was Jared Leto playing the role.)  Mr. Leto is so funny and at the same time so sad as Paulo.  It's really quite a brilliant piece of work.  My hat is off.
Salma Hayek is great fun as Giuseppina "Pina" Auriemma, the fortune-teller with whom Patrizia winds up forming a close bond.  Jack Huston is perfectly suave and inscrutable as Domenico De Sole, the lawyer with a powerful role within Gucci.  Camille Cottin is memorable as Paola Franchi, the old friend of Maurizio's who begins a relationship with Maurizio after he and Patrizio separate.  (I wish the film told us more about what happened to Paola!)
In fact, my only real complaint about the movie was that I wanted more!  I understand why the film ended when it did; nevertheless, I found the ending somewhat abrupt, and after being so captivated by the time I'd spent with all these characters, I wanted to know more about what happened to them all!  I suppose that's a mark of a successfully-told film.
Please support MotionPicturesComics.com by clicking through one of our Amazon links the next time you need to shop!  As an Amazon Associate, I earn from qualifying purchases.  That means I'll receive a small percentage from any product you purchase from Amazon within 24 hours after clicking through.  Thank you!