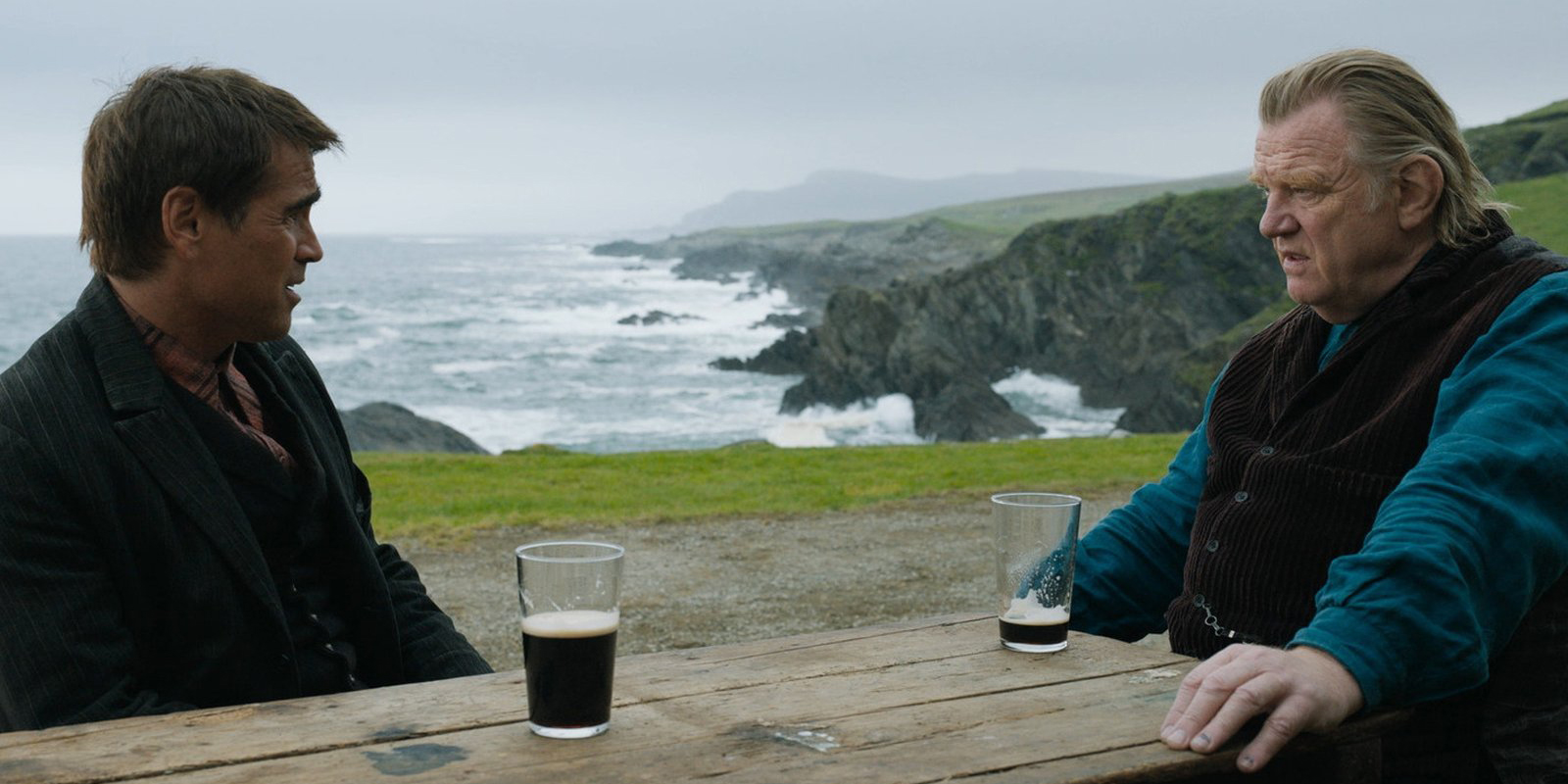 Josh Reviews The Banshees of Inisherin
The Banshees of Inisherin focuses on two men living on the fictional island of Inisherin, off the coast of Ireland, in 1923.  The story begins on the day when Colm (Brendan Gleeson) suddenly decides that he wants nothing more to do with the man who has, apparently, been his to-this-point lifelong friend, Pádraic (Colin Farrell).  Pádraic doesn't understand what's happening and grows increasingly desperate to restore his relationship with the man who seems to be his only real friend on the island.  Colm, meanwhile, takes increasingly radical action in his quest to have nothing more to do with Pádraic.  The film was written and directed by Martin McDonagh (In Bruges, Three Billboards Outside Ebbing, Missouri).
I found this film to be somewhat confounding.
On the one hand, for much of its run-time, I thoroughly enjoyed it.  Mr. McDonagh is a wonderful director, and the film has a beautiful look.  It captures the gorgeous and lonely Irish landscape extremely well.  Mr. McDonagh is an even better writer.  He has a talent for dark comedies, and there are a number of extremely funny scenes in the film.  His dialogue is wonderful; spare but very snappy.
Both Colin Farrell (Daredevil, The Lobster, True Detective, Fantastic Beasts and Where to Find Them) and Brendan Gleeson (Alastor Moody in the Harry Potter films, Troy, Live By Night, The Guard) are magnificent in the lead roles.  Mr. Farrell does a beautiful job turning down his usual charisma to portray sad-sack Pádraic.  As the film develops and we start to understand Pádraic's almost desperate loneliness, Mr. Farrell brings incredible nuance and heartfelt empathy to the character.  Mr. Gleeson is compelling and enigmatic as Pádraic's former-friend Colm.  His gruff comic timing is impeccable, and his presence commands the screen.  Mr. Gleeson is able to draw the audience in, even as the film purposefully keeps Colm at a distance.  (Like Pádraic, we don't know what's going on inside his head or why he's taken this dramatic action of cutting off his former friend.)
Kerry Condon (who has been voicing Tony Stark's A.I. Friday for years in the MCU, and has played Mike Ehrmantraut's daughter Stacey throughout the run of Better Call Saul) is magnificent as Pádraic's sister Siobhán.  I loved getting to know this solitary, intelligent woman.  Ms. Condon elevated every scene she's in!  I only wish the film had allowed us to get to know her more.  (I'd love to watch a version of this story told entirely from Siobhán's perspective!)  I loved the way the film highlights Siobhán's uniqueness on the island visually; her outfits of red or yellow always stand out distinctly on the screen.  Barry Keoghan (Dunkirk, Druig in The Eternals, and he appeared in a cameo as the Joker in The Batman) is terrific as Dominic Kearney, a sweet but not very bright kid who's always getting into trouble.  I'm impressed by how completely Mr. Keoghan is able to transform himself into entirely different characters in each of his screen roles.
So what didn't I like about the film?  First off, I did not enjoy the dark turns in the second half.  (I'm going to try not to spoil all the film's twists, but please do beware some SPOILERS in the remainder of this review that you might want to avoid if you are planning to see this film but haven't yet.)  Specifically, I found the film take a sharp turn into distasteful and unpleasant as Colm starts to follow through on his vow to chop off his fingers if Pádraic continues to try to restore their friendship.  I didn't care for the violence and gore.  I know that Mr. McDonagh is renowned for his mastery of the "dark comedy", but this comedy turned too dark for my tastes, and it soured my enjoyment.
And as the acts of unpleasantness continued to pile up in the film's second half, I found myself repeatedly wondering, what is this film all about?  What is it trying to say?  I assume that this story of two men who were basically brothers suddenly becoming completely estranged, and then violent, is meant as a metaphor for the Irish Civil War taking place during the time of this film.  But what is the point of it all?  My best guess is that the film is trying to depict the pointless and total irrationality of people turning on one another for what, to an outsider, feels like no reason at all.  If I am correct, the film certainly nails that, and I can appreciate it on that level.  The problem for me, as someone who'd gotten hooked into the story and these characters in the film's first half, is that a story in which people's actions are irrational and without reason is, in the end, unsatisfying to me as a viewer.  I'd thought that as the film unfolded we'd get to better understand what had caused the break between Colm and Pádraic.  We get hints: Colm speaks of wanting to leave a mark on the world through his music, and the Priest asks Colm repeatedly about the "despair" he's apparently been wrestling with, but we never learn what brought that on or what event ultimately broke Colm and drove him to take the radical actions that we see him take in the film.
I wanted to get deeper into all of the characters.  Why does Siobhán choose this moment to take a job on the mainland and leave Inisherin and her brother?  (Again, we get hints.  We can assume that she finds the spiteful, lonely people on the island to be, finally, too much to deal with.  But because our sympathy as a viewer, and hers as a sister, are with Pádraic over Colm, I found Siobhán's sudden decision to leave Pádraic alone, as his life and support systems seem to be collapsing, somewhat mystifying.)  I wanted to better understand what Pádraic and Colm's relationship was like before the break in their friendship.  I'd assumed, from the set-up, that we'd eventually learn that, but we don't really.  There's a wonderful scene in the middle of the movie in which a drunken Pádraic confronts Colm in the pub, asking him why he's not being nice anymore, and then comes to the realization that perhaps he'd actually never been nice.  I was intrigued by that and excited to discover more about what had been going on between these two men.  But nothing comes of that, and in the very next scene Pádraic is still just as desperate to rebuild his former friendship with Colm as he'd been before.
I have seen this film pop up on a lot of best-of-the-year lists.  I wish I'd seen in it what those reviewers seem to see.  This is a very well-made film and there were plenty of scenes in it that I thoroughly enjoyed.  But in the end, it didn't come together for me in a satisfying way.
Please support my website by clicking through one of our Amazon links the next time you need to shop!  As an Amazon Associate, I earn from qualifying purchases.  That means I'll receive a small percentage from any product you purchase from Amazon within 24 hours after clicking through.  Thank you!