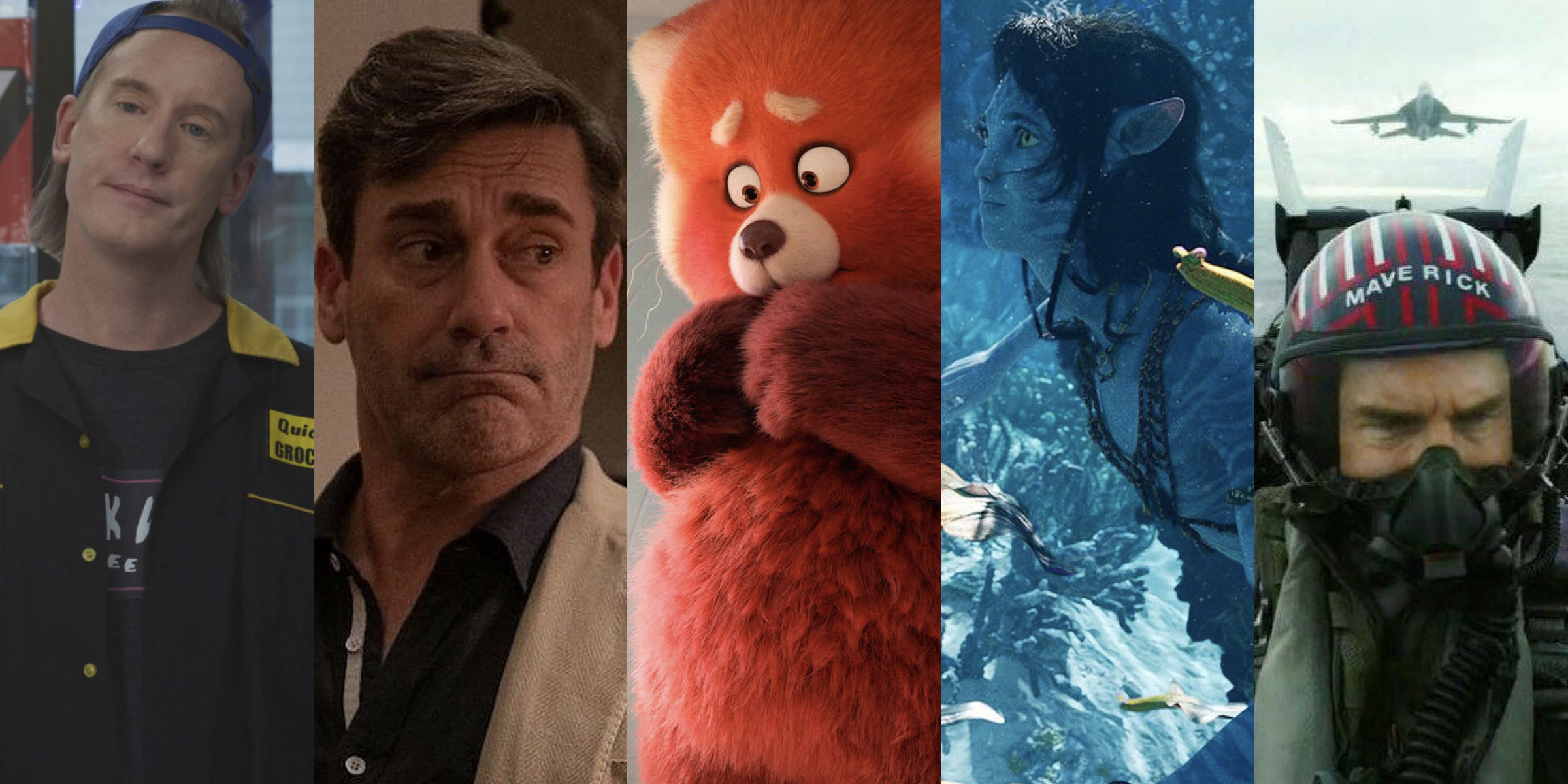 Josh's Favorite Movies of 2022 – Part One!
Welcome to my list of my favorite movies of 2022!
While there were stretches of time this year in which it felt like not much was coming out, when I look back on the year, I see that there were quite a lot of films that I really enjoyed!
First off, let me give praise to a number of great 2021 movies that I watched during 2022, in the weeks and months after I'd assembled my best movies of 2021 list:
Those would all have made my 2021 list if I'd seen them in time.
As usual, although I've seen a lot of movies this year, there are still a number of films that I'm interested in that I haven't seen yet, including but not limited to: Bardo, The Whale, Babylon, White Noise, and Spoiler Alert.
And now, on with my list of my favorite movies of 2022!
Honorable Mention: In Search of Tomorrow — This crowd-funded, five-hour documentary is an in-depth look at the sci-fi movies of the eighties.  From the huge blockbusters to the low-budget camp-fests, this lengthy film takes a deep dive into the many wonderful (and wonderfully varied) science fiction films released in the eighties.  The doc explores movies including The Empire Strikes Back, Return of the Jedi, Star Trek II: The Wrath of Khan, Blade Runner, E.T. the Extra-Terrestrial, Back to the Future, Dune, Aliens, Tron, The Terminator, Ghostbusters, Predator, The Road Warrior, The Abyss, Short Circuit, RoboCop, Akira, WarGames, and many more.  The production team managed to score interviews with a terrific array of the actors, writers, and directors associated with these films.  (Unsurprisingly, many of the big names in those films didn't participate, which is a bummer.  For instance, the only major Star Wars actor who participated was Billy Dee Williams.  But the doc makes up for that by allowing us to hear from many of the other interesting but less famous people involved in these groundbreaking films.)  I had a lot of fun watching this.  (I watched it in about five sittings, treating it more like a TV mini-series than a movie.)  (My full review is coming soon.  Click here to learn more about this film.)
20. Clerks III — I really love Clerks and all of Kevin Smith's early "View Askiewnaverse" films (Clerks through Jay and Silent Bob Strike Back), and I was delighted by how much I enjoyed this return to Dante and Randall, as well as Jay and Silent Bob.  It was fun to check in with these characters, to see how their lives had/hadn't changed.  I think the meta overall story was very clever: Randall has a heart attack — as the real Kevin Smith did a few years ago — and decides to finally try to make something of his life, writing and directing a Clerks-like film, which he calls Inconvenience.  The film is funny and sweet, and it was a pleasure to spend more time back with these characters.  (I wish I liked the final ten or so minutes more than I did; if I had, this film would be higher on this list.)  (Click here to read my full review.)
19. Confess, Fletch —  For something like three decades they've been trying to make a Fletch sequel.  Lo and behold, Greg Mottola (director of Superbad and Adventureland) and Jon Hamm have cracked the code.  Sadly, almost no one saw it!!  That's a real shame, as I thought this film was a lot of fun.  Confess, Fletch doesn't have the edge that Chevy Chase brought to the original Fletch… but I found myself quite taken by the film's goofy, silly tone.  I think they found a clever way to preserve what's great about the character of Fletch and also to tweak things enough that he works for an audience here in 2022.  Jon Hamm is perfectly cast as Fletch.  He's very different than Chevy's Fletch, but I love Mr. Hamm's performance.  He has the good looks and the suave charm to be able to talk his way into (and out of) almost any sort of situation. And his expert comedic timing serves him very well here. There aren't a lot of "jokes" in the film… and yet it's very funny.  Most of the comedy comes from the playful wordplay, and from Fletch's attitude, and Mr. Hamm nails these comedic beats.  He's surrounded by a terrific ensemble, including Roy Wood Jr., Ayden Mayeri, Lorenza Izzo, Marcia Gay Harden, Annie Mumolo, Kyle MacLachlan John Slattery, and Robert Picardo.  (Click here to read my full review.)
18. Turning Red — Here's another film that I wish had made more of an impact upon its release.  I think it's very cool that Pixar made this spirited metaphor for a girl's experience going through puberty and getting her first period.  I think it's wonderful for them to have made a story that so directly explores the very specific joys and tortures of being a tween girl.  I appreciated the time the film spent exploring the main character of Mei, and how she has to deal with the often-conflicting thoughts and desires swirling within her, and the way she often feels pulled in different directions.  I applaud director and co-writer Domee Shi and her team for their bold choices.  (Worth noting: Ms. Shi is the first woman to be the sole director of a Pixar film.)  If you missed this film when it was released to streaming at the start of 2022, give it a chance.  (Click here to read my full review.)
17. Avatar: The Way of Water — I wasn't exactly chomping at the bit for a sequel to 2009's Avatar, but I enjoyed this return to the world of Pandora.  It's an astonishing achievement in visual effects and sci-fi world-building.  This sci-fi world has been realized on a scale never before seen on screen, and so skillfully that it all looks and feels completely convincing and real.  At three hours and twelve minutes, it's way longer than a movie like this should be, but I wasn't for a second bored or restless; I was completely captivated by the story being told and the visual spectacle unfolding on the screen before me.  I just wish the story wasn't so predictable, and that the characters were more complex and interesting.  (Click here to read my full review.)
16. Top Gun: Maverick — Here's another sequel that I was in no way asking for, but that blew me away with its visual spectacle!  The film's flight and combat sequences are extraordinary.  The same borderline-insane desire on Tom Cruise's part to accomplish stunts for real that has made the last several Mission: Impossible movies so terrific elevates Top Gun: Maverick beyond an ordinary action-movie. The footage that director Joseph Kosinski and Mr. Cruise and their incredible team captured — in real F-18s, actually doing the crazy stunts the planes are seen doing in the film — is absolutely extraordinary.  I am so glad I got to see this film in a theater, because this is a true Big Screen movie.  (Props to Mr. Cruise & co. for holding out for a full theatrical release for this movie. That was unquestionably the right call.)  I applaud Mr. Cruise and the stunt team; this film would not be nearly as successful without the dynamic, visceral realism it was given by having these real stunt sequences, featuring the actual actors, as opposed to fake CGI supplementing footage shot on a soundstage.  It's a night-and-day difference.  Tom Cruise continues to be a magnetic on-screen presence.  It's a pleasure to watch him step back into Maverick's flight suit.  I liked the young, cocky Maverick in the original Top Gun, and I was pleasantly surprised by how much I still liked this older, more seasoned version of the character.  And the rest of the cast is terrific as well: Jennifer Connelly, Jon Hamm (who I'd just praised a few paragraphs above for his work in Confess, Fletch!), Mile Teller, Monica Barbaro, Glen Powell, Lewis Pullman, Jay Ellis, Danny Ramirez, Manny Jacinto, Ed Harris, Charles Parnell, and — briefly and wonderfully — Val Kilmer, are all terrific in the film.  This was Big Screen fun of the highest order.  (The film would be even higher on my list if the ending was a little less silly — I didn't much buy anything that happened once Maverick and Goose get out of their planes.  But that's a small quibble.)  (Click here to read my full review.)
Please come back tomorrow for part two of my list!
Please support my website by clicking through one of our Amazon links the next time you need to shop!  As an Amazon Associate, I earn from qualifying purchases.  That means I'll receive a small percentage from any product you purchase from Amazon within 24 hours after clicking through.  Thank you!