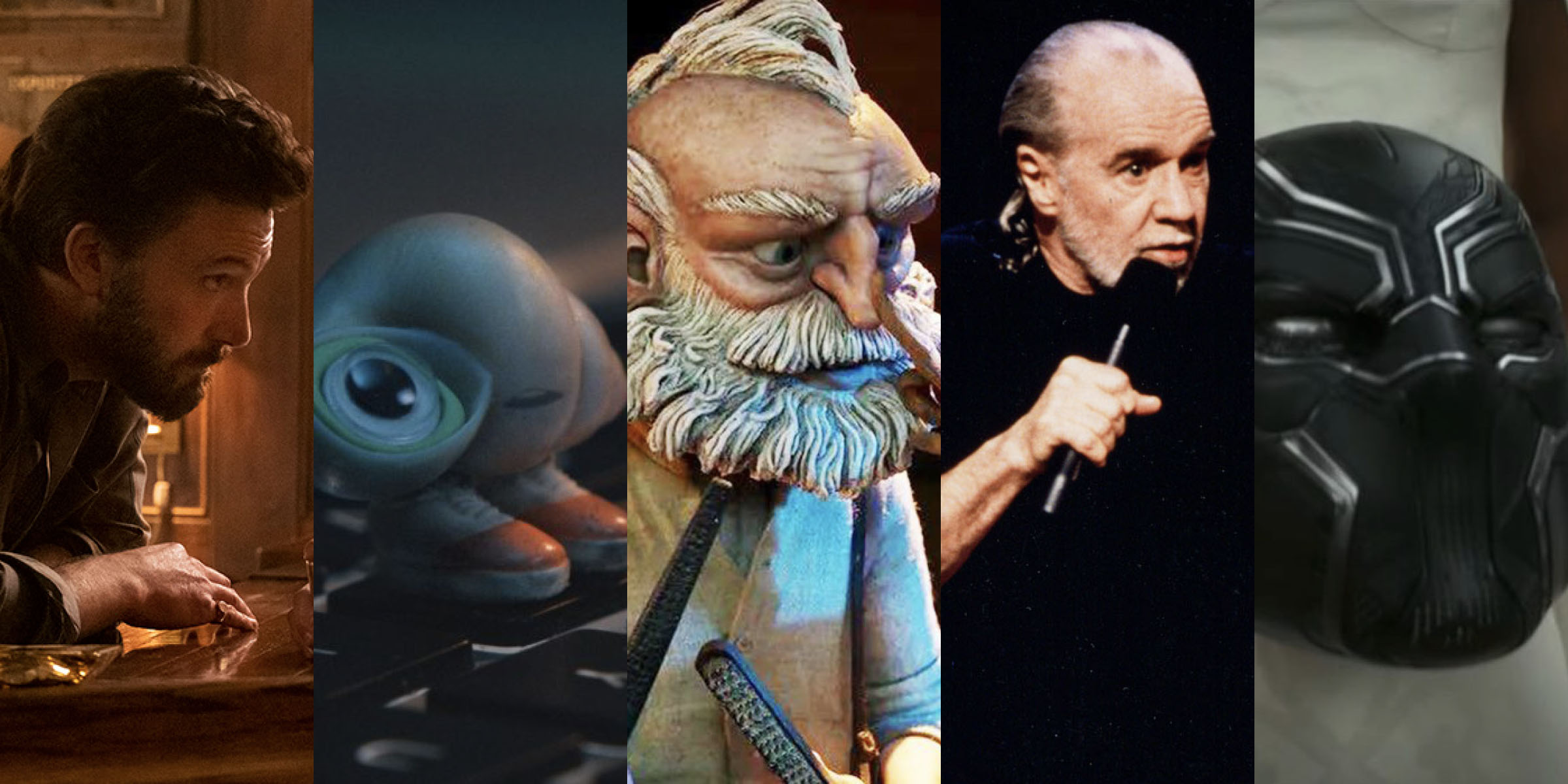 Josh's Favorite Movies of 2022 — Part Two!
Yesterday I posted part one of my list of my favorite movies of 2022!  And now, on to part two!
15. The Tender Bar — I quite enjoyed George Clooney's adaptation of novelist & journalist J. R. Moehringer's 2005 memoir.  The film is sweet and warm, and it's anchored by a tremendous performance by Ben Affleck as J. R.'s mentor and father figure, Uncle Charlie. Mr. Affleck's performance reminds me why I've been such a fan of his for so long, since his work as a young man in films like School Ties, Chasing Amy, and of course eventually in Good Will Hunting.  Tye Sheriden (Ready Player One, X-Men: Apocalypse) is strong as our main character, the young J. R., and Christopher Lloyd is ferociously entertaining as J. R.'s grandfather.  (Click here to read my full review.)
14. Marcel the Shell with Shoes On — I was entirely enraptured by this bizarre and beautiful animated film, directed by Dean Fleischer Camp, and starring Jenny Slate (Obvious Child, On the Rocks, Parks and Recreation) as the voice of Marcel.  The film is whimsical and silly, and also in parts deeply melancholy.  It is filled with funny gags and moments, and it also explores painful feelings of loss and loneliness and grief.  The unique blend of stop-motion animation and live-action footage looks incredible.  This is a weird one, but I loved it.  (Click here to read my full review.)
13. Guillermo del Toro's Pinocchio — Here's another stop-motion animated film that captivated me: the strange, melancholy new version of Pinocchio, overseen by Guillermo del Toro and directed by Mark Gustafson.  The stop-motion animation is spectacular, and as is always the case in Mr. del Toro's films, the design of the characters and creatures is superlative.  Each and every character has been beautifully designed, creating unique and very memorable new versions of these characters.  The voice cast is wonderful, bringing life to all of these beautifully designed and animated characters.  Gregory Mann, David Bradley, Christoph Waltz, Tilda Swinton, Ewan McGregor, Ron Perlman, John Turturro, Tim Blake Nelson,  Finn Wolfhard, Cate Blanchett, Burn Gorman, and the rest of the ensemble are all great.  (Click here to read my full review.)
12. George Carlin's American Dream — I've been a fan of George Carlin for decades, and I adored Judd Apatow and Michael Bonfiglio's two-part documentary film, exploring George Carlin's life and seminal stand-up career.  This lengthy film (running around four hours in total), is a riveting exploration of George Carlin's life and work, utilizing a gloriously extensive array of interviews (new and old) and footage from throughout Mr. Carlin's long career.  I could have easily watched four more hours.  What was most impressive about the documentary to me was its emphasis on how staggeringly relevant Mr. Carlin's work remains.  Bits from the eighties and nineties about our culture and our politics are still (unfortunately) 100% on-point and relevant to our culture and politics today.  One of the documentary's most incredible sequences is an almost five-minute fast-paced run towards the end of part two, in which various clips from Mr. Carlin's stand-up are edited together with clips from today's America.  It's staggering and heartbreaking.  (Click here to read my full review.)
11. Black Panther: Wakanda Forever — Has there ever been a greater challenge facing the makers of a movie sequel than that faced by Ryan Coogler and his team, to try to make a follow-up to the first Black Panther film in the aftermath of the tragic death of Chadwick Boseman?  It's amazing that this film even exists.  It's messy and not completely satisfying (for instance, Julia Louis Dreyfuss and Martin Freeman are completely wasted), but how could it have been?  Despite its flaws, I thought the film was beautiful; emotional and deeply moving.  In the absence of the lead character of T'Challa, the film gives many of the supporting characters of the first film room to grow and step into focus, and it's a delight to see these wonderful female characters step into the light.  The film is very long (around two hours and forty minutes), but I thought it zipped along at a propulsive pace.  It builds to a battle-between-nations storyline that is excitingly epic and thrilling, with some great sci-fi action spectacle.  I was overjoyed to see Namor — a wonderful character from the comics — brought to such interesting life on screen.  I loved this film's reinvention of Namor and the Atlanteans (they're the nation of Talokan here).  Wakanda Forever is a beautiful salute to Chadwick Boseman, and an interesting pivot into a new direction for these characters and this series.  (Click here to read my full review.)
C'mon back tomorrow for part 3 of my list, as we enter my TOP TEN!
Please support my website by clicking through one of our Amazon links the next time you need to shop!  As an Amazon Associate, I earn from qualifying purchases.  That means I'll receive a small percentage from any product you purchase from Amazon within 24 hours after clicking through.  Thank you!