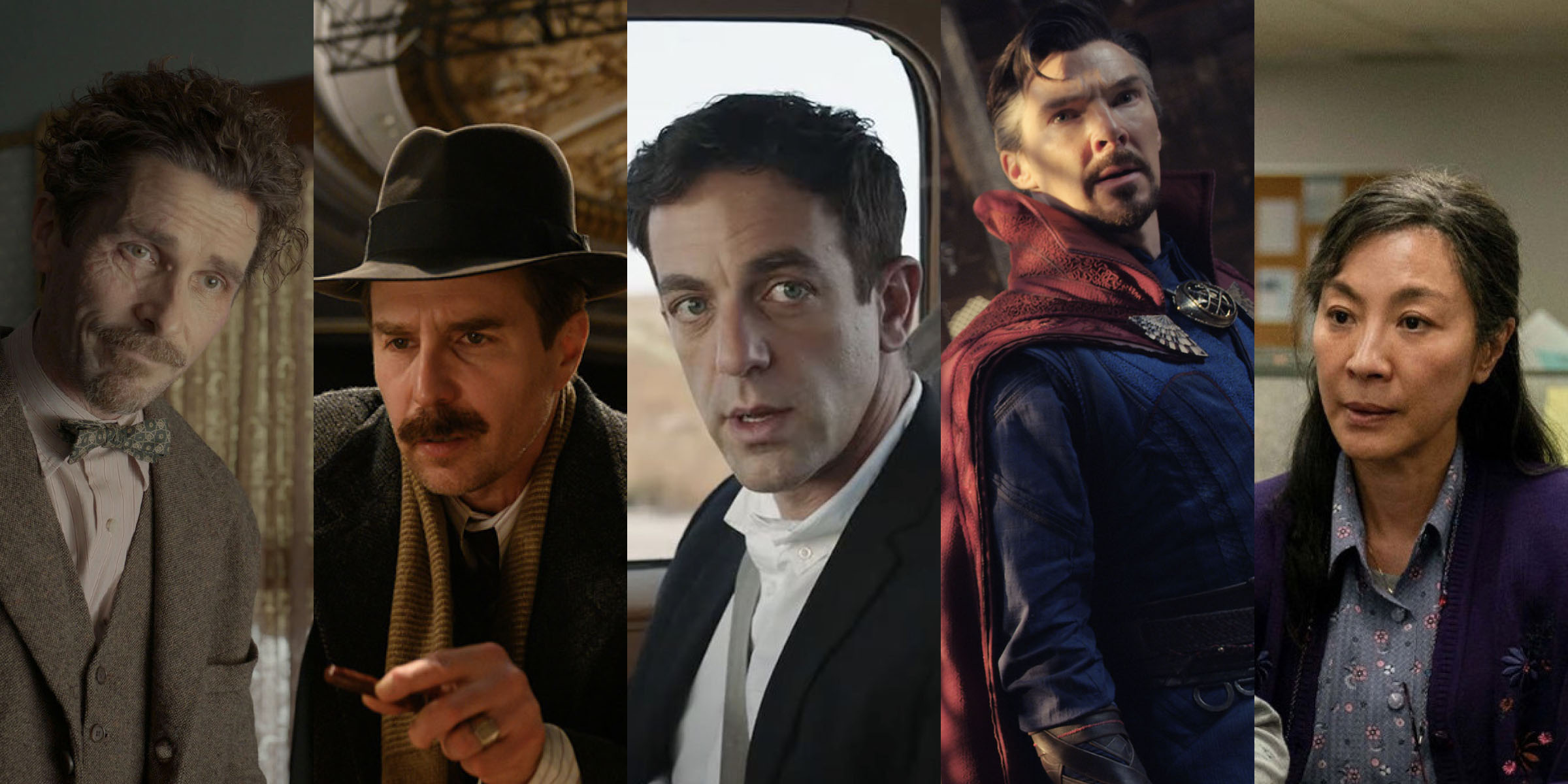 Josh's Favorite Movies of 2022 — Part Three!
Click here to read part one of my list of my favorite movies of 2022, and click here to read part two.
And now, let's dive into my TOP TEN:
10. Amsterdam — David O. Russell's latest film bombed in theaters, but I thought it was a delight and one that was unfairly dismissed by critics.  Christian Bale and John David Washington play disabled WWI veterans who wind up embroiled in the 1933 "Business Plot," a real-life event in which a group of wealthy American businessmen plotted to overthrow Franklin D. Roosevelt and install a military general in his place.  Mr. Bale and Mr. Washington are both terrific, as is Margot Robbie as the enigmatic nurse Valerie Bandenberg who befriended the two injured soldiers when they were recovering after the war, and with whom they reunite in the course of this dangerous adventure.  The film has an incredible cast — in addition to the three stars I've already mentioned, it also features Robert De Niro, Chris Rock, Anya Taylor-Joy, Mike Myers, Michael Shannon, Taylor Swift, Rami Malek, Zoe Saldaña, Ed Begley Jr., Timothy Olyphant, Andrea Riseborough, Alessandro Nivola, Matthias Schoenaerts, and Casey Biggs (Damar from Star Trek: Deep Space Nine!)!!  What an ensemble!  The film is a jaunty mystery, populated with wonderfully weird and bizarre characters.  It's funny and also suspenseful.  (My full review is coming soon!)
9. See How They Run — Next on my list is another fun and funny period-piece murder mystery with a sprawling cast!  Set in London in 1953, See How They Run tells the story of a murder that rocks the production of the Agatha Christie murder mystery play The Mousetrap.  Grizzled Scotland Yard Inspector Stoppard (Sam Rockwell) and the young, eager Constable Stalker (Saoirse Ronan) are tasked with investigating the murder, and they must attempt to sort through the many suspects to find the killer.  The film zips along at a brisk pace, with a pleasant sense of slightly-loony silliness that I quite enjoyed.  It's also a cleverly structured, twisty murder mystery.  (I'm pleased that I was not able to guess the identity of the villain before it was revealed.)  The film is well-written, with many enjoyable layers of cleverly meta self-reflection.  The cast is terrific, featuring Adrien Brody, David Oyelowo, Ruth Wilson, Sian Clifford, Harris Dickinson, Reece Shearsmith, Lucian Msamati, and more.  (My full review is coming soon!)
8. Vengeance — The Office's B.J. Novak wrote, directed, and stars in this terrific film.  Mr. Novak plays Ben, an arrogant, self-absorbed young New York journalist, who one night gets a call from a distraught guy in Texas, telling him that his girlfriend was murdered. Turns out the young woman, Abilene, was just someone Ben had hooked up with once, but her whole family somehow thinks he was her boyfriend, and Ben is persuaded to fly to Texas for her funeral.  Abilene's brother Ty (Boyd Holbrook) is convinced that she was murdered, and Ben decides to make a podcast about his and Ty's investigation into Abilene's death, one that would be the type of "metaphor for America" that he's been searching for.  The film dishes out a good deal of gentle mockery of true-crime podcasts, while at the same time it eventually developed into an effective murder mystery that kept me guessing.  Mr. Novak is terrific in the lead role, and his script is sharp.  The film doesn't take easy sides — there's both mockery and empathy for the Texan characters and also for Ben — nor does it create simple straw-man caricatures.  There's more to Ben than an arrogant, clueless spoiled New Yorker and there's more to all of the Texan characters we meet than empty-headed red-necks.  The film is a clever and entertaining story with interesting characters and some interesting points to make.  (Click here to read my full review.)
7. Doctor Strange: In the Multiverse of Madness — Sam Raimi, who reinvented the super-hero movie with his Spider-Man trilogy in the aughts, makes a triumphant return to Marvel with his first MCU film, the delightfully madcap Doctor Strange: In the Multiverse of Madness!  Mr. Raimi has created a film that is darker and weirder than the average MCU film.  It's a pleasure to see the concept of the multiverse (which has been a fixture of comic books for decades, and which has been introduced to film audiences in Spider-Man: Into the Spider-Verse and Spider-Man: No Way Home) explored further in this epic new MCU film.  A highlight of this was the mid-movie digression to meet the Illuminati of Earth-838, a wonderfully fan-pleasing collection of cameos including, to my great joy, Patrick Stewart as Professor X, entering the MCU for the first time after so many years playing the role for the Fox X-Men films.  I loved the way the film brought back Wanda (Elizabeth Olsen), now as a full-fledged villain.  I loved zombie corpse Doctor Strange.  The film looked great, sounded great (it's always fun to hear a new Danny Elfman super-hero movie score), and was a rollicking new MCU adventure.  I thought this was a blast.  (Click here to read my full review.)
6. Everything Everywhere All at Once — But who could have predicted that we'd get an even BETTER multiverse movie this year??  Michelle Yeoh kicks ten kinds of ass as Evelyn Wang, a crotchety middle-aged woman who runs a laundromat until her life is exploded when a version of her meek husband Waymond from an alternate universe takes over his body and tells Evelyn she might be the key to defeating a powerful villain who has set out to destroy the multiverse.  Ke Huy Quan  (who played Short Round in Indiana Jones and the Temple of Doom and Data in The Goonies) makes his triumphant return to acting as Evelyn's husband Waymond, and his phenomenal performance deserves every bit of the press and praise he's been receiving this year.  The film, written and directed by the "Daniels" (the team of Dan Kwan and Daniel Scheinert) is a true delight from start to finish.  It's a terrific adventure story with great action; it's funny and weird and exciting and moving and very sweet.  It's a wonderfully entertaining concoction.  (Click here to read my full review.)
I hope you'll come back tomorrow for my TOP FIVE movies of 2022!  Thanks for reading!!
Please support my website by clicking through one of our Amazon links the next time you need to shop!  As an Amazon Associate, I earn from qualifying purchases.  That means I'll receive a small percentage from any product you purchase from Amazon within 24 hours after clicking through.  Thank you!