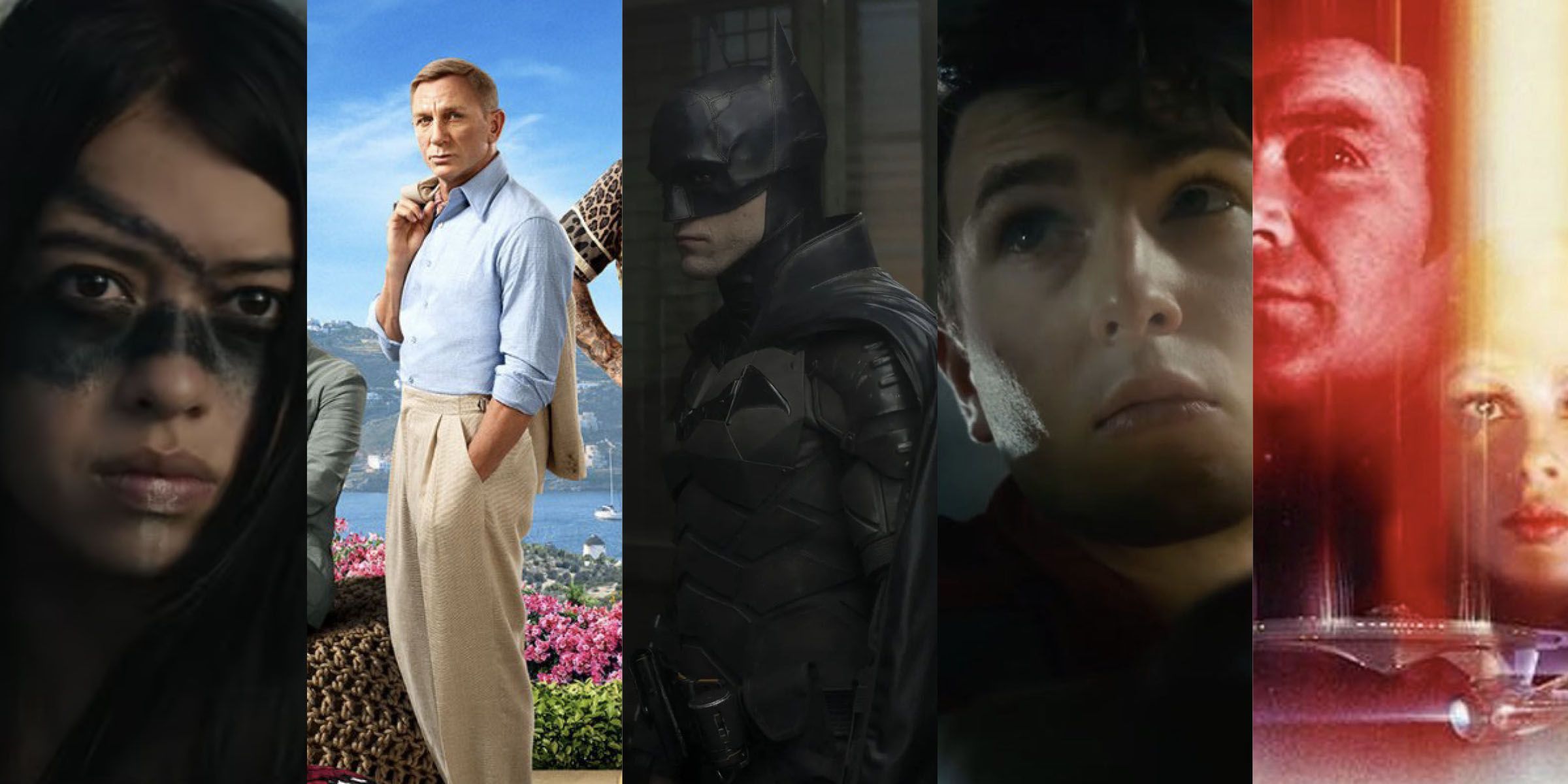 Josh's Favorite Movies of 2022 — Part Four!
Thanks for reading my list of my favorite movies of 2022!  Click here for part one, click here for part two, and click here for part three.
And now, without further ado, here are my five favorite films of 2022:
5. Prey — I can't believe they've finally made a good Predator sequel!!  Patrick Aison and Dan Trachtenberg (10 Cloverfield Lane) figured it out!  Set in 1719 in the Northern Great Plains, Prey tells the story of Naru, a young Comanche woman. Naru wants to be a hunter like her brother, but no one in her tribe believes she is capable of that.  Naru insists on accompanying the group of hunters when they set out to capture a mountain lion that gravely wounded another young hunter, but as they track the lion, Naru begins to suspect that something more dangerous than a lion, or even a bear, is out in the woods with them…  I really loved this film!  It's a wonderful reinvention of a Predator story.  Centering the film around a Comanche tribe in the 1700's is a very clever approach, one that gives the film a wonderful new flavor and helps it to overcome my general dislike for prequels.  (This film is not telling the story of how stuff we'd seen before came to be; rather, it's a new story in a new setting with new characters.)  The film is tense and exciting, with several thrilling action and suspense sequences.  Amber Midthunder (so great in Legion) commands the screen as Naru.  This film was a wonderful surprise!  (Click here to read my full review.)
4. Glass Onion — I adored Rian Johnson's Knives Out, and this sequel does not disappoint.  It's a fun, twisty new mystery that tells a fresh story that at the same time feels very much of a piece with the first Knives Out.  This is a tightrope that many sequels are not able to so easily walk!  Mr. Johnson has crafted a delightful new mystery, whose twists and turns kept me constantly guessing.  (I'm pleased that I was not able to guess the film's ending, though Mr. Johnson played completely fair with the audience and did, in hindsight, plant plenty of clues.)  The film is a suspenseful murder mystery that is, at the same time, extremely funny.  It's joyous to see Daniel Craig return to the role of Benoit Blanc, and, as was the case in Knives Out, Mr. Johnson has once again surrounded Blanc with an array of extraordinarily fun and memorable loony-tunes, each of whose role was wonderfully written and brought to life by a tremendous actor, including: Edward Norton, Kathryn Hahn. Dave Bautista, Leslie Odom Jr., Kate Hudson, Janelle Monáe, Jessica Henwick, and Madelyn Cline.  This is a movie I can't wait to watch again.  (Click here to read my full review.)
3. The Batman — Writer/director Matt Reeves (Cloverfield, Dawn of the Planet of the Apes) created a new cinematic version of Batman, and I was surprised how much I loved it!  This is the type of Batman film I'd longed to see for much of my life. It's an ultra-serious take on the character and concept, one that — for the first-time on-screen — explores the "world's greatest detective" aspect of Batman.  The Batman eschews the more fantastic aspects of the character in favor of telling a very grounded, street-level story.  (I'd never have thought we'd get a more serious, more grounded Batman movie than the ones Christopher Nolan made, but here we are.)  I love the idea of dropping Batman into a street-level crime story.  The Batman more closely resembles David Fincher's Zodiac than it does any of the recent superhero films from DC/Warner Brothers or Marvel, and I think that's very cool.  I didn't love the film's depiction of Bruce Wayne, but when in costume, I think Robert Pattinson is the best live-action Batman we've ever seen.  The rest of the cast is spectacular as well: Jeffrey Wright, Zoë Kravitz, Paul Dano, Colin Farrell, Andy Serkis, John Turturro, and Peter Sarsgaard are all amazing.  Michael Giacchino's score for the film is incredible — unusual and memorable.  I loved the throbbing, oppressive theme Mr. Giacchino crafted for Batman.  I remain extremely impressed by this audacious, epic-in-length Batman crime film.  (Click here to read my full review.)
2. The Fabelmans — Steven Spielberg's latest film, The Fabelmans, is a lightly fictionalized version of Mr. Spielberg's formative years, discovering his love for (and skill at) cinema and weathering his families' moves across the country and his parents' divorce.  It's a beautiful love letter to the movies and to those of us who love them.  It's a deeply personal story — much of the film is taken directly from Steven Spielberg's real-life experiences — but, like most of the best personal stories, it's also universal.  I loved the way the film depicts young Sammy Fabelman's burgeoning discovery of how to make movies, and it was satisfying to see Mr. Spielberg so directly address his Jewish roots.  Mr. Spielberg has woven Jewish characters and themes into his films on occasion, but it's interesting to see him tell these autobiographical stories of dealing with Anti-Semitism as a kid growing up.  With Anti-Semitism sadly on the rise in the world around us, I'm glad to see Mr. Spielberg — one of the true filmmaking giants — choose to tell a story in which these themes are so front and center.  But even more than that, this is a wonderful coming of age story about following your dreams.  I thought this sweet film was very moving and very inspiring.  (Click here to read my full review.)
1. Star Trek: The Motion Picture: The Director's Edition 4K Restoration — I guess this is a cheat, as Star Trek: The Motion Picture was originally released back in 1979… but I don't care!  That this new 4K restoration of The Director's Edition of TMP finally exists fills me with joy. The film was famously rushed into theaters, because Paramount had a drop-dead commitment to theaters that would have cost them a fortune had they failed to meet it.  Many consider the theatrical version of TMP to be little better than a rough cut.  Renowned director Robert Wise did not have time to properly edit the picture or complete the sound mix.  Mr. Wise (the director of The Day The Earth Stood Still, West Side Story, and The Sound of Music, among other all-time classics) basically disowned the film in the years after its release.  But in 2001, Mr. Wise worked with restoration supervisor Mike Matessino, producer David Fein, and visual effects supervisor Daren Dochterman to create a new "Director's Edition" of the film which was released to DVD.  The result was incredible, improving the film in a myriad of ways.  They reintegrated deleted scenes, to flesh out a number of the key character arcs.  At the same time, they shortened the film, trimming the cut so the film would move at a much better pace.  They adjusted the sound mix, making the film feel more real as a sci-fi environment and, importantly, replacing many of the cold mechanical sounds from the theatrical cut with more welcoming human ones.  They also carefully and sparingly used new CGI effects to fix errors and to add a few key moments that better served the story, scenes that were originally intended but that Mr. Wise and his team never had time to complete originally.  Sadly, Paramount — which, in my opinion, has time and again failed to treat Star Trek properly — cheaped out and didn't allow the "Director's Edition" team to complete their work on film.  As a result, the 2001 version only ever existed in standard definition, on DVD.  With the advent of blu-ray and 4K, the "Director's Edition" quickly became something of a relic of a lost age; blurry and indistinct.  When Paramount released TMP on blu-ray and then on 4K disc, they released the theatrical version only, despite director Robert Wise (who has since passed away)'s strongly stated preference for the "Director's Edition" as his preferred version of the movie.  Finally, after two decades' wait, Paramount reassembled the "Director's Edition" team and allowed them to restore their version of TMP for 4K.  The result is tremendous.  This is for sure the only version of TMP one should ever watch.  It's superior to the theatrical version in almost every way.  (And this new version of the "Director's Edition" has even improved on the 2001 version in many ways, assisted by the technological advances of the past two decades!)  TMP still has flaws, and I personally prefer Star Trek II and Star Trek VI.  But Star Trek: The Motion Picture is an important film in both Star Trek history and cinema history.  It has groundbreaking visual effects and one of the greatest movie scores ever recorded.  It took a cancelled TV series from a decade earlier and brought it back to life, reuniting the original cast (a miracle!) and turning this cult favorite into a franchise that is still going strong today, so many years later.  It exploded what Star Trek could be, taking a made-on-a-budget TV series from the sixties and turning it into a beautiful big-budget epic.  (And it introduced the refit Enterprise, which in my all-time favorite starship/spaceship design.)  I am delighted that this film can finally be enjoyed in its best-possible version.  I've watched it three times so far this year, and each time it made me so happy.  (Click here to read my full review.)
Thanks so much for reading my list!  I'll be back soon with my favorite TV series of 2022…!
Please support my website by clicking through one of our Amazon links the next time you need to shop!  As an Amazon Associate, I earn from qualifying purchases.  That means I'll receive a small percentage from any product you purchase from Amazon within 24 hours after clicking through.  Thank you!